When you think of San Francisco, these things inevitably come to mind: The Golden Gate Bridge, colorful row houses lining steep roads, red cable cars, artsy coffee shops in the Haight-Ashbury district, Alcatraz, and the list goes on. In other words: endless Instagram opportunities! If you're going to San Francisco, you don't actually need to wear flowers in your hair (song cred: Scott McKenzie) but you might want to brush up on what to do and how to navigate San Francisco parking. Read on for our top 5 tips.

Tip #1: Street parking, simplified
If you're parking on the street, know your colors! We guess this means that when it comes to parking, you need to look for the gray areas. Ha! We'll be here all week. Seriously, though, street parking is definitely a great, less expensive option than parking garages if you're looking to save bucks. Just search your ParkMobile app for San Francisco parking to find those gray areas!
Blue: Handicapped only (valid permit required)
Green:
Yellow: Loading/unloading, for commercial vehicles
Red: No parking (obvi)
White: Passenger pick-up/drop-off
Tip #2: Mix it up
Just because you're taking a car to SF doesn't mean your whole trip has to involve driving around. This is an eco-conscious city with some fun ways to explore while you leave your car behind. BTW: ParkMobile is eco-conscious, too! Check out how we show Mother Earth some love.
Get on your bike and ride! Want to see the Golden Gate Bridge? Of course you do! But you don't want to drive around endlessly trying to park super close. What you need, my friend, is a bike rental. Just park your car at Fisherman's Wharf (2800 Taylor St. – look it up on your ParkMobile app) and rent a bike from a nearby shop. Then you can pedal to the metal. #DadJokes
Cable Cars: You can't watch a show or movie about SF without seeing iconic red cable cars, and you can't see SF in quite the same fun way without riding them. Try this: Look up the 388 Market parking garage on your ParkMobile app and reserve parking. Once your car is in place, hop on a cable car and ride it along Market Street. There are so many places to hop off and explore along the way! How about a visit to the Museum of Ice Cream on Grant Avenue (right??).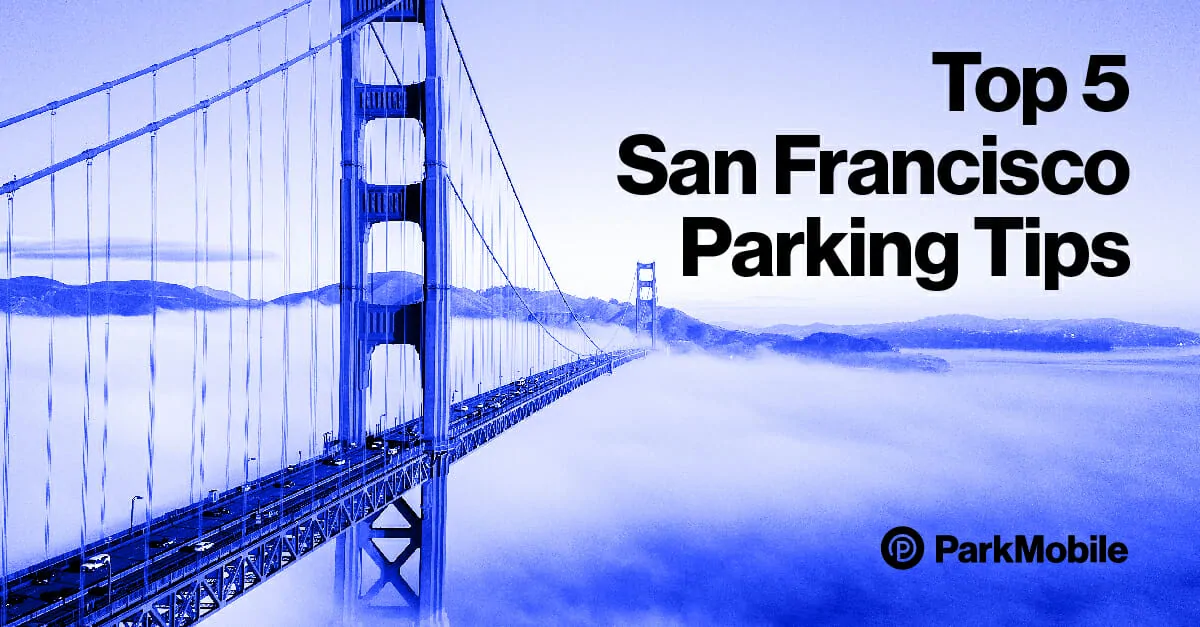 Tip #3: Pick your SF tour
So maybe you want someone with a database for a brain to show you around town and tell you #allthethings — SF has plenty of options! There are sightseeing tours where you can hop on and off when you want, all day long. For instance, there's a bus that leaves right from the corner of Jefferson and Mason Street. Remember that parking garage at Fisherman's Wharf? That's super close, so you could just stash your ride and walk a short way to the pick-up point. How convenient! Going self-guided? Be sure to check out all the neighborhoods of San Fran and live like a local!
Tip #4: Think outside the Bay
Well, technically it's still in the Bay, but it feels like you're stepping into another country. We're talking Chinatown! No trip to San Francisco is complete without a visit to this historical city-within-a-city, brimming with the sites, smells, tastes and sounds of China. Grab some dim sum and poke around shops, taking in the ornate architecture and rich colors. Snap a selfie by the famous Dragon Gate. Find Canton Bazaar on Grant Street and peruse the wide assortment of odds and ends (maybe score your very own mahjong set). And how can you easily get to and enjoy all this fabulous-ness? Just look up Chinatown on your ParkMobile app and reserve a spot.

Tip #5: ParkMobile has you covered
Before you take off to SF, be sure to download the ParkMoblie app. This is crucial for your parking success! Our app makes it super easy to search your location and find places that accept ParkMobile. Just find your spot, park, pay, and even add time — all directly from your phone! No more running back to the meter right in the middle of a TDF lunch (sweet!).
For parking, it pays to plan
No matter how you plan to get to San Francisco and explore the sights, your future self will thank you for planning ahead so the trip is high on fun and low on stress. Remember, ParkMobile is here to help you with San Francisco parking. If you're road-tripping it to the city by the Bay, we've got some tips for you on how to plan the perfect summer road trip.
Have fun, drive safely and park happy.