Updated, 12/2022
'Tis the season for holidays and holiday travel. If you're traveling to see family this holiday season, or just planning a road trip for any reason, you know there is some serious planning that goes into it. We've rounded up our best road trip tips and tricks for ensuring the drive is half the fun, too.
Make your playlist, check it twice.
Entertainment is the most important part of a road trip, especially long ones. If you're traveling with friends, chances are you have similar tastes in music. If you're traveling with family, we'd bet the odds are a bit slimmer. Most music streaming apps will curate playlists for your account, such as Spotify's Discover Weekly. You'll likely find new songs and artists recommended based on your current listening. The streaming apps also have curated playlists for moods or activities, such as running mixes or music to study. Road trips are the best place to explore new music, whether it's coming from your friends, family, or yourself.
To start, Spotify offers many road-trip-centric playlists, such as "Classic Road Trip Songs," "Indie Roadtrip," "Scenic Route," "90s Road Trip," and so on. Spotify users can also create their own road trip playlists and make them public, thus sharing them with whoever can find them. Getting uber-specific with type can help, such as "Road trip nostalgia – 2000s-2010s Hits" by Spotify user Arjel. Apple Music does the same.
When you tire of music, give a podcast a listen.
Podcasts range from talk shows to news, to true crime, sports, comedy, educational, and just about any topic. They are a great opportunity to lose track of time when you drive as you tend to get lost in the stories you are listening to. Popular for the whole family podcasts (depending on age, of course) tend to be true crime or story podcasts, such as This American Life and Radiolab. Popular true crime podcast shows are Crime Junkie, Dateline, and Morbid. We would be amiss if we didn't mention the podcast that started it all, Serial.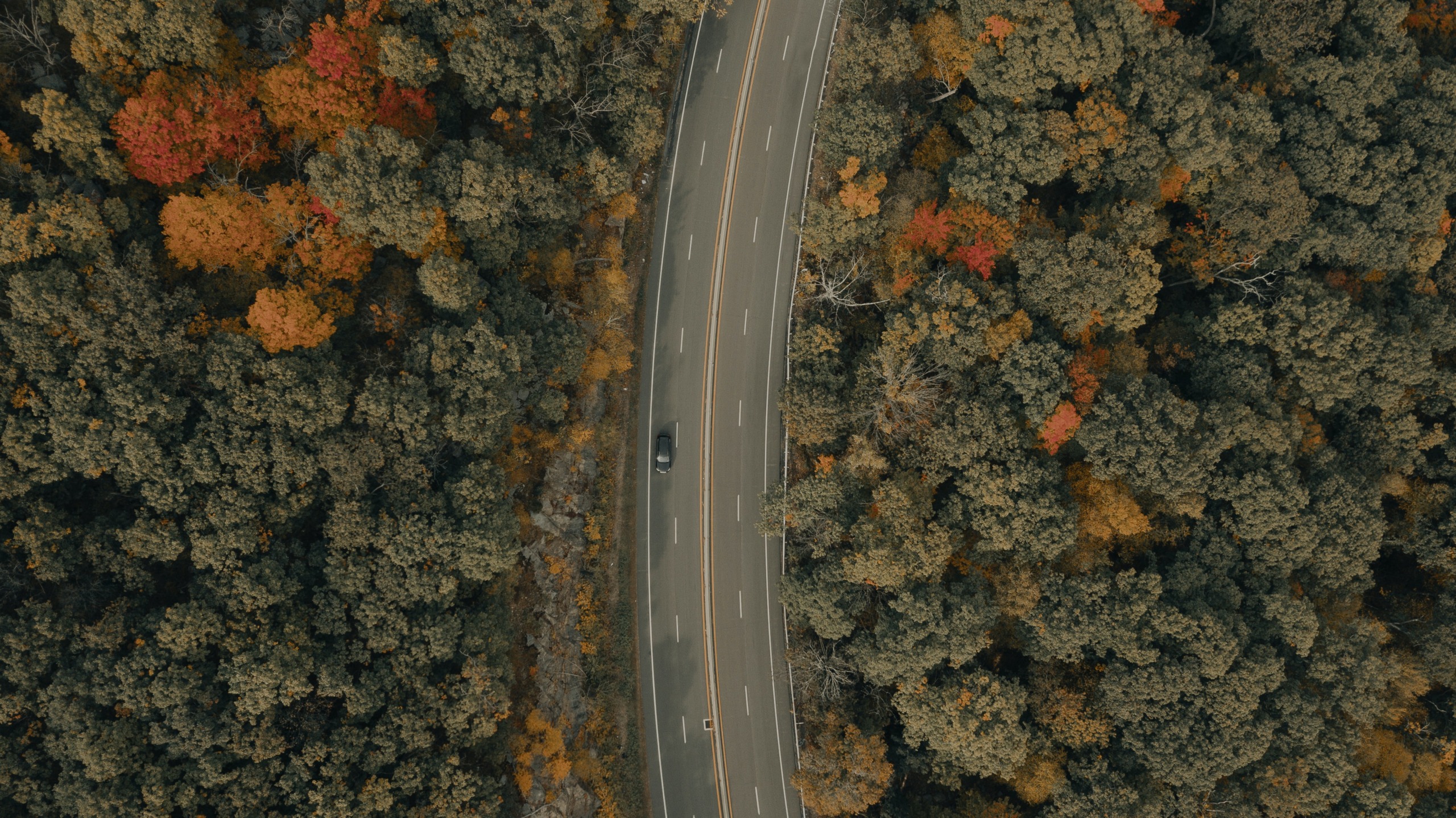 Mapping your Coffee Breaks
Now that you know what you're listening to, it's time to make sure you know where you're going. Long gone are the days of printing out turn-by-turn directions and keeping a map handy. All you need now is someone's phone and the maps app on it. Some cars have a built-in GPS that will display a map and mark each turn. Even if yours does, it's smart to have the route pulled up elsewhere so you are able to have a larger view of the landscape and can adjust for any upcoming traffic. We suggest having your DJ also be your navigator so you can keep your eyes on the road.
For longer trips, you're going to have to plan to stop. Whether you like to tie in meals with getting gas or like to grab a coffee every three hours, it's smart to plan your stops ahead. That way, you can maximize your car's fuel efficiency and won't have to make any unplanned stops for gas or a second bathroom break. It also divides your drive, as in, "let's stop for coffee and gas in 3 hours when we are halfway there." And next, you know, you're halfway there! The navigator can also look ahead on their maps app to find the nearest Dunkin', Chick-Fil-A, or Love's Travel Stop if you're specific. As a company based in the south, we also have to recommend Buc-ee's for anything you could ever need.
Keep the Snacks Stocked & Stashed
We could say each of these road trip essentials is the most important, but in truth, it's not a good road trip without a plan and route, a good playlist or podcast, and of course, road trip snacks. Before you make any imminent stops, it's best to plan and pack ahead. Be sure to bring plenty of water, with spare bottles for everyone. It's also important to pack healthy snacks in addition to your usual unhealthy snacks (okay, my usual unhealthy snacks). Packing a banana for the morning, or carrots, almonds, and fruit are all healthy snacks that don't require any refrigeration, making them perfect for a road trip. When you're ready for something salty, we recommend the ever-pleasing variety pack of a Chex-Mix or Gardetto's Snack Mix. With a variety from pretzels to breadsticks, everyone in your car is sure to find something they enjoy in these mixes. Other salty snacks perfect for a road trip include sunflower seeds, pretzels, trail mix, Cheez-Its, or more mixed nuts. If you crave sweet snacks instead, I'd recommend just about anything other than chocolate as it tends to melt in the sun and on your hands. Twizzlers, fruit snacks, gummy candy, and sour candies are perfect as they don't melt but are sure to satisfy your sweet tooth.
As with any road trip, the most important thing is to get to your destination and to get there safely. We recommend road-tripping with a friend or family so you are not alone. Traveling with others lets the driver focus on the road and designate a passenger on the aux cord or snacks. never drive distracted, especially over long distances. Be sure to stop any time you think you need to sleep or grab extra caffeine. There are usually rest stops at intervals along the way. Whenever you get to your destination, take a big breath and stretch your legs. When you're ready to go back out and find a place to eat, somewhere to shop, or an event to see, let ParkMobile take the stress out of parking. Reserve today.
May, 2019
Let me guess – you thought this was going to be a very practical, step-by-step guide on how to road trip, including advice about car maintenance, signing up for roadside assistance, booking hotels, etc., #amiright? Yeah, this isn't that type of guide. It is, however, a recipe for fun! So sit down, buckle up, and allow me to be your GPS for the top 5 tips on planning the perfect summer road trip – from how to prevent boredom to how to find parking.

5 Tips for the Perfect Summer Road Trip
1. Get Your Snacks On
I don't know about you, but if I don't have food every few hours, I get hangry. Not hungry, hangry. Like, road rage-inducing, stomach cramping hunger. My solution? Food! Imagine that! Before you go anywhere in your car, and especially before you go on a long road trip, you should stock up on sustenance. The longer the trip, the heartier the supplies should be. Trail mix, jerky and fruit leathers are all good options for between-meal snacking. If you're wanting to save a few bucks and eat out less on your trip, consider packing a cooler with sandwiches, fruit and drinks. And for some reason, road trips seem to require at least some junk food. Why not fun-sized Snickers bars and Funions? They put the "fun" in junk food. Badum ching! Porch has a list of all of the road-trip essentials, including commonly forgotten napkins, for example.
2. Bust That Boredom!
"Are we there yet?" is probably something you've asked yourself, as a driver. Even if no one else was in the car with you – again, #amiright? Those long stretches of road, especially in the flatter parts of the country, can seem like the Sahara Desert and you end up feeling like that cartoon skeleton reaching out its hand toward . . . a mirage. Well, I say the boredom stops here! Whether you're more into music or audiobooks, it is definitely worthwhile to load up your phone or audio player before you hit the road, Jack. Get wrapped up in a whodunit novel, and you might miss your exit on purpose just so you can hear who the killer was! Hours literally fly by while your imagination is taking its own trip in the world of make-believe. Or, if tunes are more your thing, cranking up the volume on your playlist can make driving feel like you're in a movie. And wanna know a cool fact? Your local library most likely has thousands of songs and books for you to check out online! Free fun! Oh my.
3. Where to Find Parking
The term "road trip" implies more than a few hours in the car, and most likely more than a day. You've got a final destination set, points of interest along the way, and even booked hotels and restaurants. Good job! The one X factor in planning for anything, though, is the unknown. One of the most unknown unknowns is where exactly you'll be able to park your car while you explore the sites. Allow me to help! Before you venture forth, download the ParkMobile app and enter the location info in the search field to find parking. Trust me, the last thing you'll want to do when you get into an unfamiliar town is to continue to drive around endlessly trying to park (even if your audiobook is at an exciting part!).
4. Consult Your World Record Book
You're saying, "wait, what?" but just bear with me. In helping to determine where to stop along the way to your ultimate destination, consider looking up some world superlative tourist attractions to make each stop fun all by itself! Say you're taking a trip from L.A. to Vancouver, B.C. Take Hwy 101 along the coast and visit the world's tallest trees in Redwood National Park. In San Francisco, try – if you dare – driving Lombard Street, dubbed the "crookedest street in the world." In Seattle, visit Pike Place Market to see a life-size portrait of the world's tallest man, and one of his size 37 shoes! And, of course, use your ParkMobile app to find parking. Who says road trips have to be conventional? Quirky can be fun!
5. Take A Picture, It'll Last Longer
When you're fresh off a road trip, you can regale your listeners with detailed stories about all your adventures; as time goes on, you might have a harder time recalling details without a little help. I can't emphasize enough the importance of capturing those memories! Most of you are probably boss at Instagram-ing and #hashtagging (#amiright?), but even if you're not constantly on social media, take my advice and click those pics! Road trips can be epic and you'll want to relive the moments. Your future self will thank you! Also, feel free to tag @parkmobilellc — we just might share your awesome road trip pics with fellow summer drivers.
ParkMobile Makes It So Easy to Find Parking
On any road trip, you won't be driving the entire time so parking is important! Be sure to take ParkMobile with you to find parking on your road trip. You'll be so glad you did. On your trip, you might find parking that accepts ParkMobile but also has coin-operated meters. What to do? Check out #AskParkMobile – Coin Operated Meters for the answer. You can also find additional road trip advice in 5 Road-Tripping Essentials (you can never have too much info, right?). And since road trips generally involve traveling, check out #AskParkMobile – Parking While Traveling for some handy tips. Happy planning!