If the southeastern region of the U.S. were a person, it would be your sweet Aunt Sue who gives you a great big hug each time she sees you, offers you fresh-baked pie with a side of iced tea, and says, "Come on in, honey – rest your feet a while." The south is synonymous with charm and hospitality, and Charlotte is the belle of the southern ball. With so much to see and do, Charlotte warmly welcomes over 28 million visitors each year and seems to say "Y'all come back now, ya hear?" when it's time for them to go home.
If your travels take you to "Queen City", we'll help you with easy parking in Charlotte. Sit a spell, maybe sip a mint julep, and let us take you on a virtual tour of the places you'll want to check out in Charlotte, NC.
You've Got a Destination in Mind; We've Got Easy Parking in Charlotte
If you're a UNC student or the parent of a student, you might have the pleasure of visiting this architectural beauty located right in the heart of the city. Even if you're not part of the university but happen to be nearby, you'll want to check out the beautiful campus which includes a four-acre park and a bagel shop that's open to the public (Einstein's Brother's Bagels – genius name!). 🙂 There are also light rail stations nearby to whisk you to other places and back again. With ParkMobile you can reserve a space for your car right on-site, so you'll be sure to find easy parking in Charlotte.
Not far from UNC Charlotte Center City is the NASCAR Hall of Fame, one of the top attractions in the city. What is more southern than some good old car racing? This place is so much more than an automotive museum; it is a racing enthusiast's dream – from revolving exhibits (e.g., Dale Ernhardt, Jr.'s personally curated Hall of Fame car collection, titled "Glory Road Champions") to racing simulators to the High Octane Theater where you can watch a high-speed history lesson of NASCAR and even live racing event broadcasts. Why not conveniently stash your own hot rod at UNC Charlotte Center City and zip on over to the NASCAR Hall of Fame on the light rail? #fastdriving #easyparking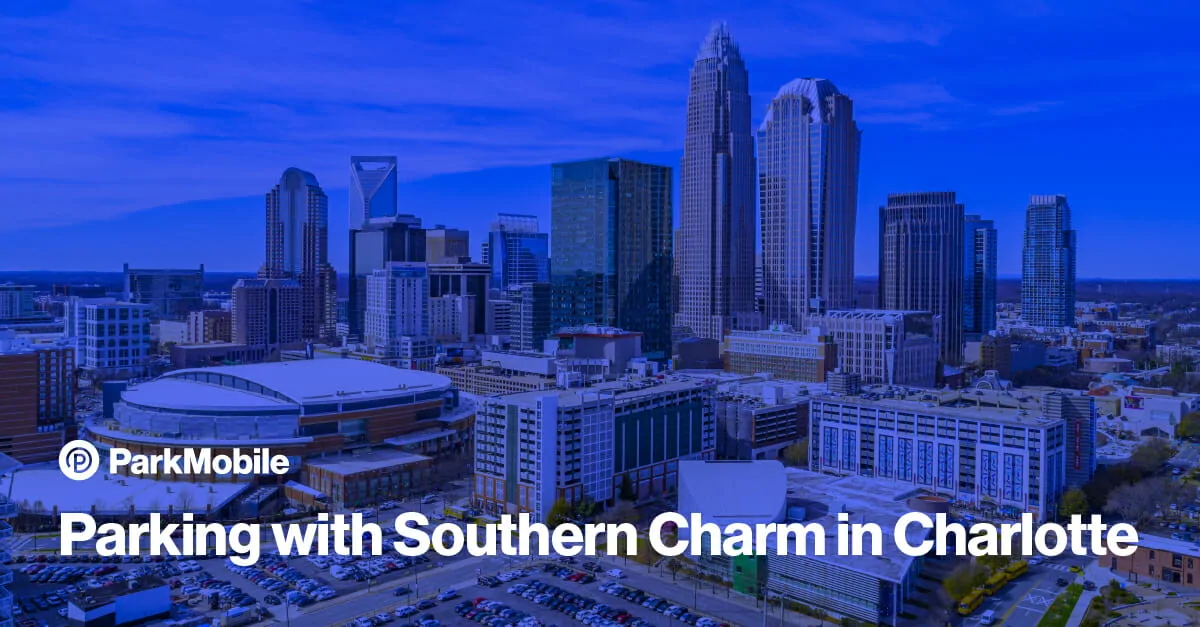 If you read our blog on how to easily make MLB parking reservations, you'll know that ParkMobile is all about showing baseball fans the love. The Charlotte Knights, a Triple-A affiliate of the Chicago White Sox, play at BB&T Ballpark. Can't you hear it? The crack of the bat, the loudspeakers booming "going, going, gone!" Can't you smell it? Popcorn, hot dogs and pretzels with mustard. Plan a day out at the old ball game and you'll be in for some good old American fun, surrounded by the beautiful Charlotte cityscape. And with easy parking in Charlotte, you won't break a sweat looking around for parking before the game and having to run in the southern heat. #phew
Before or after the game, check out Romare Bearden Park just across the street. This 5.4 acre greenspace is a lush spot in the urban surroundings and its lighted fountain provides an ideal backdrop for some Charlotte selfies after dark. 
Recently, we shared how to find easy parking at Charlotte's Spectrum Center. Whether you're a Hornets basketball fan or you're looking for a concert to set the bar for all your future concert experiences, this is the place to be. Check out Michael Bulbé who will croon his way into your heart, the Harlem Globetrotters who will wow you with their basketball spinning and tricks, or TOOL who will work you up into a headbanging frenzy. Whatever sparks your fancy, count on us for easy parking in Charlotte.
Now, let's say you have some kiddos in tow on your Charlotte adventure. Where to? Check out Discovery Place Science at 301 N. Tryon St. This hands-on museum has interactive exhibits, a giant IMAX theater and super fun educational programs that will make your kids want to stay put. Not sure where to park? We've got your back. Just use your ParkMobile app anywhere in the city for easy parking in Charlotte.  #parentwin
Home of the Carolina Panthers, this venue is located just a hop and skip away from BB&T Ballpark. When it's not football season (wah!), Bank of American Stadium has plenty of other entertainment options. As you might have read in our blog on parking at Spectrum Center, the Piano Man himself, Billy Joel, is gracing the stage on April 18th. Or perhaps a craft brew festival is more your speed. You'll want to snag tickets to the "Untappd" Beer Festival on May 16th. Whatever you're there for, we're here to help find easy parking in Charlotte right on-site.
Just up the road from Bank of America Stadium is the Mint Museum Uptown, the Bechtler Museum of Modern Art and the Harvey B. Gantt Center for African-American Arts + Culture. If arts and culture fill your cup, this is your hub in Charlotte. Simply find a place to stash your ride with easy parking in Charlotte and spend a whole day (or two) perusing the beautiful, evocative and thought-provoking exhibits on offer.
Enjoy your trip to Charlotte, soak in the southern hospitality and let us help make your trip as smooth as molasses.