Employees are a company's greatest asset – they're your competitive advantage. You want to attract and retain the best; provide them with encouragement, stimulus and make them feel that they are an integral part of the company's mission. These are the words of former Xerox Corporation CEO and chairwoman Anne M. Mulcahy. We couldn't agree more. At ParkMobile, we know without a doubt that our employees make our company great. Here are just three of the many reasons why PM employees are the best.
Reason #1: They Care About Wellness
Science has spoken – being active and eating wisely do all kinds of good for the body. Increased exercise is associated with lower blood pressure, less risk of heart disease, better bone and muscle strength and ultimately a longer life. Healthy living also has a positive impact on the workplace, as physically active employees are happier and more productive. In an article titled "Exercise Increases Productivity," Robert Pozen (Huffpost contributor and Harvard lecturer) says, Physical exercise stimulates the development of new mitochondria within your cells . . . That gives you more energy to exert yourself physically, but it also means more energy for your brain, boosting your mental output. Also, Exercise makes people very happy . . . the happier you are, the more productive you can be.
ParkMobile employees take this wellness thing to heart. The "Health & Wellness Committee"  does regular events like yoga, aimed at getting employees active, introducing people to new ways to be healthy, etc. There is also a "Walking Wednesday" group that goes on walks each week.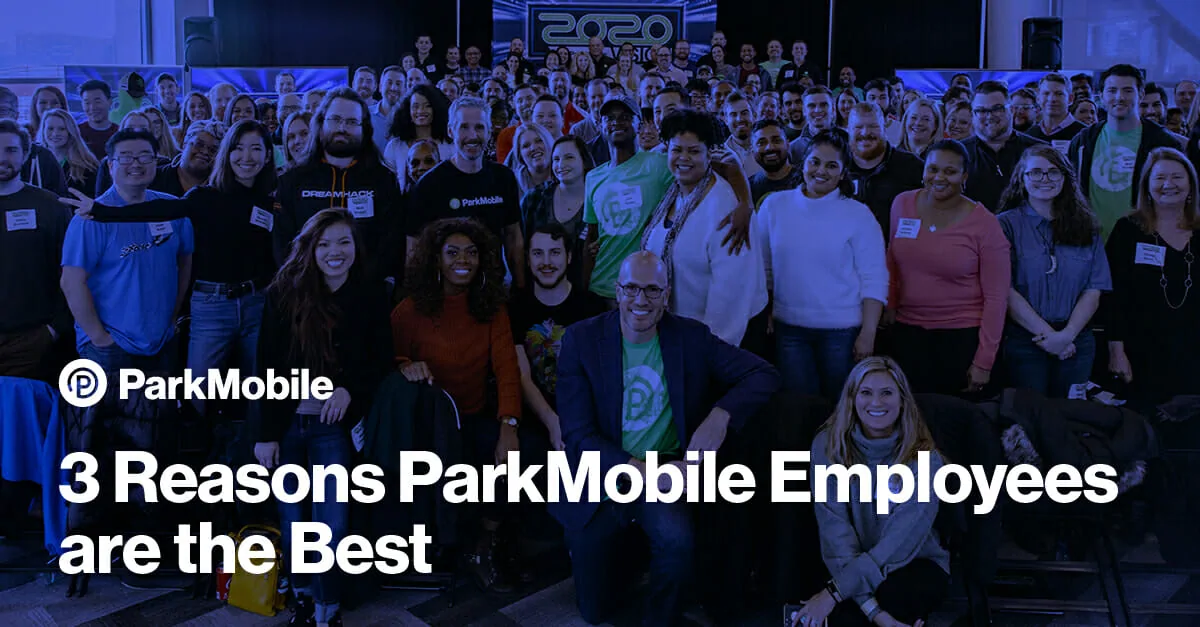 Reason #2: They Support Our Community
ParkMobile employees care greatly about each other and the company's mission to power smart mobility for every driver and vehicle, everywhere. Above and beyond that, they care about their surrounding community. The ParkMobile Cares charitable arm of the PM family demonstrates that by supporting local programs benefiting disaster relief recoveries, contributing to health and medical research, and uplifting communities. These programs include:
Meals on Wheels Atlanta

Habitat for Humanity

United Way

The Salvation Army – Metro Atlanta Command

Trees Atlanta

Soccer for Success

Atlanta Community Food Bank

National Breast Cancer Foundation

Families First

Medshare

And more!
Reason #3: They Make ParkMobile Fun
I want to work in a boring environment. Those are the words of No One Ever. What makes you want to come to work? PM employees have the answer. They decorate workspaces in creative ways, take time for trivia and Nerf gun wars, and have even created custom graffiti artwork that gets showcased around the office. During and after work hours, employees socialize with amazing happy hours and the occasional themed party. They take time to play so when it's time to work, they get more done with refreshed minds and renewed creative juices. PM is so much more than a collection of bright minds and driven workers; it's a community of employees that love their jobs and their teammates, who are also their friends.  
Evidence shows the need for fun in the workplace is universal: Studies over the last two decades have revealed when workplaces make fun a factor it creates happier employees that feel more satisfied. And happy employees are all-around better at their jobs. (from How to Have Fun at Work and Why It Is Important).
Join the PM Team!
Ready to join a fantastic, fun, cutting edge team that makes work an exciting place to be? Check out ParkMobile career opportunities and picture yourself here.
We Couldn't Have Done It Without You
Employees are the lifeblood of our company, so when we say that we couldn't have had a record-setting year at ParkMobile without them, we really mean it. Thank you to our amazing team. Here's to another innovative and successful year ahead with the best employees.