A Record-Breaking 2019
As another year at ParkMobile comes to a close, we're looking back on the things we've made happen in 2019 – and we're proud of what we've accomplished. Thank you for being a part of our journey.
Here, There, and Everywhere in Between
This year, we're closing out with 762 different "parking suppliers" – that's what we call the 762 cities, event venues, universities, airports, and parking operators that have chosen ParkMobile as their go-to smart parking solution. Five years ago in 2014, we closed out the year with 279 suppliers. That's a 173% increase in five years.
Today, almost anywhere you go across the country, you can use ParkMobile to pay for parking. Our growth doesn't stop here – we're dedicated to giving you even more places to park in 2020.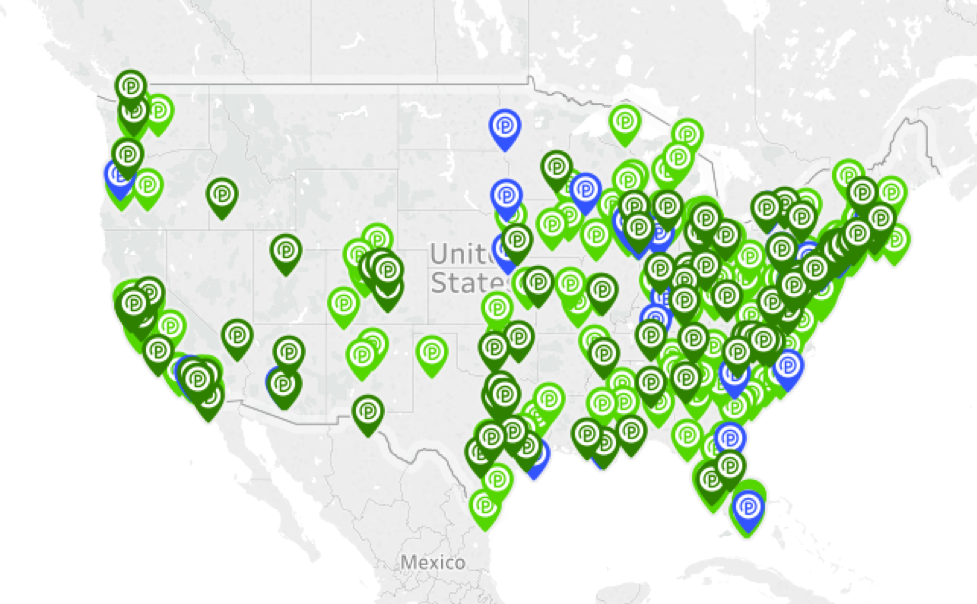 More Users, More Transactions
Last year, we closed out 2018 with 12 million users. So, where are we now? In 2019, we've seen incredible growth month-to-month, and we're constantly looking for new, innovative ways to reach users across new markets. We're excited to say that we now have over 17 million users of the ParkMobile app. That's an additional 5 million users acquired within one year.
How about transactions? This year, we processed nearly 88 million parking transactions across the country – 20 million more than we did last year.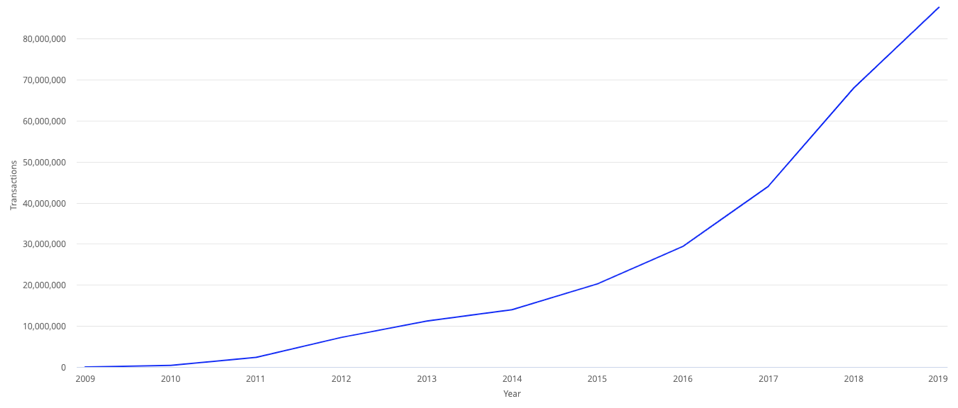 The time keeps adding up, too. This year, our users parked for a total of nearly 13 billion minutes. That's over 24,000 years.
On the Rise: Parking Reservations
What about parking reservations? Two years ago, ParkMobile announced the arrival of this exciting new feature, allowing users to avoid the stress of circling the block in search of an open parking spot by reserving one in advance. In 2019, our users made a total of 1.7 million reservations for concerts, sporting events, and more. And this continues to grow rapidly as our users discover the convenience of making a parking reservation in advance. If you haven't tried out our parking reservation feature yet, click here to see what's available in your location.
What's New?
In 2019, we made some valuable changes to our product, all of which aim to provide a better experience to our users. This year, we launched:
In-App Chat Support. Instead of only being able to contact our customer support team through email or phone, you can now get in touch with us through our new, built-in chat support within the app – 24/7.
Space-Level Parking Availability Sensors. In El Paso, we integrated our application with sensor technology to show real-time parking availability throughout the city, showing you exactly where the open spots are in your area.
Guest Checkout. When making a reservation on the web, visitors are no longer required to create an account, which allows more people to access our reservations feature without barriers.
Reservations Emails. When you make a reservation, your confirmation email now includes a barcode and location details so you no longer need to log in to access this information.
Multi-Venue Websites. We introduced new websites for Arena District in Columbus and MGM Resorts in Las Vegas, where you can make parking reservations for different venues within the entertainment complex.
Event Packages. For season ticket holders, you can save money and buy your parking passes for every game with a single purchase.
The People Behind the Product
Behind ParkMobile, there's a team of people dedicated to expanding and bettering our product. We care about the work that we do, and we're all motivated by our mission: to power smart mobility for every driver, and every vehicle, everywhere. When we're not coding, designing, launching new markets, or engaging with our customers, we're turning to each other.
In 2019, our team worked with organizations across Atlanta through volunteer work, donations, fundraising, and event sponsorships. We built a house with Habitat for Humanity, collected donations for the Atlanta Humane Society, celebrated diversity at the Atlanta Pride Parade, and adopted a family through Families First for the holiday season.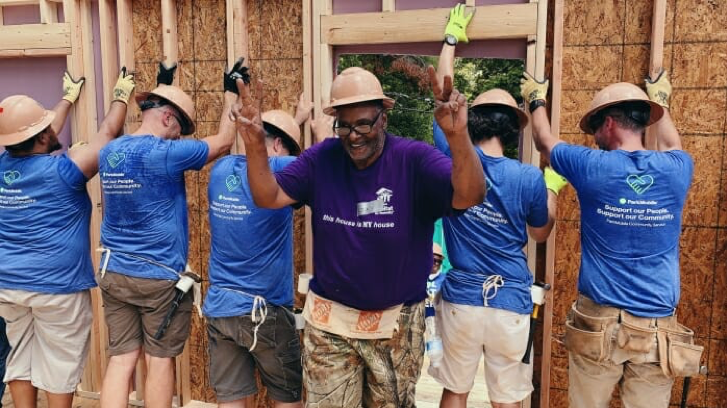 In 2019, ParkMobile was also recognized for multiple local and national awards. We are grateful for all of our team members who have helped contribute to our success and recognition in the community. Check out some of this year's wins!
Inc. 5000
Technology Association of Georgia's (TAG) Most Innovative Company
Stevie Awards – Most Innovative Company, Best Marketing Campaign, Best Mobile App – Travel, Best Customer Service
Atlanta Business Chronicle's MAX Award
Atlanta Inno's 50 on Fire
Inc. Best Workplaces
Atlanta Journal Constitution's Top Workplaces
Atlanta Business Chronicle's Best Places to Work
Atlanta Business Chronicle's Pacesetter Award
Southeast Software Association (SSA) Impact Award
National Parking Association (NPA) Innovation Award
Atlanta Inno's Coolest Companies
National Parking Association's (NPA) 40 Under 40
That's a Wrap
We owe it all to you! As we conclude another incredible year at ParkMobile, we want to thank our customers and clients for supporting us in 2019. In 2020, we will have much more to show you. Happy New Year!