Soldier Field, which opened in 1924, has been the home of the NFL's Chicago Bears since 1971. As the oldest stadium in the NFL, it offers a storied experience to fans of both the Bears and the Chicago Fire.
Soldier Field Parking Guide | Parking for Bears Games
Located at 1410 South Museum Campus Drive in Chicago, Illinois, Soldier Field sits squarely in the city's downtown area. As far as NFL stadiums go, it offers one of the more stress-free parking experiences. We'll walk you through it below. Use ParkMobile's service to reserve your parking head of time.
Where to Park at Soldier Field
Soldier Field offers three official parking lots and garages:
Waldron Deck, located just south of the stadium. Online pre-purchase only.
South Lot, located below Waldron Deck. Online pre-purchase only. Note that no oversized vehicles are allowed.
North Garage, located directly north of the stadium. Online pre-purchase only.
There are also several unofficial lots located nearby, including:
31st Street Parking Lot. Cash and online pre-purchase available.
McCormick Place Lake Side Center Underground Garage. Cash only.
Adler Planetarium Lot. Cash and online pre-purchase available. RVs, campers, and buses allowed.
Burnham Harbor Lot. Open after boating season. Cash and online pre-purchase available. Cars only.
No matter where you park, expect pricing to start around $30 and go up from there depending on your location.
Soldier Field Parking Map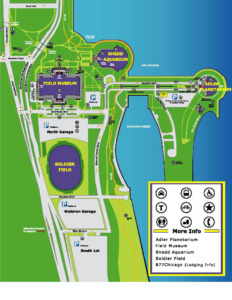 Public Transportation to Soldier Field
Soldier Field is located near Chicago's downtown area, which means accessing it via public transportation is easy.
○      Rail. The stadium can be easily accessed with the CTA via the Red, Green, and Orange lines at Roosevelt Station, located three-quarters of a mile from the stadium entrance.
○      Bus. If walking is difficult, CTA bus route #146 Inner Drive/Michigan Express can connect you from Roosevelt Station directly to the stadium entrance.
Handicap Parking at Soldier Field
Accessible parking is available to guests with an ADA placard or license plate in each garage at Soldier Field. Accessible parking spaces can fill up fast, so it's a good idea to show up early to claim a spot.
Soldier Field Tailgating
At Soldier Field, tailgating is allowed on all surface lots, as well as on the upper level of the Waldron Deck. Here's what you need to know:
Fire pits and open fires are not allowed, and no propane tanks larger than 19 pounds are allowed.
Tailgating can start four hours before the game and continue two hours after it. There is no tailgating allowed during the game.
You'll need a parking ticket and a game ticket to park in a tailgating lot.
Tailgaters are only allowed to use one single parking space per vehicle.
Alcohol is allowed, but only in the parking lot.
No pop-up tents are allowed.
Soldier Field Parking FAQs
We get it. Parking can be a headache. To make things even easier on you, we've brought together answers to a few commonly asked questions about parking at Soldier Field.
How much does it cost to park at Soldier Field?
Parking for a Bears game has a wide range of pricing. Depending on where you park, you could pay anywhere between $30 and $110. The good news is that reserving a spot early with a service like ParkMobile can help you snag a cheaper spot.
Where do you park for Chicago Fire games?
For Chicago Fire games, you'll utilize the same parking facilities that you would for a Bears game. Here's what you'll need to know:
●     Parking will cost $35 for cars, cash or credit, and $160 for buses.
●     Parking will be focused in the Waldron Parking Deck and North Garage.
●     Parking can be purchased through Soldier Field's direct portal or by downloading the ParkMobile app and purchasing there.
●     Parking lots open three hours before the start of the game.
Where can I buy a parking pass for Bears games and Reserve parking ahead of time?
Parking passes can be purchased through SoldierFieldParking.com, where you can buy season passes and single-game parking tickets. You can also find parking passes on general-service ticket sites like StubHub. For a stress-free experience that lets you focus on the game, consider reserving your Soldier Field parking ahead of time with ParkMobile. It's the smartest way to snag a great deal and eliminate the headache of searching for a parking spot.