Located at 1500 Sugar Bowl Drive in New Orleans, Louisiana, Caesars Superdome is home to the New Orleans Saints of the National Football League and has hosted eight NFL Super Bowls, six NCAA Final Fours, and a College Football Playoff Game every three years, including one Championship Game. If you want to count the BCS era, the Superdome has hosted the National Championship five times. Previously known as Mercedes-Benz Superdome, Caesars Superdome is also the largest fixed-dome stadium in the world, making it a must-see for anyone visiting the city.
Caesars Superdome Seating Chart
With a maximum capacity of 83,000 people, Caesars Superdome is a massive stadium. That can make it a little tricky to find your seat sometimes. To make it easier, check out the Caesars Superdome seating chart below.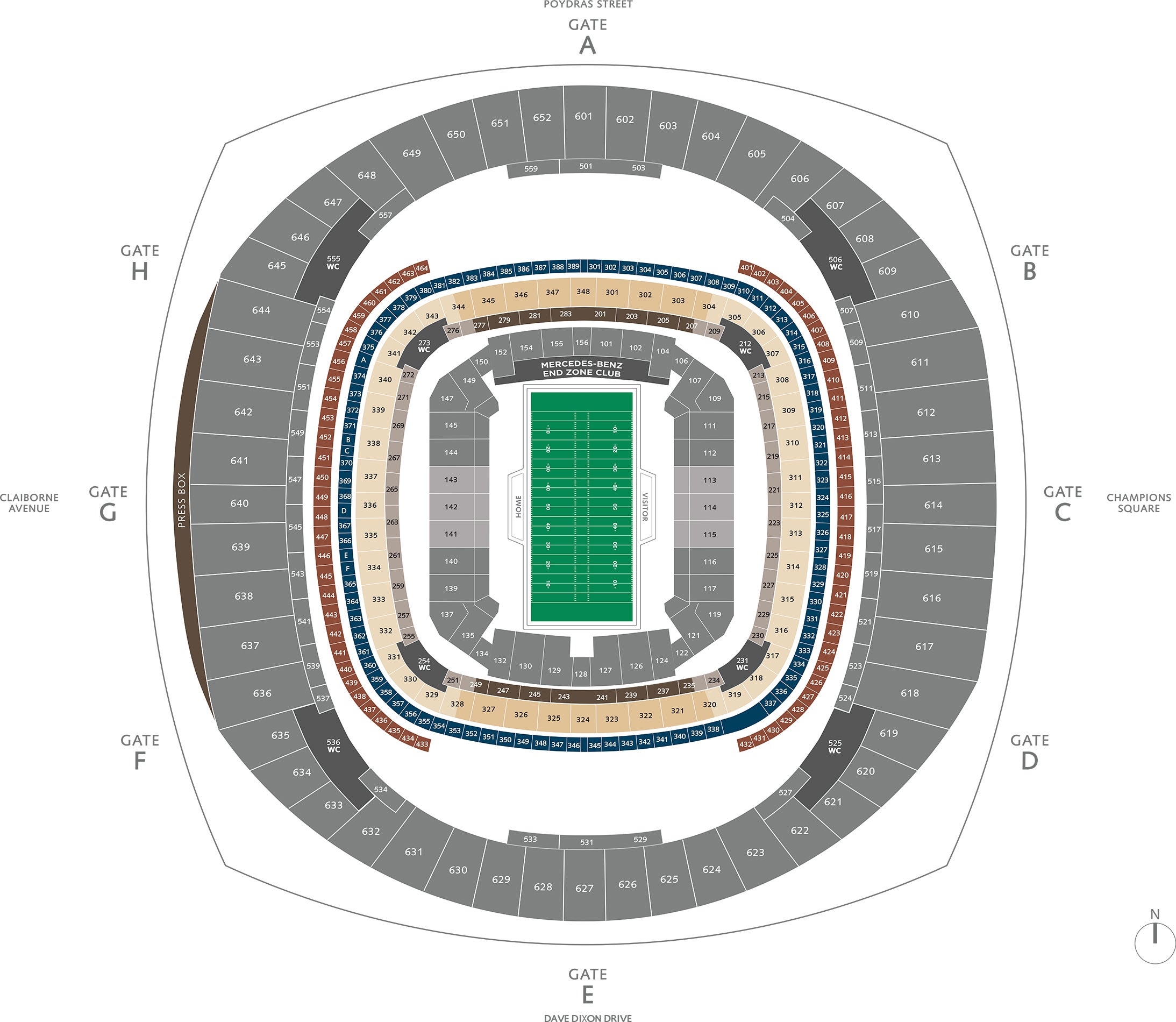 For a breakdown of the different levels and zones of seating, the Caesars Superdome official website also offers a number of more detailed seating charts.
Eating and Dining at Caesars Superdome
Caesars Superdome boasts some impressive eating and dining options, and you're guaranteed to find something that meets your taste. Classic game foods like hot dogs, burgers, and pizza will be located everywhere throughout the stadium, and beer and other beverages will never be more than a short walk away.
There are also tons of exciting and unique food options at Caesars Superdome that might strike your fancy. Here are a few treats we'd recommend:
Cajun Corner, located throughout the stadium, serves alligator sausage, jambalaya, and more.
Parish Grill, in sections 111 and 139, is the perfect spot to grab a catfish or shrimp po'boy.
Royal Feast and Kings Table, in sections 207 and 249, has pulled pork, smoked sausages, BBQ sandwiches, and other filling classics.
If you're looking to grab a bite or drink before or after the game, there are also some great options in the immediate area, including Borgne, Vitascope Hall, and Walk-On's Sports Bistreaux, all of which are within walking distance of Caesars Superdome.
Caesars Superdome Events
Besides hosting the New Orleans Saints, Caesars Superdome also hosts a wide variety of other events throughout the year, including concerts and other entertainment options. For a full breakdown of what events to expect in the coming months, you can visit the stadium's official events page.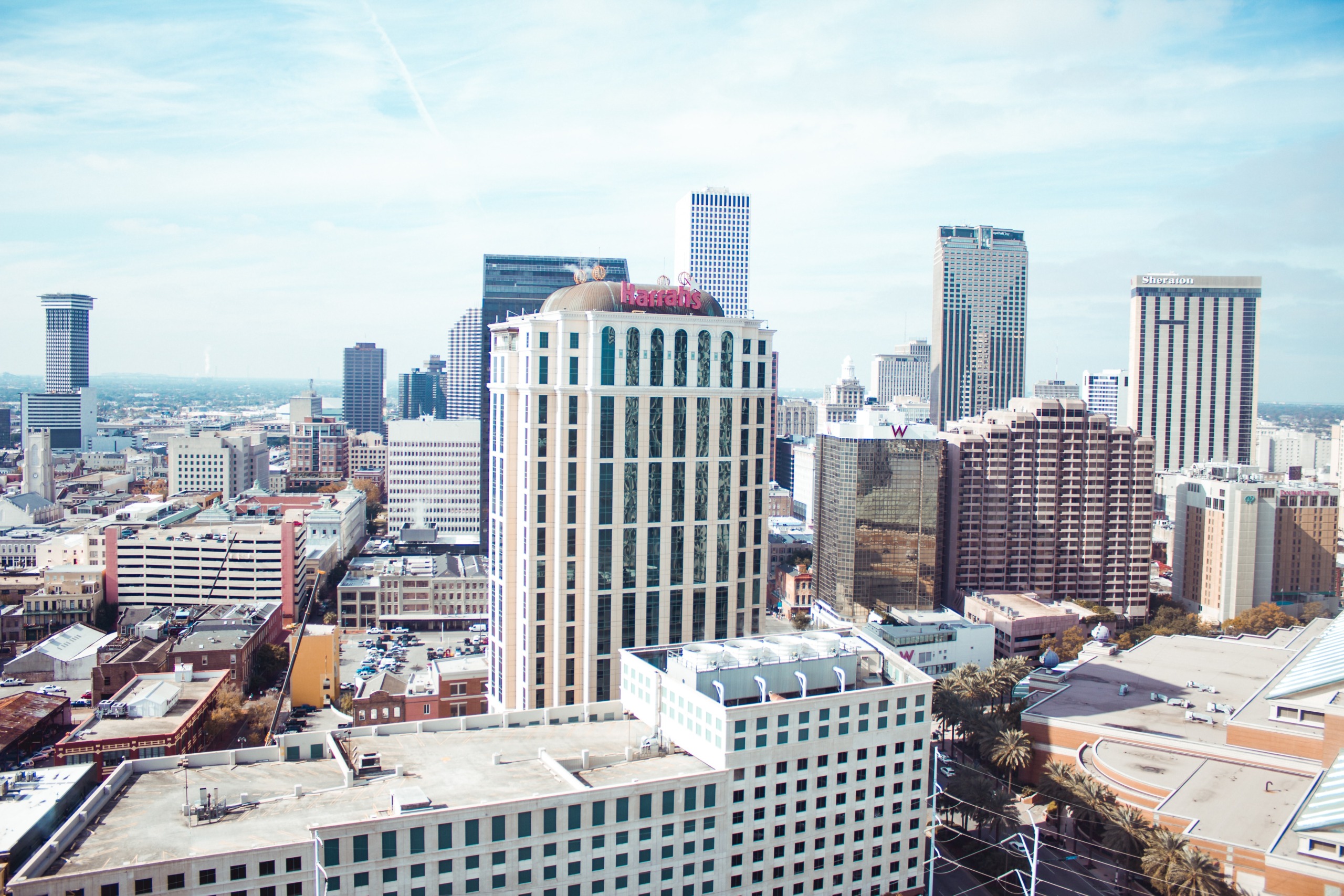 Hotels Near Caesars Superdome
Looking for a place to stay near Caesars Superdome? Fortunately, there are a number of hotels conveniently located nearby. Here are a few that we recommend:
If you're willing to walk a little further or take public transportation, you can find even more hotels in the surrounding area, and you might even be able to grab a slightly cheaper deal.
Caesars Superdome Parking
Caesars Superdome offers several official parking garages and lots that are either attached to the building or located directly adjacent to it. The garages are numbered, and include #1, #1A, #2, #2A, #5, #6, while the parking lots are known as Lot 3 and Lot 4.
There are also plenty of unofficial parking lots and garages in the surrounding area, known as the Central Business District, where you can save a few bucks. You may have to walk a little bit to get to the stadium, but for many fans, that's a fair compromise. You can even reserve your spot ahead of time with a parking app like ParkMobile. Here are a few options we recommend:
| | | |
| --- | --- | --- |
| Garage/Lot | Price | Distance |
| Heal Garage | $30 | 6 minutes |
| 1301 Girod Street Garage | $30 | 6 minutes |
| 1569 Perdido Street Garage | $30 | 7 minutes |
| 1615 Perdido Street Garage | $30 | 7 minutes |
| 1200 Poydras Street Garage | $40 | 7 minutes |
FAQs
Still have questions about Caesars Superdome? We've brought together answers to a few frequently asked questions below.
Why did they change the name of the Superdome?
Mercedes-Benz decided not to renew its naming rights to the Superdome after its original contract ended in July of 2021, stating the company had other opportunities they were interested in pursuing. In 2021, naming rights to the Superdome were sold to Caesars Entertainment, the parent company of Harrah's casino, located in the city of New Orleans.
Did Caesars buy the Superdome?
No. Caesars Entertainment simply purchased the naming rights to the Superdome for a period of 20 years.
Can you visit Caesars Superdome?
While Caesars Superdome doesn't allow general tours, you can absolutely visit it if you're attending a sporting event, concert, convention, or other events. For more information about visiting, check out the Superdome's website.
Is the Caesars Superdome the same as Mercedes-Benz Stadium?
No. Mercedes-Benz Stadium is located in Atlanta, Georgia. Caesars Superdome, located in New Orleans, was previously named the Mercedes-Benz Superdome — an important difference.