Gillette Stadium has been home to the NFL's New England Patriots since it opened in 2002 on a site adjacent to the old Foxboro Stadium. With a capacity of nearly 66,000, a game day can get crowded — but that doesn't mean parking needs to be a hassle.
Gillette Stadium Parking Tips | Parking for Patriots Games
As with any big game, you'll want to show up early to guarantee you find a spot that fits your pricing and location needs. The good news is there's plenty of official and non-official parking to go around. Read on for some tips on parking for Patriots games and more.
Gillette Stadium Parking
Gillette Stadium parking will depend on whether you're attending a Patriots game, a Revolution game, or a concert. Parking facilities for Patriots games open four hours before kickoff and will usually cost between $30 and $60.
| | |
| --- | --- |
| Lot/Entrance | Prices |
| Entrance P10S | $30 |
| Entrance P11 | $30 |
| Entrance P2 | $60 |
| Entrance P10N | $30 |
| Entrance P7 | $60 |
| Entrance P9 | $60 |
| Lot 3 | $60 |
For Revolution games, Gillette Stadium uses many of the same lots, which you can see in the map below and which open two hours before game time. Blue lots represent general parking, which is free for anyone coming to see a Revolution game.
For concerts, Gillette Stadium parking facilities open four hours before the concert start time. The general parking price for all concerts is set at $50.
Patriots Parking Map
To find your way around the parking system at Gillette Stadium, you can take a look at this handy parking map, which is also available on the stadium's website.
Public Transportation to Gillette Stadium
Public transportation to Gillette Stadium will depend on the event you're attending:
For Patriots games at Gillette Stadium, the MBTA offers train service from Boston and Providence. Tickets can be purchased in advance through the MBTA mTicket app.
The MBTA also offers a train service for certain Gillette Stadium events. To check if your event qualifies, take a look at the stadium's Event Guide.
Unfortunately, there aren't public transit options available for Revolution games at this time.
If you are taking the train, make sure to buy your tickets in advance, as they usually sell out before the event day.
Handicap Parking at Gillette Stadium
With a valid disabled parking placard or license plate, you'll have access to ADA parking spots in Lots P1, P2, P4, P7, P10, and P22. Availability and location will depend on the type of event you're attending:
Patriots Games. Gillette Stadium's licensed ADA parking spaces are located in Lot 4 and Lot 22, while overflow ADA parking is located in Lot 3 and Lot 20.
Revolution Games. Parking is located in Lot 3 and Lot 20.
Parking is located in Lots P1 and P7.
Keep in mind that these spaces will typically fill up an hour and a half before game time, so make sure to show up early.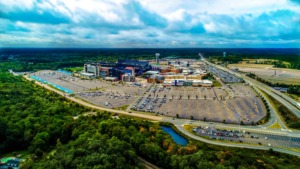 Tailgating at Gillette Stadium
Gillette Stadium allows tailgating in all general parking structures before all events, including Patriots games, Revolution games, and concerts. Tailgating is allowed when the lots open to general parking. For Patriots games and concerts, that's 4 hours before the start of the event. For Revolution games, that's 2 hours before game time.
Note that open fires, like fire pits, aren't allowed. All fires need to be contained in a fire burning device that is movable in case of an emergency. That means grills are totally fine, as long as you properly dispose of your charcoal.
Gillette Stadium Parking FAQs
We get it. Parking can be a headache. To make things even easier on you, we've brought together answers to a few commonly asked questions about parking at Gillette Stadium below.
How much is it to park at Gillette Stadium?
Parking costs will vary depending on the type of event you're attending and the location you choose to park in. But in general, you can expect to pay between $30 and $60 to park at Gillette Stadium.
Is there free parking at Gillette Stadium?
Free parking is available, with a catch. Any ticket holder can register for free parking in the Gillette Stadium Delayed Exit Lot, located in Lot 55. However, you won't be able to leave the lot until 75 minutes after the end of the game.
What can you bring into Gillette Stadium?
Gillette Stadium has a bag policy that only allows gallon-sized clear freezer bags, authorized clear bags measuring 12″ x 12″ x 6", and women's wallets not to exceed 6.5″ x 4.5". You can bring in banners and flags, blankets, cameras, and small electronics. For a full list of what's prohibited, check out the stadium's bag policy.
Reserve your spot with ParkMoble
For a stress-free experience that lets you focus on the game, consider reserving your Gillette Stadium parking ahead of time with ParkMobile. It's the smartest way to snag a great deal and eliminate the headache of searching for a parking spot.