Lucas Oil Stadium has been home to the Indianapolis Colts since it replaced the RCA Dome in 2008. It's a great place to catch a football game, concert, or another event throughout the year. We've brought together some quick tips for parking for Colts games — or any other event that catches your eye.
Parking for Colts Games
Located at 500 South Capitol Avenue in the heart of downtown Indianapolis, Indiana, Lucas Oil Stadium offers abundant choices for affordable parking year-round.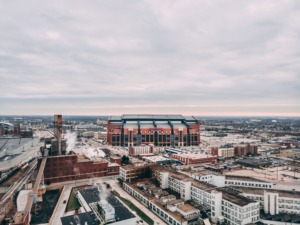 Where to Park for Colts games
There are tons of parking lots surrounding Lucas Oil Stadium, so if you're looking for parking for Colts games, you're probably going to end up in a lot. Lots like CIB South Lot are run by Denison Parking and offer around 2,000 spots in the immediate proximity of Lucas Oil Stadium. On game day, you'll end up spending anywhere between $10 and $35 for parking.
You can save some money by opting for a nearby parking garage or lot. Because Lucas Oil Stadium is in the downtown area, you'll have plenty of options, including:
| | | |
| --- | --- | --- |
| Garage/Lot | Address | Pricing |
| Kentucky Avenue Lot | 525 Kentucky Avenue | $22 |
| Gate Ten Events and Parking | 343 West McCarty Street | $18 |
| Capital Commons Garage | 284 West Washington Street | $25 |
| South Kenwood Avenue, Lot E | 905 South Kenwood Avenue | $10 |
| South Meridian Street Lot | 850 South Meridian Street | $20 |
| Omni Severin Hotel Valet Parking | 40 West Jackson Place | $25 |
| Vermont and Delaware Lot | 211 East Vermont Street | $6 |
| Marriott Parking Garage | 350 West Maryland Street | $17 |
| West Market Street Garage Parking | 130 West Market Street | $12 |
| Antelope Club Lot | 120 East North Street | $6 |
Public Transportation to Lucas Oil Stadium
The easiest way to deal with parking is to not park at all. Taking public transportation is a great option in Indianapolis, and the IndyGo bus service offers more than 30 routes to and from the city's downtown transportation hub. From there, it's just a short walk to Lucas Oil Stadium.
Lucas Oil Stadium Handicap Parking
Downtown Indianapolis has more than 70,000 parking spots with plenty of options for accessible parking. Official accessible parking is available in the Stadium's South Lot on a first-come-first-served basis with a valid placard or license plate.
Colts Game Parking FAQs
Prepping for a big game day can be a lot, so we've brought together a few commonly asked questions to make sure you're prepared.
How much is parking at Lucas Oil Stadium?
If you play your cards right, you can find a parking spot for $20 only a short walk from the stadium. In general, you'll likely pay between $20 and $30 for parking, depending on the location of the garage or lot you choose.
Is tailgating allowed at Lucas Oil Stadium?
The short answer is yes. While the official Colts-affiliated lots don't allow tailgating, tailgating is a big tradition at Colts games and is allowed in most of the public lots around the stadium. Policies will vary by lot, but in general, tailgating is only allowed directly behind your vehicle, and no tents or charcoal grills are allowed.
What can you bring into Lucas Oil Stadium?
Generally, you'll only be allowed to bring in one clear plastic, vinyl, or PVC bag that doesn't exceed the dimensions, or a one-gallon size clear plastic freezer bag. That means no backpacks or large purses. Outside food and beverage are not allowed in the stadium, except in the case of dietary needs or restrictions.
Reserve your spot with ParkMobile
For a stress-free experience that lets you focus on the game, consider reserving your Lucas Oil Stadium parking ahead of time with ParkMobile. It's the smartest way to snag a great deal and eliminate the headache of searching for a parking spot.