Formerly known as AT&T Park, Oracle Park has been home to the MLB's San Francisco Giants since 2000. Located at 24 Willie Mays Plaza in the city's SoMa neighborhood, the park offers gorgeous views of the San Francisco Bay and is consistently ranked one of the best stadiums in Major League Baseball.
Official parking lots in the surrounding area boast more than 3,500 parking spaces, and there are plenty more in off-site lots and garages nearby. To help you find the parking option that's best for you, we've brought together this handy guide on where to park and what to eat when you're visiting Oracle Park.
Official Parking at Oracle Park
Oracle Park offers more than 3,500 official parking spaces in Lots A, B, C, E, and Piers 48 and 30. All of these lots will open 3 hours before game time, and prices will vary depending on the time of the game. Check out the chart below for an easy breakdown of where to park and how much you'll pay.
| | | | | |
| --- | --- | --- | --- | --- |
| Lot/Garage | Price (Weekday Night) | Price (Weekday Day/Weekend) | Distance | Walking Time |
| Lot A/Pier 48 | $40 | $50 | 0.2 miles | 4 minutes |
| Lot C | $40 | $50 | 0.3 miles | 7 minutes |
| One Bryant (Lot 26) | $30 | $40 | 0.6 miles | 12 minutes |
| Pier 30/32 | $30 | $40 | 0.5 miles | 10 minutes |
| Pier 48 (Oversized Vehicles) | $80 | $80 | 0.2 miles | 4 minutes |
Accessible Parking Services
All official Oracle Park parking lots offer accessible parking spaces on a first-come, first-served basis, as well as a free ADA shuttle service that operates two hours before the game and one hour after it.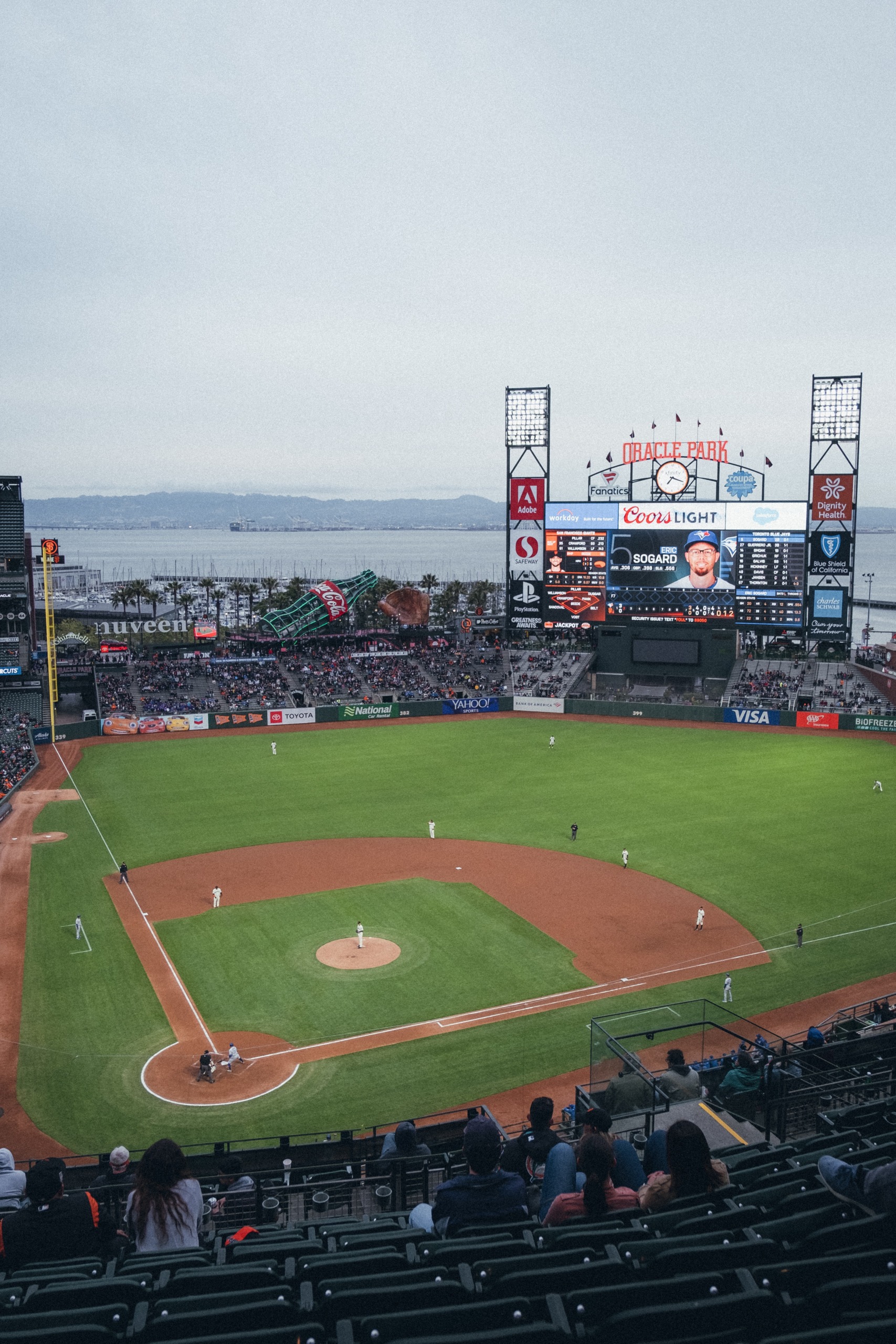 Tailgating
Tailgating is allowed in Lot A and Lot C. You should know that only single spaces can be used for tailgating in these areas. Large group tailgating events can be held in the north area of the bus lots across from Pier 48. Note that regardless of the tailgating area, consumption of alcohol is not allowed.
Charter Bus Parking
There are a limited number of parking spaces for oversized vehicles including charter buses on the east side of Lot A and at Pier 48. Prices can vary slightly depending on the season, but in general you can expect to pay $80 for charter bus parking.
Parking Near Oracle Park
If you're trying to save a little bit of cash, there are a number of off-site parking options in the surrounding area that offer parking for as little as $10. Check out the garages and lots we recommend below.
| | | |
| --- | --- | --- |
| Garage/Lot | Daily Rate | Distance to Stadium |
| 450 5th Street | $12 | 0.8 miles |
| Museum Parc Garage (300 3rd Street) | $10.25 | 0.6 miles |
| 733 Folsom Street Garage Parking | $10.25 | 0.7  miles |
| 60 Clementina Street Lot | $10 | 0.7 miles |
| Garage – 38 Colin P Kelly Jr. Street (625 2nd Street) | $20 | 0.2 miles |
| 801 Bryant Street Lot | $10 | 0.9 Miles |
Alternative Transportation
San Francisco is renowned for its public transportation, so if you're looking to avoid the parking problem entirely, you'll have plenty of transit options at your disposal. We've brought together a few options below, and you can also check out the Giants' official website for their public transit recommendations.
AC Transit runs a few Transbay lines from the Salesforce Transit Center directly to the inner East Bay at regular intervals every weeknight.
The T-Third is the only light rail line currently serving Oracle Park, and is a great option any time before 8:00 PM. After that, you'll want to take the N-Judah of T-Third bus. Taking BART is also a solid option before 9:30 PM.
Currently, direct ferry service to Oracle Park isn't available, but you should feel free to check out SF Bay Ferry for any news or updates.
Parking Tips for Game Day
You've been waiting and waiting, and now game day is finally here. Don't let an unexpected parking problem ruin your day! Here are some final parking tips to keep in mind.
Show up early. We recommend showing up around 1 to 2 hours before game time. San Francisco is a pretty dense city, so this will make it easier to navigate the area and snag your parking spot.
Park further away. Save money and cut down on stress by parking a little further away from Oracle Park. As a bonus, you won't get stuck in traffic trying to exit one of the official lots after the game.
Reserve your spot ahead of time. Guarantee you've got a great parking spot and avoid the hassle of carrying cash around by reserving your parking spot ahead of time with the ParkMobile app.
Look for street parking. If you're lucky, you can nab a free street parking spot in the area. Locals recommend looking in a few places, including the Dog Patch neighborhood, 8th and Brannon, 7th and Townsend, and Lucerne Street.
What to Eat at Oracle Park
Oracle Park boasts some pretty impressive food options that you won't want to miss. Below, you'll find everything you need to know about where and what to eat in, and around, Oracle Park.
Can You Bring Food into Oracle Park?
You're allowed to bring your own food into Oracle Park, as long as it's contained in a soft-sided cooler that doesn't exceed the park's general size restrictions (16'' by 16'' by 8").
Food at Oracle Park You Don't Want to Miss
San Francisco is a foodie city, so it's no surprise Oracle Park has plenty of excellent food to offer. Here are some unique options you won't want to miss.
Super Duper Burger. San Francisco's most famous burger joint has a location inside Oracle Park by Section 146. The titular super burger is a classic, and their garlic fries aren't bad either.
Orlando's Caribbean BBQ. Serious Caribbean flavors including Baja-style fish tacos and Orlando's patented Cha-Cha bowls make this stop a fan favorite.
Dough'p. When it comes to dessert, it's hard to beat Dough'p. Edible cookie dough is served up in waffle cones with plenty of toppings.
Pier 44 Chowder House. San Francisco is famous for its clam chowder served sourdough bread bowls, and Pier 44 Chowder House is the perfect place to get your fix.
Bar San Pancho. Get the best burrito bowls in the city here, or try some newfangled desserts, like their cinnamon-sugar nachos.
Best Restaurants and Bars Near Oracle Park
If you're looking to grab a drink or bite before the game, you're in luck. Here are some great restaurants near Oracle Park.
New Belgium Brewing. Plenty of beers on tap, with Mission-style hot dogs and other experimental treats.
Red's Java House. The famous joint is the perfect stop for a classic beer and burger, and it's only a 10-minute walk from the field.
For casual Mexican, including a riceless burrito and mouth watering zapatos, Garaje is the place to beat.
Little Skillet. From a blackened catfish po'boy that's to die for, to their famous chicken and waffles, Little Skillet boasts diverse offerings.
Casey's Pizza. For fantastic appetizers and Neapolitan-style pies, Casey's simply can't be beat.
And if you're just looking for a place to grab a pre-game drink, we recommend the following bars in the area:
Reserve Your Spot Today with ParkMobile
Excited about the upcoming game but feeling stressed about parking? ParkMobile makes it easy to find parking near Oracle Park and around San Francisco. So what are you waiting for? Reserve your spot today with ParkMobile.