**Updated February 2023
Close your eyes and picture this: You're sitting in a café next to a river, sipping coffee and eating powdered sugar-covered pastries while a zydeco band plays trumpets, guitars, and accordions nearby. You're surrounded by colorful buildings with cast-iron balconies, bustling crowds, street performers and the smells of Cajun cooking. Care to guess where your imagination has taken you? New Orleans, of course (pronounced "naw-lins" by locals)! If you haven't yet planned your trip to the Big Easy, now's the time to get planning. If you have planned your trip, congrats – you are about to experience one of America's true cultural gems.
With so much to see and do around this beautiful and historic city, the last thing you'll want to worry about is parking. With ParkMobile on your side (and your phone), you'll have no trouble finding where to park in New Orleans.
Los Angeles may be the "City of Angels" but New Orleans is the "City of the Saints". Coming to see the Saints play at the Superdome? With Drew Brees at the helm and Michael Thomas receiving the ball, the Saints have historically been a force to be reckoned with this season and can be counted on to bring their A-game at home. If you read our blog on parking for NFL games, you'll know that ParkMobile helps you stash your ride on-site so you won't miss any of the action. So fan up, grab your tickets, then count on us to show you exactly where to park in New Orleans for game time.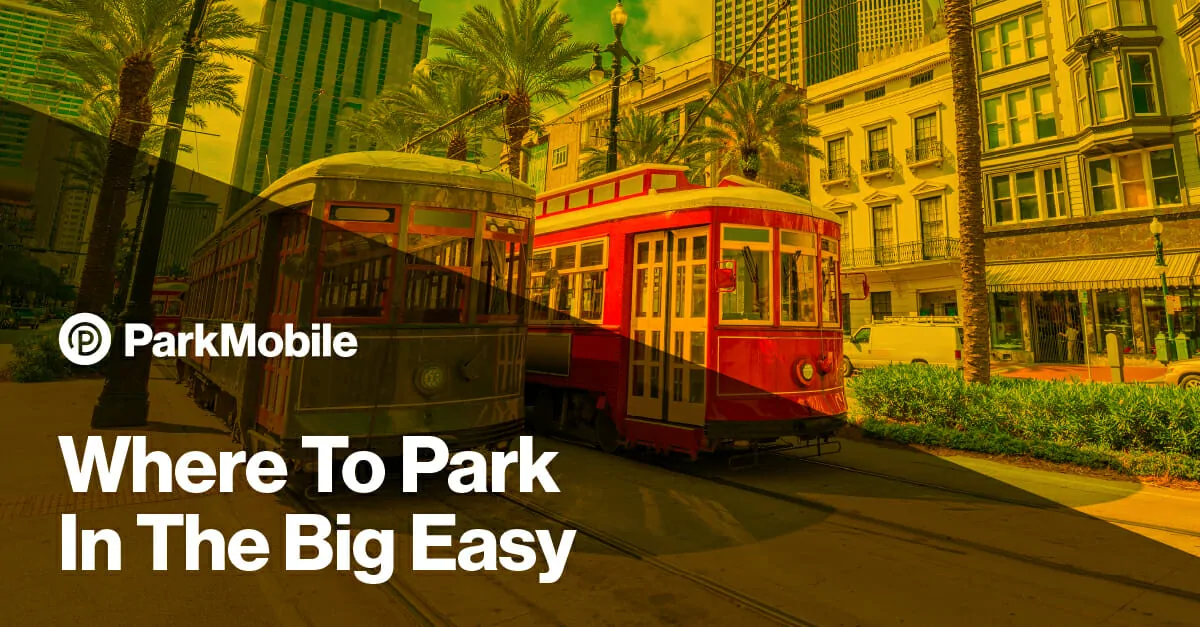 More of a basketball fan than a football fan? Smoothie King Center has you covered. Watch the New Orleans Pelicans as they take on the Indiana Pacers on Dec. 28 and the Houston Rockets on Dec. 29. Or maybe you'd like to rock your holidays with Tran-Siberian Orchestra, lighting up the stage on Dec. 18. Whatever your taste in entertainment, you can find it at this venue which is conveniently located just a hop and a skip from streetcars that will whisk you all over – from the French Quarter to the Garden District.
Why not lock in a parking spot at Smoothie King Center and then spend some time exploring the Big Easy before the big game? Maybe tour one of the famous above-ground cemeteries with its white and gray stone crypts and intricate ironwork. Snap pics of grand houses surrounded by giant magnolias and live oak, and make all your Instagram followers want to be where you are!
Even if you're not attending an event at the Superdome or Smoothie King Center, you've got plenty of options for where to park in New Orleans. Just open your ParkMobile app and find metered street parking near your destination. Simply secure your space, pay and even add time – right from your phone. Coins are a thing of the past – they might as well be Mardi Gras doubloons.
Remember that café where you imagined yourself earlier? That, friend, is Café Du Monde and it is located at 800 Decatur St. near Jackson Square, right on the river. Eat delicious beignets while sipping strong, hot chicory coffee and taking in all the sights and sounds in the heart of the French Quarter. Afterward, explore the nearby French Market with its myriad food, clothing and gift vendors. Pick up some Cajun-style hot sauce, grab a muffuletta sandwich (layers of deli meat, cheese, and spicy olive salad) and find the perfect t-shirt to remember your trip. From there, wander through the beautiful French District streets until you reach Bourbon St. Find an open-air club playing live jazz or blues and maybe try a hurricane. It's a New Orleans original and will warm you to your toes, despite being cold and blended.
For all your Big Easy plans, we're here to help make parking easy and maximize your fun. Enjoy your trip, drive safely and park happy.