So there you are, relaxing in your seat with a cool cup of water sitting in the cup holder beside you, when you notice the water's surface rippling slightly. You look closer, and the ripples increase while you hear a distinct boom, boom, BOOM getting ever closer. There's no mistaking it—you're being approached by a fierce, gigantic T-rex.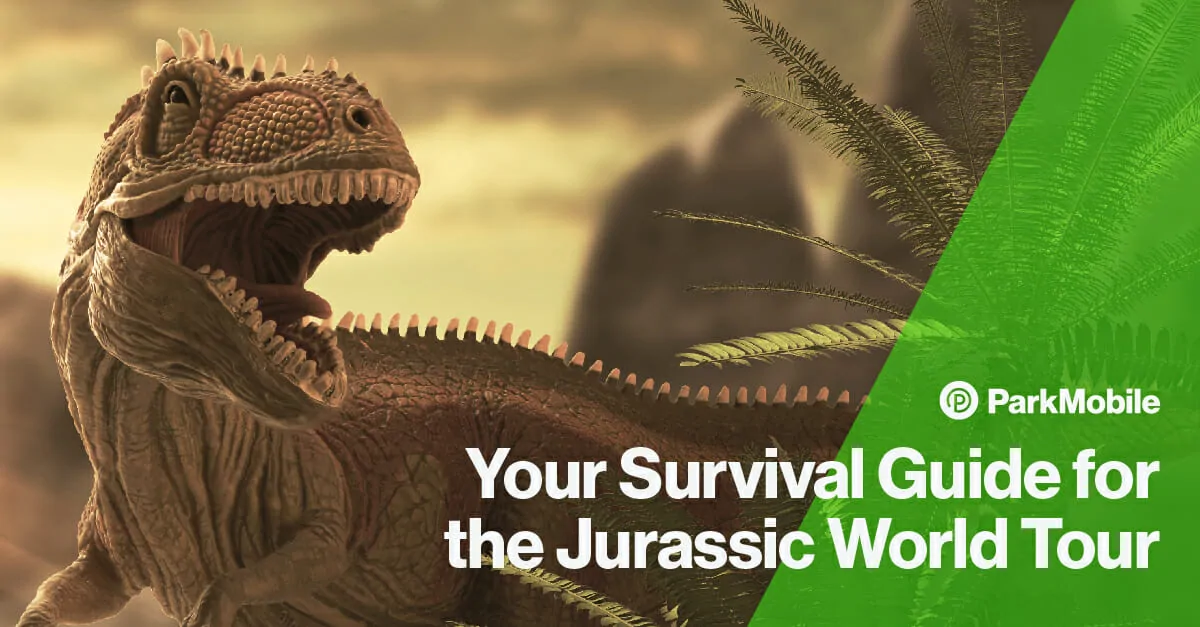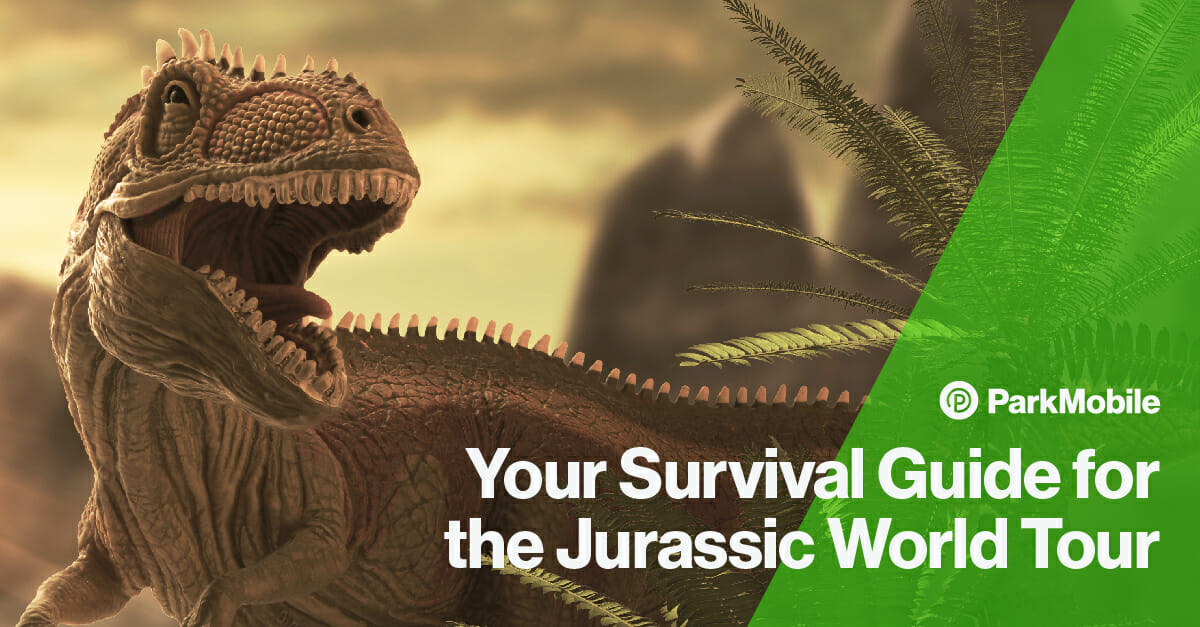 As it enters the clearing, the 20-foot tall, 40-foot long carnivore lifts its head and lets out a mighty roar. You should be terrified and running away, but instead, you applaud wildly with everyone around you from the safety of your front seat. You, my friend, are witnessing the mind-blowing excitement of the Jurassic World Tour, where animatronic dinosaurs bring a prehistoric world to life right before your eyes. Sound fun? Get tickets to an event near you, and we'll help you find parking for your epic Jurassic World Tour adventure. #raptorsrule
Survive the Dino Invasion – Find Parking for the Jurassic World Tour
When it comes to facing a human-eating predator, you've probably heard the phrase "I don't have to run fast, just faster than you." While parking isn't exactly the same level of life-or-death situation, it does require some forethought so you can stay at the top of the food chain (so to speak). Download the ParkMobile app and you won't have to battle over that last vacant parking space or break a sweat jogging from the furthest possible lot.
Oct. 24-27
Located at 1001 5th Ave., PPG Paints Arena is within blocks of everything you'll need for a great time – restaurants, hotels, shopping and, of course, parking. Just search for PPG Paints Arena in your ParkMobile app, and you'll find parking for the Jurassic World Tour close by. The lot at 600 Grant St. is near Crosstown Park and plenty of eateries, including The Commoner (at 458 Strawberry Way) which offers up inventive and oh-so-satisfying American cuisine. With a stashed car and a full belly, you'll be all set for heart-pounding dino excitement.
Nov. 8-10
You might have read our blog on where to park for Elton John's Farewell Yellow Brick Road tour; if so, you'll know that Fiserv Forum (901 N. 4th st.) is in a prime location for getting some suds and grub before or after an event. I mean, Good City Brewing is right next door – serving a wide variety of beers, wines and hearty pub food. Another awesome feature of this venue? You can find parking for the Jurassic World Tour on-site and even make reservations! So. Handy.
Dec. 19-22
What's better than giving your kids an early Christmas present of life-like dinosaurs on the loose? Giving yourself that same gift too! Just imagine Music City all decked out for the holidays, and seeing the excitement shining in your kids' eyes (and yours, too) as they watch Blue the Raptor lead his pack around the arena. Check out our tips on having a great night out at Bridgestone Arena for some nearby eatery recommendations and other things to note about this amazing venue. As with Fiserv Forum, you can find parking for the Jurassic World Tour right on site and reserve your spot. #merryearlychristmas
Jan. 3-5
Amalie Arena, located at 401 Channelside Dr., is in an idyllic spot along Garrison Channel. It is next door to Cotanchobee Fort Brooke Park which is right on the water, along with a wide variety of restaurants with stellar water views. And who doesn't want some Florida sunshine in January? Soak in some rays, grab a bite, then head on over to Amelie Arena for the show. We'll keep you in a vacay frame of mind and help you find parking for the Jurassic World Tour – right at the arena. #paradisefound
Jan. 17-20
Let's be honest, when you think of Orlando you probably picture lots of Mickey ears – and you're not wrong. But it's not just about Disney in this Florida town; Universal Studios provides epic entertainment and adventure for days, including Jurassic Park at Islands of Adventure. But let's say you want all the dinos without all the lines and theme park prices – that's where the Jurassic World Tour comes in. Amway Center – located at 400 W. Church St. – is in a great location, within easy walking distance of restaurants galore. Use ParkMobile to find parking for the Jurassic World Tour at Amway Center and you'll be sure to have a great time.
Anywhere you catch the Jurassic World Tour show, you're sure to have [pre]historic time. So drive safely, leave the parking to us and get your dino fix.