Located at 115 5th Avenue North in Nashville, Tennessee, Ryman Auditorium is one of the country's most historic music venues, and it's still going strong today. The auditorium regularly hosts intimate concerts from a wide variety of musical acts.
If you're planning on catching a concert, we've got your back. Below, you'll find handy information about the auditorium's storied past, finding events and tickets, choosing where and what to eat, and much more.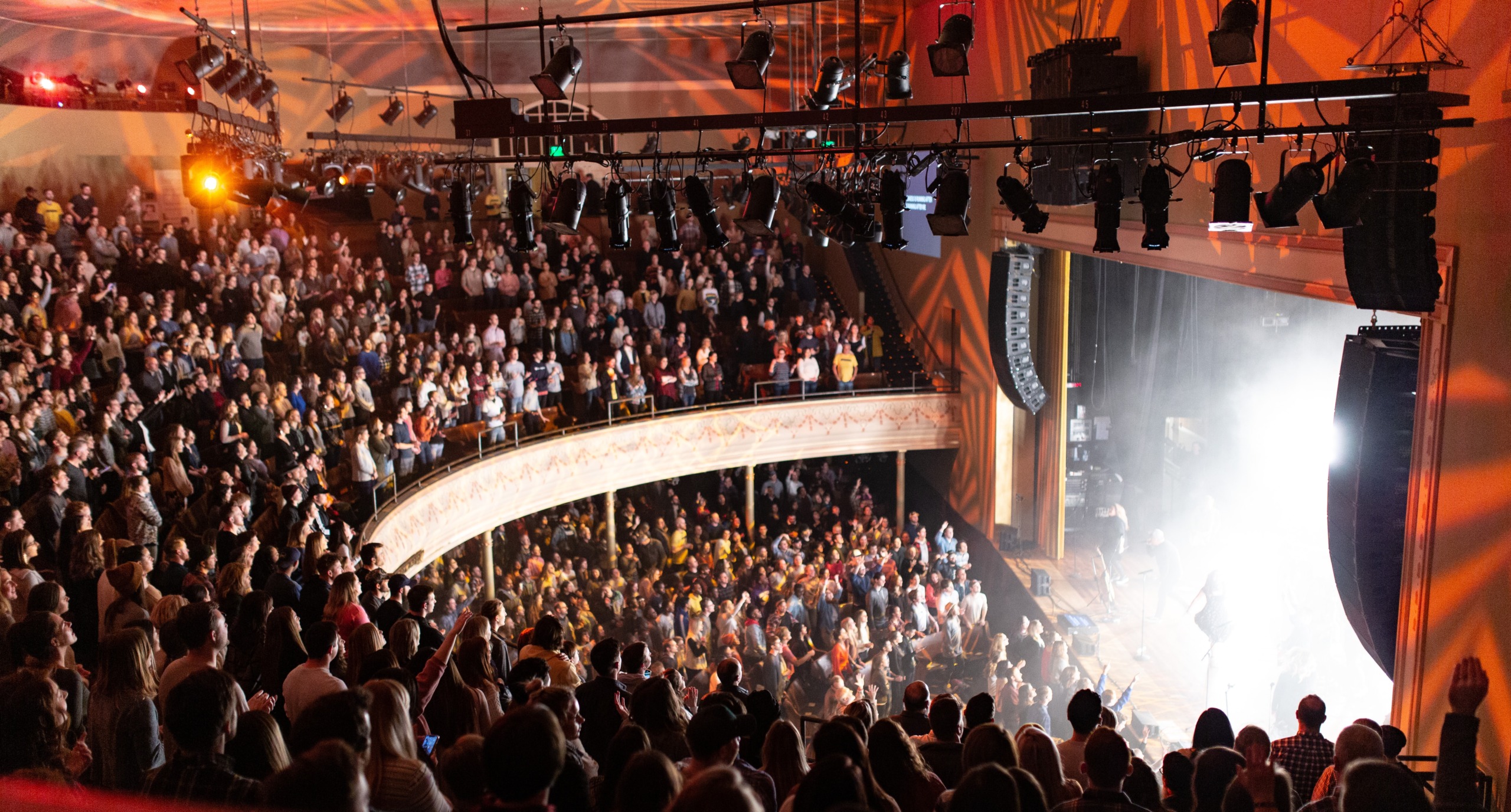 Ryman Auditorium History
Most famously, Ryman Auditorium was the home of the Grand Ole Opry for more than thirty years, from 1943 until 1974. Legendary country music performers like Dolly Parton, Johnny Cash, and Marty Robbins have all graced the stage of the "Mother Church of Country Music."
That nickname isn't just a joke. Ryman Auditorium's building was originally built in 1892 as the Union Gospel Tabernacle, where church services were held on Sundays. The building was renamed the Ryman Auditorium in 1904 and eventually became exclusively a concert venue. Today, there are still frequent Opry performances at the Ryman Auditorium.
For even more info about Ryman's fascinating history, check out the auditorium's interactive History page.
About the Venue
Ryman Auditorium is one of the most celebrated venues in music today, and remains one of the most popular musical halls for both concerts and events in Nashville. With a maximum capacity of 2,362 seats, you're guaranteed to have an awesome and intimate concert-going experience.
Ryman Auditorium Schedule of Events
Ryman Auditorium hosts a wide variety of concerts and performances throughout the year, from casual weeknight sessions with local bands, to music superstars like Bonnie Raitt, Weird Al, and The War on Drugs. For a full schedule of upcoming events, check out the Ryman's Events page.
Seating Chart for the Best Ryman Experience
Because the Ryman is an intimate venue, you'll have a great viewing experience no matter where you sit. In general, sitting in the front half of the center or side sections will give you the best view. If you're looking to sit in the side seats, rows B-M in sections 1-7 will typically provide the best experience.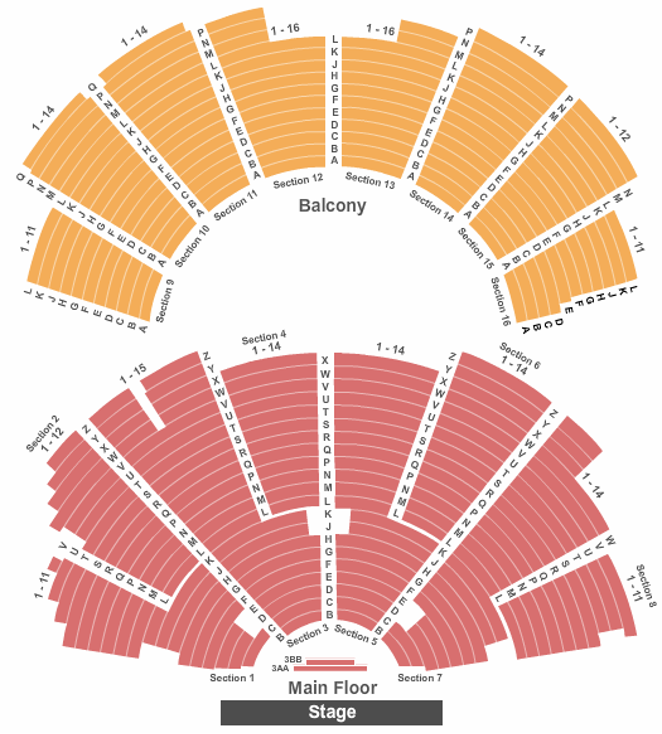 Get a Tour of Ryman Auditorium
If you want to learn more about the historic Ryman Auditorium, book a tour! You'll have a couple of tour options at your disposal:
Self-guided tours. Self-guided tours are available most days between 9 AM and 4 PM. Tickets are $24.95 for adults and $16.95 for children..
Guided tours. Guided tours, which last for about 40 minutes, are also available on select dates and times. Tickets are $34.95 for adults and $26.95 for children..
Plan Your Visit
If you're looking to attend an event at Ryman Auditorium, you probably have a few questions about how to make your visit as simple as possible. From snagging tickets to finding a great parking spot, we'll tell you everything you need to know.
Where to Buy Tickets
If you're buying tickets for a concert or event at Ryman Auditorium, you have a few options.
You can buy tickets directly from Ryman Auditorium in person at the AXS Box Office at the Ryman, by calling Ryman/Opry Customer Service at (615) 889-3060, or by checking out the Ryman's Events page.
You can also buy tickets from reliable third party vendors like TicketMaster and StubHub. The upshot to buying tickets this way is that you might grab a good deal — the downside is you might miss out on a great seat!
Ryman Auditorium Parking
There are plenty of garage and lots in the downtown Nashville area to choose from, including SP+ Parking at 120 5th Avenue North, Broadway Parking at 401 Commerce Street #443, and Premier Parking Baker Donelson Garage at 150 3rd Avenue North. Parking for lots near Ryman Auditorium usually starts at around $10.
To make things easier on yourself, it's a good idea to reserve a parking spot ahead of time. ParkMobile offers plenty of parking options near Ryman Auditorium — reserve your spot today!
Best Restaurants Within Walking Distance
There are a number of great food options right around the corner — this is Nashville after all. We'd recommend the spots below:
Merchants. Located at 401 Broadway, this one-time hotel serves up delicious Southern-style bistro food on its first floor, and fancier fare on the second. With thousands of 4.5 star ratings, Merchants is a name you can trust.
Jack's Bar-B-Que. Located at 416 Broadway, this barbeque joint is one of the best in the city, boasting pork, smoked brisket, ribs, and even turkey, all served cafeteria-style for a delightfully casual vibe.
Mellow Mushroom. Located at 423 Broadway, this funky pizza chain is famous for a reason: with plenty of wild art adorning the walls and a great selection of craft, it might even take you a while to get around to ordering one of their phenomenal stone-baked pizzas.
Hotels Near Ryman Auditorium
It's downtown Nashville, so you won't have trouble finding a convenient hotel. To help your search, here are a few options we'd recommend, all of which are less than a 10-minute walk from Ryman Auditorium:
Cambria Hotel Nashville Downtown, where rooms start at $195.
Hilton Nashville Downtown, where rooms start at $278.
Courtyard by Marriott Nashville Downtown, where rooms start at $199.
FAQs
Still have questions about visiting Ryman Auditorium? We've got you covered. Below, you'll find answers to a few frequently asked questions about attending an event at Ryman Auditorium.
What is Ryman Auditorium's Covid Policy?
Ryman Auditorium strongly encourages its guests to wear a face covering, regardless of their vaccination status. Otherwise, Covid restrictions are set by the visiting artists and are listed on Ryman's Know Before You Go page.
What is Ryman Auditorium's Bag Policy?
Ryman Auditorium doesn't allow oversized bags of backpacks, unless they're needed for medical reasons. Smaller bags and containers will be submitted to a search before entering.
What is Ryman Auditorium's Capacity?
Ryman Auditorium has a capacity of 2,362 seats for its live performances.