Located at 501 Broadway in downtown Nashville, Tennessee, Bridgestone Arena is home to the Nashville Predators of the National Hockey League. A famously busy venue, the arena also hosts a wide variety of other events, including popular music concerts and the CMA Awards.
But just because it's busy doesn't mean parking needs to be a hassle. Below, you'll find everything you need to know about parking at Bridgestone Arena, as well as tips about where to eat and grab a drink before your event.
Official Bridgestone Arena Parking
Bridgestone Arena has an official parking garage — the 6th Avenue Garage — located on the corner of 6th Avenue South and Demonbreun Street. Spaces are limited and are generally restricted to permitted parkers. You'll purchase parking when you arrive at the garage, and rates will vary depending on the event.
When there's a Predators game at Bridgestone Arena, Lot R at nearby Nissan Stadium will be open for free parking as well, with a cheap shuttle service on offer. There are 1,075 parking spaces available in Lot R, and they usually go quickly. To make sure you grab one on gameday, check out our Insider's Guide to Parking for Tennessee Titans Games.
Music City Center Parking
The Music City Center is located right next to Bridgestone Arena and offers the largest covered parking garage in downtown Nashville. There are several entrances to the parking garage, including entrances at 7th Avenue and Demonbreun, and on 6th Avenue between Demonbreun and Korean Veterans Boulevard.
Parking rates vary depending on when you park. By far, the best deal is the Early Bird special, which is available to anyone who enters the garage before 9:00 AM and leaves by 6:00 PM.
| | |
| --- | --- |
| Time | Price |
| Early Bird | $7 |
| 9:00 am to 12:00 am | $10 |
| 12:00 am to 4:00 am | $8 |
| Daily max | $35 |
Additional Parking Options
Free parking in Lot R at Nissan Stadium only available if on a game day, but Bridgestone Arena does recommend a few other public parking facilities in the area, which we've listed below:
| | | |
| --- | --- | --- |
| Parking Garage/Lot | Location | Price |
| Pinnacle at Symphony Place Garage | 150 3rd Avenue South | $15 |
| Fifth Avenue of the Arts Garage | 147 5th Avenue North | $10 |
| First Baptist Church Parking | 108 7th Avenue South | $25 |
We also investigated a few other public options in the area where you can snag a great deal. Check out the table below for some reliably cheap parking options near Bridgestone Arena.
| | | | |
| --- | --- | --- | --- |
| Parking Garage/Lot | Location | Walking Time | Price |
| Customs House Lot | 110 8th Avenue South | 3 minutes | $10 |
| L&C Tower Garage | 144 Fifth Avenue North | 5 minutes | $7 |
| Library Garage | 151 6th Avenue North | 6 minutes | $10 |
| McKendree Garage | 140 6th Avenue North | 6 minutes | $10 |
| 4th & Commerce Garage | 147 4th Avenue North | 6 minutes | $15 |
| Hilton Garden Inn Valet Parking | 305 Korean Veterans Boulevard | 8 minutes | $15 |
Accessible Parking
Accessible parking at Bridgestone Arena is available on a first-come, first-served basis in the 6th Avenue Garage for any guests who display a valid disability placard or a disability license plate. The arena also offers accessible entrances at the Demonbreun Entrance, the 5th Avenue Broadway Entrance, and at all five of the entry points located in the 6th Avenue Garage.
Bars near Bridgestone Arena
Unfortunately, tailgating isn't allowed at Bridgestone Arena. The good news is you'll be located in vibrant downtown Nashville, with plenty of places to grab some food or a drink before the big game. To make things easier for you, we've brought together some of our favorite bars and restaurants below!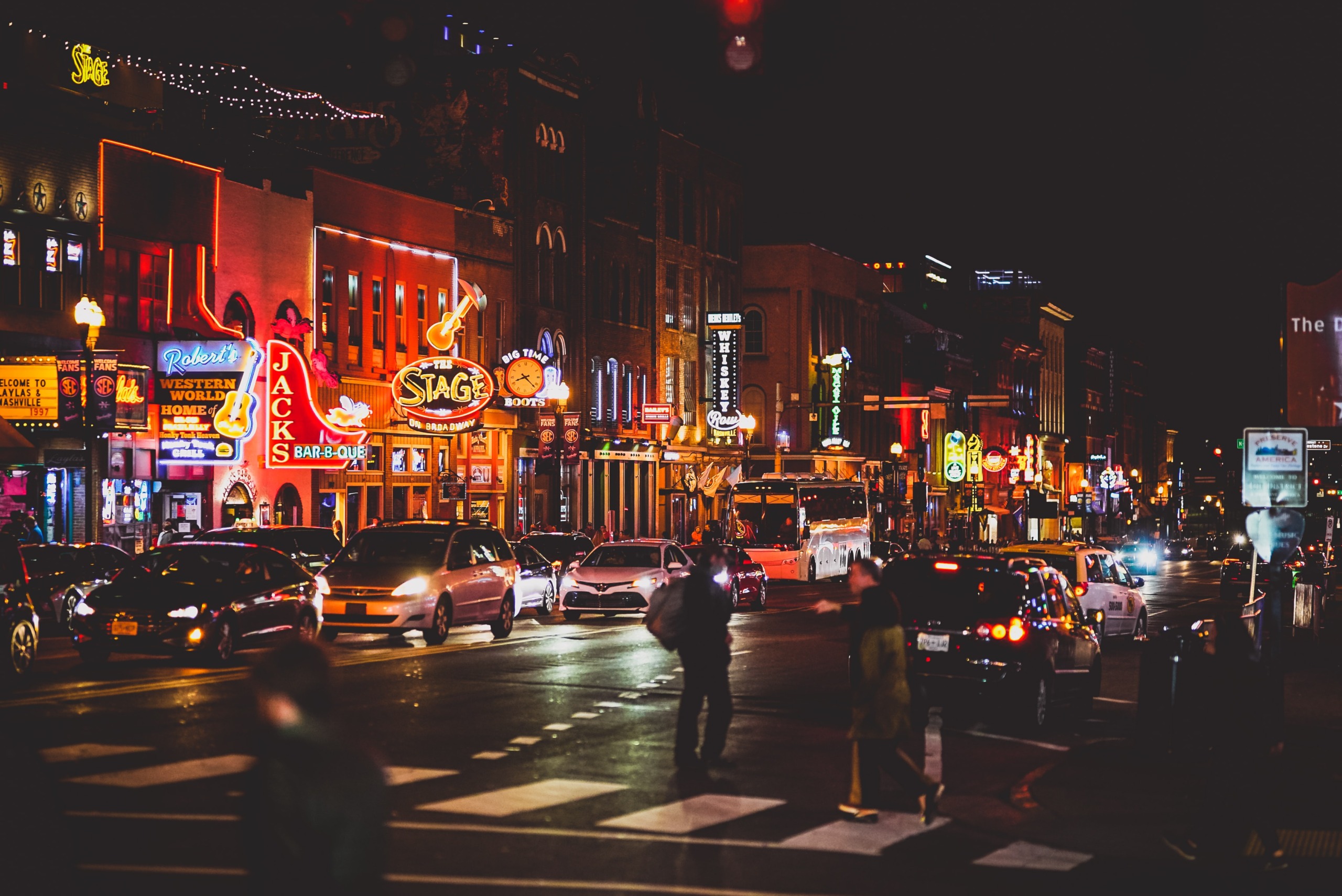 Jason Aldean's Kitchen + Rooftop Bar
For nearly two decades, Jason Aldean has been one of the hottest names in country music, so it's no wonder he's expanded into the restaurant business. Located at 307 Broadway, Jason Aldean's Kitchen + Rooftop Bar is a popular Nashville haunt that's only a 4 minute walk from Bridgestone Arena.
If you're hungry, check out their Tomahawk Steak, voted Nashville's best. The restaurant also boasts an impressive beer menu and specialty cocktails named after some of Aldean's biggest hits!
Dierks Bentley's Whiskey Row
If you're looking for one of the best gastropub experiences around, then country music heartthrob Dierks Bentley's restaurant is a must visit. Located at 400 Broadway, Dierks Bentley's Whiskey Row is only a 4 minute walk from Bridgestone Arena.
When it comes to drinks, you'll have plenty of beer, wine, and specialty cocktails to choose from. If you're in the mood for something fruity, Dierks' Lemonade is a popular option — a refreshing blend of raspberry, lemon, sparkling water, and whiskey.
Pete & Terry's Tavern
When it comes to location, Pete & Terry's Tavern can't be beat. It's located just outside the Nissan SoBro Entrance inside Bridgestone Arena and is the perfect stop if you're looking for delicious food, bountiful craft beer options, and even a little bit of live music.
Tin Roof
For a lively, rustic bar experience with plenty of classic pub fare, Tin Roof is a great local option. Located at 1516 Demonbreun Street, Tin Roof is 0.8 miles from Bridgestone Arena, or about a 16 minute walk. Don't let the distance scare you — with some impressive happy hour and bucket deals on offer, it's no surprise why Tin Roof is a fan favorite.
Margaritaville Nashville
Located on 322 Broadway, Margaritaville Nashville is one of the most popular locations of singer Jimmy Buffet's restaurant chain in the country. Only a 4 minute walk to Bridgestone Arena, Margaritaville Nashville offers daily live music, Caribbean-inspire cuisine, and, of course, the best margarita in Nashville.
Reserve Your Spot with ParkMobile Today
Excited about the upcoming game but feeling stressed about parking? ParkMobile makes it easy to find parking near Bridgestone Arena. So what are you waiting for? Reserve your spot today with ParkMobile.