FTX Arena, formerly known as American Airlines Arena, is the home court of one of the hottest (pun intended) teams in the NBA, the Miami Heat. Located at 601 Biscayne Boulevard, the arena can house almost 20,000 fans for its extremely popular basketball games.
FTX Arena Parking Tips | Parking for Miami Heat Games
Built in 1998 to replace the Miami Arena, the FTX Arena was until recently known as American Airlines Arena. In March of 2021, FTX Crypto Exchange, a cryptocurrency exchange platform, snagged the naming rights for the arena. That said, the parking situation remains pretty much the same, so there's nothing to sweat about.
Where to Park at FTX Arena
The FTX Arena has a long history of hosting a wide variety of events beyond just basketball, including concerts, professional wrestling matches, and even hockey games. Parking can be a little tricky at the arena owing to the ongoing development of the downtown Miami area, so there are a few things you'll want to keep in mind.
Official parking
As far as official parking, the FTX Arena recommends a few local garages. Plus there's a garage located beneath the venue that costs around $40, though it is valet parking.
| | | |
| --- | --- | --- |
| Lot/Garage | Location | Price |
| Annex Garage | 255 NE 1st Street | $25 |
| Bayside Marketplace Garage | 401 Biscayne Boulevard | $25 |
| FTX Arena Parking Garage | 601 Biscayne Boulevard | $40 |
| Omni Garage – Park N' Ride | 1645 Biscayne Boulevard | $20 |
| College Garage – Miami Parking Authority | 190 NE 3rd Street | $25 |
Public parking
Willing to walk? If so, the good news is you can find several parking lots nearby that will save you a little bit of money. Here are some of the best public parking options near the FTX Arena.
| | | | |
| --- | --- | --- | --- |
| Lot | Distance | Walking Time | Price |
| 906 NE 1st Avenue | 0.3 miles | 8 minutes | $24 |
| 127 NE 11th Street | 0.4 miles | 10 minutes | $24 |
| 601 NE 1st Avenue | 0.3 miles | 8 minutes | $24 |
| 54 NE 2nd Street | 0.7 miles | 15 minutes | $15 |
FTX Arena Parking Map
FTX Arena offers convenient accessible parking to guests with valid ADA-compliant parking placards and licenses. Here's what you need to know:
Accessible parking is first-come, first-served, and is located in the P2 Parking Garage beneath the Arena.
Accessible parking spaces are located next to Elevators 1, 2, 3, 4, 7, and 8.
Regular game/event parking fees will apply.
If you're having trouble accessing an accessible parking space, don't be afraid to talk to FTX Arena staff. They'll try as best they can to accommodate your needs.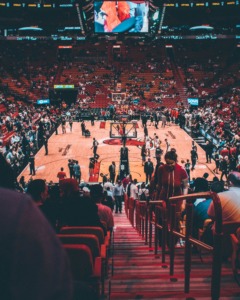 Tailgating at FTX Arena
Unfortunately, there's no tailgating allowed at FTX Arena. Recent construction means parking space is limited, which is part of the reason tailgating is prohibited in all lots before a Miami Heat basketball game. That said, you can still enjoy yourself and let loose in the many bars and restaurants located in South Beach.
FTX Arena Parking FAQs
We get it. Parking can be a headache. To make things even easier on you, we've brought together answers to a few commonly asked questions about parking at FTX Arena.
How much does it cost to park at American Airlines Arena?
There are lots of parking options at FTX Arena (American Airlines Arena), so prices will vary. But in general, you can expect to pay anywhere between $15 and $40 to park at FTX Arena (American Airlines Arena).
Where is gold parking at American Airlines Arena?
Since American Airlines Arena was renamed FTX Arena, the former's gold parking doesn't technically exist anymore. However, there's still a parking garage attached to the arena that offers premium, valet parking spaces for $40 per game. You can purchase these spaces on the FTX Arena website.
What is there to eat at American Airlines Arena?
FTX Arena prides itself on serving up some seriously tasty treats to its fans. Inside, you'll have access to general concessions including:
Prime Grill.
FIT Cart.
Snacks.
Partner concessions include:
Papa Johns.
Blue Iguana Tequila Bar & Red Frog Rum Bar.
Mojo Donuts.
Craft Beer.
And for restaurants and lounges, the arena offers a few options:
Bacardi Ocho Lounge.
AmericanAirlines Lounges.
Reserve Your Spot with ParkMobile
For a stress-free experience that lets you focus on the game, consider reserving your FTX Arena parking ahead of time with ParkMobile. It's the smartest way to snag a great deal and eliminate the headache of searching for a parking spot.