The Dolphins have a storied history — do the names Don Shula, Dan Marino, and Jason Taylor ring a bell? —  and Phins fans have stuck with their team through good times and bad times, although some really want the team to go back to the original team logo. The typically pleasant South Florida weather makes the Dolphin's home field, Hard Rock Stadium, a great venue to take in all the action, excitement, and drama of a pro football game.
Don't worry about finding a nearby parking spot on Dolphins game day because ParkMobile has you covered with Hard Rock Stadium parking reservations to ensure that you don't miss any of the action.
About Hard Rock Stadium
Located in Miami Gardens, about 14 miles north of downtown Miami, Hard Rock Stadium is the home of the NFL's Dolphins and the University of Miami Hurricanes football team. The annual Orange Bowl college football postseason game is also played at the stadium, and it has hosted six Super Bowl games. The stadium has a capacity of nearly 65,000.
Hard Rock Stadium Parking Map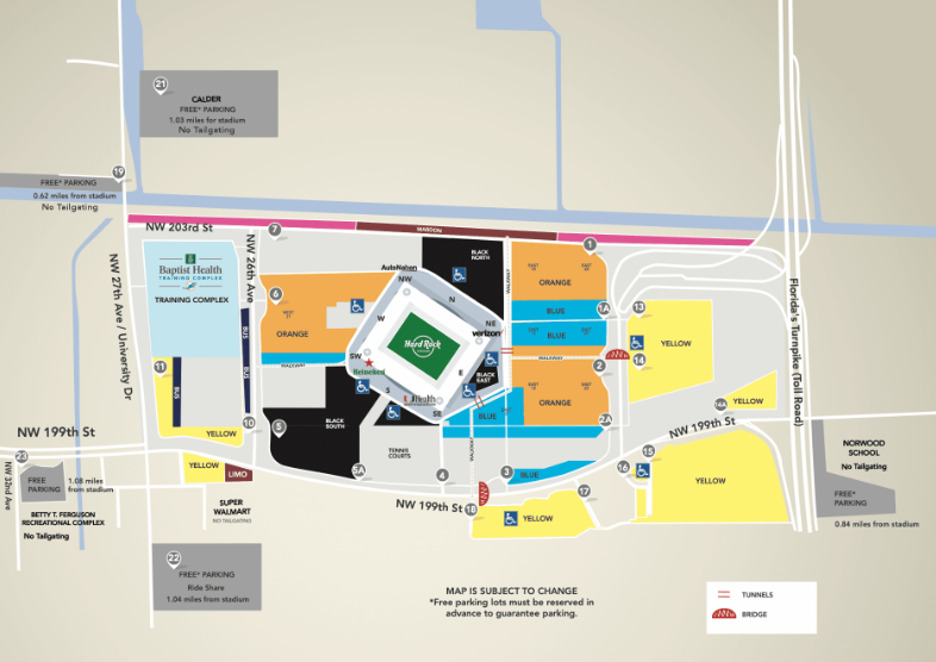 How Much Is Parking at Hard Rock Stadium?
Huge parking lots encircle Hard Rock Stadium, so most fans park in them for the sake of convenience. Parking in the official on-site lots ranges between $15 and $50. Some of the lots offer free parking. The free lots require a bit of hoofing — they're about 15 minutes from the stadium — and you must have reservations to park in them.
Public Transportation to Hard Rock Stadium
If you prefer to take public transportation to Hard Rock Stadium, you have a few options. You can take Metrorail to the Earlington Heights station and then transfer to the Metrobus 297 bus. That bus will take you directly to the stadium. You can also pick up the 297 bus at the Brownsville and Dr. Martin Luther King Jr Metrorail stations.
Tailgating at Hard Rock Stadium
Tailgating is always a great way to get the festivities rolling before a Dolphins or Hurricanes game. Tailgating is allowed at most of the Hard Rock Stadium lots, but these four lots are no-tailgating zones: Lot 19, Norwood, Calder, and the Betty T. Ferguson Recreational Complex.
The stadium's lots open four hours before kickoff, and you must set up directly behind your vehicle using the outlined space. Both gas and charcoal grills are allowed, but coals and flames must be extinguished after use. Beer kegs are not allowed.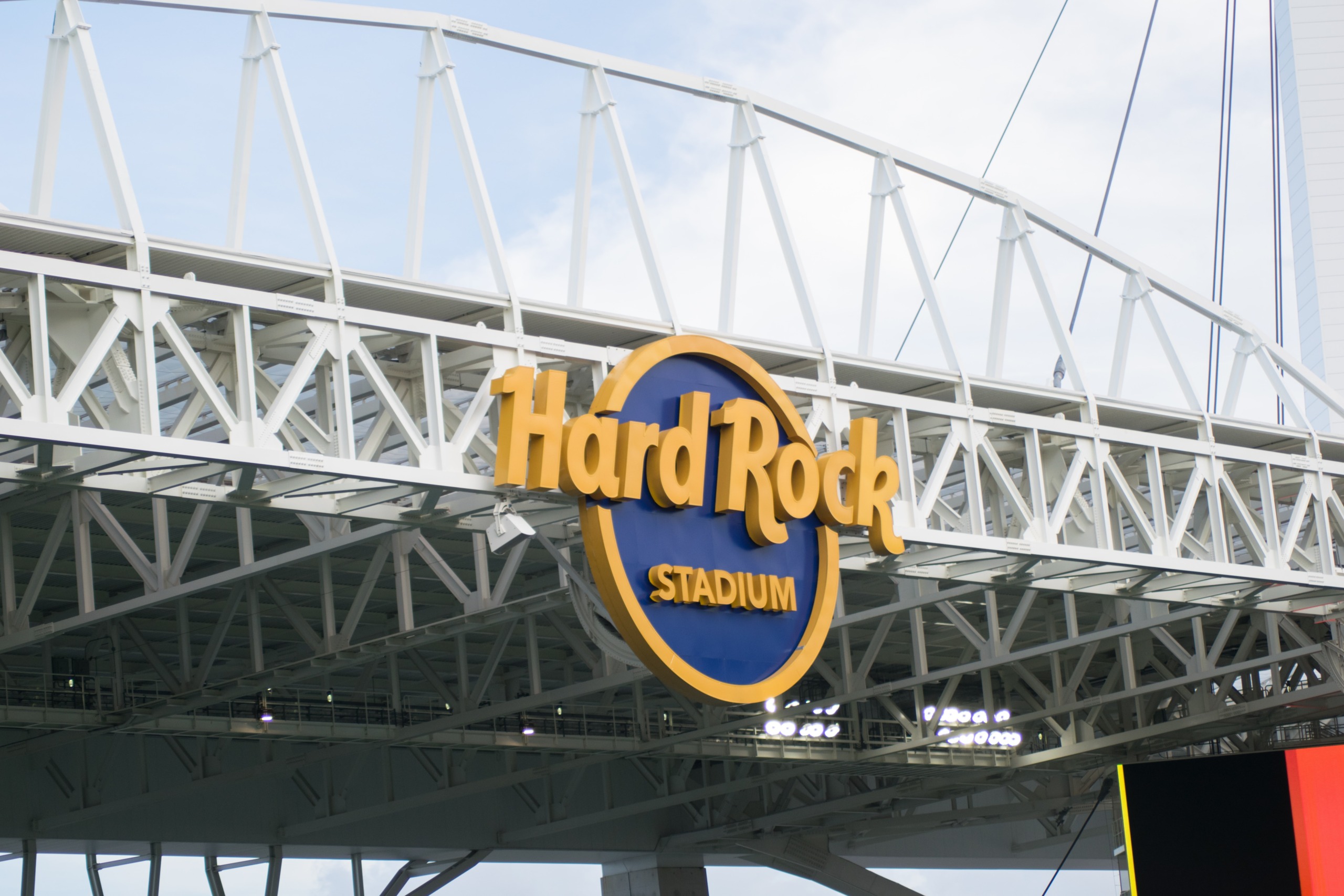 Hard Rock Stadium FAQs
Is there valet parking at Hard Rock Stadium?
Unfortunately, the Hard Rock Stadium lots do not offer valet parking.
Does Hard Rock Stadium have free parking?
Yes, you get a reserved parking pass to park in one of the free lots: Lots 19 and 20 and the Calder and Norwood parking lots. These lots are between 0.7 and 1.3 miles from the stadium, so give yourself plenty of time to walk to the stadium so you don't miss any of the action. There is no police or security presence along the walking routes from the free lots, but a free shuttle bus operates to and from the Calder lot.
How can I get a Hard Rock Stadium parking pass?
You can get a Hard Rock Stadium parking pass on the stadium's website.
Reserve Your Spot with ParkMobile Today
For a stress-free experience that lets you focus on your pre-game rituals and enjoy the Dolphins or Hurricanes game, consider reserving your Hard Rock Stadium parking ahead of time by using the ParkMobile App. It's the smartest way to snag a great deal and eliminate the headache of searching for a parking spot on game day, plus you won't risk missing the pregame festivities and the opening kickoff.