Located at 1510 Polk Street in Houston, Texas, the Toyota Center is home to the NBA's Houston Rockets. And while Rockets games are pretty popular, the venue also hosts all sorts of events, from musical performances by top stars like Miley Cyrus, to the Latin Grammy Awards.
Like we said, it's a popular place. But that doesn't mean finding parking needs to be stressful. Below, you'll find everything you need to know about where to park for Houston Rockets Games at Toyota Center.
Toyota Center Parking Garage
Toyota Center is directly connected to the Toyota Tundra Garage, a public parking garage located at 1515 Jackson Street that boasts 2,500 parking spaces. During non-events, parking costs only $2, though that price rises to $15 during games and other events.
Accessible Parking
Accessible parking is available on the first and third levels of the Toyota Tundra parking garage, as well as in nearby independent surface lots and on Clay Street between Chenevert and Jackson. For more information, check out Toyota Center's Accessibility Guide.
Public Parking around Toyota Center
In addition to the Toyota Tundra Garage, there are roughly 10,000 parking spaces in the surrounding area of Houston. If you're willing to walk a bit, you can save some major cash. Below, you'll find recommendations for great public parking facilities around Toyota Center.
| | | | |
| --- | --- | --- | --- |
| Lot/Garage | Price | Distance to Stadium | Walking Time |
| 1601 Caroline Street | $8 | 0.2 miles | 5 minutes |
| 900 Leeland Street | $5 | 0.5 miles | 10 minutes |
| 1861 Austin Street | $4 | 0.4 miles | 7 minutes |
| 1300 Lamar Street | $23 | 0.7 miles | 13 minutes |
| 916 Dallas Street (Valet) | $25 | 0.6 miles | 11 minutes |
| 1600 Crawford Street | $6 | 0.2 miles | 5 minutes |
| 1519 Travis Street | $7 | 0.4 miles | 8 minutes |
| 1320 Fannin Street | $8 | 0.2 miles | 5 minutes |
Street Parking
One of the best ways to save some major cash is by finding a street parking space near Toyota Center. Downtown parking meters are free after 6:00 PM on Mondays through Saturdays, while on Sundays these spots are free all day. There are plenty of spots in the area, but you'll need to show up pretty early to snag one.
Tailgating
Unfortunately, tailgating isn't currently allowed at the official Toyota Center parking garage. However, a number of public lots in the surrounding area allow for tailgating. Contact individuals lots and garages for more information about their tailgating policies.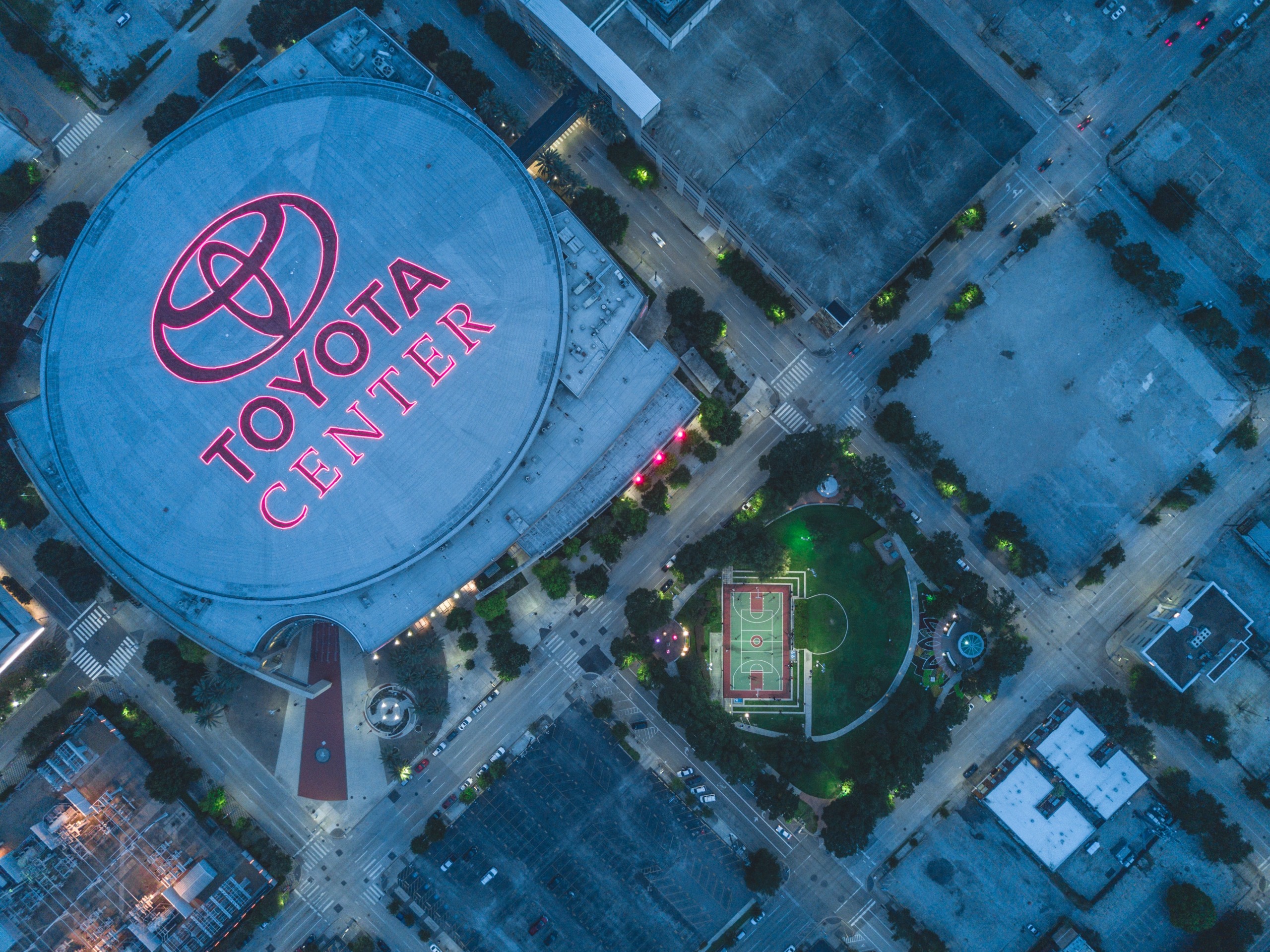 Toyota Center Parking FAQ
Still looking for answers to some of your parking queries? Below, we've brought together some frequently asked questions about parking at Toyota Center.
How much is parking at Toyota Center Houston?
If you're parking in an official lot, you can expect to pay between $15 and $25 for parking at Toyota Center. Note that on game days you'll need a Toyota Center parking pass to gain access to the stadium's official garage.
Can I bring a purse to a Rockets game?
Fans are allowed to bring bags and purses into the stadium that don't exceed 5.5 X 8.5 inches. For all other sizes, there's a strict no bag policy in place. Inside the stadium you can also rent bag lockers.
How can I buy a Toyota Center parking pass?
To get a Toyota Center parking pass, it's easiest to use a third party service like SeatGeek or AXS Tickets to purchase your pass. Bonus tip? You can also find great deals on tickets with these services.
Reserve Your Spot Today with ParkMobile
Excited about the upcoming game but feeling stressed about parking? ParkMobile makes it easy to find parking near Toyota Center. So what are you waiting for? Reserve your spot today with ParkMobile.