Ravinia Park in Highland, IL — just outside of Chicago — plays host to the Ravinia Festival every year. The oldest music festival in America, the Ravinia Festival features a wide variety of performances, from classical music to musical theater to jazz, and regularly draws large crowds.
But that doesn't mean finding a parking space needs to be difficult. This quick guide will break down your options and have you listening to music in no time.
Ravinia: Parking Tips
Keep in mind that for large or popular concerts, the parking at Ravinia can fill up fast. In general, you'll want to plan ahead, know where you're going, and get there early to make sure you snag a spot.
Parking Details
The West Parking Lot, or simply the West Lot, is Ravinia's main onsite public parking offering. Located at 201 Ravinia Park Road, Highland Park, IL, the West Lot has a maximum capacity of around 2,000 cars and opens one hour before the concert's public gate time.
Parking costs in the West Lot will vary depending on the type of concert or performance:
$20-$25 for non-classical events.
$10 for classical concerts, including Chicago Symphony and guest orchestra concerts.
Free for chamber music concerts, Kids Concerts, and dance performances.
When the West Lot is full, Ravinia offers a free Park and Ride lot as well as free shuttle service to and from Ravinia. The service typically opens up 30 minutes before the park opens. Plus, you won't have to leave anything behind — the shuttles are designed to accommodate all the picnic gear you brought with you.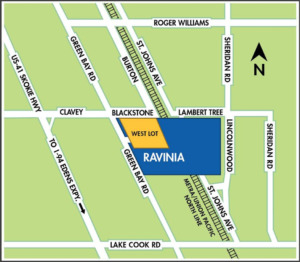 Directions to Ravinia
Ravinia is located north of downtown Chicago, about 25 miles from the city center. If you're driving, Ravinia's central parking lot can be reached the following ways:
Driving from Chicago. Take the Kennedy Expressway west to the Edens Expressway and US Route 41. Exit at Lake Cook Road. After a mile, take a left on Green Bay Road.
Driving from the West. Start on I-90 and take I-294 heading toward Wisconsin. Exit at Lake Cook Road and drive for 4.5 miles until you reach Green Bay Road. Take a right on Green Bay Road.
Driving from the South. Get on I-294 north and exit at Lake Cook Road. Then travel 4.5 miles east until you reach Green Bay Road. Take a left on Green Bay Road.
Driving from Indiana. Take I-90 to I-94 northbound to Chicago. From there, you can follow the direction from Chicago, as described above.
If you're taking public transport, you have the following options:
Take Metra's Union Pacific North Line with Service from Chicago to the Ravinia Park stop.
Take the same train to the Braeside or Ravinia stops, which will give you more flexibility when it comes to departure time.
Accessible Parking
Ravinia offers accessible parking in both the West Lot and its Park and Ride lot on a first-come first-serve basis for individuals with a valid disability parking placard. If you're having trouble finding the accessible parking, you can see an attendant for help.
Street Parking
One thing to keep in mind is that Ravinia does not have street parking. Because the park is located in a residential area, street parking is monitored by the Highland Park Police, who won't hesitate to hit any violating cars with a pricey ticket.
How do Drop-Offs / Rideshare work
If you're taking a taxi, a rideshare, or even a limo, you'll have to follow a few rules when being dropped off. Generally, you can be dropped off at the following locations:
Ravinia's West Lot, located at 200 Ravinia Park Road. Note that inbound access is allowed up to half an hour before the end of the performance.
Braeside Train Station, located at 10 N St. Johns Avenue, about a quarter of a mile from Ravinia.
Ravinia Train station, located at 680 St. Johns Avenue, about half a mile from Ravinia. Note that drop offs are allowed in the south section of the Ravinia Station Metra lot.
Keep in mind as well that drop offs aren't allowed on public streets, and offenders can face hefty fines.
Utilizing Buses and Drop-Offs
The rules for drop-offs utilizing buses will vary depending on whether you're attending on a paid parking night or a free parking night.
For paid parking notes, note the following:
No buses are allowed in the North or South lot, even if you're carrying passengers with limited mobility.
Drop-offs, pick-ups, and parking are available in the West Lot, using the Green Bay or Blackstone entrances. Wheelchair assistance is also free in the West Lot.
For free parking nights, note the following:
Buses can pick up and drop off in any lot, but bus parking is only allowed in the West Lot.
Parking Near Ravinia Using ParkMobile
When you're on the go, the free ParkMobile app makes it easy to find and pay for parking near Ravinia, without running back to feed the meter in the middle of a concert. And for added convenience, you can reserve spots ahead of time.