Going to Disneyland in California is one of the most magical experiences your family can have — but finding parking definitely isn't. To take the headache out of it, we've put together this list of Downtown Disney Parking Tips to help you find a spot and save money.
Downtown Disney Parking Tips
Generally, it's always a good idea to arrive earlier in the day if you're trying to get the best possible parking. Once there, you'll follow the signs to available parking locations. The official parking lot at Downtown Disney is the Simba Lot, which you can see marked below.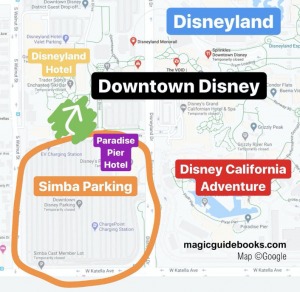 Where do you park for Downtown Disney?
The official on-site parking option at Downtown Disney is the Simba Lot. Located just south of the Paradise Pier Hotel off Disneyland Drive, the Simba Lot opens 9:45 am when Downtown Disney opens at 10:00 am, and 8:45 am when it opens at 9:00 am.
Pricing is straightforward. The first hour costs $10, after which validations apply. But what are those validations? Well, you can get 3 free hours of parking with a minimum $20 purchase at any Downtown Disney location, or 5 free hours if you eat at a table-service restaurant in Downtown Disney.
Without these validations, each additional hour will cost $14, with a maximum daily parking fee of $66. Besides the Simba Lot, there are several other parking options you can take advantage of:
| | |
| --- | --- |
| Parking Lot/Type | Estimated Price |
| Simba Lot | $25 – $66 |
| Garden Walk Garage | $10 – $30 |
| Anaheim Hotel | $25 |
| 1420 South Harbor Boulevard | $29 |
| 1650 South Harbor Boulevard | $25 |
| 1855 South Harbor Boulevard | $20 |
| 1221 South Harbor Boulevard | $18 |
Does Downtown Disney have free parking?
The short answer is no, if you're trying to spend a day in the area or in the park. But there are several ways to get temporary free or cheap parking.
For instance, you can park for free for up to 15 minutes in any of the Downtown Disney lots. Guests can also get 3 hours of free parking in the Downtown Disney parking lot with a minimum purchase of $20 at any shop or food kiosk in Downtown Disney. And if you dine at a Downtown Disney table service restaurant, you'll get 5 hours of free parking.
How do I avoid Disneyland parking fees?
When it comes to avoiding Disneyland parking fees, you've got a few options. You could park at a nearby hotel, take a shuttle from your hotel, or look for a parking deal at Disneyland itself. We'll walk through these options below:
Reserve your parking at a nearby hotel or lot. A super popular way to save some money is to reserve parking at one of the hotels on Harbor Boulevard, located in the surrounding area. You can also look for unofficial parking lots and garages, which we've discussed above.
Take the ART Shuttle. While plenty of people choose to park at their hotel and walk from there, you can also take the ART Shuttle from your hotel. The Anaheim Resort Transportation (ART) Shuttle System connects hotels, theme parks, and restaurants in the Anaheim resort area. As far as pricing goes, day passes start as low as $6 for adults and $2.50 for children.
Get a validation deal. Probably the most popular option for people looking to save money, getting a validation deal is simple. You can get 3-5 hours of free parking just by making a $20 purchase in Downtown Disney or eating at a table-service restaurant.
Parking Near Downtown Disney
If you're trying to save a little money, it can be a great idea to park near Downtown Disney rather than in the official lot. You've got a few options when it comes to parking near Downtown Disney.
If you're willing to travel, you can stay at a nearby hotel, park there, and make your way to Downtown Disney. You can also take a ridesharing app to Downtown Disney, which has two designated drop-off areas, located off Downtown Drive and at Harbor Boulevard.
Besides the Simba Lot, you can also find plenty of off-site parking along Harbor Boulevard, in lots and hotels. Here are a few good options.
ARTIC Lot A. A bit far away from Downtown Disney, this lot offers free short-term parking. You'll have to catch a bus to Downtown Disney, though, so make sure to factor in that extra time.
Anaheim Hotel. Located on Harbor Boulevard and Disney Way, Anaheim Hotel charges $25 and is only a short walk to Downtown Disney. Spots can fill up fast, though.
Garden Walk. Located off Disney Way, GardenWalk charges $3 an hour for parking, with a daily maximum of $30. It's only a ten-minute walk to Downtown Disney.
The Best Time To Visit Downtown Disney
One of the biggest tips we can offer is all about timing. Unsurprisingly, the best time to visit Downtown Disney is during the week. Between Tuesday and Thursday, the park has its smallest crowds. Show up in the morning or afternoon to make things even more relaxed. Showing up at these times will also help with parking — on the weekends, the parking lots can reach capacity pretty early in the day.
Key Takeaways
The long and short of it is that you can easily save money and take the headache out of parking with a little bit of planning. Show up early, decide if you want to snag a validation deal or head for an off-site lot or hotel — and then get ready to enjoy yourself!