One of America's favorite sports is getting ready for tip-off and it's time to brush up on the game of basketball. Let's open with the schedule, as the National Basketball Association (NBA) runs for over half the year with 82 games per team. While the NBA preseason has already started, the regular season begins Tuesday, October 18, 2022, and runs until April 2023. Then the playoffs start, and that's a whole new ballgame! The 2023 NBA Finals are scheduled to begin on Thursday, June 1, 2023, and will be played throughout the month. That said, the sport only has three months of downtime before the next season picks up again.
Basketball 101
Starting with the basics, basketball is a team sport with five players per team on the court at one time. The NBA has 30 teams. The game revolves around scoring points on your opponent's basket. Anywhere from one to three points can be received per basket depending on where the player is standing when the basket is made.
When a team receives the ball, they have a limited amount of time where they can shoot and attempt to score. In the NBA, the possession time is 24 seconds. To advance the ball across the court, a player can either dribble or pass it. They cannot pick up the ball and run, like in football. That is considered "traveling" and will result in the ball being given to the opposing team.
An NBA game is played in four quarters of 12 minutes each, totaling 48 minutes of playing time. That said, the average NBA game lasts between two and two and a half hours. This is due to time-outs, halftime, fouls, and other game delays. The whole game is a production with entertainment provided by team cheerleaders and dance squads, mascots, a halftime show, and more. You don't want to miss a minute of it.
Now that we've got the game down, let's cover arguably the most important part of attending an NBA game—how you're getting there. Enter a slam dunk by ParkMobile. You can reserve parking at some of your favorite teams' venues through ParkMobile's reservations feature. See below for a highlight on a few of our basketball season venues.
Being a born and raised Memphian, this arena is near and dear to this writer's heart. The Memphis Grizzlies are a staple in Memphis and the fans band together each basketball season to form the Grit Grind community.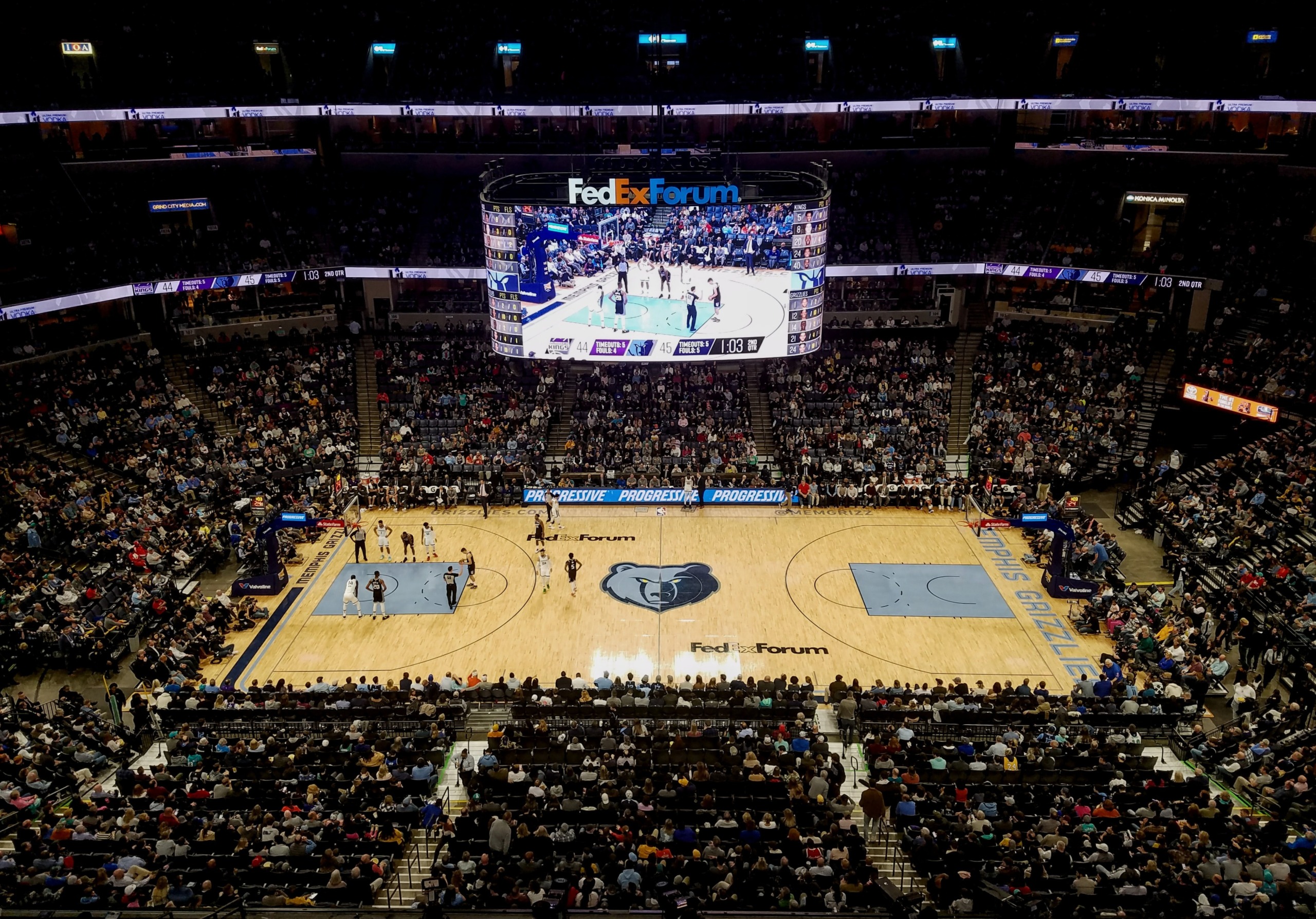 The Memphis Grizzlies play at the FedEx Forum, which sits right off the famous Beale Street. The venue offers multiple parking lots for reserved parking and rates are set based on the event. The FedEx Forum website features two videos that walk users through how to make a parking reservation via ParkMobile. Check out the parking page with videos here.
When you're ready to reserve parking for a Memphis Grizzlies game, visit the ParkMobile dedicated events page.
Located in Downtown Atlanta, ParkMobile's hometown, State Farm Arena is one of the south's premier entertainment and sports venues. Home of the Atlanta Hawks, State Farm Arena can seat over 19,000 basketball fans and includes luxury suites, party suites, and club seats.
If you're driving to a Hawks game, it is recommended to reserve a guaranteed parking spot through ParkMobile to avoid day-of higher parking fees. Reserving a spot in advance also provides for easier entry and exit into the parking decks. ParkMobile parking reservations are available in eight parking lots near the arena.
For a 7:30 PM game time, State Farm Arena recommends arriving by 6:25 PM to avoid traffic delays. Those that arrive 30 minutes prior to tip-off will experience significant delays entering the parking lots and risk missing the beginning of the big game. Visit the dedicated parking reservations page here to make a parking reservation for the Atlanta Hawks games.
Watch the Charlotte Hornets score at Spectrum Center in Uptown Charlotte. Welcoming guests to concerts and sporting events alike, the Spectrum Center is one of ParkMobile's most popular venue partners. The venue offers parking reservations at various lots within a short walk of the arena, and pricing varies based on location and accessibility to Spectrum Center. Locate the best parking lot for your event here.