We all know the feeling of waiting in a queue to score tickets to see your favorite artist in concert. The anticipation as the clock strikes the time that tickets officially go on sale. Watching the number of fans ahead of you get closer and closer to zero. Hoping and praying that tickets aren't sold out by the time you reach the end of the queue. Once you're in and you breathe a deep but quick sigh of relief, you rush to purchase tickets before someone takes your seats. Finally, you've secured the coveted tickets to see your favorite musician in your home arena. Time to start prepping for that magical night.
You Don't Want to Miss the Opening Act!
One of the cardinal rules of attending a highly anticipated concert is arriving on time. There's nothing worse than hearing the artist go on stage while you're stuck in line to get in. Avoid this by reserving parking with ParkMobile. With ParkMobile's reservations feature, you can reserve a parking spot in advance of the event and have a guaranteed spot waiting for you at the venue. This eliminates the stress of circling around the block for a spot and helps you enter and exit the venue quickly.
With ParkMobile reservations, your phone is your parking pass, so no need to take a picture of where you parked or try to pin the location. Your car's exact location can be found in the ParkMobile app, or you can even use the app's "Find My Car" feature for additional help.
Concerts and sporting events are known to cause additional traffic, especially as it gets closer to show time. Be sure to give yourself ample time for travel so you don't end up sitting in traffic near the venue. Arriving at the venue early will also give you time to visit the merchandise shop to get a tour t-shirt or poster before the show.
Check out where ParkMobile is available near you and purchase your reserved parking spot now for your next concert.
Located in the heart of Uptown Charlotte, Spectrum Center is home to the Charlotte Hornets and a plethora of concerts, shows, and live events. The arena recommends visitors arrive 45-60 minutes prior to the concert's start to give them plenty of time to get into the arena and find their seats.
To minimize wait times entering the arena, Spectrum Center has a no-bag policy. This is critical to know before going as many venues do allow small or clear bags. Exceptions can be made for purses under 10" x 10" x 4", though bags will be required to go through an X-ray machine prior to entering, resulting in a longer wait time. With tickets completely digital at Spectrum Center and ParkMobile reservations pre-paid for through your mobile device, guests will have an easier experience visiting the arena without a bag.
To reserve your ParkMobile parking for an upcoming event, click here.
Popular Las Vegas resort, Mandalay Bay, is also home to Michelob Ultra Arena, a 12,000-seat sports and entertainment complex. Las Vegas is known for being an international tourist destination, so prepping prior to a show at Michelob Ultra Arena is crucial.
Parking opens two hours prior to an event. Reserve yours with ParkMobile here.
Another beloved Las Vegas venue is T-Mobile Arena. The arena offers reservations at various preferred parking garages, including Park MGM, New York-New York, and Aria Event Garages. Parking for all upcoming T-Mobile events can be purchased here.
Parking passes must be purchased prior to a concert and cannot be paid for on-site on the night of the event. They are available for purchase up to seven hours before the start of the show.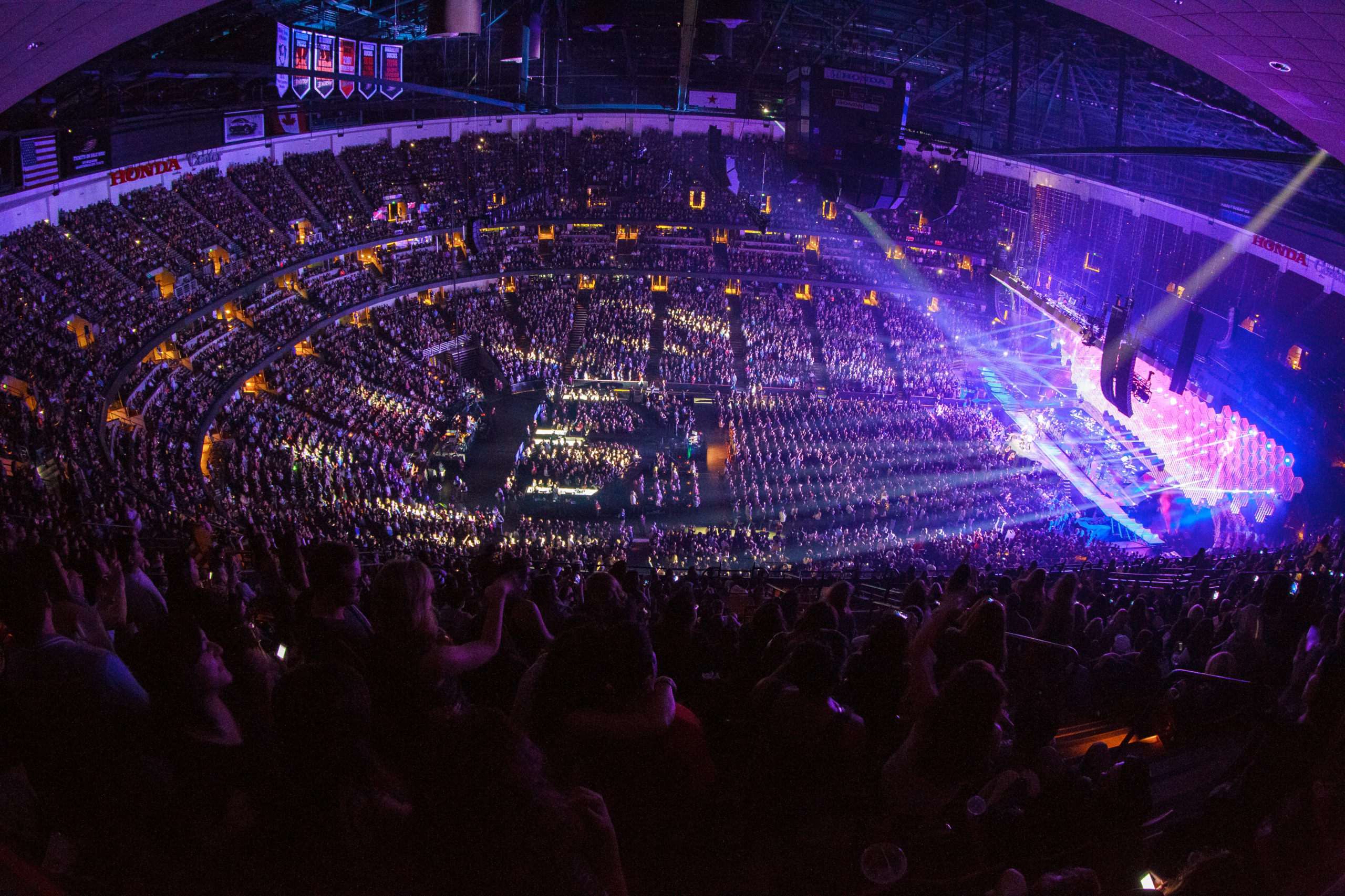 As one of ParkMobile's newest venue partners, this is Honda Center's first season using the app for parking reservations. There are 3,500 parking spots available for reservation for Anaheim Ducks games. Parking ranges from $25-$50, depending on vehicle size and lot preference. To reserve parking at Honda Center, visit this link.
Madison Square Garden, commonly referred to as MSG, might be one of the most recognizable entertainment venues in the country. Every performer's dream is to book a sold-out show at MSG. If you're lucky to attend one of those, ParkMobile parking reservations are available in various lots and garages around the venue. Pricing and availability vary by event so book a parking reservation here.
Located on the famous Beale Street, the FedEx Forum hosts dozens of musicians a year. The venue offers multiple parking lots for reserved parking and rates are set based on event. The FedEx Forum website features two videos that walk users through how to make a parking reservation via ParkMobile. Check out the parking page with videos here.
When you're ready to reserve parking for a concert, visit the ParkMobile dedicated events page.
ParkMobile's hometown venue, State Farm Arena, is one of the south's premier entertainment and sports venues. If you're an Atlanta resident, you know how this city handles traffic. When driving to a concert, it is recommended to reserve a guaranteed parking spot through ParkMobile to avoid day-of higher parking fees. Reserving a spot in advance also provides for easier entry and exit into the parking decks. ParkMobile parking reservations are available in eight parking lots near the arena.
For a 7:30PM concert start time, State Farm Arena recommends arriving by 6:25PM to avoid traffic delays. Those that arrive 30 minutes prior to event start will experience significant delays entering the parking lots and risk missing the beginning of the big game.
To make a parking reservation, visit the dedicated reservations page here.
Welcoming over one million guests a year, Target Center is one of ParkMobile's most popular venue partners. The venue offers parking reservations at various lots within a short walk of the arena, and pricing varies based on location and accessibility to Target Center. Locate the best parking lot for you here.