Located in the heart of Brooklyn, New York, Barclays Center is the home of the NBA's Brooklyn Nets. It also hosts concerts, college basketball games, and other events. The Nets moved from New Jersey to Brooklyn when the arena opened in 2012. With recent player additions, the Nets have become a hot team, and you're likely to spot celebrities like Beyoncé, Jay-Z, Rihanna, and Ethan Hawke courtside. The team also has plenty of regular fans, including the rowdy Brooklyn Brigade. This group of fanatics is known for their passionate support for their team, and they help raise the roof when the Nets are flying high.
The arena is located in a busy, crowded area, don't worry about finding a nearby parking spot on game day because ParkMobile has you covered with Barclays Center parking reservations to ensure that you don't miss any of the action inside the arena.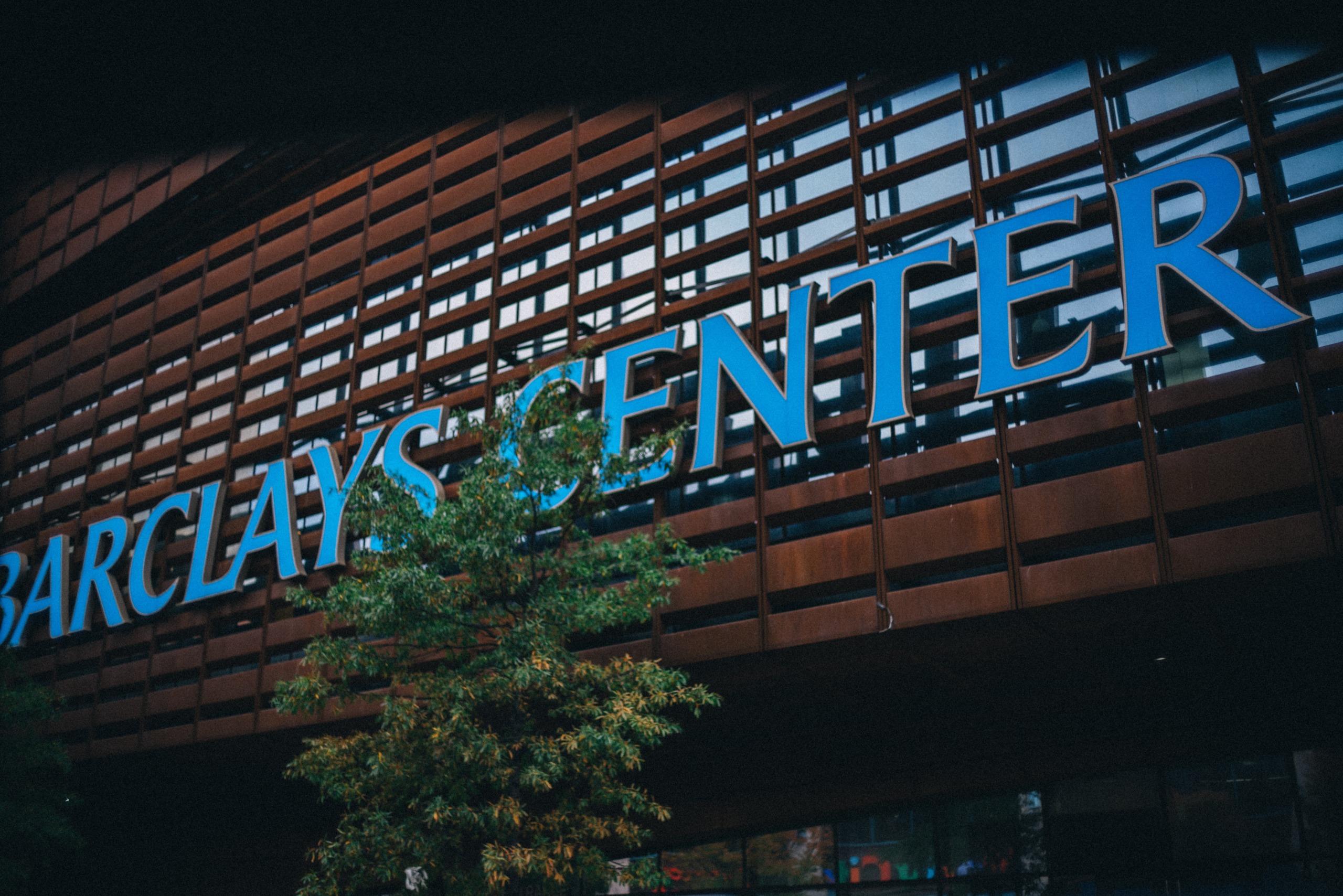 Parking at Barclays Center
By design, there's no parking at the Barclays Center because of its densely populated, urban location. To minimize vehicle traffic and related issues, the developers aimed to encourage everyone attending Nets games and other events to take public transit. But if you want to drive to the Barclays Center, there are plenty of parking garages and lots nearby.
Parking Options Near Barclays Center
Here's a selection of parking garages and lots in different price ranges:
| | | |
| --- | --- | --- |
| GCMC Parking | 625 Atlantic Ave | $52 |
| SP+ | 470 Dean St | $50 |
| iPark | 475 Dean St | $40 |
| Pacific Parking | 700 Pacific St | $40 |
| MP 475 | 475 Clermont St | $40 |
| GGMC Parking | 66 Rockwell Pl | $40 |
| HUB Brooklyn | 333 Schermerhorn St | $35 |
| LAZ | 855 Atlantic Ave | $26 |
| Manhattan Parking Group | 470 Hudson Ave | $20 |
| Enterprise-Washington Garage | 545 Washington Ave | $18 |
Map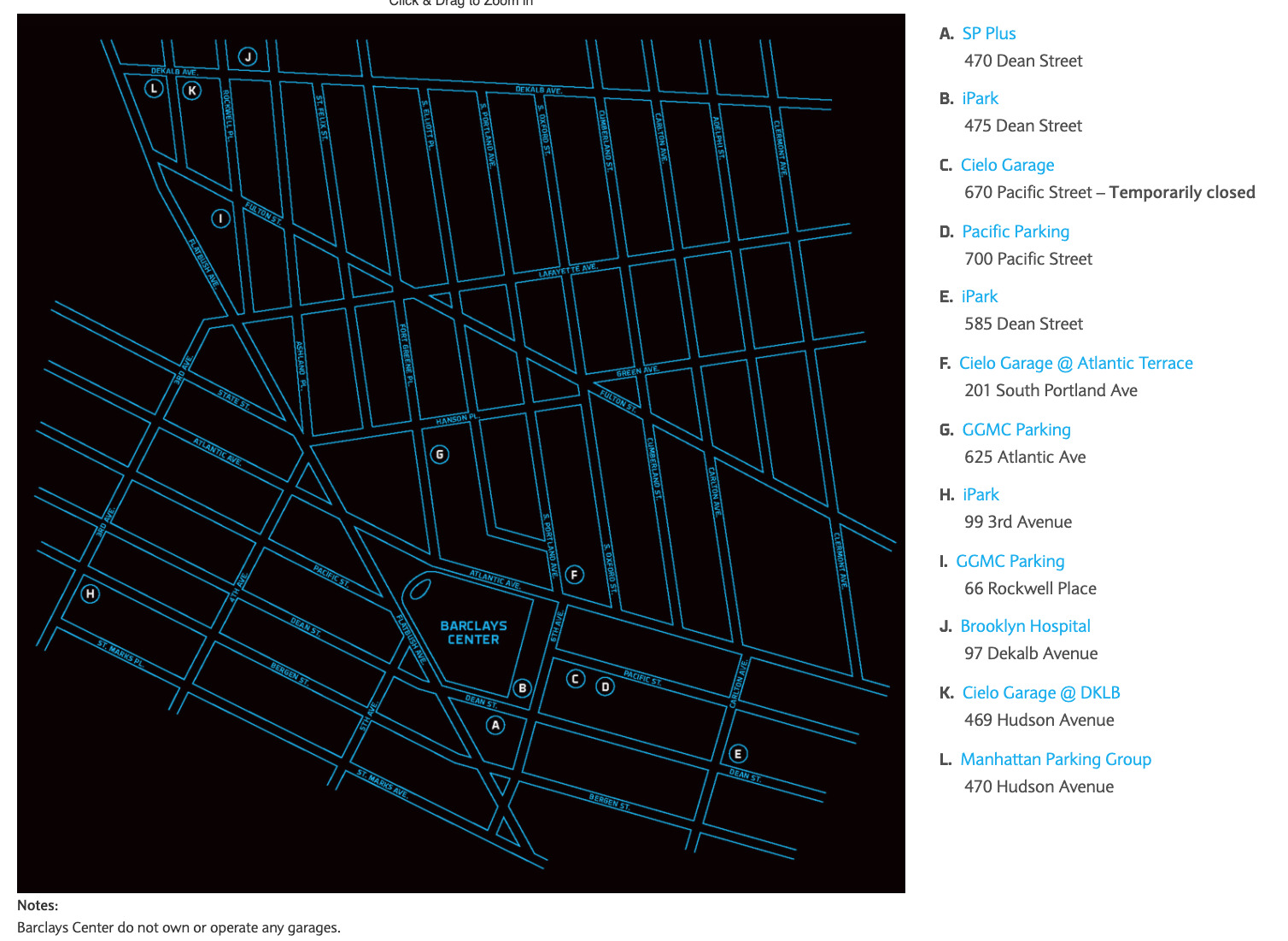 Public Transportation to Barclays Center
Barclays Center is in a perfect location for everyone who wants to use public transportation. It's only one block from the Atlantic Ave-Barclay Center subway station. The 2, 3, 4, 5, G, D, N, Q, and R trains stop there. If you want to take the G train, it's only 3 blocks to the Fulton Street station, and if the A or C train works for you, it's a 4-block walk from the Lafayette Avenue station.
If you're coming from Nassau County or Suffolk County — or parts of Queens and Brooklyn — the Atlantic Terminal is only two blocks away. All nine Long Island Railroad lines stop there.
Handicapped Parking at Barclays Center
All Barclays Center affiliated lots have accessible parking spaces available. There are two designated drop-off areas for everyone:
Eastbound shoulder of Atlantic Avenue (between Ft. Greene Place and 6th Ave)
Northbound shoulders of Flatbush Avenue (between 5th Ave and Atlantic Ave)
Tailgating at Barclays Center
Unfortunately, the parking facilities at or near the Barclays Center do not allow tailgating, and the police and private security guards have adopted a zero-tolerance policy. But the good news is that there are plenty of great bars and restaurants nearby  — as well as inside the arena itself — so you can have a movable tailgate experience without having to prep food and clean up.
Reserve Your Spot with ParkMobile
For a stress-free experience that lets you focus on enjoying your time watching the Nets compete against the NBA's best, consider reserving your Barclays Center parking ahead of time by using the ParkMobile App. It's the smartest way to snag a great deal, eliminate the headache of searching for a parking spot on game day, and ensure that you're in your seat before the game tips off.