New York City is one of the most famous cities in the world. And a major part of that distinction is the city's iconic skyline. From the Empire State Building to the art deco flair of the Chrysler Building and countless other gorgeous facades, part of any great visit to NYC is simply looking up.
But taking advantage of the city's phenomenal views doesn't have to put a strain on your neck. If you know where to look, you can find the perfect rooftop restaurant or bar where you can kick back and enjoy a delicious meal or cocktail while admiring some of the most gorgeous views at eye level. Unsurprisingly, some of these joints make for a beautifully romantic experience. Below, we'll provide the lowdown on the ten most romantic rooftop restaurants in NYC.
Westlight — Panoramic Views and Dynamic Menu
Located at 111 N 12th St atop The William Vale in Williamsburg, Brooklyn, Westlight is a luxurious rooftop bar 22 floors above street level that boasts some truly iconic views of the Manhattan skyline. But the visuals are only the start.
Chef Andrew Carmellini's NoHo Hospitality Group provides a dynamic menu of specialty cocktails and small bites, along with rare spirits and world-class wines. The cocktails are the name of the game — we recommend the refreshing Blue Note or the Cedar House Mule — though the That said, the fare inspired by international street foods is also excellent (check out the Tempura Bass Buns for a special treat).
With thousands of reviews averaging out to a stellar 4.4 star rating, Westlight oozes modern ambiance, with a sleek indoor seating area with contemporary furniture, as well as an outdoor roof deck bordered with glass panels to create stunning open-air feeling.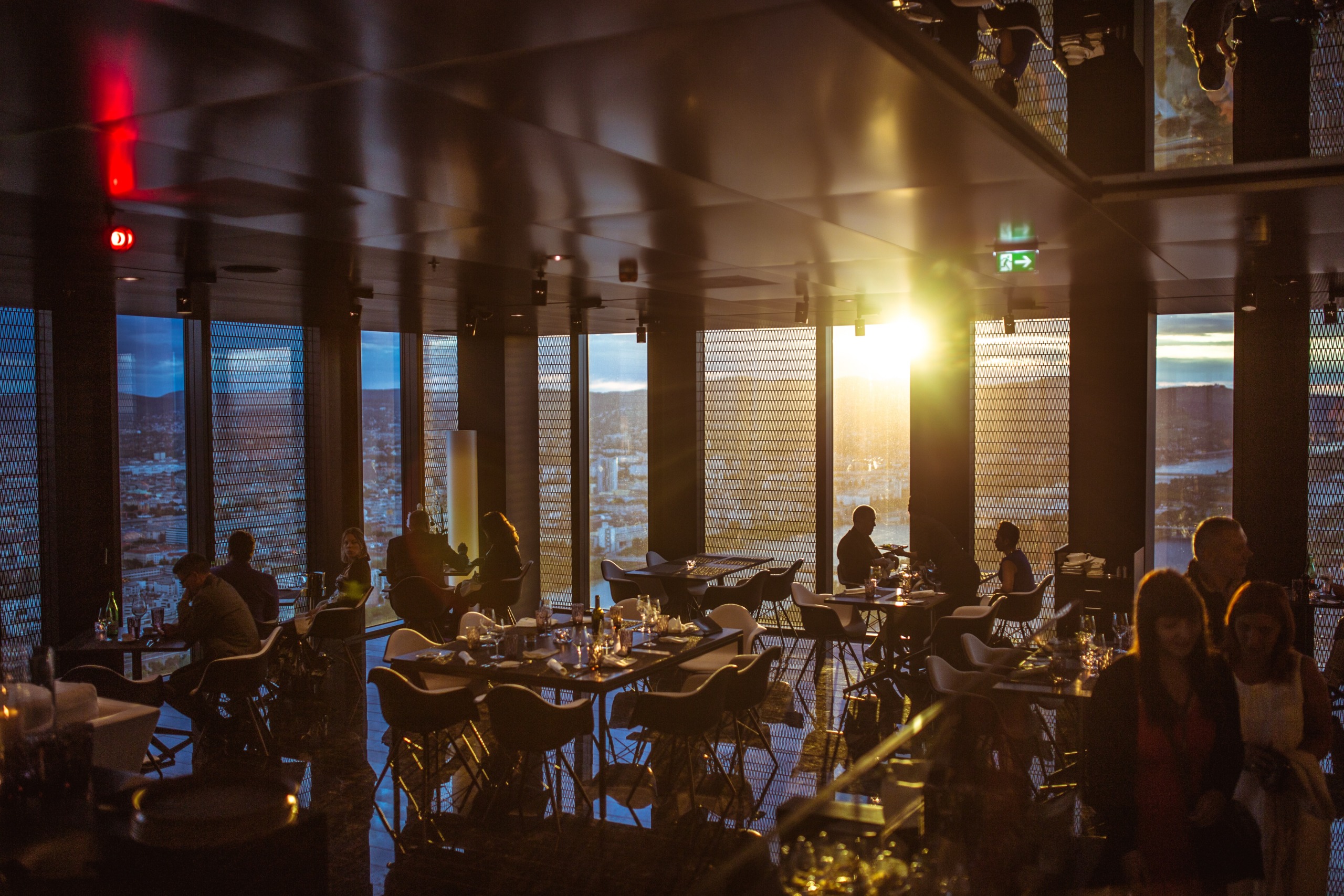 Refinery Rooftop in Midtown — Industrial-chic Light Fare & Dramatic Views
For a more centrally located experience, check out Refinery Rooftop atop Refinery Hotel in Manhattan's Midtown region. You'll find this rooftop restaurant with unimpeachable credentials at 63 West 38th Street. With an average rating of 4.4 stars, Refinery Rooftop has been named America's #1 Rooftop Bar & Hotel Bar for 3 consecutive years by USA Today!
The food here is classic and consistently delicious, from their Octopus Salad (perfect for a warm summer day) to their Brick Chicken and Double Patty Burger. In the mood for a cocktail? Refinery Rooftop's signature cocktail list is developed by IGC Hospitality's resident mixologists and takes advantage of natural ingredients to maximize freshness. Their Espresso Martini is top-notch, and for a more refreshing option check out the Punch Drunk Love.
And we haven't even mentioned the view. Rooftop Refinery feels like a classic rooftop garden, with modern and original stonework features livening up the space — plus, you'll have a jaw-dropping view of the Empire State Building that can't be beat.
Sushi Lab at Times Square — Intimate Setting Serving Japanese Fare
On top of Manhattan's Sanctuary Hotel at 132 West 47th Street you'll find Sushi Lab, one of the most popular rooftop destinations in the city. Despite its popularity, this restaurant still maintains an intimate vibe in a sleek modern setting — think golden-hued wood, stone counters, and a gorgeous ceiling with hanging-flower fixtures. And with an average rating of 4.3 stars, quality is guaranteed.
Obviously, you come to Sushi Lab for the sushi, though you won't want to skimp on the appetizers, including their black truffle edamame. For the main course, you can't beat the Chef's Selection, a choice grouping of 10 mouthwatering nigiri pieces, plus pieces of world-class Wagyu beef to ensure you get your fill. The cocktails are killer, but the Japanese whiskeys and sakes are the more authentic move.
Like we said, the atmosphere is key. Sushi Bar originally started out as a simple 8-seat counter restaurant in the hotel's lobby before moving to its current digs, though it has preserved that clean, intimate feeling. From the dining area, you'll have phenomenal views of bustling Times Square.
Cantina Rooftop Bar — Year Round Modern Mexican Dishes
Cantina Rooftop is a modern venue situated at 605 West 48th Street in Hell's Kitchen that offers contemporary Mexican dishes and a phenomenal view of the New York City skylines.
The guacamole here is a no-brainer, and for drinks you'll have to have one of their specialty margaritas or mezcal-ritas. We recommend the El Jefe and the Mezcal Smash. For smaller bites, the tacos are supreme, and if you're really hungry, check out the Carne Asada and the Camarones de Polenta.
The outdoor patio at Cantina Rooftop is boisterous and colorful. You won't have to worry about the heat while admiring the view, because the restaurant also features a climate-controlled retractable glass rooftop. Comfort food in a comfort-forward setting.
Magic Hour — Rooftop Cocktail Bar with a Theme Park Twist
Located at 485 7th Avenue on the 18th floor, Magic Hour boasts an average rating of 3.9 stars out of nearly three thousand reviews, and lives up to its namesake — hit this rooftop restaurant at the right time of day, and the views are truly majestic. The vibes here are fun-loving, and there's even a miniature amusement park on the roof.
Brunch is the name of the game at Magic Hour, but you'll find something delightful to eat and drink no matter when you visit. To pair with the amusement park theme, various fair-type foods are on offer, including lobster roles and curly fries. Unsurprisingly, the specialty cocktails at Magic Hour are rich and decadent.
Space-wise, you're bound to have a good time. The restaurant features five distinct areas, including two outdoor areas. One overlooks the Empire State Building, and the other features a rotating seating area like an old-fashioned carousel and playful topiary animals. Truly an enchanting experience.
230 Fifth Rooftop Bar — Chic Rooftop Garden with Live Music
230 Fifth Rooftop Bar, located at — you guessed it — 230 5th Avenue, is right in the heart of Midtown Manhattan and is New York's largest outdoor Rooftop Garden. The best part? You can visit at any time of the year. During the winter months, the restaurant sets up heated igloos on the rooftop, making year-round sightseeing a beautiful possibility.
The signature cocktails here are pretty fantastic, with an emphasis on fruity flavors — standouts include the Raspberry Mojito and the Pineapple Moscow Mule. For food, 230 Fifth Rooftop Bar serves up tried-and-true favorites, including a killer Fried Chicken Sandwich and Miso Glazed Salmon.
With an average rating of 4.3 stars, this restaurant is hard to beat, and offers a playful, party-type vibe for people looking for a little excitement, including live music. And of course, you'll have incredible views of the surrounding city, including the Empire State Building.
Gallow Green — Rooftop Garden With Year-Round Chic Cocktails
Gallow Green, located on top of the McKittrick Hotel at 542 West 27th Street, is often talked about as a hidden gem. This garden-based rooftop restaurant takes its name seriously, with flowers and plantings filling up the space. With an average rating of 4.4 stars, it's no surprise this is a popular and deeply romantic haunt.
There's no specialized food options here — they do everything, and they do it all well. From Steak Frites to a delightful Moussaka, you'll find something that agrees with your palate. And to wash it down, check out the Flight of Margaritas option, a seasonal sampling of margaritas served up in a traditional wooden vessel.
As with every restaurant on this list, the views are out of this world. You'll look out over the west of the city, meaning you'll have an incredible scene to take in during sunset — though the beauty of the space is undeniable at any hour.
RH Rooftop Restaurant — Glamorous Fare with a Skyline View
At 9 9th Avenue in the meatpacking district you'll find RH Rooftop Restaurant, named for Restoration Hardware, the world's leading purveyor of furnishings for luxury homes. In other words, get ready for a visually stunning experience in this glamorous restaurant bedecked with beautiful chandeliers and plenty of greenery.
When it comes to food, the RH Burger is a reliable favorite, but don't be afraid to experiment with the Shaved Ribeye on Charred Garlic Bread. The drinks menu is simple but elegant. You'll choose from the RH Bellini or the RH Mimosa, or pick something from their perfectly curated wine list.
And of course, the restaurant boasts incredible furnishings, including endless marble surfaces, bountiful fountains, and a chandelier above every table. The space's huge windows look out on the terrace and provide a stunning vantage on downtown Manhattan.
Upstairs at The Kimberly — All-season Midtown Views
With an average rating of 4.3 stars, Upstairs at The Kimberly is an old favorite when it comes to rooftop restaurants in New York City. Situated at 145 East 50th Street on top of The Kimberly Hotel, this restaurant feels both familiar and modern, with comfortable surroundings in an elegant, glass-forward space that emphasizes the restaurant's perfect views.
You come to Upstairs at The Kimberly for the cocktails, including the Mistress, a dazzling red concoction that brings the citrus flavor, and several specialty martinis. But the finger food is nothing to ignore, from the Kobe Burger Sliders to the Grilled Lamb Chops.
And don't forget to look out. Upstairs at The Kimberly offers capacious 360-degree views of Midtown, with a retractable glass ceiling that will help get you up close and personal with the Chrysler Building, perhaps the most famous piece of architecture in New York City.
Electric Lemon — Veggie-forward Dishes in a Polished Venue
Located on the 24th floor of the Equinox Hotel at 33 Hudson Yards, Electric Lemon is right in the heart of one of the city's trendiest new neighborhoods. Expect chic surroundings that still manage to feel intimate at this veggie-forward hotspot.
The cuisine here takes advantage of some of the freshest produce and meat in the Mid-Atlantic region. For dinner, start off with the Chicory Salad, and for mains check out the Dry Aged Duck and the Contramar Inspired Black Bass. Their specialty cocktails emphasize unique, refreshing flavors, including the Herb Cooler and the Rindo Rindo.
With floor-to-ceiling windows throughout the restaurant, you'll have access to some gorgeous views no matter where you're seated. But for the ultimate rooftop experience, be sure to check out Electric Lemon's massive rooftop garden terrace, complete with fire pits, stunning modern sculptures, and elegant water features. It's the perfect place to catch a New York City sunset.
Reserve Parking with ParkMobile in NYC
Wherever you choose to eat, don't forget that you'll be dining out in New York City, which means you'll need to think about parking. The good news is you won't have to think about it too much if you reserve a parking spot ahead of time with ParkMobile. We make it easy to find a spot that's right for you, no matter where you'll be staying.