Lambeau Field, located at 1265 Lombardi Avenue in Green Bay, Wisconsin, is one of the most famous stadiums in the National Football League. Home to the Green Bay Packers, the stadium has been operating continuously since 1957, and has drawn massive crowds ever since.
Though Lambeau Field can hold an impressive 81,000 fans on game day, it offers far fewer parking spots. And when you consider pretty much every game at the stadium has been sold out for the past fifty years, you won't be surprised to find out that parking can be stressful. Fortunately, we've brought together everything you need to know about Lambeau Field parking.
Where to Park for Packers Games
There are several great parking options around Lambeau Field, which we'll discuss more below. Parking in the stadium's official lots can be tricky though, so we've brought together a few popular public options within walking distance below.
| | | |
| --- | --- | --- |
| Parking Lot | Address | Price |
| Briquelet Street Lot | 1770 Briquelet Street | $27 |
| Morris Avenue Residence | 939 Morris Avenue | $30 |
| Resch Center | 820 Armed Forces Drive | $35 |
| Blue Ridge Drive Residence | 1115 Blue Ridge Drive | $37 |
| Barberry Lane Residential Lot | 2112 Barberry Lane | $29 |
Gameday Parking Lots
For most official parking at Lambeau Field, you'll need a season parking permit, but there are a few official options for single-purchase, gameday parking. $40 cash parking can be found in Lots 10 and 14 off of Ridge Road, as well as Lot 15 off Ridge Road and Lombardi Avenue. Slightly cheaper spots can be found for $20 in Lot 17 off Argonne Street. Just keep in mind these spots always go quickly.
Free Parking at Lambeau Field
Some free street parking is available in the residential areas surrounding the stadium. Some popular locations include Kassner Drive to the south of the stadium, and along Biemeret Street, just north and east of the stadium. There's also the potential for free parking at nearby Skyline Park.
And while not free, you can also find some cheap parking offered by local residents renting out their driveways, garages, and even their lawns. These spots will typically cost between $20 and $25, and can be found on South Ridge Road, Valley View Road, and Kassner Drive.
Reserved Season Parking
For the most part, Lambeau Field's official parking lots next to the stadium (which you can see on the map below) are reserved for season parking permit holders. The price for a permit is typically around $160, though it can be difficult to get your hands on one. For more info or to purchase a permit, you can contact the stadium at (920) 569-7500 between the hours of 8 AM and 5 PM.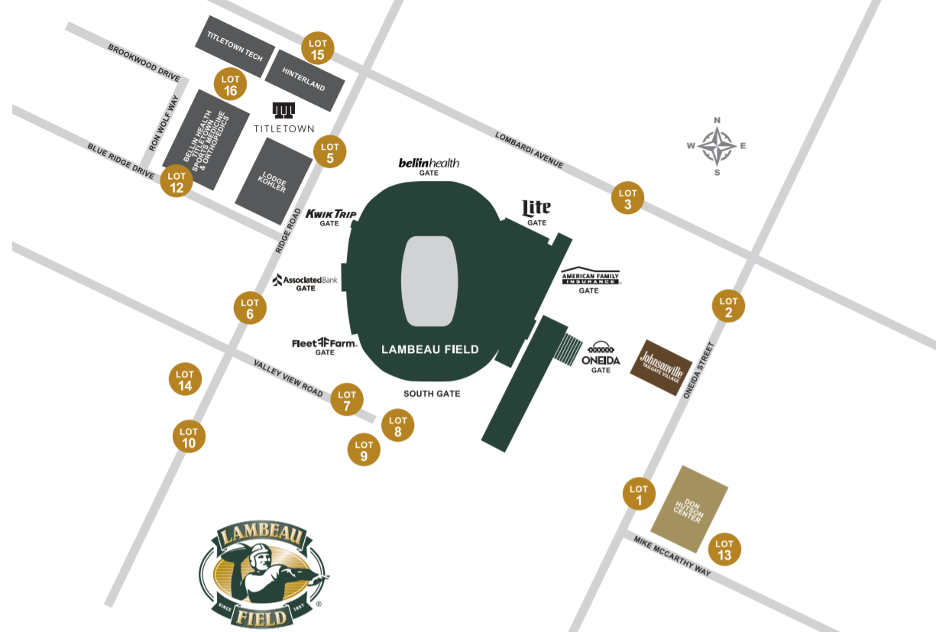 The stadium also offers some very limited single-game parking passes, which you can learn more about here.
Handicapped Parking
Lambeau Field offers two accessible parking areas on a first-come, first-served basis for fans with a valid state-issued disabled parking permit, placard, or license plate. Like all official lots, these accessible lots open four hours before kickoff, and are accessible from Lombardi Avenue (Lot 3) and Valley View Road (Lot 7). The cost for one vehicle is $40.
Tailgating at Lambeau Field
Lambeau Field's Johnsonville Tailgate Village, located in the east parking lot outside the Oneida Nation Gate, allows tailgating on game days until kick off, and is a popular option for superfans trying to have some fun before the game.
You'll have to follow the Fan Code of Conduct and a number of common-sense rules, including:
Leaving enough room for pedestrian or vehicular traffic
Making sure your grill is attended at all times, unless extinguished
Discarding hot coals, trash, and recyclables in the proper containers
Placing your set-up inside the 9×6-foot space directly behind your vehicle
Many unofficial lots will also allow tailgating, though you'll have to check with them ahead of time to learn their specific policies.
Public Transportation
The great news for fans is that the Green Bay Metro runs four free bus routes that operate every thirty minutes during home games. The buses start operating five hours before kickoff, and will run for an additional three hours after the end of the game. You can visit the Green Bay Metro's page on Game Day Routes for more info.
Lambeau Field Parking FAQ
For a quick breakdown of the best parking options at Lambeau Field, we've compiled a list of frequently asked questions below.
How much does it cost to park at Lambeau Field?
Pricing can vary widely depending on where you park. A season parking permit will cost around $160, and unofficial single-day parking immediately around the stadium typically costs about $100. Going further afield and checking out public and residential options will net you some cheaper spots, sometimes as low as $40.
Where is the best place to park at Lambeau Field?
The official lots right next to the stadium are a great if pricey option, though it can be hard to snag a space. Otherwise, your best bet might be looking at public parking options, or the wide variety of residential parking spots that open up nearby on game day. In particular, South Ridge Road between Lombardi Avenue and West Mason Street is a popular spot to grab a street parking spot.
What time do the parking lots open at Lambeau Field?
Official parking lots at Lambeau Field will typically open around 4 hours before kickoff. Unofficial parking lots will often open a little bit earlier, though you'll have to contact them to check precise times, as well as tailgating policies.
Reserve Your Spot Today with ParkMobile
If all that feels like a ton of information that's a little hard to process, don't forget there are plenty of easy ways to reserve your parking spot ahead of time and take the headache out of gameday. Reserve your spot today with ParkMobile — and save your energy for the game.