Planning a visit to Boise, Idaho? We've got you covered. In this post, you'll find everything you need to know about having a great time in Boise — and especially Downtown Boise. With a rich history, an awesome food scene, and excellent museums, you're sure to find plenty to do.
The History of Boise Idaho
Boise is the largest city in Idaho, as well as the state capital. Located along the Boise River, the city became a popular destination for prospectors and miners after gold was discovered in the Boise River basin in 1862. The town was established in 1863 and became the young state's capital the very next year.
Downtown Boise Restaurants and Dining
Downtown Boise boasts plenty of awesome restaurants and dining experiences, no matter what you're craving. From the perfect breakfast platter to pastries at a chic bakery, or a stylish craft cocktail to round out your evening, the food scene in downtown Boise, Idaho, will have you coming back for more.
Great Breakfast Spots
Speaking of restaurants in Boise, what better way to start your day in the area with a pitch-perfect breakfast experience? When it comes to breakfast in Downtown Boise, you can't go wrong with Moon's Kitchen Cafe, a storied diner known for its seriously filling breakfast dishes and homey vibes. If your sweet tooth is already aching, be sure to check out their beignets and their famous milkshakes!
For a slightly different experience, you won't want to miss BACON. It's no surprise that this family-friendly brunch destination takes its breakfast meats seriously. You can try one of their five different kinds of bacon, enjoy a classic breakfast dish with a bacon-y twist, or even snag a Bacon Bloody Mary! Although the focus here is on, you guessed it, bacon, there are tons of other dishes and even plenty of locally sourced vegetarian options to check out!
Quaint Coffee Shops and Bakeries
You'll have your pick of coffee shops in Downtown Boise because there are plenty in the area. But if you're looking for a truly great and unique experience, there are a few specific places to check out. District Coffeehouse, a neat nonprofit, serves up sustainably sourced coffee and pastries baked fresh every day in their sleek, airy space. It's perfect for a quick pick-me-up or starting your day off casually.
Then there's ā café, a pretty unique coffee shop that takes minimalism to the next level. From sandwiches and wraps to scrambles, breakfast burritos, avocado toast, and more, you're sure to find something that'll pair just right with a fresh cup of coffee, prepared exactly the way you want it.
Happy Hours
Boise is a happening city, and if you're looking to get the fun started a little bit early, there are tons of great happy hours to take advantage of in the city. Amsterdam Lounge is a great spacious joint to have a drink or two, with a great half-off happy hour that runs from 4 to 7 p.m. You'll have to check out their pitch-perfect Espresso Martini, although really you can't go wrong with any of their craft cocktails. Not to mention, their patio seating is the perfect spot to relax and enjoy a delicious drink!
Whiskey Bar is another great option located smack dab in the Downtown Boise area. Their generous happy hour runs from 3 to 7 p.m. daily and from 7 to 9 p.m. on Sundays. The deals are pretty fantastic — you'll have access to free pool tables, $2 bottled beer, $3 wells, and more.
Arts and Culture in Downtown Boise
Downtown Boise has a vibrant arts and culture scene, full of museums, memorials, and other historical experiences that you won't want to miss. We've brought together recommendations for the best arts and culture experiences in Downtown Boise below.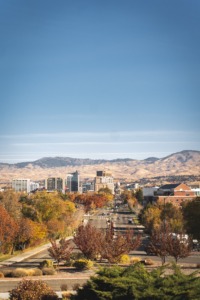 Downtown Boise Museums
Downtown Boise has a few excellent museums if you're in the mood to experience arts and culture that way. The Boise Art Museum, located at 670 Julia Davis Drive, is just one of several museums and attractions located in Julia Davis Park. With plenty of kid-friendly activities, an exciting gift shop, dozens of art exhibits every year, and a fantastic standing collection, the Boise Art Museum is a great place to spend a relaxed afternoon.
Don't forget to check out the Basque Museum either. This niche museum is designed to promote and educate the public about Basque history and culture. With exhibitions and regular events like their annual Winefest that bring Basque culture right to your taste buds, the Basque Museum is a truly unique and exciting museum experience — one you could only get in Downtown Boise.
Memorials and Other Attractions
Downtown Boise also has plenty of public history you'll be able to access when you visit. Located at 508 Julia Davis Drive, the Idaho Black History Museum is a small but powerful museum that collects and informs the public about the African American experience in Idaho. It's also the oldest African American museum in the Pacific Northwest.
The Old Idaho Penitentiary is another unique historical gem you can check out. Guided tours are available for this old territorial prison that was built all the way back in 1870. You'll learn about the prison's rich and exciting history, filled with tales of daring escapes, corruption, scandals, and more.
Parking in Downtown Boise
Parking in Downtown Boise will typically be metered spaces, street parking, and lots and garages. Because Downtown Boise is a pretty popular destination, you'll want to take the stress out of parking and reserve a spot ahead of time with ParkMobile. For day-to-day needs, you can quickly pay for on-street parking or reserve a space in a garage ahead of time.
Downtown Boise FAQs
Still looking for information about Boise, Idaho? We've brought together answers to a few frequently asked questions below.
Is Boise a walkable city?
Although Boise itself is too large to be easily walkable, it has some of the most walkable neighborhoods in the country. From beautiful tree-lined pathways to the Boise River Greenbelt, you won't get bored of the scenic views this city has to offer. Downtown Boise boasts more than 80 restaurants and 100 shops and businesses, all within walking distance of each other.
Does Boise have nightlife?
Boise offers an exciting nightlife experience for visitors, which has only gotten more happening in recent years. With its historic architecture and wealth of bars, clubs, breweries, and more, the downtown area, in particular, is a great place for a fun night out.
What is Boise best known for?
Boise is best known for being the state capital of Idaho, as well as its historical origins as a hub for fur trappers and an important gold rush destination.