You know it's Thanksgiving when…an enormous Snoopy floats above you and a sparkling, multi-tiered stage full of singing elves glides by you. No, you're not dreaming; you're watching the legendary Macy's Thanksgiving Day Parade. On Thanksgiving—Thursday, November 28th—this parade will wow spectators for its 93rd time and officially usher in the season of holiday cheer. Worried about all the crowds and where in the world you'd need to park to get close to the action? Well, worry not! We can help you with Macy's Thanksgiving Day Parade parking reservations with ParkMobile right near the parade route so you can truly be thankful and keep the magic of the season alive.
Everyone can enjoy the show on T.V. or online, but experiencing the electric excitement in person is something you can't duplicate through a screen, and is a thrill you'll never forget.
The best places to watch the Macy's Thanksgiving Day Parade are:
Central Park West
Location: W. 75th St. to W. 59th St., along the west side of Central Park West
There are multiple lots that take reservations through ParkMobile all around Central Park. On the west side, the valet garage at 70 W. 95th St. is a mere block away from the park and peak parade route viewing. There are also reserve lots on Columbus Ave. and W. 88th. People start showing up to stake their claim on the route as early as 6 a.m., so plan to show up bright and early, and snag a cup of coffee or hot cocoa while you wait for things to kick off at 9 a.m. Maybe check out Birch Coffee – just a short walk up Columbus from 95th St. #perkup #centralparkparking
Central Park South
Location: W. 59th St., between 8th Ave. and 6th Ave.
There are a few lots right near W. 59th & 6th Ave. where you can make Macy's Thanksgiving Day Parade parking reservations. Two lots you'll want to check out are: 101 and 109 W. 56th St. The great thing about these lots is that the parade route goes down 6th Ave., so whether you want to pick your spot along Central Park South on 59th Ave. or somewhere along 6th Ave, you can park your car safely and easily walk to any watching location close by. There's a Starbucks conveniently right on 6th Ave. near either parking lot option, so you'll be able to get your java jolt before the show starts.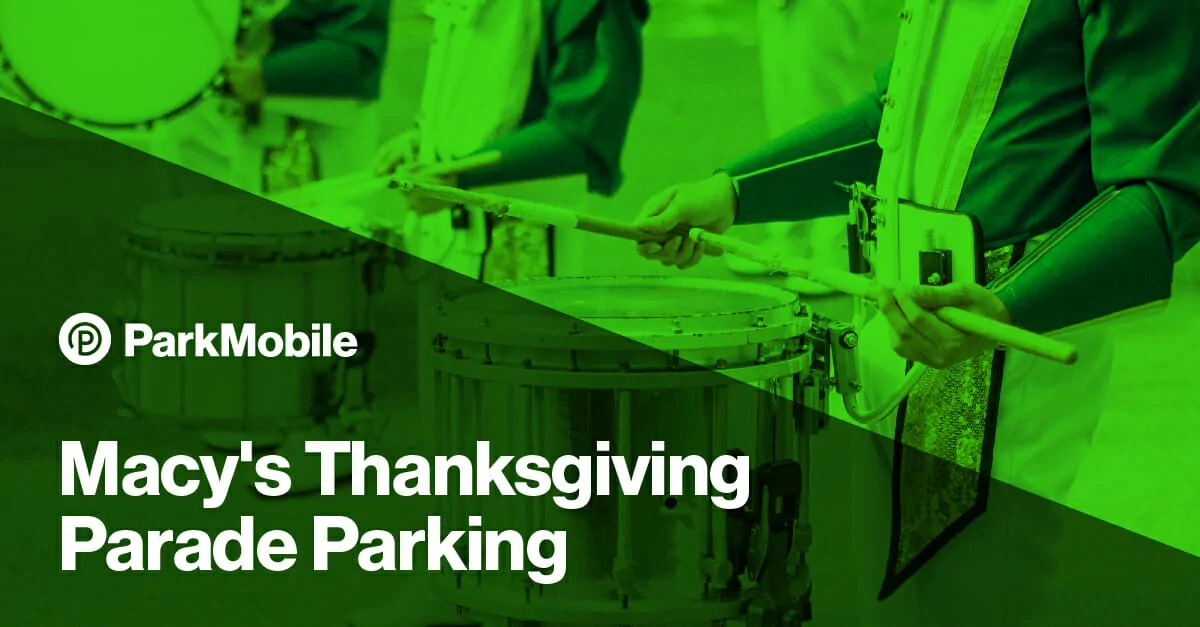 6th Ave.
Location: Between W. 59th St. & W. 38th St.
In addition to the lots mentioned under Central Park South, there are places to make Macy's Thanksgiving Day Parade parking reservations all up and down 6th Ave. A few to consider are: 38 W. 46th St., 150 W. 38th St. and 30 W. 32nd St. Keep in mind that although the parade ends at Macy's Herald Square, there is no public viewing at the end of the route so you'll want to be further up 6th Ave. to get the best views. But no sweat—you won't have to walk far from any of the available lots.
There are so many things to be thankful for, and easy parking is definitely one of them! Have a fantastic, joyful holiday season and may your Thanksgiving be a memorable one for all the right reasons.