When people visit Maine, they're looking for coastal beauty, beautiful forests, and plenty of opportunities to hang out on the water. That's why Bar Harbor, Maine is such a popular destination. Located on Mount Desert Island, right next to Acadia National Park, Bar Harbor boasts plenty of outdoor activities and promises an extraordinary time.
Get Cozy near Bar Harbor
Looking for a place to stay? You'll have access to a wide variety of housing options, from cute bed and breakfasts to camping grounds and cottages and, of course, hotels and motels. For an extensive list of places to stay, check out Bar Harbor's official Where to Stay page. Of course, we've got our own recommendations as well.
If you're looking for a truly luxurious, oceanfront experience, check The Bayview Hotel. Located right on the water, this romantic boutique hotel was recently redesigned and features private decks in each room and a style that seamlessly blends the rustic and the modern.
Looking for something a little more relaxed? Check out The Captain Swift Inn, rated the best inn in Bar Harbor by TripAdvisor. Recently renovated, this boutique bed and breakfast inn is located right by the water and within walking distance of the cute downtown area. Enjoy candlelit breakfasts and a cozy but casual vibe.
Things to Do in Bar Harbor Maine
When you're visiting Bar Harbor, it's not all about nature. There are tons of awesome things to do in the city, from hitting the beach to checking out the museums and much, much more. For a full list of activities, you can visit Bar Harbor's official See & Do page, but we've brought together a few of our favorite activities below.
Explore Acadia National Park
By far the most popular destination near Bar Harbor, Acadia National Park is widely beloved for a good reason. With 47,000 acres of coastal habitat, located primarily on Maine's Mount Desert Island, Acadia National Park is simply stunning. Its gorgeous woodlands, rocky and picturesque beaches, and wealth of wildlife, including moose, bears, and whales, draw millions of visitors every year.
Since Acadia National Park is so large, it's important to plan ahead if you want to get the most out of your visit.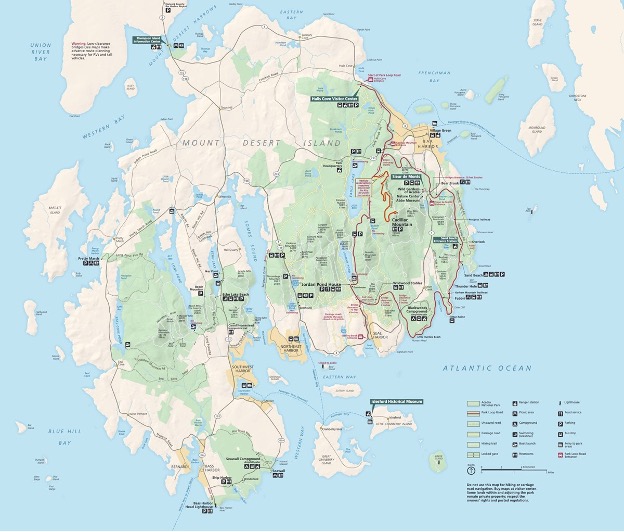 Getting the most out of your visit to Acadia National Park can be tricky however, if only because the park is pretty massive. Check out a guide to the park that will help you plan your visit — we recommend Acadia Magic, which offers an interactive map, hiking tips, and more.
Enjoy the Beauty of Sand Beach
Just because it's Maine doesn't mean you can't get your beach on! If hiking isn't your thing, you'll want to check out Sand Beach, a cozy little beach located on the east side of Mount Desert Island. The sand here is formed from shell fragments, gradually crushed by the pounding waves, giving the beach a unique feel. You'll access the beach via Park Loop Road, which is just south of the entrance fee station.
Fun Activities on the Land
If the sea isn't your thing, there's still tons to do in Bar Harbor, including plenty of fun activities on the land. Here are a few options we'd recommend:
Acadia Bike. Speed through Bar Harbor or check out Acadia National Park on your very own biking adventure with Acadia Bike!
Acadia Outfitters. Craving a touch more speed? Check out Acadia Outfitters to rent motorized scooters, as well as bikes, e-bikes, and kayaks!
Seal Cove Auto Museum. If you like classic cars — and we mean really classic — you'll love Seal Cove Auto Museum, which has some of the earliest automobiles ever created on display, dating back to 1895!
Fun Activities on the Water
It's hardly a trip to Bar Harbor if you don't get out on the water. You'll have plenty of choices when it comes to finding fun activities on the water, but you can't go wrong with these options:
Lobster fishing and seal watching. To see some oceanic wildlife, take a trip on the Miss Samantha, Maine's largest lobster passenger boat. You'll watch real fishermen haul in lobster traps — and you'll even get to touch them! Later on, you'll visit a small island and witness seals basking in the sun.
Coastal Kayaking Tours. Ready to get up close and personal with Maine's famous coast? Coastal Kayaking Tours offers a variety of tour options for pros and novices alike. You'll visit the stunning Porcupine Islands in Frenchman Bay, and it's pretty likely you'll meet some gorgeous wildlife, including seals, porpoises, and ospreys.
Take a ferry ride. If pure sightseeing is your goal, you'll have to check out the CAT High Speed Ferry. Over 3.5 hours, you'll travel across the open ocean from Bar Harbor, Maine to Yarmouth, Nova Scotia. The views are truly spectacular, plus you'll have access to onboard amenities and entertainment options.
Eating and Dining in Bar Harbor
Had enough fun hiking or out on the water? Starting to crave a snack? No matter what time of day it is, if you've been running around or just relaxing, Bar Harbor has a number of great dining options you'll want to check out, including:
Project Social. For specialty cocktails and fantastic small plates, Project Social can't be beat. The kitchen and bar prides itself on using only the freshest ingredients in its signature drinks, which you'll enjoy in cozy surroundings or on the open-air deck with a gorgeous wrap-around garden.
Bar Harbor Inn. Located in the heart of downtown and right on the harbor, Bar Harbor Inn offers a quintessentially Maine experience to its guests. The beautiful ocean views are only matched by the fare, which takes advantage of the freshest possible, locally-sourced ingredients — in other words, if you're in the mood for seafood, Bar Harbor Inn is the place for you.
Coffee Hound. Ready for a pick-me-up? Swing by Coffee Hound for some of the best joe you'll ever have. This award winning coffee supplier prides itself on its small-batch mentality, and they don't skimp on the flavor — with classically trained roasters and baristas ensuring every cup is world-class, you're guaranteed to leave with a smile on your face and a few bags of beans in the trunk.
Where to Park in Bar Harbor
If you're planning on driving to Bar Harbor, there are a few things you should know about the parking situation:
From mid-May to late October, the town uses a paid parking program that's enforced between 9:00 AM and 8:00 PM on Monday through Saturday, and 12:00 PM to 8:00 PM on Sunday.
Rates will range from $1.50 per hour to $2.00 per hour, and some high-demand locations will have a 4-hour limit.
While there is some unsigned parking available on side streets, it's generally safest to park in a marked space. The good news is all major credit and debit cards are accepted.
The better news? ParkMobile makes parking simple in Bar Harbor, Maine. For the easiest possible parking experience, be sure to download the ParkMobile app before you arrive so you can quickly and easily pay for your parking space right from your phone.
FAQ'S
Still have questions? Have no fear! We've brought together answers to a few frequently asked questions about Bar Harbor, Maine below.
What is the best time of the year to go to Bar Harbor, Maine?
Maine is a northern state and typically has cool weather throughout the year, which is why the best time to visit Bar Harbor, Maine is between June and August. During the height of the summer, you'll experience the best weather, with plenty of sun and pleasant heat.
What is Bar Harbor, Maine, known for?
Bar Harbor, Maine is known for its majestic coastal scenery, its countless lobster boats, and stunning views of islands and the ocean. With plenty of water-based activities and nearby Acadia National Park, Bar Harbor is a popular tourist destination.
Is Bar Harbor, Maine, worth visiting?
With its gorgeous scenery and bounty of activities, Bar Harbor, Maine is absolutely worth visiting. Many travelers like to stop in Bar Harbor before checking out Acadia National Park, the most popular tourist destination in the state.