If you play a Country Hits station on your fav music app these days, you might wonder if you clicked the wrong one when you hear pop or rock coming through your earbuds. Modern country definitely blurs the lines between genres, with some artists releasing singles that could be played on a number of different stations. But there's one country artist who has stayed true to his roots over his expansive career and kept his boots firmly planted in the traditional country genre. Hold on to your Stetson, because Mr. Strait is heading your way on his "Honky Tonk Time Machine" tour. No matter where you catch him, we'll help you find George Strait concert parking with ParkMobile so you'll be saying "yee-haw" all evening long.
With his silky baritone voice, southern drawl and laid-back gentlemanly manner, George Strait can sway almost anyone to fall in love with country music.
Find George Strait Concert Parking – It'll Leave You With a Smile
Show Dates: Dec. 6 & 7, 2019; Jan. 31 & Feb. 1, 2020
Las Vegas, with all its glitz and glamor, is lightyears from where George Strait started out. Strait grew up in Texas on a cattle ranch and eventually returned to ranching after serving in the U.S. Army. Fun trivia fact: he achieved the rank of Corporal in the Army. Salute! While in the Army, he performed with a band called "Rambling Country" and then during college headed "Ace In the Hole Band" which performed in honky tonks and bars around Texas. 
All the hard work paid off when MCA Records signed him as a solo artist, and his first single landed in the top 10 of Billboard's Hot Country Songs. Strait has never looked back, selling more than 100 million records, recording over 50 number one hits, packing out stadiums and even starring in movies. So yeah, Las Vegas is just about right as a mega venue for a megastar.  
If you read our blog on parking at T-Mobile Arena, you'll know that this venue is located right off the Las Vegas Strip behind the New York New York Casino and Hotel. With the monorail nearby, you could leave your car at the arena and explore all the restaurants, shops and entertainment along the Strip before returning for a concert that's sure to knock your boots off. With ParkMobile, you can reserve George Strait parking right on site so you can focus on fun and avoid the stress. That, friend, is the difference between "Living and Living Well."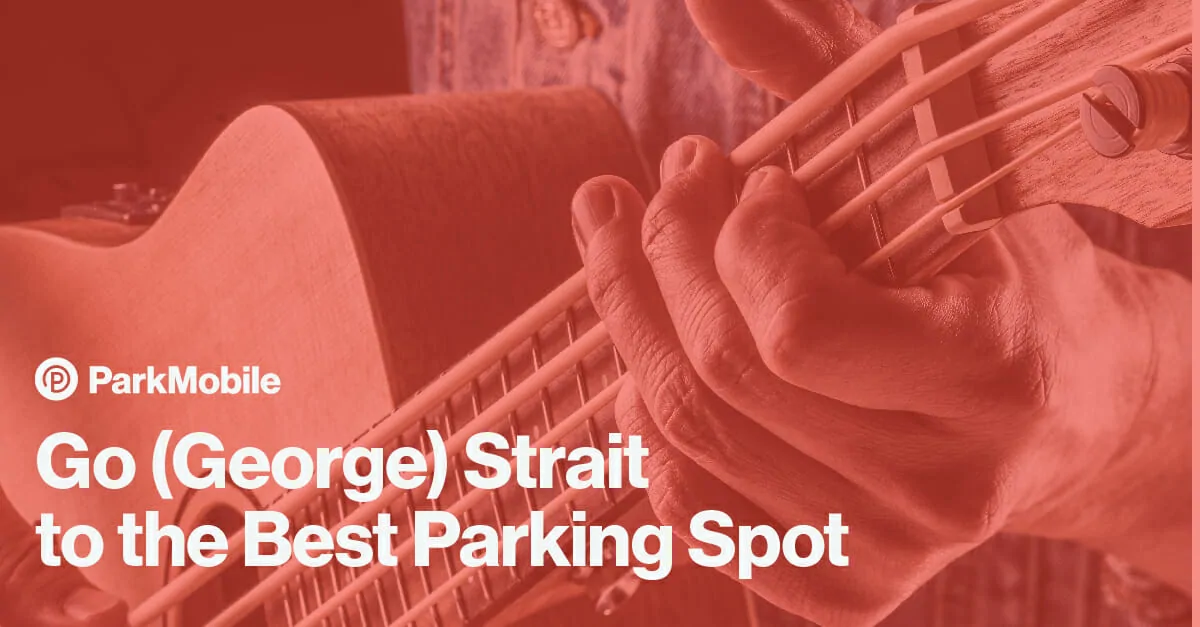 Show Dates: Jan. 25 & 26, 2020
Sprint Center is located at 1407 Grand Blvd., close to a variety of restaurants and major freeway interchanges – making it super convenient for all the George Strait fans streaming in. Maybe you've got a little time to kill between when you arrive and the big show? Check out No Other Pub (no really, that's the name) right next to the stadium at 1370 Grand Blvd., and try your hand at tons of different games including: bowling, golf, snookball, shuffleboard, foosball, darts and more. Grab a frothy pint of your fave brew and feed your face with loaded nachos, spicy wings or maybe even a Korean BBQ burger. After all that drink, food and fun you'll be fueled up to mosey on back across the street and get your country on. #easycomeeasygo 
Just like T-Mobile Arena, Sprint Center has on-site George Strait parking reservations to make your concert experience one to remember for all the right reasons. Safely stash your ride and "Check Yes" for a good ol' time.