Reserve T-Mobile Arena Parking
T-Mobile Arena opened its doors in 2016, providing the city of Las Vegas with a cutting-edge venue for hockey games, concerts, and more. The arena's primary tenant is the NHL's Vegas Golden Knights, who played their first home game at the venue on October 10, 2017, defeating the Arizona Coyotes. T-Mobile Arena's capacity ranges from 17,500 seats for Golden Knights games to 20,000 seats for boxing matches. The arena's proximity to the Waldorf Astoria, the MGM Grand, and Excalibur make it an attractive tourist destination. The exterior of T-Mobile Arena features the Toshiba Plaza, a two-acre space for visitors to gather prior to events while they enjoy dining options from Chronic Tacos, Pink's Hotdogs, and Shake Shack, and more.
In its early years, T-Mobile Arena hosted a variety of sports and musical events between Golden Knights games. A July 2016 UFC match, one of the first events hosted in the venue, kicked off a long-term arrangement between the UFC and the arena, which now hosts multiple UFC events each year. The arena also hosts the Professional Bull Riders finals and the men's basketball conference tournament for the Pac-12 each year. T-Mobile Arena has also staged awards shows including the Billboard Music Awards and the Latin Grammys.
Parking Options at T-Mobile Arena
With ParkMobile, you can reserve event parking in advance at many locations within a short walk of T-Mobile Arena. Event Garage A provides covered parking across Park Avenue from the arena starting at $20 per spot. Garage P offers parking for the Park MGM and T-Mobile Arena events for $20. Arena Ramp N, located just south of the arena, also features event parking for Golden Knights games and concerts.
By extending your walk to the arena, you can find less expensive parking options for your T-Mobile Arena event. Event Garage M on Las Vegas Boulevard supplies covered parking for events starting at $15 per spot. The Showcase Mall Garage is a parking structure on the corner of Park Avenue and Las Vegas Boulevard with spots starting at $10. Event Garage L spots are available within a half-mile of T-Mobile Arena from $10 per spot.
The Las Vegas Monorail connects casinos and hotels throughout the Las Vegas Strip. This seven-stop light rail, which stops at the MGM Grand and the SLS Las Vegas, operates seven days a week with service starting early in the morning and ending late at. Monorail users can pay $5 for a single trip or $13 for an unlimited day pass. You can hop from casino to casino on your way to a T-Mobile Arena event using the monorail.
Additional transit options allow T-Mobile Arena visitors circumvent Las Vegas traffic. There are free trams that operate from the Mandalay Bay to the Excalibur and Park MGM to the Bellagio throughout the week. The Golden Knights work with the regional transit authority to schedule four express bus lines from locations throughout the Las Vegas metro area. With this combination of transit options, it is easy to reach the arena from major attractions in Las Vegas.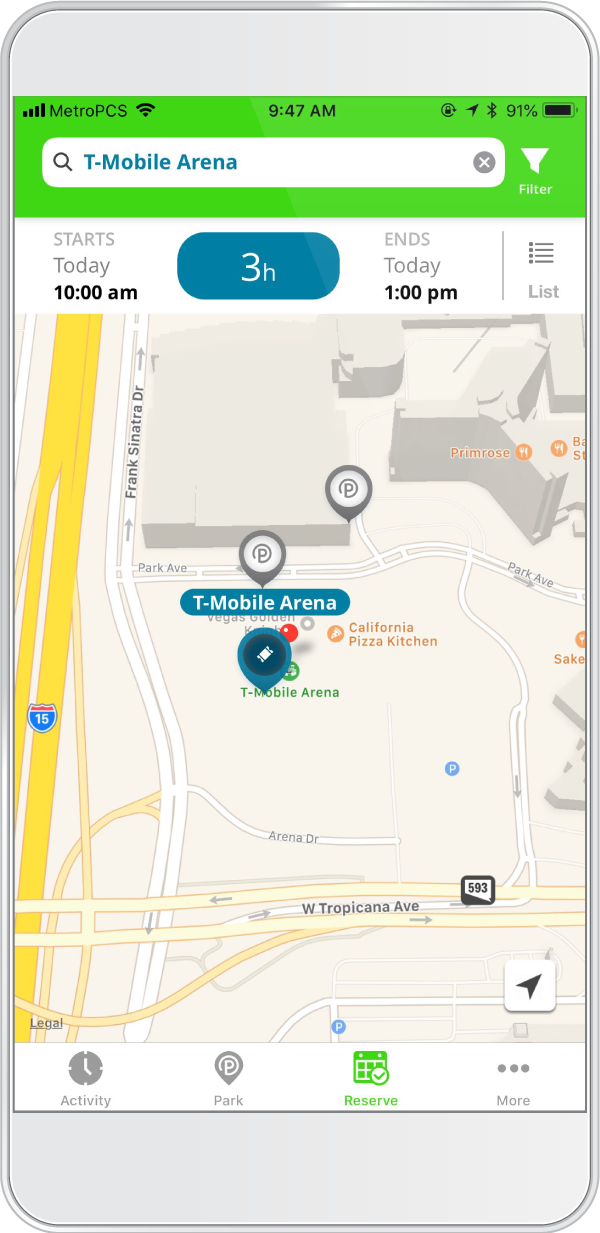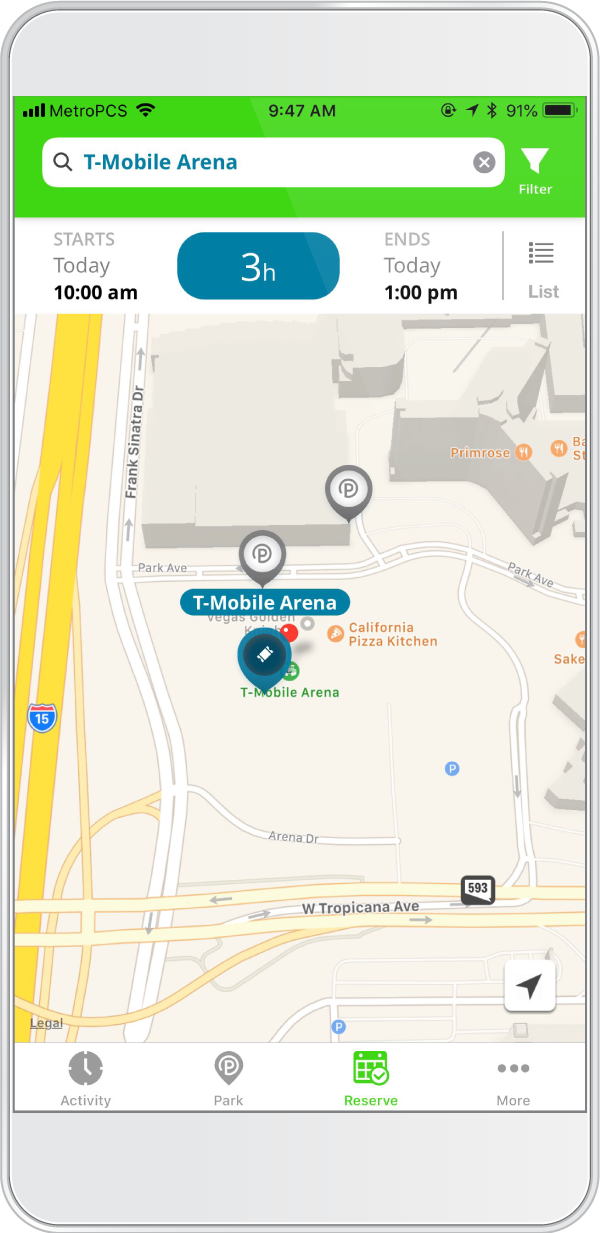 Reserve Parking for Your Event with ParkMobile
Make your next visit to T-Mobile Arena easier with ParkMobile. The ParkMobile app, as well as parkmobile.io, does all of the research for you by consolidating all available, reservation-friendly parking options near T-Mobile Arena for your upcoming event. After searching T-Mobile Arena in the ParkMobile app, you can view every spot within walking distance of the arena that can be reserved during an event. Each listing includes the total cost, lot restrictions, and distance from the venue. Simply select your location, pay, and reserve so that you don't have to worry about parking the day of the event. ParkMobile also provides customers with a mobile parking pass after a transaction is completed, making parking at T-Mobile Arena as easy as possible.