Ford Field is an indoor stadium located in downtown Detroit, Michigan, famous as the home field of the NFL's Detroit Lions. Built in 2002, this massive domed stadium can host up to 70,000 fans during Detroit Lions games.
Ford Field Parking Guide | Parking for Lions Games
Located at 2000 Brush Street in Detroit, Michigan, Ford Field is a massive complex that — fortunately — offers plenty of parking for its fans. Access to parking typically starts around 4 hours before kick-off, and cars will be directed into spaces.
Where to Park at Ford Field
Ford Field offers several official lots close to the stadium. In the immediate area, you'll find a few options that may cost you extra, but certainly make up for it in proximity to the stadium:
Lot 4
Lot 5
Lot 6
Ford Field Parking Deck
Also close by, you'll find a few more official lots and garages, including:
Lions/Tigers Garage
61 E. Elizabeth
127 W. Fisher
145 W. Elizabeth
2220 Cass
205 W. Adams
2055 Cass
'D' Garage
850 Witherell
And if you're willing to walk a bit but want to save a few bucks, these parking services and neighborhoods operate a variety of garages and lots in the area south of Ford Field:
Supreme Parking
Central Parking Systems
City of Detroit Municipal Parking
Handy Parking Miller
Parking Park-Rite, Inc.
Prime Parking
Greektown
Ford Field Parking Map
Fortunately, most of the parking around Ford Field is fairly centralized, so it should be easy to find your way around. For extra help, take a look at the official Ford Field Parking Map below, also available here: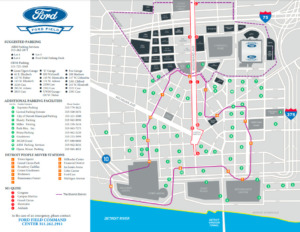 Public Transportation to Ford Field
If you're looking to get to Ford Field via public transportation, you're most likely going to take the bus. The following bus lines have routes that will get you near Ford Field: The following transit lines have routes that pass near Ford Field: 1, 2, 23, 530, 563, 6, 635.
The following stations are close to the stadium, so if you're taking the bus, aim to get off at one of these locations:
| | |
| --- | --- |
| Station | Distance to Ford Field |
| Woodward & I-75 Service Drive | 11-minute walk |
| Gratiot & Saint Antoine | 12-minute walk |
| Lafayette & Beaubien | 17-minute walk |
Ford Field Handicap Parking
All parking facilities at Ford Field are ADA compliant and offer accessible parking to guests with ADA-compliant placards or licenses. Note the following:
Additional accessible parking space will be available on game days in Lot 4, located just north of Ford Field.
Extra space will also be available in the Ford Field Parking Deck, located just east of Ford Field.
Tailgating at Ford Field
Tailgating at Ford Field is generally centered around two locations, Eastern Market and Greektown. We'll break down what you need to know below:
Eastern Market. A 10-minute walk from the stadium, this expansive market district is typically where most of the tailgating happens before Lions games. Parking will cost $10 on game day, but if you want to tailgate that rises to $40. You can pre-purchase parking or tailgate passes online.
Greektown. Located a little farther away, Greektown is also a little cheaper, with prices typically ranging between $15 and $20. It's an awesome neighborhood, and its many parking lots make it an ideal locale for tailgating.
Ford Field Parking FAQs
We get it. Parking can be a headache. To make things even easier on you, we've brought together answers to a few commonly asked questions about parking at Ford Field.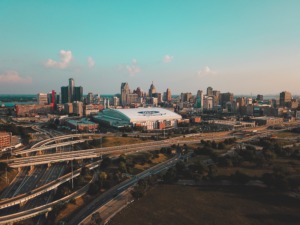 How much does it cost to park at Ford Field?
Parking at Ford Field is comparatively cheap. Depending on where you park, you can spend anywhere between $10 and $40 on parking. If you're willing to walk half a mile to the stadium, you can snag a spot for around $20.
Where can I buy a parking pass for Lions games?
You can purchase a parking pass for Lions games through ParkWhiz or general ticket service sites like StubHub. You can also reserve parking for Lions games ahead of time using the ParkMobile app.
What can you bring into a Lions game?
Only bags and containers that are in line with the following guidelines are allowed:
Bags that are clear plastic, vinyl, or PVC and do not exceed 12″ x 6″ x 12″
One-gallon clear plastic freezer bag (Ziploc bag or similar).
Small clutch bag, camera, and binocular cases, not exceeding 4.5″ x 6.5″, with or without a hand or strap
No outside food or drinks are allowed. Exceptions can be made for medically necessary food or equipment. For a more detailed list, click here.
Reserve your spot with ParkMobile
For a stress-free experience that lets you focus on the game, consider reserving your parking ahead of time with ParkMobile. It's the smartest way to snag a great deal and eliminate the headache of searching for a parking spot.