Planning your Holiday Experience Right Down to Where you Park
Paris may be famous as the city of lights, but during the holidays, New York City gives it a run for its money. Setting your eyes on some gorgeous holiday displays should be as easy as deciding what to check out — that's where we come in. To make sure you get the most out of the holiday season, we've brought together a list of some of the most popular holiday light displays in New York City. On top of that, we'll give you expert advice on where to park and how to save some money while you're at it.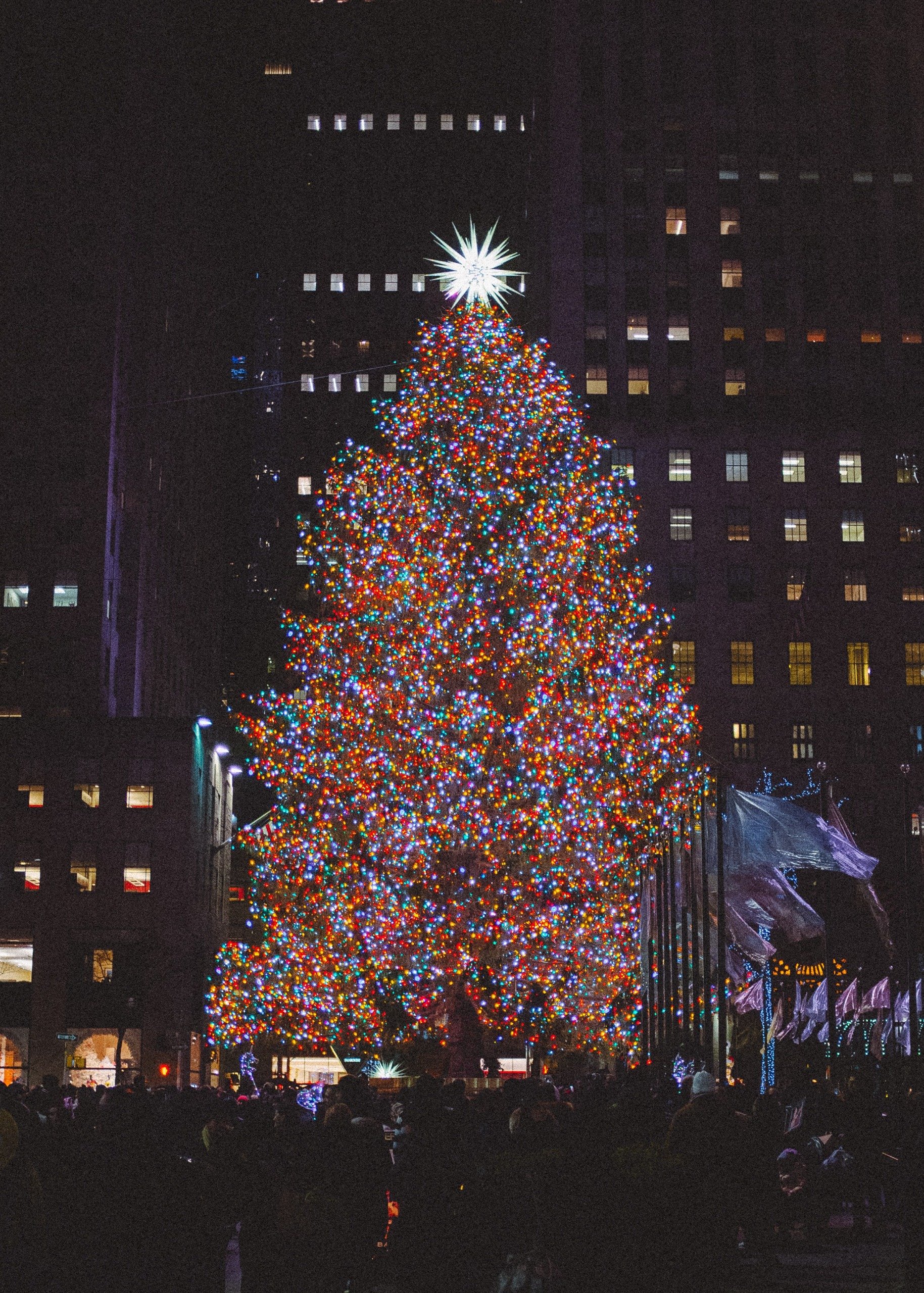 1. Rockefeller Center Christmas Tree
You've heard about it, but have you seen it? Located at 45 Rockefeller Plaza, this world-famous symbol of holiday cheer goes up every year in mid-November, and boasts 50,000 individual lights. This year, the tree will be up and lit from December 1st, 2021 to January 10th, 2022.
While viewing the tree itself and wandering around the plaza is free, you might want to throw down some cash to take advantage of the area's other wintry entertainments, including Rockefeller Center's famous ice skating rink.
Where to Park
While there's a convenient garage inside the center with an entrance at 55 West 48th Street, it can often be pretty pricey. For a cheaper option, try for street parking between 3rd and 9th Avenue from 42nd until 57th Street, or check out one of the public garages we've compiled below:
| | | |
| --- | --- | --- |
| Location | Price | Distance |
| 171 East 46th Street | $24 for 3 hours | 0.5 miles |
| 62 East 54th Street | $30 for 6 hours | 0.3 miles |
| 330 East 56h Street | $19 for 3 hours | 0.7 miles |
| 330 East 56th Street | $25 for 6 hours | 0.7 miles |
| 245 East 54th Street | $34 for 24 hours | 0.6 miles |
2. New York Botanical Garden Glow
The New York Botanical Garden, located at 2900 Southern Boulevard in the Bronx, puts on an incredible show during the holidays, decorating their historic buildings and landscape with thousands of multi-colored lights.
Adult tickets are $35, while child tickets are $20. This year, that will get you access to a recently expanded 1.5-mile gauntlet of tableaus, displays, and other beauties. Dates are as follows: November 24, 26, 27; December 2, 3, 4, 9, 11, 16, 17, 18, 23, 26, 27, 28, 29, 30; January 1, 6, 7, 8, 14, 15, 21, 22.
Where to Park
NYBG offers onsite parking for visitors via the Main Entrance at 2900 Southern Boulevard for $20 a vehicle. Additional onsite parking is available in the NYBG Parking Garage located at 401 Bedford Park Boulevard, where rates start at $8 for 1 hour.
For an even cheaper experience, you can check out one of several offsite garages located in the area, including:
2 J's Parking Lot, located at 2776 Webster Avenue
G & R Parking Services, located at 1 Fordham Plaza
J & A Parking, located at 374 East 184th Street
P. Tiebout Parking, located at 2468 Tiebout Avenue
Manhattan Parking Garage, located at 260 East 188th Street
3. Dyker Heights
Interested in something a little more kooky? Dyker Heights has what you're looking for. Between 11th and 13th Avenues from 83rd to 86th Street in this Brooklyn neighborhood, you'll encounter the wildest decorations, including life-size Santas, elaborate sleighs, snowmen — and of course, plenty of lights.
Admission is perfectly free of course, and most of the lights typically go up the weekend after Thanksgiving, and stay up through New Year's Eve. Obviously the evening is the best time to swing by, though keep in mind most of the lights will shut off around 9 pm.
Where to Park
Dyker Heights is a residential neighborhood, so parking can be extremely tricky, and it's generally recommended you take public transit if you're going to see the lights. That said, locals will typically tell you that your best bet for street parking is to look between 79th and 86th Streets.
There are also a few public parking garages and lots you can check out, including:
| | | |
| --- | --- | --- |
| Lot/Garage | Location | Price |
| Bay Ridge Municipal Garage | 8501 5th Ave | $3.75 for 1 hour |
| Century 21 Garage | 415 88th Street | $8.15 for 3 hours |
| 92-01 4th Avenue | 92-01 4th Avenue | $9 for 2 hours |
| 9111 4th Avenue | 9111 4th Avenue | $7 for 2 hours |
4. Bronx Zoo
The Bronx Zoo holiday lights are a truly unique experience and not to be missed. The zoo's unique lantern-based light displays depict almost 70 different animal and plant species from around the world, while special performances add an extra bit of flair to the extravaganza.
Visit the zoo, located at 2300 Southern Boulevard in the Bronx, on select dates between November 19th and January 9th to see the lights. Tickets cost $25 for children and $40 for adults.
Where to Park
The zoo offers several convenient parking structures with a general parking rate starting at $17, including the Southern Boulevard Parking Lot, the Bronx River Parking Lot, and Preferred Parking available at Fountain Circle. You can also take advantage of off-site parking at a number of garages to save a little cash:
| | | |
| --- | --- | --- |
| Lot/Garage | Location | Price |
| 3380 White Plains Road Garage | 3380 White Plains Road | $11 |
| One Fordham Plaza Garage | 1 Fordham Plaza | $15 |
| 2020 Boston Road Garage | 2020 Boston Road | $8 |
| 1939 West Farms Road Garage | 1939 West Farms Road | $10 |
5. Central Park
If you didn't think Central Park could get any prettier, think again. For more than two decades the Plaza in Central Park has played host to a delightful — and free — winter wonderland filled with carol-singing, ice-carving demonstrations, and of course a fantastic light show. Though the Annual Central Park Holiday Lighting takes place on December 2nd this year, the lights will stay up for the month of December.
Where to Park
The lights are located in the northeast corner of Central Park, on the East Side at 110th Street. Your best bet for parking will be to find a space in a public garage and walk to the park. To help you out, we've compiled a few options below:
| | | |
| --- | --- | --- |
| Lot/Garage | Location | Price |
| SP+ Parking | 14 East 103rd Street | $15 |
| Quik Park | 33 West 115th Street | $10 |
| NYC Parking Central Harlem Garage Corporation | 130 Malcolm X Boulevard | $15 |
| NYC Parking 116th-117th Street Parking Corporation | 24 West 117th Street | $14 |
Other Holiday Lights Displays in NYC
If you're looking for even more spectacular holiday displays, New York City doesn't disappoint. While we've already listed some heavy-hitters, you won't want to miss these other impressive displays.
Rules for parking during the holidays
Like many cities, New York City has special parking rules that take effect on holidays. Check out our other articles for a breakdown of NYC parking rules for the holidays  and alternate side parking in NYC  so you can avoid parking violations during the most wonderful time of the year! And remember you can always reserve your parking spot ahead of time with ParkMobile.