Located in East Nashville, Nissan Stadium is the home field for the NFL's Tennessee Titans and the Tennessee State University Tigers. It also hosts the annual Music City Bowl college game. Located across the Cumberland River from downtown Nashville, the stadium opened in 1999 and has more than 69,000 seats. Moving into the new stadium appeared to motivate the Titans, who made it all the way to the Super Bowl that year, suffering a heartbreaking loss when a Titans receiver was tackled by a Rams defender on the 1 yard line on the final play of the game. The team remains hugely popular, with all home games sold out. Titans fans particularly love the on-field antics of the team's raccoon mascot, T-Rac.
Although you'll be competing for parking with lots of other fans, don't worry about finding a nearby parking spot on Titans game day because ParkMobile has you covered with Nissan Stadium parking reservations to ensure that you don't miss any of the action.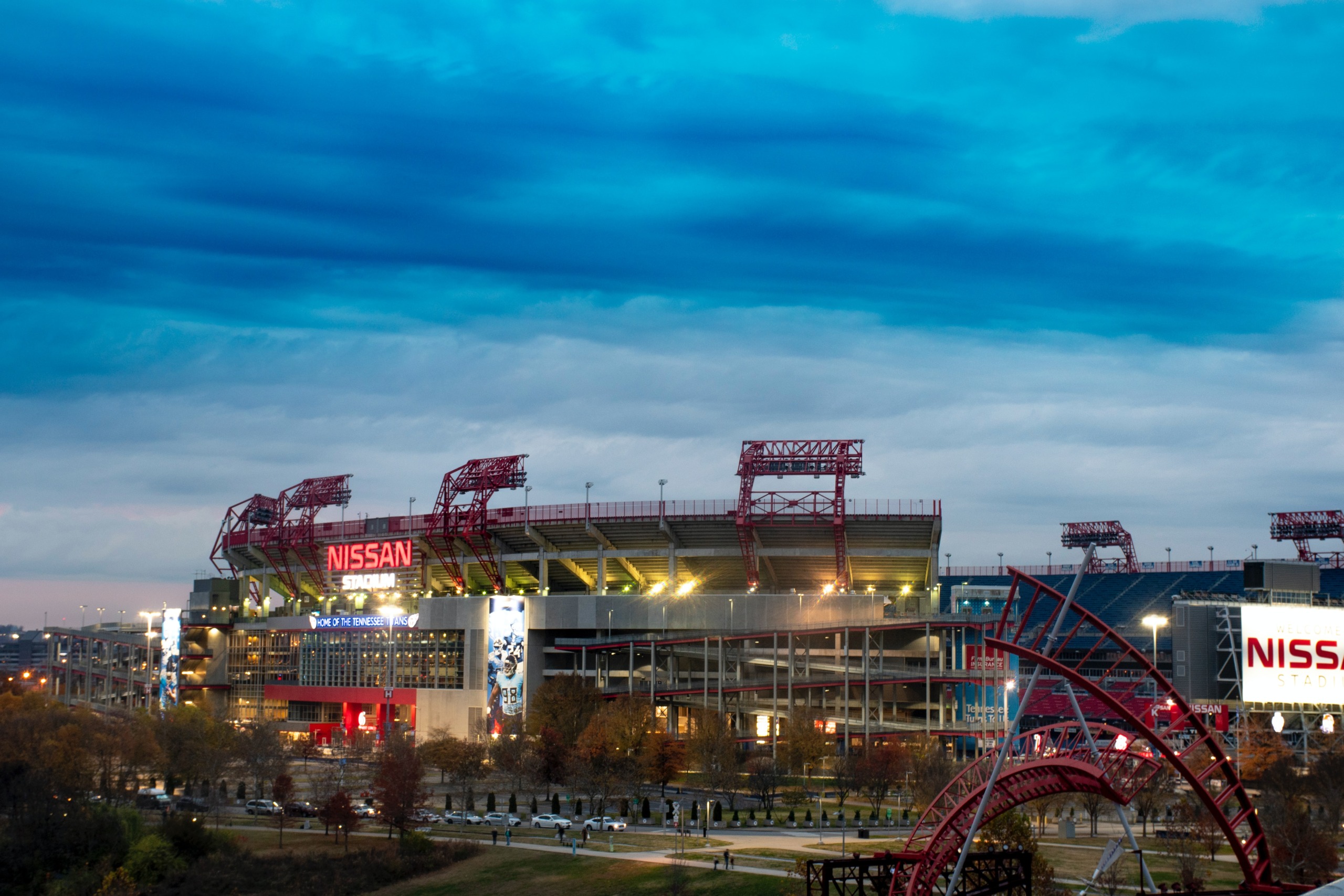 How Much Does it Cost to Park at Nissan Stadium?
The stadium has plenty of parking lots within a reasonable walk. For Titans games, all of the official Nissan Stadium lots require you to have a Titans-issued parking pass, and the fees start at $25. Seasonal parking decals are also available and cost $275 (preseason and regular season) or $300 (all games, including postseason). There are no cash lots at the stadium, but lots and garages located in downtown Nashville are cheaper and plentiful, but you'll have to walk farther.
Where to Park at Nissan Stadium
Parking at Nissan Stadium couldn't be easier. The stadium itself has lots of spaces, and there are other parking options within an easy stroll.
Parking Lots
Eighteen official parking lots encircle Nissan Stadium. They're lettered from A to T (with two A lots and no I or L lots).
If you're willing to walk farther to save money, plenty of offsite lots are available in downtown Nashville — on the other side of the Cumberland River. It's generally safer to walk across the Seigenthaler Pedestrian Bridge to get to and from the stadium than the vehicle bridges.
Consider these public parking lots:
PSC Metals Lot, 280 Crutcher Street
Second Lot, 527 2nd Ave North
Ragland Lot 314 3rd Avenue South
Smith Lot 504 6th Ave South
Garages
There are also plenty of covered garages in downtown Nashville. Closer choices include:
SoBro Tower Garage, 205 Demonbreun St,
Printers Alley Garage, off Church Street.
Nashville City Courthouse Garage, 101 James Robertson Pkwy
MTA Garage 400 Charlotte Ave,
Public Transportation
If you want to take public transportation, you can get to Nissan Stadium by bus. These three MTA bus lines stop near the stadium:
Bus 4: Woodland St. and South 2nd St.
Bus 14: South 1st St. and Woodland St.
Bus 23: South 1st St. and Woodland St.
Nissan Stadium Parking Map

Nissan Stadium Tailgating
Tailgating is allowed in all of the Nissan Stadium official lots. These lots open four hours prior to kickoff. Favorite foods you'll see fellow fans enjoying include Southern classics, such as barbecue, grilled meats, and, of course, Nashville hot chicken.
The stadium's basic tailgating rules are:
Propane grills are not allowed.
Set up only in the space directly behind your vehicle.
Don't extend into another space.
Don't block a roadway or access to another parking spot.
Reserve Your Spot with ParkMobile
For a stress-free experience that lets you focus on your pre-game rituals and enjoy the Titans game, consider reserving your Nissan Stadium parking ahead of time by using the ParkMobile App. It's the smartest way to snag a great deal, eliminate the headache of searching for a parking spot on game day, and arrive in time for the kickoff.