The Indy 500 is known as far and wide as the Greatest Spectacle in Racing for a reason. Located at the Indianapolis Motor Speedway (IMS) — a truly massive racing arena, covering more than 500 acres in total — this annual automobile race normally lasts three to four hours and draws hundreds of thousands of spectators.
For an event as big as the Indy 500, it's no wonder that to have the best possible experiences, it pays to plan ahead. From parking tips and information, to the down low on tailgating and drinking policies, we've brought together everything you need to know about attending the Indy 500.
Infield Parking
One of the most exciting aspects of attending the Indy 500 is the fact that some fans will get to watch the race from inside the actual track. Not only that, but you can even park there — that's just how massive the actual track is.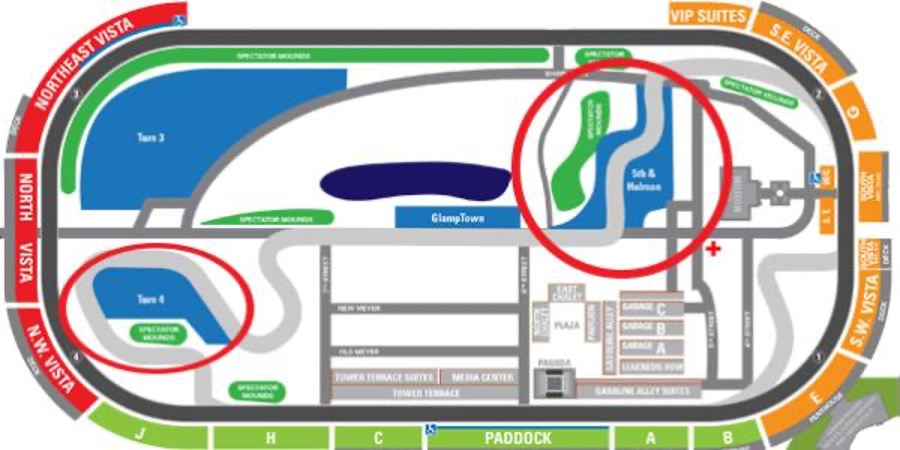 The blue areas circled to the right are the infield parking areas available during the Indy 500. We'll have more information about how to access these spaces below, but for now, just know that you'll need to purchase parking permits in advance on the IMS's official site.
Vehicle Tunnels to the Infield
To access infield parking spaces, you'll actually need to drive below the racing track. In the picture below, the three entrances are marked with red arrows.
Gate 10. The North Side entrance is located on 30th Street. After you've turned off 30th, you'll need to drive along a 6-lane driveway to pass under the track.
Gate 7. The West Side entrance is located on Georgetown Road. You'll need a specific parking pass to enter through this portal.
Gate 2. The South Side car entrance is located directly on 16th Street. Note that, on race days, you'll only be able to enter here via the west-bound lanes.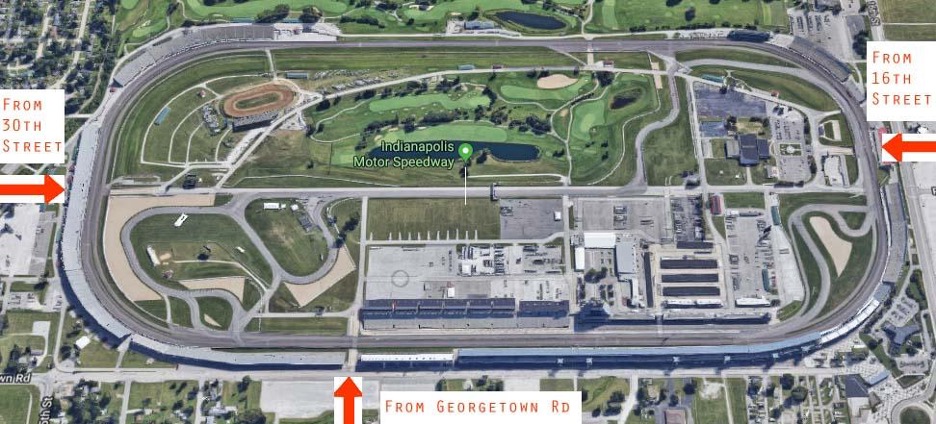 Official IMS Parking Lots
The Indianapolis Motor Speedway offers a wide variety of official parking lots for the Indy 500, which you can view on the map below.
Maybe the most important thing to keep in mind is that you'll need to pay for parking access well in advance. For information about specific lots and to buy your parking passes for the Indy 500, you can visit the IMS official parking page.

Accessible Parking
For accessible parking and seating options, you can make arrangements through the Indianapolis Motor Speedway Ticket Office, and for more information, we recommend you check out the IMS ADA Accessibility page. In general, paid accessible parking will be available in the following lots on race day:
Lot 2
Lot 3P
Northwest Gravel
Gate 1 Parking
Flag Lot
West Museum
Tower Suites
Hulman Lot
Indy 500 Alternative Transportation
If you want to avoid the parking problem entirely, you're in luck. The IMS offers transportation services that will take you directly from two locations in nearby Indianapolis to the Speedway. These services will pick up and drop off at the following locations:
Rideshare: 16th and Polco Street (Main Gate East)
Taxi: at the corner of 10th Street and Polco Street
Reserve parking in downtown Indianapolis ahead of time with ParkMobile.
Indy 500 Parking Tips
To make things easier on you, we've narrowed down our advice on traveling to the Indy 500 to the following tips:
If you're driving toward the Speedway and are caught in standstill traffic and are still far from the stadium, it's okay to turn around and try an alternate route.
Stock up on gas ahead of time, in case you get caught in bad traffic as you're heading to, or leaving, the Speedway.
Don't forget where you parked! The sheer size of the Indianapolis Motor Speedway can make finding your car in a parking lot even more difficult, so make sure to have a plan for finding it when you're ready to leave.
If you've got time to spare, it's a good idea to wait an hour or two after the race ends before attempting to leave. You'll encounter far less traffic, and your blood pressure will definitely thank us.
Check out the IMS parking regulations page to avoid any parking mishaps.
Finally, make sure to buy a parking pass at the same time you buy your tickets, and grab both as soon as you possibly can.
What to Wear
When it comes to deciding what to wear at the Indy 500, you'll want to remember three things — you'll probably be doing plenty of walking; there's a good chance it'll be hot; and it's likely to be sunny as well.
In other words, where what you think will make you most comfortable in these circumstances. In general, we'd recommend wearing:
Comfortable sneakers
Sunglasses
A baseball cap or other brimmed hat
T-shirt
Shorts
What to Bring
Attending the Indy 500 is an all-day experience, which means it's a good idea to take preparations seriously. The great news is, you can bring your own food and drinks, including alcohol, into the stadium — you can even bring coolers and bags that are 18"x14"x14" or smaller!
Here are some tips for what to put in your cooler and what else to bring to the Indy 500:
Food and snacks, including chips, sandwiches, fruit, and anything you might want to snack on.
Beverages, including plenty of water, since it's likely to be hot out.
Alcohol, if you plan on drinking — keep in mind that hard liquor can only be in plastic bottles, while all other beverages will need to be in either an aluminum can or a plastic bottle.
Personal fans, and other items to help you cool down.
Sunscreen, since you'll most likely be spending plenty of time in the sun.
Indy 500 Parking FAQs
If you're still got questions about the Indy 500 and how to get the most out of your experience, you're in luck. We've brought together answers to some frequently asked questions about the Indy 500 below.
Where can I buy tickets for the Indy 500?
You can purchase tickets for the Indy 500 on IMS's ticketing page starting at $50 for General Admission to $215 for Reserved Seating on race day. You can also try to catch a deal on Vividseats, Stubhub or SeatGeek!
What time do the parking lots open for the Indy 500?
The parking lots at the Indy 500 famously open at 6:00 AM. But that doesn't mean you'll necessarily get a great spot if you show up then. Plenty of people line up in the early hours of the morning to guarantee they snag a primo parking spot.
Is tailgating allowed at Indy 500?
Of course! In fact, the Indy 500 is famous for having possibly the most epic tailgating in the entire country. Tailgating can take place both outside the arena and inside of it — that is, in the central fields and parking lots located inside the racetrack.
People often wake up in the early hours of the morning to prepare for their tailgating experience — that means massive amounts of food and drink, plus plenty of games, like football, soccer, and of course cornhole. In other words, tailgating at the Indy 500 feels more like a festival than traditional tailgating.
How early should I get to the Indy 500?
Gates open at 6:00 AM, and by then there are usually plenty of people waiting in line to grab a great parking spot. In other words, you should show up as early as you can, and definitely no later than 7:30 or 8:30 AM.
Reserve Your Spot Today with ParkMobile
Excited about the Indy 500 but feeling stressed about parking? ParkMobile makes it easy to reserve parking in advance at Indianapolis Motor Speedway. So what are you waiting for? Reserve your spot today with ParkMobile.