Reserve State Farm Arena Parking
State Farm Arena, home to the NBA's Atlanta Hawks and the WNBA's Atlanta Dream, opened its doors to another season after a state-of-the-art renovation from its previous identity as Philips Arena in October 2018. The arena, originally constructed in 1999, is located in the heart of downtown Atlanta near the intersection of Marietta Street and Centennial Olympic Park Drive.
The arrival of State Farm, the largest provider of auto and home insurance in the United States, as the arena's sponsor continued the evolution of the building's capacity and amenities. State Farm Arena's renovations were inspired by the team's fanbase and designed to provide next-generation experience, service, and entertainment to its guests. The venue owns the NBA's third-largest center-hung scoreboard and offers an immersive video experience, local eateries like B. Cracklin' Barbeque and J.R. Crickets, Topgolf Swing Suites, and celebrity-inspired social spaces to its attendees.
The downtown Atlanta arena stakes its claim as the city's best sports and live entertainment venue, and it consistently ranks as one of the top event venues in the world by Pollstar. State Farm Arena hosts approximately 2 million guests and 200 events annually. When State Farm Arena isn't hosting a basketball game, the venue provides a space for musical entertainment. The venue hosted Twenty One Pilots, Drake, and Elton John before the close of 2018.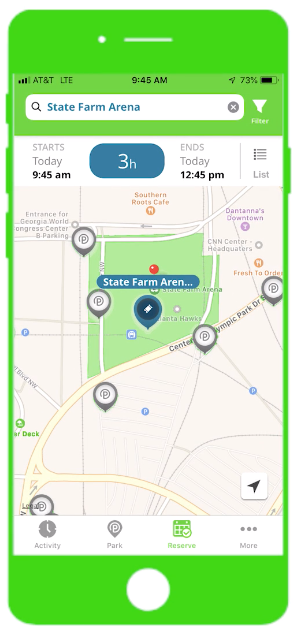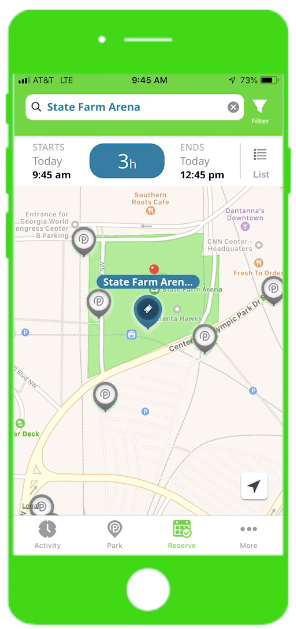 Parking Options at State Farm Arena
State Farm Arena's downtown location means plenty of available parking options for event attendees. There are several lots and garages less than a tenth of a mile from the arena. The arena featuresa surface lot with $40 event parking. Visitors can also park at the CNN Deck, used for CNN's headquarters, or the Ruby Lot, a multi-level parking garage within minutes of the arena's entrance. Additionally, the Gulch surface lot provides space for tailgaters and is only a short distance from the arena's entrance. The CNN Deck, Ruby Lot, and Gulch feature parking spots priced from $20 to $30.
There are great deals on parking for those who venture further east of the arena on Centennial Olympic Park Drive. The Atlanta Journal-Constitution lot is less than five minutes by foot from the arena and offers covered parking to its visitors. The Sapphire Deck on the corner of Centennial and Marietta is a covered parking lot with spots available for $20. Further south on Marietta Street is the Georgia Bar Association lot, which is also available to attendees during arena events.
Bargain hunters can expand their searches to find spots under $15 for most State Farm Arena events. The surface lot on 15 Wall Street, accessible by foot or MARTA ride to the arena, offers parking spots for $8. Both lots at 305 Ted Turner Drive lot and 17 Baker Street lot are tailgating-friendly and within a 15-minute walk from State Farm Arena. If visitors are parking further away, a ride on a MARTA train can bridge the gap between their parking spot and the arena. The Blue and Green lines travel east to west with a stop near the State Farm Arena. Both lines stop at the Dome station with directions to the arena available after leaving the train.
Reserve Event Parking in Advance with ParkMobile
The threat of Atlanta traffic and the variety of parking options near State Farm Arena can make on-time arrivals to games and concerts challenging for first-time visitors. However, with advanced planning, visitors can save parking headaches before their events. Rather than taking a chance on limited street parking or the aforementioned lots, visitors can reserve their spot in advance using the ParkMobile app, free to both iPhone and Android users, as well as on the web at statefarmarena.parkmobile.io. When attending State Farm Arena for an event, guests can easily reserve parking with ParkMobile, saving them time and money by guaranteeing their spot in advance at the lowest price.
ParkMobile allows users to search for parking spaces near State Farm Arena and reserve event-day parking ahead of time. All guests have to do is enter "State Farm Arena," their arrival time, and their departure time in the app to locate available spaces. Once they find the right spot, users can easily reserve their parking using their stored payment information. The app then acts as guests' parking pass when accessing their selected lot or garage. Guests can reserve parking by either downloading the ParkMobile app or booking online at statefarmarena.parkmobile.io.
State Farm Arena is located at 1 State Farm Drive, Atlanta, GA 30303. As always, please refer to you ticket for any additional information you need regarding your event entry. To book your next outing at State Farm Arena, check out the arena's upcoming events. For more information on State Farm Arena, visit statefarmarena.com or follow the arena on Twitter @StateFarmArena.