San Francisco is a famously crowded city, with a rapidly growing population. As you might expect, that means finding a parking spot, whether you're a resident or just visiting, can be a little tricky at times. To help out, we've brought together some major parking tips for finding your way in San Francisco.
San Francisco: Parking Tips
San Francisco has about 280,000 street parking spots, which may sound like a lot, but the vast majority of them are residential and will quickly get filled up. We'll talk more about street parking later, but if you're visiting, odds are you'll be using a parking garage.
Observe The Color Of The Curb
Most residential parking areas in the city require a permit to park for extended periods of time. But without a permit, you can still park in a spot for 1 to 2 hours. Check the signs near your car for more information. You'll also want to pay close attention to the color of the curb:
Red curb. A red curb means absolutely no parking at any time. If you're caught parked by a red curb, the fine can easily be over $100.
Green curb. A green curb means the space is only available for short term parking, typically around 10 or 15 minutes. However, because green curbs usually denote a loading area, it's okay to park there overnight between 6 p.m. and 9 a.m. Monday through Saturday.
White curb. A white curb is for passenger pick up and drop off, and you're only allowed to park there for around 5 minutes.
Blue curb. A blue curb signifies an accessible parking spot. Park there only if you have a valid permit.
And if you do decide to park on a residential street, be careful about blocking driveways. Even a very minor infraction can cause your car to be towed — and you'll have to cough up a few hundred dollars to get it back.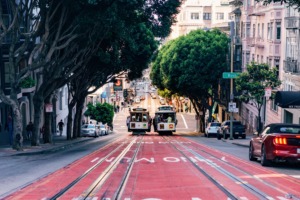 Keep Track Of Time Limits
Keep your eyes peeled for signage that indicates a time limit for any parking spot you find. In general, parking spots located in residential neighborhoods have a maximum time limit of two hours. If you find a spot without any signage, you can park your car there for a maximum of 72 hours. Once that limit passes, you'll need to park your car on a different block to avoid a ticket.
Special Event Parking In San Francisco
Special event parking is used by the city to control parking at on-street spaces near large events that are expected to create large short-term increases in parking demand. That means you'll see increased prices around Oracle Park when the Giants are playing and around the Chase Center when the Golden State Warriors have a home game.
Prices will vary depending on the event, but you can expect prices between $7 and $18 an hour during, or up to four hours before, the event in question. Typically, you can contact the venue in question for more specifics.
Long Term Parking In San Francisco
San Francisco is a city of travelers, so it makes sense they've got a number of great long term parking options.
Parking at SFO
The San Francisco International Airport (SFO) offers safe and secure long-term parking facilities at a reasonable rate of $18 per day. The garages are located just north of the terminals, at 794 South Airport Boulevard.
Other Long Term Parking Options
Besides the airport, there are a number of relatively cheap long-term parking garages in the city, including:
| | | |
| --- | --- | --- |
| Garage | Location | Price |
| Mason O'Farrell Garage | 325 Mason Street | $35 per day |
| Portsmouth Square Plaza Garage | 733 Kearny Street | $32 per day |
| Union Square Garage | 333 Post Street | $36 per day |
| Fifth & Mission Garage | 816 Mission Street | $34 per day |
| Sutter Stockton Garage | 444 Stockton Street | $36 per day |
Many of these garages will also offer monthly rates that can save you many if you expect to be gone awhile. Contact the locations for more details.
Downtown and Pier Parking
You can't go wrong hanging out in downtown San Francisco, and fortunately there are several garages to choose from.
| | | |
| --- | --- | --- |
| Garage | Location | Price |
| St. Mary's Square Garage | 433 Kearny Street | $3 to $7 per hour |
| Fifth and Mission/Yerba Buena Garage | 833 Mission Street | $3 to $4 per hour |
| 235 Pine Street Parking Garage | 235 Pine Street | $4 to $8 per hour |
Pier 39, located at 2 Beach Street, is a popular shopping destination in San Francisco that extends into the San Francisco Bay in the north of the city. The official Pier 39 Garage, which can be found directly across the street from the Entrance Plaza, costs $9 per hour, but there are other options to choose from as well.
| | | |
| --- | --- | --- |
| Garage | Location | Price |
| C Garage – Lot #20 | 2210 Stockton Street | $10 to $12 per hour |
| Fisherman's Wharf Parking Garage | 330 Beach Street | $13 to $15 per hour |
| SP+ Parking | 2817 Taylor Street | $12 to $14 per hour |
Reserved Parking In San Francisco
San Francisco is a tech savvy city, which is why they've made it easier than ever to reserve parking in advance. With the free ParkMobile app, you access reserved parking at a number of locations within the city, including: