Bobby Dodd Stadium, home to Georgia Tech football, is the oldest stadium in the top tier of college football. Bobby Dodd Stadium has grown in capacity from 7,000 seats at its opening in 1913 to 55,000 seats for its 2018 season. Nestled in the heart of Midtown Atlanta, football fans attending Bobby Dodd Stadium can see the city's skyline from their seats. The stadium was renovated in 2009 to replace the scoreboard, add ribbon boards, and update stadium speakers, improving the gameday experience for fans.
When the Yellow Jackets aren't in season, Bobby Dodd Stadium serves as a venue for other major sporting events and concerts. Atlanta United FC of Major League Soccer played the first half of its inaugural season in 2017 at the stadium prior to the opening of Mercedes-Benz Stadium. The Rolling Stones performed at the stadium in 1989 and 2015. The stadium has also attracted musical acts like Simon and Garfunkel in 1983, New Kids on the Block in 1990, and Jimmy Buffett in 1993. In June 1990, Nelson Mandela spoke at Bobby Dodd Stadium about his work to eliminate apartheid in South Africa.
Parking Options at Bobby Dodd Stadium
The Georgia Institute of Technology campus offers abundant parking for visitors to Bobby Dodd Stadium. The university allows visitors to use parking lots not allocated to student residents or staff during events. Parking at Lyman Hall, the President's Lot, and the Wardlaw Deck allows attendees to stay within a block of the stadium. The Burge/North Avenue lot is located directly across the street from the stadium. The Peters Deck offers parking just north of the stadium and is considered the primary lot for stadium events.
Bobby Dodd Stadium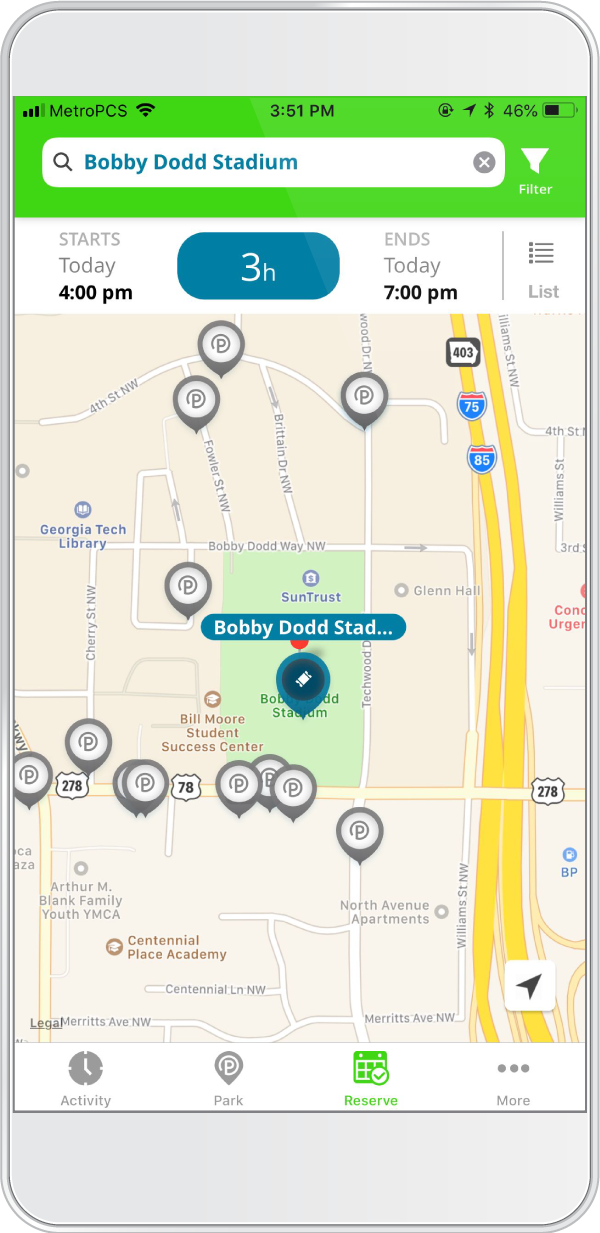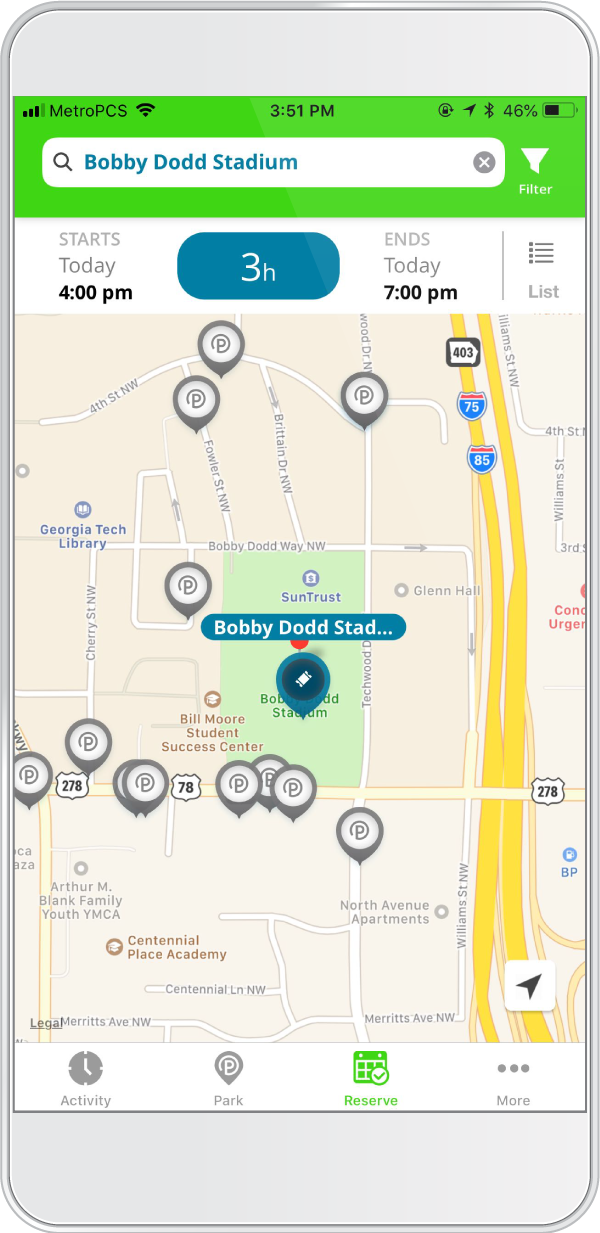 is within a short walk of many other parking options at Georgia Tech. Visitors are relatively close to stadium entrances at the Tech Parkway/Ferst Drive, Student Center Deck, ISyE Building, and OHR/Business Service lots. The university offers $25 general parking at several lots on the western and northern sections of campus. There are also off-campus lots that allow tourists to mix city attractions with stadium events. Parking structures at the Georgia Aquarium and the World of Coca-Cola offer covered spots for $15.
Georgia Tech's location in Midtown Atlanta makes it easy to reach by public transportation. MARTA's Red and Gold line trains operate every day and pass the university on their way from the airport to northern Atlanta neighborhoods. Train riders can stop at the North Avenue station on their way to Bobby Dodd Stadium. Red and Gold line trains arrive at stops every 12 minutes during football games. The $2.50 ticket for a one-way ride, paired with inexpensive parking option, eases the cost of visiting the stadium.
Reserve Event Parking in Advance with ParkMobile
First-time visitors to Georgia Tech should account for heavy traffic around the stadium on gamedays. Even with the university's variety of available parking options, it can be challenging to secure a spot amidst the congestion. To make the parking process easier, guests can easily reserve parking in advance with parkmobile.io or through the mobile app. ParkMobile lists available surface lots, parking structures, and other parking options with descriptions and distances from the stadium so that guests can confidently select a convenient parking spot in advance after purchasing tickets to an event at the stadium.
By securing a parking spot with ParkMobile ahead of time, guests can alleviate the stress that comes from day-of parking and ensure they're making it to the game on time. ParkMobile then makes it easy for guests to present their pre-paid parking passes using the app on gameday. Make sure to check out Georgia Tech's upcoming events both at Bobby Dodd Stadium and McCamish Pavilion, and use ParkMobile to reserve your spot in advance before the event.