Located at 333 W Camden Street in Baltimore, Maryland, Oriole Park at Camden Yards is the home stadium of — you guessed it — the MLB's Baltimore Orioles. One of the most famous stadiums in the sport, Oriole Park has tons to offer fans. To make sure you get the most out of your visit, we've put together this handy guide to the Camden Yards experience.
About Oriole Park at Camden Yards
Built in 1992, Oriole Park kickstarted the retro-park craze of the 1990s, and remains probably the best example of it. With an elegant, retro design and plenty of easter eggs for fans to discover, it's one of the most popular stadiums in Major League Baseball. Located at 333 West Camden Street, the park has a maximum capacity of nearly 46,000.
Tickets and Schedule
Orioles Park at Camden Yards is famous for being a baseball-only field, which means exactly what you'd think — the only events taking place in the park are baseball games. To check out the Orioles' schedule, you can visit their official schedule page on the MLB's website.
Found a game you want to see? Now it's time to snag some tickets. Below, you'll find some general tips about where you can purchase Orioles tickets, and how you can save a few bucks in the process:
Camden Yards Seating Chart
Oriole Park at Camden Yards is a gorgeous stadium, so you won't just be watching the game while you're there — you'll also be admiring the stadium itself. That's why finding the best place to sit can take an extra bit of thought. Here are some tips for great seating options:
For around $70, you can sit directly behind home plate or one of the dugouts in the Field Box seats. If you like being close to the action, this might be the right choice.
The Left Field Upper Reserve seats offer a stunning view of the B&O Warehouse and Eutaw Street — and for only about $15, the price is hard to beat.
For a little bit more money, check out the Left Field Lower Box seats. You'll be located along the third base lane, with pricing around $39 per ticket.
Camden Yards Parking and Transportation
Whether you're looking for a place to park or leaving the car at home and taking public transit, we're here with everything you'll need to know.
Official Parking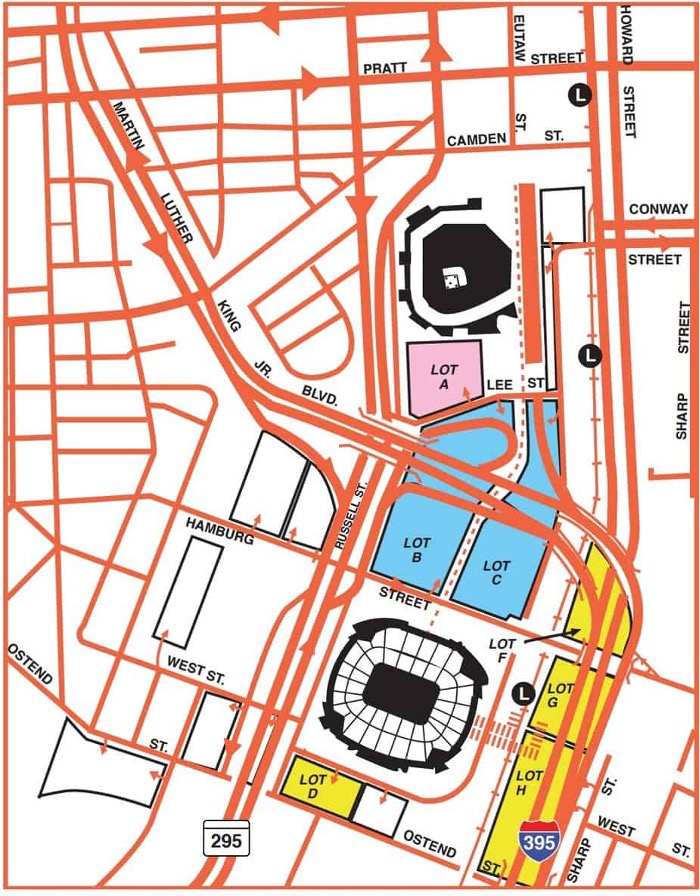 Oriole park offers a few official parking lots, though we recommend aiming for lots F, G, and H. Each of these lots will cost less than $10 cash on game day, and there's usually plenty of available space. Lots G and H are located at the base of the stadium, while Lot F is located a 5-minute walk away on the east side of the Hamburg Street bridge.
Accessible parking is a little tricky at Oriole Park. Most accessible parking spaces have already been reserved for disabled season plan holders. The remaining spots are located in Lots A and B and are open to individuals with a valid state-issued handicapped license plate or hangtag.
Alternative Parking
If you're looking for a good deal, there are also several garages and lots in the nearby area that can be a great option if you plan ahead. Here are a few spots we recommend:
| | | | |
| --- | --- | --- | --- |
| Lot/Garage | Address | Distance | Price |
| SP+ Parking | 300 West Lee Street | 0.3 miles | $9 |
| Pratt Street Garage | 646 West Pratt Street | 0.5 miles | $9 |
| 221 West Lombard Garage | 221 West Lombard Street | 0.4 miles | $20 |
| Landmark Parking | South Eutaw Street | 0.3 miles | $12 |
| 550 West Pratt Street Parking | 550 West Pratt Street | 0.3 miles | $10 |
Transportation Options
Looking to leave the car at home? You're in luck. There are plenty of public transportation options that will take you straight to Oriole Park, and the Maryland Transit Authority has even set up a special webpage to explain all the options. Below, we'll provide a quick explainer:
Light rail. The Yellow and Blue light rail lines will take you directly to the park (Camden Yards stop) or right down the road (Convention Center stop).
The MARC train runs on the weekends, connecting Washington-Union Station in DC with the Baltimore-Penn station. From there, you'll take the Penn-Camden light rail shuttle to the game.
There are several bus routes that pass by Oriole Park, including numbers 1, 3, 5, 7, 8, 10, 11, 19, 20, 23, 27, 31, 35, 36, 61, 64, and 91, as well as QuickBus 40, 46 and 48. For more details, check the official list of buses on the MTA website.
If you're biking to the game, you'll be able to take advantage of the new Bicycle Parking Area, which can accommodate more than 100 bicycles and will be supervised during the game.
Game Day Fun
When it comes to having fun on game day, it's not just about watching the game. There are tons of awesome activities to do and places to visit before and after the game — and plenty of stuff to check out during the game as well!
Popular Matchups for Baltimore Orioles
If you're looking to see a game where the crowd goes wild and the stadium is packed to the brim, you'll want to keep your eyes peeled for one of the Baltimore Orioles' popular matchups. The Orioles' biggest rivals include the Boston Red Sox, the New York Yankees, the Tampa Bay Rays, and the Toronto Blue Jays.
Tailgating and Traditions
Tailgating isn't allowed at Camden Yards, but that doesn't mean you'll have trouble finding a place to celebrate before the game. Pickles Pub offers a block-party atmosphere that's just about the same thing as an old-fashioned tailgating experience, while for something a little more casual you can check out Quigley's Half-Irish Pub.
The Baltimore Inner Harbor is also a storied space that's perfect for having some fun. Located where the city's old shipbuilding and steel mills used to stand, the Inner Harbor area boasts fresh seafood, incredible museums, and more.
There are also a number of traditions associated with Oriole Park that you won't want to miss. Whenever the national anthem plays, it's a stadium tradition to shout "O!" during the first stanza. The great hot dog race also shows up on the big screen, so get ready to root for that. Finally, superfans are always ready to dance to "Cotton-Eyed Joe" during the seventh inning stretch.
Camden Yards Food
Oriole Park at Camden Yards is known far and wide for it's extensive food options, which raises another problem — how do you decide what to eat? There are some classic foods, like fries topped with crab dip and Old Bay, as well as Stuggy's hot dogs and fried oyster po'boys, that you won't want to miss. Plus, we've brought together a few other recommendations below.
Boog's BBQ. Named after former Oriole player Boog Powell, this barbecue joint is a fan favorite, and a can't-miss experience for first timers.
The Chipper. Located near Section 68, this chips joint will load your chips with the wildest toppings you've ever seen, from pulled pork to Baltimore's famous crab dip.
This isn't a specific recommendation, but you'd kick yourself if you didn't try some of the insane crab offerings at Camden Yards. From crab pretzels to crab mac and cheese and hot dogs topped with crab, there's something for everyone.
Things to Do Nearby
Baltimore is a historic city, which means there are plenty of things to do near Oriole Park before the actual game. One thing you can't miss? Stop by the Babe Ruth Birthplace and Museum to experience a blast from the past and learn about the most famous baseball player of all time.
Here are a few other things to do nearby that might be worth your time:
Maryland Science Center. Located right in the Inner Harbor, this museum boasts three levels of exhibits, an observatory, and a planetarium.
Walters Art Museum. This world-class art museum has every kind of art imaginable — which is no surprise, given that it's permanent collection spans more than 5,500 years!
National Aquarium. An aquatic education center, the National Aquarium keeps more than 11,000 aquatic animals, and is an extremely popular Inner Harbor destination.
Hotels Near Camden Yards
If you need a place to stay overnight in Baltimore, you're in luck. There are a wide variety of affordable hotel options near Oriole Park at Camden Yards. We've brought together a few popular options below:
| | | | |
| --- | --- | --- | --- |
| Hotel | Location | Distance | Price |
| Staybridge Suites Baltimore – Inner Harbor | 17 Commerce Street | 0.6 miles | $146 |
| Royal Sonesta Harbor Court Baltimore | 550 Light Street | 0.4 miles | $199 |
| Hampton Inn Baltimore – Downtown – Convention Center | 550 Washington Boulevard | 0.2 miles | $160 |
| Hampton Inn & Suites Baltimore Inner Harbor | 131 East Redwood Street | 0.5 miles | $162 |
| Days Inn By Wyndham Baltimore Inner Harbor | 100 Hopkins Place | 0.2 miles | $101 |
The Best Restaurants and Bars Near Camden Yards
Looking to grab a bite or a drink before the game? We've got you covered. Below, you'll find a list of the some of the best restaurants and bars near Camden Yards:
Reserve Parking at Camden Yards with ParkMobile
Stressed about finding a parking spot at Camden Yards? Wishing you could just focus on the game? Reserve a parking spot ahead of time with ParkMobile and take the hassle out of gameday.