Restrictions are slowly being lifted in the D.C. area, and many residents are searching for ways to safely venture out. One option is to take a break from quarantine and support local restaurants by visiting "streeteries" in Bethesda and throughout Montgomery County. In early June, the Bethesda Urban Partnership teamed up with local officials to provide outdoor, socially-distanced seating in the streets by closing certain roads at scheduled times throughout the week. Locals can enjoy a meal from their favorite restaurant and spend time outside without having to worry about exposure to the virus. The ParkMobile app is operational all around Bethesda and surrounding areas. Whether you're planning to check out Bethesda's popular streetery, or just making your regular trip to the grocery store, ParkMobile can take care of your parking needs.
ParkMobile has a longstanding relationship with the D.C. community. The app first became available to D.C. residents and visitors in 2011 and later expanded into Montgomery County in 2017. ParkMobile is now the sole mobile parking provider in Montgomery County, taking over from MobileNOW after they ceased all operations in May 2020.
*Change* Effective May 18, 2020 MobileNOW! parking payment App in @MontgomeryCoMD ceases operation due to COVID-19 Health Crisis; @Parkmobile remains available at all existing county-operated parking locations. @MCDOTNow @DTSilverSpring
More info: https://t.co/3iPeEA5EcN

— MCDOT Division of Parking Management (@MCDOT_Parking) May 19, 2020
Contactless mobile parking through ParkMobile eliminates the need to touch the parking meter and reduces the spread of germs. Simply download the app, fill out your email and vehicle information, and select your payment method. Once you choose your parking time, you are free to carry on with your errands and explore some of the new streeteries. You can use the app for both on-street and off-street parking.
According to the Montgomery County Department of Transportation, these streeteries are set to continue popping up throughout the area. The county's workable street seating solution accommodates dozens of restaurants in the area that have limited outdoor space. It's also a great way for people to make their way out of their homes after a long three months in quarantine. ParkMobile has parking available in several garages near the Woodmont Avenue streetery which will be open each day from 11 a.m. to 10 p.m.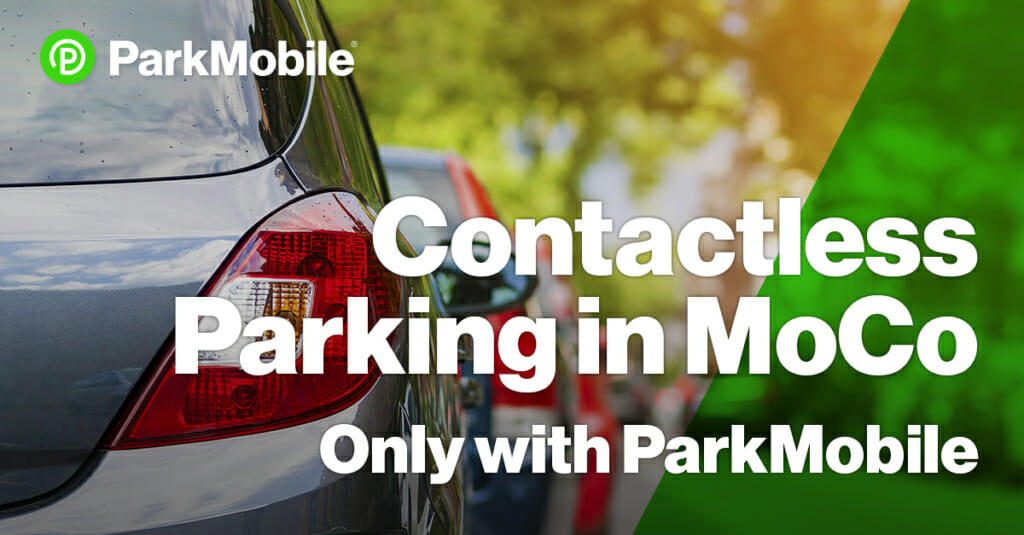 On June 22, The D.C. area implemented Phase 2 of its reopening, allowing individuals to also begin dining indoors with limited capacity. With restaurants and retail stores slowly opening, there are plenty of options to choose from, and with more people venturing out, parking will become more challenging to find. The ParkMobile app can help you identify available parking spots near your destination that you can reserve in advance or right when you get there.
If you've got kids that are eager to get outside, the playgrounds are beginning to open back up in Montgomery County. In Silver Spring, you can use the ParkMobile app to find parking near Jesup Blair Local Park. It's a great place for the entire family and features a playground, trails, picnic areas, and basketball and tennis courts. Although the parks are now open, local officials encourage all park visitors to adhere to social distancing practices, which includes wearing a mask, staying six feet apart and using sanitizing wipes and hand sanitizer.
As everyone discovers their new normal after quarantine, it's important to continue taking necessary precautions when venturing out. Using contactless parking with ParkMobile is an excellent way to prevent the spread of germs and find great parking no matter your destination.