Washington, D.C. is a gorgeous, spacious city, and no matter what area you're visiting, you'll be able to find the parking that's right for you with just a little bit of help. At the same time, Washington, D.C. has several street parking rules you should be aware of if you want to enjoy your visit without getting a ticket. Below you'll find tips for parking in our Nation's Capital, including the must-know street parking rules. For more info on what to do while there – check out our blog on the top 5 places to visit in Washington, DC.
DC Street Parking Rules
Like any city, DC has some complex street parking rules, but if you pay attention to them, you can grab a great parking spot for cheap. Here are some general tips the next time you park in DC:
Parking is free on Sundays, even for metered spots.
Overnight parking is free, even for metered spaces.
Residential parking permits in DC are a great idea if you're a city resident, as they make finding free parking a breeze.
Check nearby signs for special rush hour traffic rules, which tell you when your car is at risk to be towed each day.
Busy streets may have additional regulations during the rush hours between 7 am and 9 am for better traffic flow.
If you do receive a citation, it's not the end of the world. You can easily pay your fine online or by calling (202)737-4404.
Parking Signs
There are several parking signs that commonly show up in Washington DC. that you should be familiar with. Some might be familiar, and some might feel new, but to help you keep track of them all, we've created a handy chart below.
| | | |
| --- | --- | --- |
| Sign Type | What it Means | What it Looks Like |
| Limited Hour Parking | This general sign will tell you during which hours you can park, and how long you can park there. | |
| Emergency No Parking | This makeshift sign is temporarily posted in spots where no parking is currently allowed. | |
| Snow Emergency Route | In the wintertime, this sign will tell you where a snow plow's route is — if you're caught blocking it, you'll be towed. | |
| No Parking | This one's pretty simple: You're not allowed to park here at any time. | |
| Street Sweeping | If you park near this sign during the street sweeping hours posted on it, you're likely to be towed. | |
| Residential Parking | You'll need a residential parking permit to park here. | |
DC Parking Tickets
As in any big city, there are plenty of ways to get ticketed in Washington DC. To make sure you avoid a ticket, we've brought together a list of the most common ticket types in the city.
| | |
| --- | --- |
| Type of Ticket | Amount of Fine |
| Metered overtime parking | $30 |
| Parking more than 12 inches from the curb | $20 |
| Failing to turn wheels to curb | $20 |
| Neighborhood parking without a permit | $35 |
| Violating street sweeping hours | $45 |
| Double Parking | $50 |
| Parking in a loading zone | $50 |
| Parking within 20 feet of a bus stop | $50 |
| Parking in bus stand or bus zone | $100 |
Sundays and Holidays
One great thing about parking in Washington DC is that on Sundays and major holidays parking rules are suspended. That means you can park wherever you want, for as long as you want, for free! Here are the holidays that qualify:
New Year's Day (January 1)
Martin Luther King Jr. Day (Third Monday in January)
Washington's Day (Third Monday in February)
DC Emancipation Day (April 16)
Memorial Day (Last Monday in May)
Independence Day (July 3)
Labor Day (First Monday of September)
Columbus Day (Second Monday of October)
Veterans Day Observed (November 11)
Thanksgiving Day (Fourth Thursday of November)
Christmas Day (December 25)
Overnight Street Parking
In Washington DC, most metered street parking throughout the city is free overnight. That's in addition to free general parking on Sundays and National Holidays — so if you pay attention, you can save some serious money on parking costs.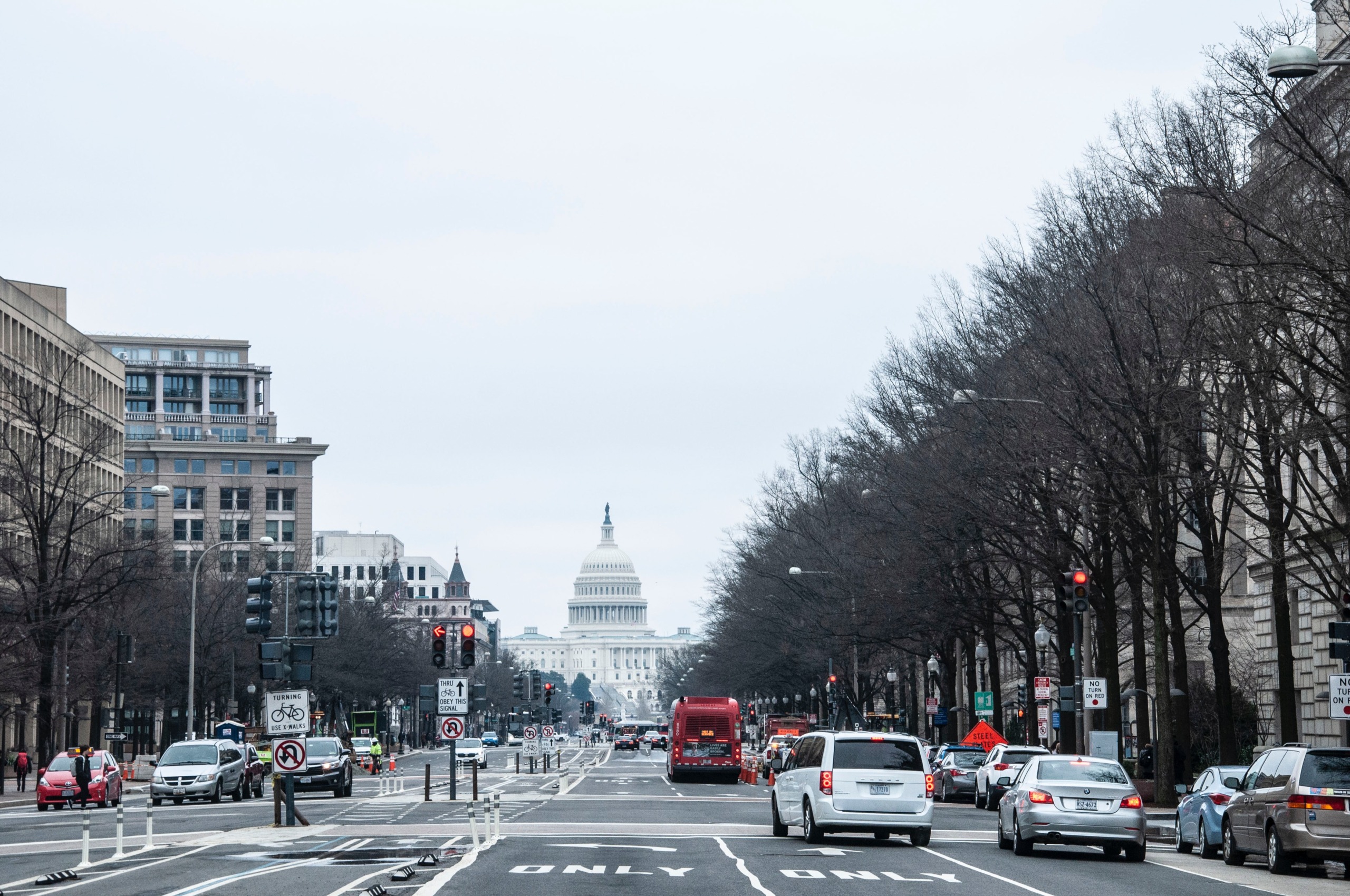 Visitor Parking Pass
A residential parking permit offers DC residents special parking spots that are extremely convenient. If you're not a resident but spent a lot of time in the city, you'll want to look into the Visitor Parking Program, which helps visitors park for longer than two hours throughout the city in zones that are typically reserved for residential permits.
A Note about Street Cleaning
From March 1st to October 31st, street sweeping takes place on a regular schedule in Washington D.C., typically between 9:30 AM and 11:30 AM or 12:30 PM to 2:30 PM. If you're caught blocking a street sweeper as it's passing, you'll be fined $45. Nearby signage will tell you which hours to expect the street sweeper.
Feed the Meter, Watch the Time
What's the most common form of parking violation in Washington DC? If you guessed "running out of time on the meter," you guessed right. Far and away the most parking tickets in the DC area are issued due to expired metered parking meters. That means you should keep an eye on your time — and don't be afraid to overfeed the meter to give yourself a little bit of cushion.
Park and Walk
Parking in Washington DC can get stressful fast. Why not think about reserving your parking in advance? With ParkMobile, you can reserve a parking spot ahead of time no matter where you need to be — and from there, it's just a short walk to your destination.
Public Transportation
Washington DC has one of the cleanest, safest, and fastest public transportation systems in the country, so if you want to avoid worrying about parking entirely, taking a train or hopping on a bus might be the right call. The city is served by Metrorail, Metrobus, the privately operated DC Circulator bus. No matter where you are in the city, you'll never be too far from a metro station or bus stop.
Valet Parking
For a more hands-free parking experience, there are a number of valet parking services in the downtown Washington DC area. Here are a few popular choices to check out:
| | | |
| --- | --- | --- |
| Parking Service | Address | Price |
| Valet Assist Garage | 1099 New York Ave NW | $15 |
| Tag-B Valet Parking | 1400 K St NW | $17 |
| Posh Valet Parking | 1425 K St NW #350 | $18 |
Hotel and Garage Parking
Since Washington DC is an international city, there are a great number of hotels in the downtown area that offer parking as well. Here are a few popular options:
| | | |
| --- | --- | --- |
| Hotel | Address | Price |
| Washington Plaza Hotel | 10 Thomas Circle NW | $37 |
| Marriott International | 999 9th Street NW | $35 for 2 hours |
| The Willard | 1422 F Street NW | $35 |
Reserve Parking with ParkMobile Today
Now that you've read up on the ins-and-outs of street parking in Washington DC, it's time to make the parking process completely stress-free. Reserve a parking spot today with ParkMobile — and save your energy for the sightseeing.