State Farm Stadium, the official NFL stadium of the Arizona Cardinals, is a state-of-the-art facility located at 1 Cardinals Drive in Glendale, Arizona — only about a 10-mile drive from Phoenix.
The sleek-looking stadium opened back in 2006 and boasts enough space for 63,400 fans — and can even expand to accommodate 73,000 people when needed! How? State Farm Stadium features a retractable roof and retractable siding.
The venue hosts a wide variety of events throughout the year, so there are plenty of reasons you might choose to visit State Farm Stadium. If that's your plan, we've brought together this handy guide to make it easier than ever.
State Farm Stadium Seating Chart
State Farm Stadium is truly massive, which means finding your seat can sometimes be a challenge. Check out the stadium's official seating chart below for help, or visit the stadium's website for a breakdown of each level of the stadium.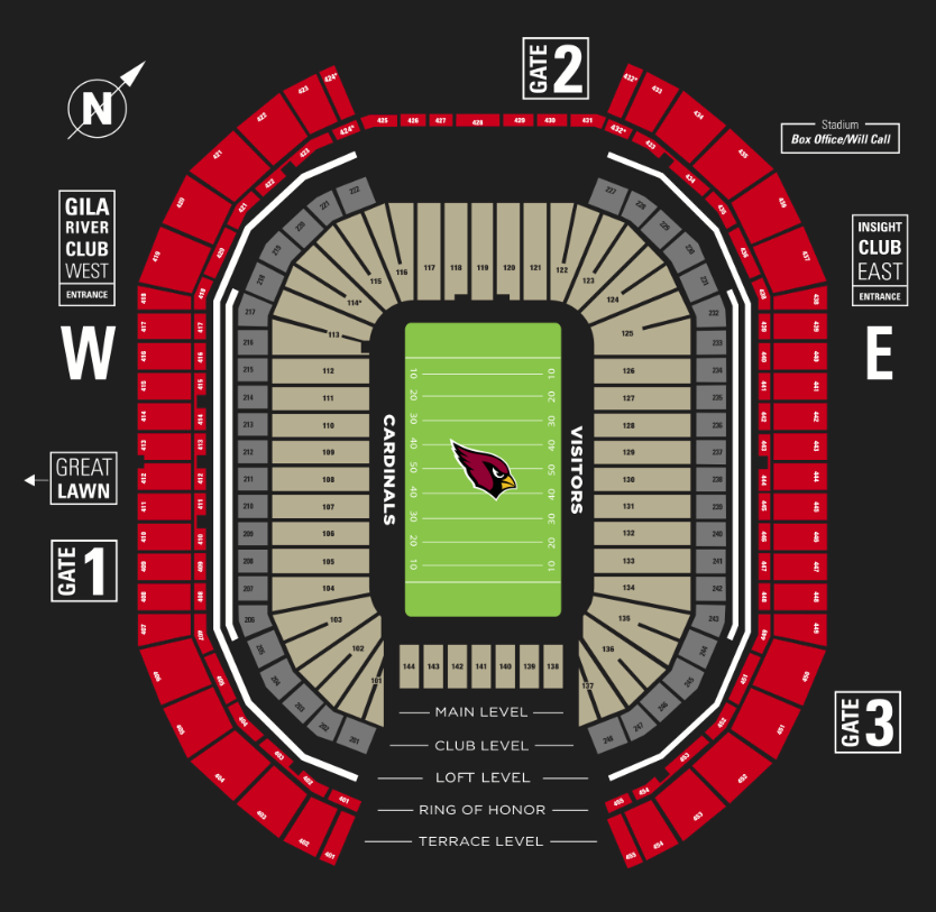 Eating and Dining at State Farm Stadium
When it comes to restaurants near State Farm Stadium, well, let's just say there are plenty of options both inside and outside the stadium for you to enjoy.
Field of Favorites
Located at 1 Cardinals Drive right at the stadium, Field of Favorites serves up chicken any way you like it — think crispy sandwiches, saucy wings, and so much more!
Located at 9401 West Westgate Boulevard, right next to the stadium, Yard House is a great place to stop if you're looking to grab a drink and enjoy some top-notch New American cuisine — plus their list of draft beers is enormous!
4th and Long
Looking to enjoy a classic 22-inch hot dog, smothered with your condiment of choice? Then 4th and Long, with locations throughout the stadium, is the place to be.
State Farm Stadium Events
Throughout the year, State Farm Stadium hosts a ton of different events. There's football, of course, and that's often the stadium's biggest draw, but you can also catch soccer games, concerts, wrestling matches, and major football events like the Super Bowl and the Fiesta Bowl at State Farm Stadium. For a full list of upcoming events, check out State Farm Stadium's official events page.
Hotels Near State Farm Stadium
If you want to be right in the heart of the action, it can be a great idea to grab a hotel room near State Farm Stadium. Here are a few nearby hotels that we'd recommend.
Hilton Phoenix Resort at the Peak
Hilton Phoenix Resort at the Peak is a true luxury experience located near Downtown Phoenix, boasting newly remastered suites, a waterpark, a full-service spa, and more. If you need a great place to unwind after the game, this might be the right move!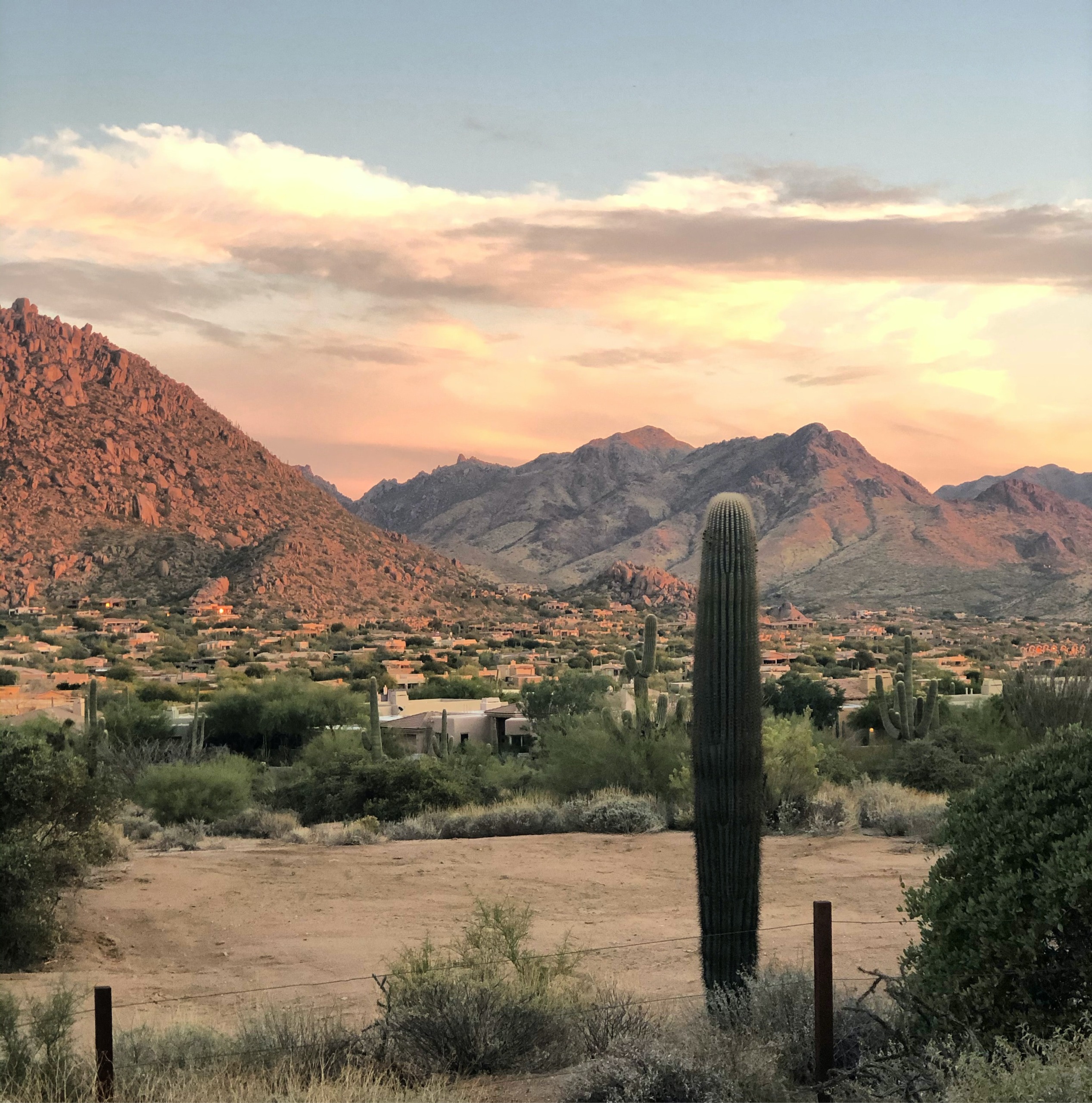 Arizona Grand Resort & Spa
Arizona Grand Resort & Spa is located right next to a massive wilderness preserve and offers comfy one- and two-bedroom suites perfect for small family gatherings and more. The hotel is also typically less than a 30-minute drive from State Farm Stadium, making it a convenient home base.
3 Palms
For local flavor, check out 3 Palms, a boutique hotel in Scottsdale housed in a gorgeous low-rise adobe structure. You'll have access to an outdoor pool, a spa area, a sundeck on the roof, and other awesome amenities.
State Farm Stadium Parking
If you're looking for State Farm Stadium parking, there are plenty of great options within walking distance. A few cash lots are located on Glendale Avenue and Camelback Road, while the Westgate Entertainment District, located directly above the stadium, boasts several lots that cost as little as $10.
For many lots, including the stadium's official lots, it's a good idea to purchase your parking ahead of time with an app like ParkMobile. You'll be able to find a parking spot that works for you while getting rid of any parking-related stress on game day.
FAQs
Still have questions? We've brought together answers to some frequently asked questions about State Farm Stadium below.
Does State Farm own the stadium?
State Farm Stadium is not owned by State Farm. Instead, it's owned by the Arizona Sports & Tourism Authority, or the AZSTA. For more Arizona sports and fun, check out or article here on a guide to a day with the Arizona Diamondbacks.
What city is State Farm Stadium in?
State Farm Stadium is located in Glendale, Arizona, which is about 9 miles northwest of Downtown Phoenix.
Is State Farm Stadium a covered stadium?
Yes and no! State Farm Stadium famously features a retractable roof, so the stadium can be covered when necessary and open to the elements when it makes sense.