Founded in 1630 and known as the Cradle of Liberty, Boston has a rich history and remains a consistently popular tourist destination. One major reason? The city boasts a set of diverse and vibrant neighborhoods, each with its own unique identity and attractions. If you're planning to visit Boston, we've put together this handy traveler's guide to the Boston neighborhoods.
Boston Neighborhoods Map
If you want to truly experience Boston, you need to understand its neighborhoods, their identities, and just where they're located. Below, you'll find a convenient Boston neighborhoods map that can help you pinpoint where you are and where you want to be.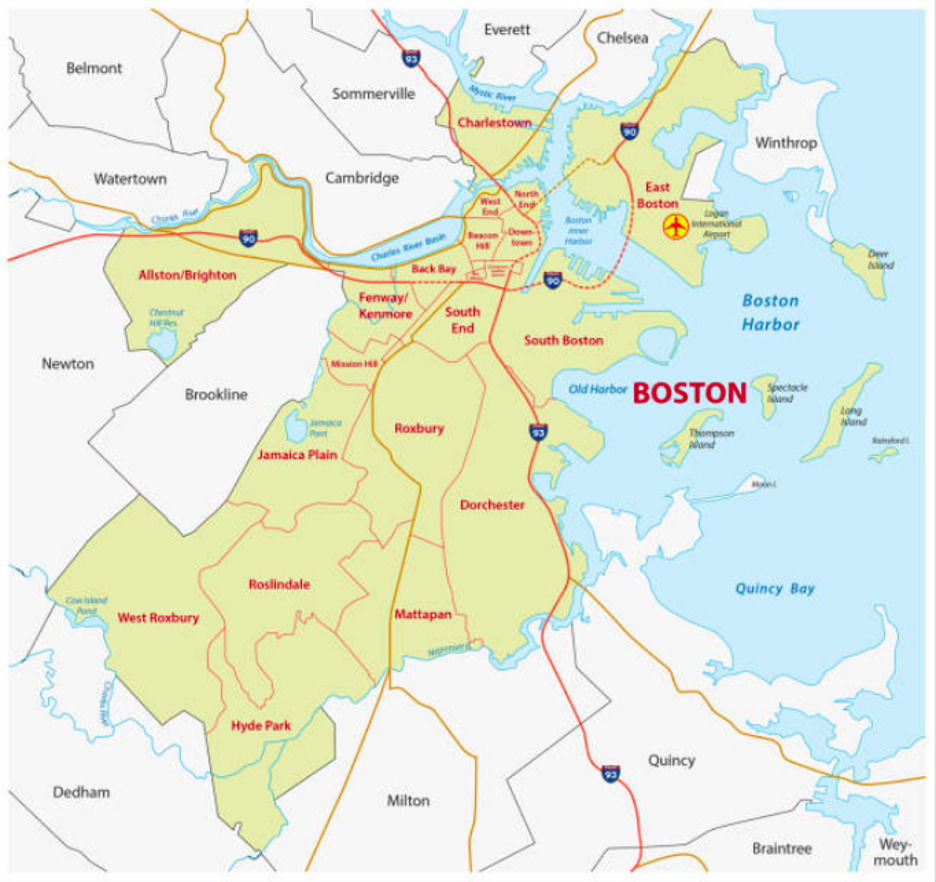 Downtown Boston
Downtown Boston is probably the most popular area in the city, and it has been that way since the 1700s. Comprised of Downtown Crossing, the Financial District, and Government Center, Downtown Boston also boasts a lively Theater District where you can catch opera, musicals, dance, and more.
Downtown Crossing. Downtown Crossing boasts excellent shopping and beautiful historic buildings. Whether you're looking for clothes, souvenirs, or any other good under the sun, Downtown Crossing has you covered.
Financial District. Home to impressively tall banks as well as Post Office Square, this is a bustling neighborhood where you can grab a quick bite or relax in a modern park.
Government Center. Government Center is where you'll find Boston City Hall, a striking brutalist structure surrounded by a large brick plaza. Nearby you'll also find Faneuil Hall Marketplace, housed in the remodeled Faneuil Hall, where the flames of the American Revolution were first fanned.
Surrounding Downtown
In the area around Downtown Boston, you'll find a wealth of exciting neighborhoods, including Chinatown, the South End, and Beacon Hill. Offering easy access to historic sites in Downtown Boston — they're only a short walk away — these neighborhoods also boast historic buildings of their own. Some famous sites, including the Boston Public Library, Copley Square, and the Boston Public Garden, are located in these neighborhoods.
Chinatown-Leather District. Boston's Chinatown has been around since the late nineteenth century and has some of the best dining in the city, as well as a great nightlife scene. The Leather District is an eastern offshoot of Chinatown that boasts beautiful brick warehouses and other historic buildings from the nineteenth century.
South End. The South End is a trendy neighborhood full of culture and historic buildings, including Victorian row homes. The food scene here is top-notch, with plenty of pubs, upscale restaurants, and bistros, and there's even a growing gallery scene.
North End. The North End, also known as Little Italy, offers an old-world vibe, with small, winding streets, historic buildings, including the Paul Revere House, and, of course, some of the best food in the city, with Italian cafes, eateries, and pastry shops.
West End. Recently redeveloped, the West End is a neighborhood focused on business and entertainment. Here you'll find Massachusetts General Hospital, TD Garden, which hosts sports events, and the West End Museum. There are also tons of great restaurants in the area.
Bay Village. A more residential area, Bay Village is a great place for a scenic walk. Its cute, small streets are lined with trees and elegant gas lamps, as well as historic brick homes from the 1800s. There's also a popular drag scene in the area, centered around Jacque's Cabaret.
Beacon Hill. A stunning neighborhood, Beacon Hill offers a classic Bostonian feel, with gas lamps, Victorian and Federal-style buildings, and more. You'll have easy access to Boston Common, the Public Garden, and the Charles River Esplanade's Hatch Shell, where concerts are held in the summer.
Back Bay. People visit Back Bay for shopping and dining. Newbury Street is famous for its upscale boutiques and art galleries and is a short walk from Copley Square, where you'll be able to see the Boston Public Library. It's like a slice of Paris right in Boston.
North and East of Downtown
In the areas north and east of Downtown Boston, you'll find the neighborhoods of East Boston and Charlestown. If you're trying to catch a glimpse of the Charles River or want to get out on the water for a little recreational fun, these neighborhoods are one of your best bets.
East Boston. Also known as Eastie, East Boston boasts a gorgeous waterfront and a rich history of shipbuilding. It's also famous for its immigrant culture, specifically the Irish immigrants who made it their home in the 19th and early 20th centuries. You can check out the Charles River or grab some food at one of the delicious and diverse restaurants in the neighborhood.
Located on the banks of the Boston Harbor, Charlestown likewise has plenty of Irish roots. It's another waterfront neighborhood, and the attractions match that theme. For instance, you can check out the 1797 U.S.S. Constitution warship in the Charlestown Navy Yard or explore the Freedom Trail, which will take you up to the Bunker Hill Monument.
West of Downtown
In the area west of Downtown Boston you'll find a few popular neighborhoods that include Fenway-Kenmore, Allston, Brighton, Longwood, and Mission Hill. If you're looking to experience some fine art, the west is best. Both the Museum of Fine Arts and the Isabella Stewart Gardner Museum is located in this area.
Fenway-Kenmore. A truly massive neighborhood, Fenway-Kenmore is probably most famous for being the home of Fenway Park, where the Boston Red Sox plays. There are plenty of happening bars and restaurants in the area, though you can also see some fine art at the Museum of Fine Arts and the Isabella Stewart Gardner Museum.
Several colleges and universities surround Allston, so the population tends to be younger. Expect great bars and buzzy restaurants, as well as diverse food options, courtesy of the neighborhood's vibrant immigrant communities.
With a more residential, peaceful feel, Brighton is a popular neighborhood for young professionals and families. With a cute Main Street and plenty of beautiful multi-family homes, Brighton also has a wide variety of small businesses.
The Longwood Medical and Academic Area is a neighborhood that's mostly devoted to its medical campus, though technically you'll be close to the Isabella Stewart Gardner Museum if you're passing through.
Mission Hill. Mission Hill is also home to several hospitals and universities, like New England Baptist Hospital and Brigham and Women's Hospital, though it's mostly a residential neighborhood
South of Downtown
The area south of Downtown Boston is where you'll find some incredibly lively and vibrant neighborhoods, including Roxbury, Jamaica Plain, Dorchester, Mid-Dorchester, and South Boston.
Roxbury is home to Franklin Park, perfect for a picnic or a game of catch, as well as the park's excellent zoo. Feeling hungry? Visit Nubian Square for tons of incredible African eateries.
Jamaica Plain. Visit Jamaica Plain for plenty of green space, including Jamaica Pond and Harvard University's Arnold Arboretum, as well as awesome Latin American cuisine, which you can find in the area around Hyde Square.
Dorchester is Boston's largest neighborhood and also happens to be incredibly diverse, boasting plenty of cuisines from around the world. Major landmarks in the neighborhood include the John F. Kennedy Presidential Library and UMass Boston.
Mid-Dorchester. Mid-Dorchester is an up-and-coming neighborhood currently experiencing a lot of new development. Expect a few trendy restaurants, as well as easy access to the downtown financial zone.
South Boston. Affectionately known as Southie, South Boston has a huge Irish-American heritage and presence. You'll be close to Boston Harbor and can take advantage of the neighborhood's many waterfront parks and trails. You won't find better pubs, diners, and taverns anywhere else in Boston.
Outskirts of Boston
The outskirts of Boston still have a few neighborhoods that you might be interested in checking out, even though they're largely residential. These areas include Mattapan, Hyde Park, and West Roxbury.
To the southwest of Boston proper, you'll find Mattapan, a park-filled neighborhood with strong African American and Caribbean roots. Expect diverse cuisine and several beautiful boardwalks.
Hyde Park. With plenty of playgrounds, parks, and trails, Hyde Park is a great place to experience nature. You can grab a canoe and head out on the Neponset River, or check out a live show at Riverside Theatre Works.
West Roxbury. With a welcoming suburban feel, West Roxbury also has a strong history of civic activism and continues to be the site of a wide variety of youth programs.
Where to Stay in Boston
When it comes to the best neighborhoods to stay in Boston, Downtown certainly tops the list. Other popular options include the North End, Beacon Hill, the Seaport District, and Back Bay. These centrally located neighborhoods have a high number of attractions, businesses, and restaurants, which is a big part of their appeal.
If you're looking for Boston hotels, you'll have plenty of options to choose from, which is why it's a good idea to pick the neighborhood you want to stay in before you look at hotels. Here are a few options we recommend:
The Liberty Hotel. For a luxurious experience, The Liberty Hotel is hard to beat. Located in Beacon Hill, the hotel offers gorgeous rooms and views, a prime location, and impressive amenities.
Boston Park Plaza. Located in the Back Bay neighborhood, Boston Park Plaza is an affordable option for people who still want a bit of comfort and are looking for a central location.
Hampton Inn & Suites Boston Crosstown Center. Located near Downtown Boston, this is another great, comfy, affordable option.
Parking and Transportation in Boston
The public transportation options in Boston are pretty excellent. The MBTA, or Massachusetts Bay Transportation Authority, runs buses, subway lines, ferries, and more.
The subway, including the Red Line, Orange Line, and Green Line, will take you pretty much anywhere you want to go in the city. You can find out more information about routes on the MBTA's website.
If you prefer driving, you'll find that Boston is a pretty car-friendly city, though it's still a good idea to purchase your parking through a Boston parking app like ParkBoston. You'll be able to find a parking spot that works for you while getting rid of any parking-related stress. Let ParkMobile help you find parking in Boston today!
Things to Do in Boston
Boston is one of the most popular tourist destinations in the country, and it's no wonder why. There are countless places to visit in Boston, from museums to ballparks, shopping centers, aquariums, and more. Here are a few of the best things to do in Boston.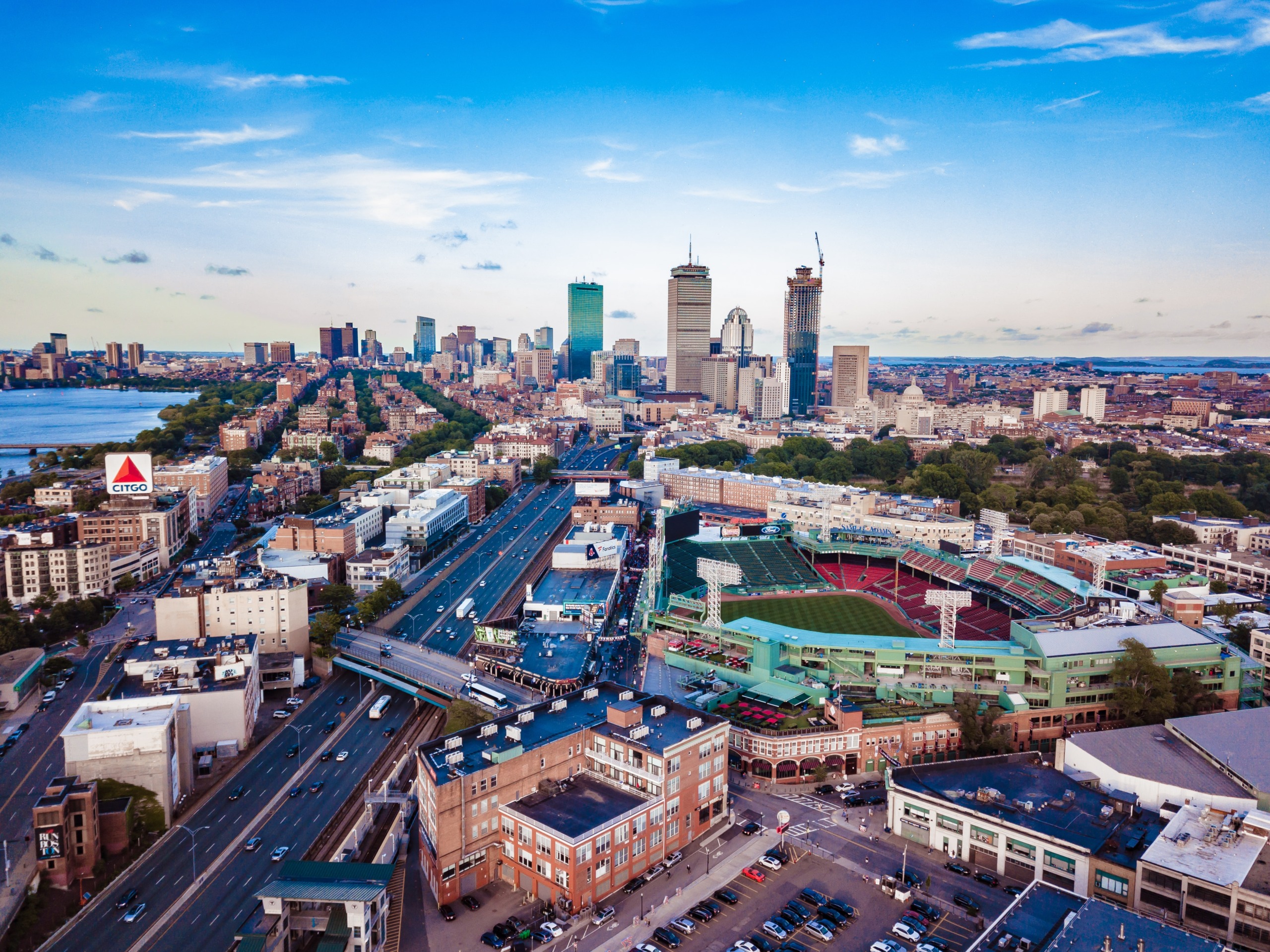 FAQs
Still have questions about visiting Boston? We've brought together answers to some frequently asked questions below.
Best time to visit Boston?
If you're planning to visit Boston, it's a good idea to come between June and October. The summer months are filled with activities, and the early autumn weather is a truly ideal season to experience Boston.
Where to stay in Boston with family?
When it comes to the best neighborhoods to stay in Boston with family, the Downtown area tops the list. You'd also be safe going with the North End, Beacon Hill, the Seaport District, and Back Bay.
Best place to stay in Boston for walking?
If you plan on walking a lot, the Downtown area is a great place to stay, though Back Bay is also centrally located and right next to a ton of great activities and sites.
Cheap places to stay in Boston?
If you're looking for cheap places to stay in Boston, Airbnb can be a great option. There are also plenty of affordable hotels in the city, including Boston Park Plaza and Hampton Inn & Suites Boston Crosstown Center.