Downtown San Diego is bursting with restaurants that run the gamut from scrumptious seafood to burgers, tacos, prime steaks, and more. With awesome locales like Seaport Village and the harbor, you'll have a blast exploring the area with its many can't-miss restaurants. To make finding a bite easier, we've brought together this handy Downtown San Diego dining guide.
Breakfast and Brunch in Downtown San Diego
Looking to grab breakfast in Downtown San Diego? The area boasts a variety of options perfect for a weekday breakfast or Sunday brunch. Check out our recommendations below, where you'll be able to find all of your breakfast favorites — whether that's a bagel, French toast, or just some delicious pastries.
Breakfast Favorites in Downtown San Diego
Whether you're looking for breakfast or brunch in Downtown San Diego, you'll have lots of great options. Here are some stand-out choices below.
Located at 520 Front Street, Richard Walker's Pancake House has been baking — yes, baking — pancakes since 1948. Keep it simple and try out their classic Bavarian-style baked pancakes.
Brian's 24 is — you guessed it — a 24/7 breakfast joint located at 828 6th Avenue. They serve pretty much every type of breakfast food you could want, from chilaquiles to pancakes, though for a special treat you should check out their Black Beauty Waffle.
Located at 1250 J Street, The Mission emphasizes whimsy when it comes it its simple and healthy breakfast foods. One of their more popular dishes is the Baked Banana Caramel French Toast — perfect for anyone with a sweet tooth!
Coffee in Downtown San Diego
Need a pick-me-up? Stop by one of the great coffee shops in Downtown San Diego for a truly delicious cup of joe.
Bird Rock Coffee Roasters, located at 2295 Kettner Boulevard, has won awards for its intensely flavorful organic coffee. For maximum flavor appreciation, get a simple drip coffee, and make sure to grab some beans for your home!
Located at 427 C Street, Elixir Espresso Bar brews its coffee in the lobby of a gorgeous building from 1896. The crêpes here are great, and you can't go wrong with a classic cappuccino.
Bakeries in Downtown San Diego
There are plenty of cute bakeries in Downtown San Diego, so you'll be sure to find something that satisfies your sweet tooth.
Located at 1430 Union Street, Extraordinary Desserts is the brainchild of pastry chef Karen Krasne. And while the cakes here are showstoppers, their pastry options are just as good — we'd recommend the crostatas, delicious light pastries with almond cream, and fresh seasonal fruits.
This award-winning French bakery, located at 555 G Street, serves up all the classics, from croissants to crêpes and colorful macarons. With a space that's both sophisticated and quaint, Parfait Paris is the perfect stop for a light treat.
Dinner and Lunch in Downtown San Diego
Ready for a bigger meal? The great news is there are tons of incredible places to grab lunch or dinner in Downtown San Diego, from stellar seafood joints to fancy steakhouses and more!
Scrumptious Seafood in Downtown San Diego
If you're in the mood for fresh seafood, you've come to the right place. The sushi in Downtown San Diego is to die for, and if you're craving something else, you have plenty of options to choose from.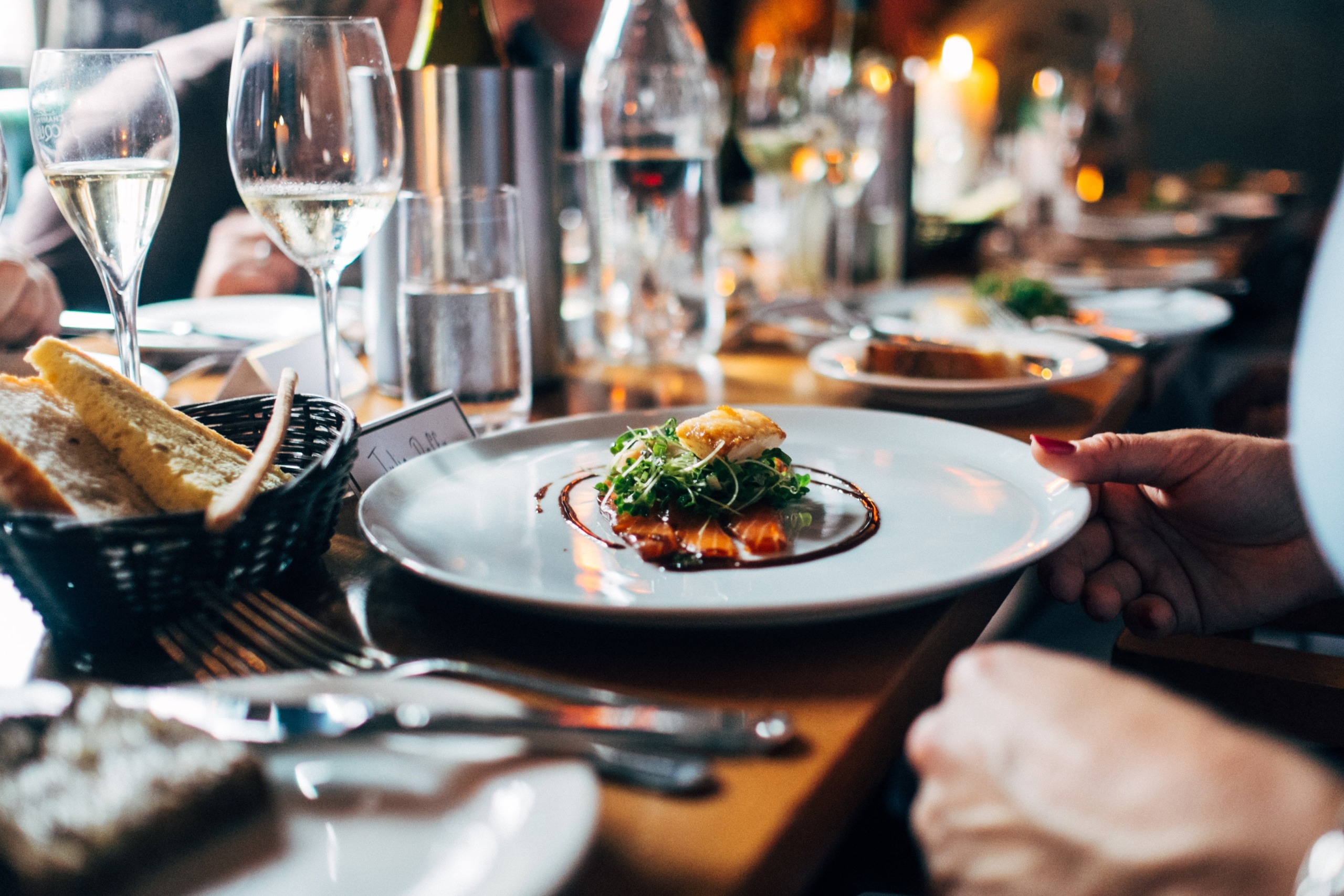 Roy's San Diego, located at 333 W Harbor Drive, offers guests fantastic views of the San Diego Bay and a chance to savor chef Roy Yamaguchi's famed Hawaiian fusion cuisine. The signature sushi is a must-try, like the Lakanilau roll, stuffed with wagyu beef, snow crab, and tempura asparagus.
At 750 N Harbor Drive, you'll find The Fish Market, a bayfront joint known for its seriously fresh seafood. There are plenty of tasty options to choose from, but most people come for the grilled fresh catch — from halibut to swordfish, mahi mahi, and more, you can't go wrong.
Sally's is all about sustainability. Located at 1 Market Place, this sushi and seafood restaurant emphasizes locally sourced dishes prepared with seasonal ingredients. And did we mention you'll be dining at a waterfront table in the Grand Hyatt? Be sure to check out the seafood paella or the swordfish a la plancha.
Deluxe Pizza in Downtown San Diego
Pizza is the ultimate comfort food, and if you're on the lookout for the perfect slice, Downtown San Diego has you covered. Here are the best options for deluxe pizza in Downtown San Diego.
Basic, located at 410 Tenth Avenue, is a hip, modern pizza parlor serving up gourmet, thin-crust pies with a ton of unique flavors. For something new, check out their mashed pizza, a white-sauce pie with mozzarella, mashed potatoes, and bacon.
For a seriously deluxe pizza, check out Filippi's Pizza Grotto, located at 1747 India Street. These loaded pizzas are thick with toppings, all sealed under a generous layer of cheese — check out the special pizza for a true meat-lover's experience.
Authentic Mexican Food in Downtown San Diego
Looking for tacos in Downtown San Diego? Expect plenty of flavor from the great options we've brought together below.
Located at 560 Fourth Avenue, La Puerta is a low-key taco joint that takes its food seriously. Grab a drink and settle down for some delicious tacos, including the cochinita flautas, rolled achiote pork tacos with all the fixings.
This cafeteria-style eatery, located at 1435 Sixth Avenue, serves hefty portions at a low price, without skimping on the flavor. The tacos a la carta will let you choose from carne asada, beef machaca, carnitas, and more.
Vegan Restaurants in Downtown San Diego
Vegan restaurants in Downtown San Diego are pretty popular, and you won't have trouble finding one. Here are some of the tastiest options we'd recommend.
Find Cafe Gratitude at 1980 Kettner Boulevard. Everything in this spacious, chill cafe is organic and vegan, and they offer spins on some old favorites, inducing their Buffalo Cauliflower and Indian Curry Bowl.
Veggilish, located at 1146 7th Avenue, emphasizes nutrient-rich, plant-based foods designed to supercharge your health. Their bowls pack a ton of flavor and nutrition, including the Sauteed Garbanzos Bowl.
Exquisite Thai Food in Downtown San Diego
Ready for the best Thai food in Downtown San Diego? We've got you covered. You can't go wrong with the spots below.
Located at 906 Market Street, Lotus Thai cooks up classic Thai dishes alongside some great soju cocktails. You can't go wrong with the Panang Curry or the Drunken Noodle.
The contemporary space at Sab Lai is gorgeous to look at, but don't let it distract you from the truly phenomenal food. Located at 500 Fifth Avenue, Sab Lai is consistently ranked among the best Thai food in the city — make sure to try the Sab Lai Ducking Special.
Happy Hour in Downtown San Diego
Downtown San Diego is a happening area, so you won't have trouble finding a place to get a drink. But if you want to get the most out of happy hour in Downtown San Diego, you'll want to check out our recommendations below.
Best Bars in Downtown San Diego
While Noble Experiment may be one of the most popular bars in Downtown San Diego, that doesn't mean there aren't other great options for specialty cocktails and draft beers. There are even some great rooftop bars in Downtown San Diego!
For a classic pub feel, you'll have to check out The Field Irish Pub, located at 544 Fifth Avenue. The food here is rich and hearty, and there are plenty of beers on tap — though let's face it, you'll be ordering a Guinness, right?
Located at 2044 Kettner Boulevard, Waterfront Bar and Grill has been serving up pub grub and beers since way back in 1933. Expect a great, old-timey vibe, and a fantastic happy hour.
A hip speakeasy hidden away behind a door in The Neighborhood, a local eatery, Noble Experiment has some of the coolest specialty cocktails on offer in Downtown San Diego. Located at 777 G Street, Noble Experiment doesn't have a set menu, so prepare to be surprised.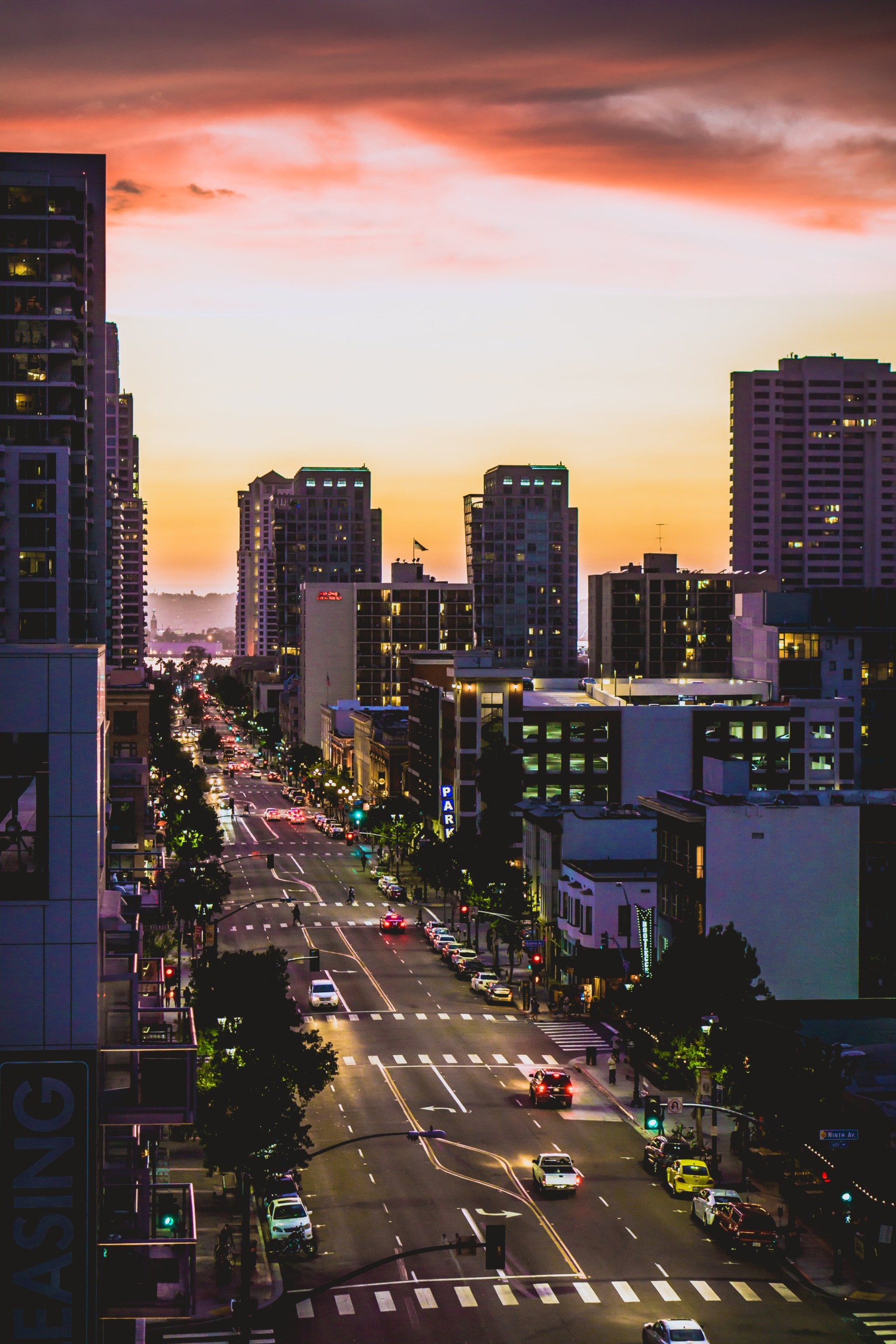 Breweries in Downtown San Diego
For a more beer-centric experience, you'll want to check out some of the awesome breweries in Downtown San Diego.
A cool microbrewery with a tasting room, Mission Brewery is located at 1441 L Street in a building dating from 1894. When choosing what to drink, don't forget their Shipwrecked Double IPA is a classic.
A happening taproom with a chill vibe, Resident Brewing is located at 1065 Fourth Avenue and serves up some truly delectable brews, including their iconic Perky Blonde ale.
Parking in Downtown San Diego
You'll have a few options when it comes to finding parking in Downtown San Diego. There are on-street meters that typically charge about $1 per hour for parking between 8 AM and 6 PM, Monday through Saturday. Outside of those hours, metered parking spots are free. There are also several garages and lots in the Downtown San Diego area that offer cheap and convenient parking.
However, many of these spots can fill up quickly. If you want to take the stress out of finding parking in Downtown San Diego, it's a good idea to purchase your parking ahead of time with an app like ParkMobile. You'll be able to find a parking spot that works for you while getting rid of any parking-related stress. Let ParkMobile help you find parking in Downtown San Diego today!