Seattle means coffee, rain, pine trees, and music. Famous for being the birthplace of the grunge scene in the 1990s, Seattle hosts a wide variety of music these days. In fact, the music of Seattle is some of the best in the country, and if you're visiting the city, you'll want to catch a show. With that in mind, we've made this concert lovers' guide to the Seattle music scene.
The Best Seattle Music Venues
There are tons of concert venues in Seattle, where you can catch a local band, a popular musical act, and even the Seattle Symphony, which plays at Benaroya Hall. Below, we'll run through some of the best concert venues in Seattle and what you can expect to hear there.
Showbox SoDo
The sister venue of Showbox, Showbox SoDo is located at 1700 First Avenue South, just south of the city's downtown business district. With a spacious main hall that can hold more than 1,000 fans, Showbox SoDo typically hosts popular alt-rock bands with a following that can fill up the space.
Seattle Theater Group
If you're looking to catch some theatre, you'll likely be dealing with the Seattle Theatre Group. The group runs three popular theatrical venues in the city. The Moore Theatre, located at 1932 Second Avenue, hosts seated shows, while the Paramount Theatre, located at 911 Pine Street, is more popular with big indie acts. For a more eclectic taste, from dance to punk and electronica, check out Neptune Theatre, located at 1303 NE 45th Street.
Seattle Center
Seattle Center, located at 305 Harrison Street, is a sprawling complex that boasts several awesome music venues. For huge concerts by the biggest names in music, you'll want to check out KeyArena. The Museum of Pop Culture, located at 325 Fifth Avenue N, is home to some truly awe-inspiring relics of music history, including items that once belonged to Kurt Cobain and Jimi Hendrix. For a more intimate vibe, check out KEXP Live Performances, where local radio station KEXP allows visitors to watch live in-studio performances.
Neumos
Located at 925 East Pike Street, Neumos is a popular concert venue in Seattle's Capitol Hill neighborhood that hosts both rock and hip-hop acts in a great space with three bars and a mezzanine area. In the venue's basement, you'll find Barboza, which tends to host smaller indie bands.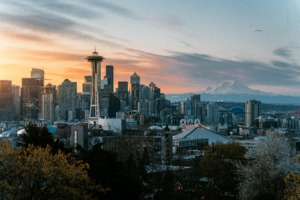 Seattle Music Festivals
If you can't decide on one show or artist you want to see, then maybe it's time to check out the many music festivals that grace Seattle. Whether that's the Upstream Music Fest, the Timber! Outdoor Music Festival, or music festivals that celebrate jazz, classical, country, and more, you're sure to find something to your taste.
Popular Bands From Seattle
When we think of the most popular bands from Seattle, we tend to think of the famous Seattle grunge bands. That includes Alice in Chains, Pearl Jam, Soundgarden, and, of course, Nirvana. But there's a lot more to the Seattle music scene, and in fact, some extremely popular contemporary artists also hail from the city.
Sub Pop Records has been a big part of the music scene, serving as the main independent record label putting out music by some of Seattle's most popular artists. In the 2000s, popular rock bands from Seattle have included Fleet Foxes, Band of Horses, Modest Mouse, and The Foo Fighters. The Foo Fighters were actually formed by Dave Grohl, the drummer from Nirvana, when Nirvana disbanded after Kurt Cobain's death.
Seattle also has a strong tradition of hip-hop music, with hip-hop artists like Macklemore and Sir Mix-a-Lot bringing a quirky flavor to the popular genre.
The Evolution of Seattle Grunge
In the popular imagination, Seattle is still famous for being the birthplace of grunge music. The city is so synonymous with the style of music that grunge is often referred to as the Seattle sound. But where exactly did this music style come from, and how did it become so popular?
The grunge era is a little difficult to pin down, but most people would agree it ran from the mid-1980s to the mid-1990s. This was a time when Seattle was shedding some of its hippie identity — though there was still plenty of countercultural energy going around. Soundgarden, one of the iconic bands of the grunge era, was formed in 1984, along with the Screaming Trees, while Sub Pop Records, the independent label that would distribute many popular grunge bands, was founded in 1985.
The late 1980s saw more bands form, including Nirvana and Alice in Chains. These bands began to play more at venues in Seattle, including The Showbox and The Crocodile. When Nirvana released their most famous album, Nevermind, in 1991, grunge officially hit the mainstream. By 1992, bands like Nirvana, Pearl Jam, Soundgarden, and Alice in Chains were dominating the musical charts, leading many to declare Seattle the country's new music city.
Upcoming Concerts in Seattle
One of the best ways to find upcoming concerts in Seattle is to find a venue that you're interested in and check out their events schedule. You can also use Eventbrite's event page to track upcoming concerts in Seattle that you might be interested in.
Where to Park for Music in Seattle
Where you choose to park for music in Seattle will depend on what concert you're seeing and which venue you're seeing it in. Different areas of the city will offer different parking options, including metered on-street parking, garages, and lots.
Regardless of where you want to park, it's a good idea to purchase your parking ahead of time with an app like ParkMobile. You'll be able to find a parking spot that works for you while getting rid of any parking-related stress. Let ParkMobile help you find parking in Seattle today!