Founded in 1733, Savannah Georgia is the oldest city in the state of Georgia and one of the oldest cities in the country. Its beautiful 18th-century architecture and rich culture make it an attractive tourist destination.
If you're looking to visit Savannah GA, there are a few things you'll want to make sure to see. Below, we'll walk you through everything you'll want to do and see in Savannah, Georgia.
Things to Do in Savannah GA
You're not going to run out of things to do in Savannah – in fact, there's so much on offer you might have trouble figuring out what you'll want to do and see! To take some of the stress out of that decision, we've brought together a few recommendations for things to do in Savannah GA below.
Catch some live music
Savannah boasts a rich musical history and culture, from jazz to blues and beyond. Hit up Jazz'd Tapas Bar for blues and big band hits, or check out The Mansion on Forsyth Park on the weekend for some top-notch jazz. And of course, Bayou Café serves up delectable Southern seafood and hosts live music seven nights a week.
Indulge in some shopping
Love to shop? You've come to the right place. There are several unique shopping streets and districts in the city, including Broughton Street with its cute boutiques and Bull Street, with its bookstores and art shops. You'll find a variety of shops all throughout the city, so don't be afraid to visit Starland District and the Historic District with some cash in hand!
Visit world-class art museums
Savannah is an extremely artistic city, so make time to appreciate some of the gorgeous museums and galleries it has to offer. The Telfair Museums operate the oldest public art museum in the region. For a more historical experience, check out the Davenport House Museum, stuffed with vintage furnishings and antiques that will transport you back to the 1800s.
Take a trolley tour
With its rich history and gorgeous architecture, Savannah is a perfect city to explore at a slower pace. Check out Old Town Trolley Tours or Old Savannah Tours and find a tour time that works for you. It's a great way to get acquainted with the city, and you can hop off whenever you're ready to go off on your own!
Attend the theater
Savannah is filled to the brim with theaters where you can catch a show any time of the year. The Lucas Theatre and the Savannah Theatre are two popular destinations offering films, opera performances, popular music concerts, and more. Forsyth Park often hosts public performances, and if you time your visit right, you just might catch the Savannah Music Festival, held from late March to early April.
Visit historic religious sites
Savannah is overflowing with history, and a lot of that history is connected to religion. There are many historic churches in the city, including the First African Baptist Church, which has the oldest black congregation in all of North America. These sites are also architecturally stunning, especially the Cathedral Basilica of St. John the Baptist, known as the Sistine Chapel of the South.
Places to Visit in Savannah GA
From historic sites to art museums, Savannah has tons to offer tourists, with many historic sites within walking distance of each other. Below, we've brought together some of the best places to visit in Savannah GA.
Bonaventure Cemetery
Occupying roughly 100 acres, Bonaventure Cemetery is a Victorian cemetery located within walking distance of Savannah's Historic District. It's a great place to unwind as you wander the twisting paths and examine some impressively old tombstones. If you arrive in March or April, you're also likely to get a stunning show of blooming trees and azaleas.
Historic River Street
Savannah GA is located on the Savannah River, which runs along the city's historic River Street. Possibly the most picturesque street in all of Savannah, River Street features cobblestone streets, elegant historic buildings, and a delightful array of shops and fantastic restaurants.
Jepson Center
Part of the Telfair Museums, the Jepson Center is a visually stunning contemporary art museum that also features classical paintings from Europe and works by up-and-coming artists. It's a good family outing as well because the center offers a dedicated children's museum space for all ages.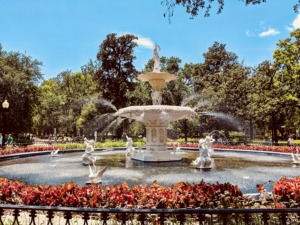 Forsyth Park
For some calm outdoor time, there's no better option than Forsyth Park. Boasting 30 acres of landscaped greenery and an iconic fountain built in 1858, Forsyth Park is the perfect place for a relaxing picnic, a game of catch, or just lounging on a blanket with a good book.
Fort Jackson
Located just a mile outside of Savannah, Fort James Jackson is a 19th-century fort located on the Savannah River that holds daily cannon firings and other educational programs for both kids and adults.
Tybee Island
Savannah's go-to beach, Tybee Island is only a 20-minute trip from the city's historic district. With 3 miles of stunning beaches and a number of historical sites to check out — not to mention some great restaurants serving up fresh seafood — visiting Tybee Island is a must.
Hotels in Savannah GA
Savannah is known for its southern hospitality, and that's exactly what you'll get when you stay at one of the hotels in Savannah GA. Here are a few spots we recommend.
Perry Lane Hotel
Located at 266 East Perry Street in the heart of the downtown area, Perry Lane Hotel might have the best location of any hotel in Savannah. On top of this, guests will enjoy boutique rooms in an elegant setting that's been updated with a few gorgeous modern twists.
River Street Inn
River Street Inn is housed in an old cotton warehouse that's been sumptuously updated — though its prime location looking out over the Savannah River remains unchanged. Located at 124 East Bay Street, River Street Inn is also within walking distance of countless attractions.
The Marshall House
The Marshall House, located at 123 East Broughton Street, is consistently ranked one of the best hotels in Savannah. Expect a truly unique experience here because the hotel is housed in a log building dating from the 1800s that features gorgeous balconies, complimentary wine, and more.
Places to Eat in Savannah GA
Fittingly for one of the oldest cities in the country, Savannah, GA, has plenty of fun and flavorful places to eat. Make sure you don't miss out on some of the tasty treats below.
The Olde Pink House
The Olde Pink House, located at 23 Abercorn Street in Savannah's Historic District, serves classic Southern cuisine in an elegant mansion built in 1771. It's an iconic restaurant with classic dishes — try the deep dish chicken pot pie or the pecan-crusted chicken breast with a blackberry bourbon glaze.
Old-fashioned ice cream
Leopold's Ice Cream, located at 212 East Broughton Street, has been scooping old-fashioned frozen treats for more than a hundred years. You can't go wrong with the classic flavors, though it's a good idea to check out one of Leopold's original flavors from 1919, including their lemon custard, rum bisque, and tutti frutti.
Rooftop bars and restaurants
Savannah is a gorgeous city with plenty of historic and iconic buildings, so why not take a look at it from above? There are tons of incredible rooftop bars and restaurants throughout the city, including Rocks on the Roof, which serves tapas and specialty cocktails in a space overlooking the Savannah River. Or head on over to Top Deck, a rooftop bar and grill full of comfy couches to lounge around on. Finally, check out Bar Julian for delectable small plates and specialty cocktails, plus a gorgeous view of Savannah's skyline.
Local brewing companies
For tasty locally brewed beers, it's hard to beat Service Brewing Company. You can take a tour of the brewery or head to their sampling room to try some of their classic flavors or new small-batch experiments. If beer's not your taste, Ghost Coast Distillery offers a similar experience, with an emphasis on spirits and cocktails, including whiskey, gin, rum, and vodka!
Where to Park in Savannah GA
Finding Savannah parking isn't too difficult, especially if you know where to look. The odds are you'll be able to find a spot within walking distance of whichever site you're hoping to visit.
For starters, Savannah has more than 3,000 metered parking spaces in the downtown area, as well as five public parking garages and six public parking lots. These spots are cheap and convenient, but they can fill up fast. If you're willing to walk a bit, you can even find free street parking just outside of the downtown area, including on Broughton Street.
Regardless of where you want to park, it's a good idea to purchase your parking ahead of time with an app like ParkMobile. You'll be able to find a parking spot that works for you while getting rid of any parking-related stress. Let ParkMobile help you find parking in Savannah, GA today!
FAQs
Still have questions? We've brought together answers to some frequently asked questions about visiting Savannah GA below.
What is the best time to visit Savannah GA?
The best time to visit Savannah GA is during the spring and early summer, from March to July. The weather will be warm but not too hot, and you'll have the chance to see the city's iconic flowers bursting into bloom.
What is Savannah best known for?
Savannah is best known for its gorgeous historic architecture, its luscious coastal environment, and its rich, complex history.
Is Savannah GA worth visiting?
Savannah GA, is worth visiting for its stunning beauty — think classic architecture and gorgeous trees — and its iconic Southern charm.