Chicago is famous for its world-class museums, incredible restaurant scene, and lively downtown area. All of which means you won't want to waste your time worrying about parking while you're there. We've got everything you need to make finding a parking spot in downtown Chicago easier than ever.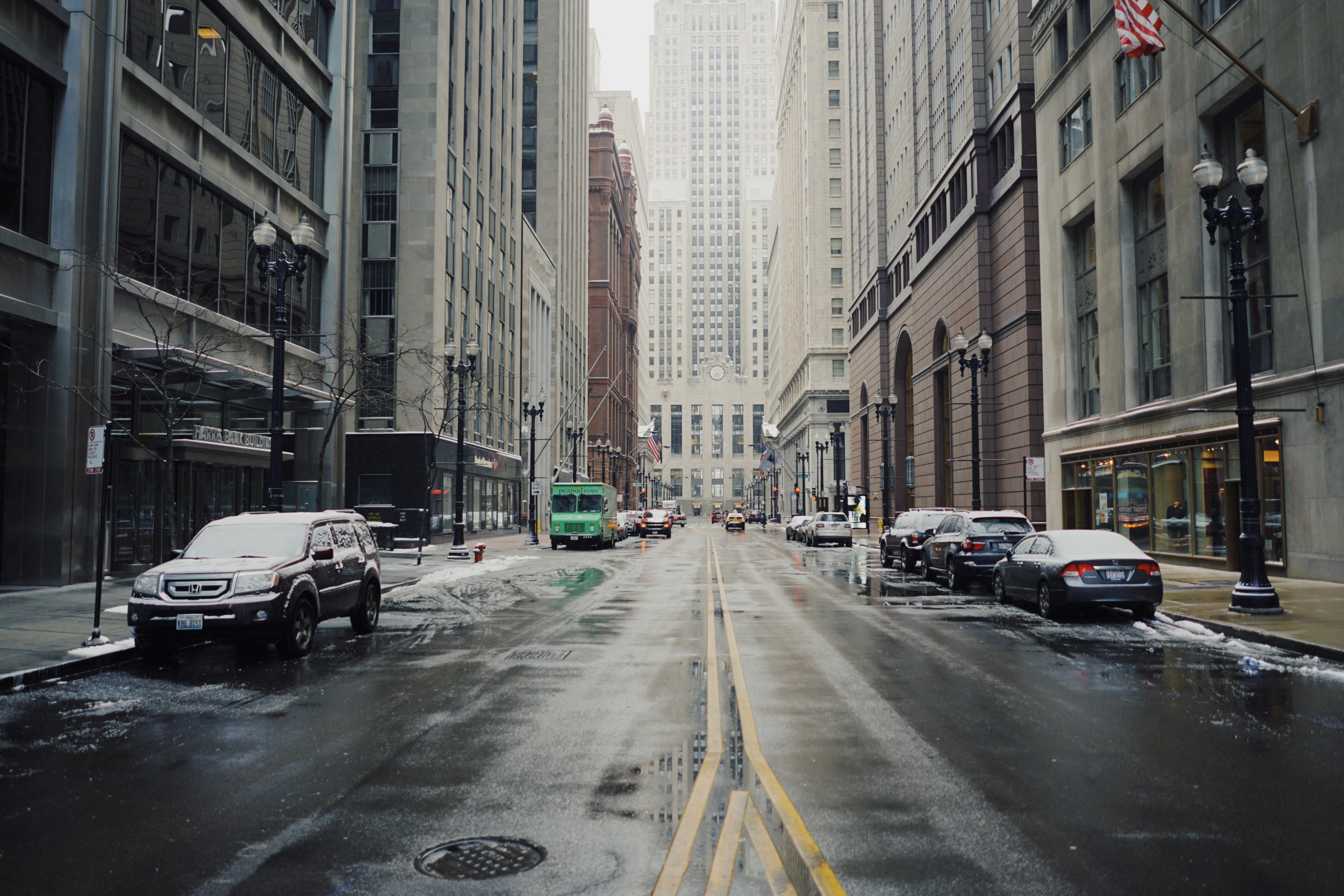 Where to Park in Chicago?
There are plenty of great garages in Downtown Chicago where you can snag a parking spot for cheap. Here are a few popular options we've compiled for you:
| | | |
| --- | --- | --- |
| Parking | Address | Price |
| Monroe Building Garage | 35 South Dearborn Street | $20 |
| 33 West Monroe Street Garage | 33 West Monroe Street | $18 |
| Citadel Garage | 131 South Dearborn Street | $29 |
Feed the Meter, Watch the Time
Street parking in Chicago will often be metered parking that costs between $2.00 and $6.50 per hour. Fortunately, the latest updated payboxes allow you to pay with your credit and debit card, or always use the ParkMobile App to find metered spots near you.
Most meters you'll find only operate during the day, and will give you a receipt when you've paid for parking. Just make sure to watch how much time you have left — even if you're just a minute late, you can still get a ticket!
Valet Parking
If you're looking for a more hands off parking experience, there are plenty of great valet parking services in Downtown Chicago. Here are a few popular ones:
| | | |
| --- | --- | --- |
| Parking | Address | Prices |
| Staypineapple Valet Stand | 1 West Washington Street | $18 |
| Macy's Valet Stand | 102 North Wabash Avenue | $15 |
| Valet Parking | 111 North Wabash Avenue | $15 |
| Metro Valet Parking | 212 East Chestnut Street | $16 |
Hotel and Garage Parking
Downtown Chicago is filled with great garages and hotels where you can park your car as you wander about. One popular parking option is The W Hotel Downtown. Located at 172 West Adams Street, the hotel offers parking options starting in the $20 range.
Stadium Parking
Soldier Field, home of the NFL's Chicago Bears football franchise, is located at 1410 Museum Campus Drive in Downtown Chicago. If you're looking to find parking near the Soldier Field, we're here to help. With ParkMobile, you can reserve a parking spot ahead of time for concerts and sporting events. No matter what event you're going to, ParkMobile makes it easy for you to get there on time.
Chicago Street Parking Rules
If you're able to find a street parking spot in Downtown Chicago you can save a fair amount of money — but if you're not careful, you could get a ticket. To make sure that doesn't happen, review this Chicago street parking rules below:
Your car can't be parked more than 12 inches from the curb.
Your vehicle should never be parked within 20 feet of a crosswalk if your vehicle is more than 6 feet tall.
You should never park within 20 feet of a stop sign.
You should never park within 15 feet of a fire hydrant.
You can't park in bus or bike lanes.
Overnight parking is not allowed on most main streets between December 1st and March 31st.
Street parking is not allowed in more than 2 inches of snow.
Deciphering Common Parking Signs
Downtown Chicago will bombard drivers with plenty of traffic, stoplights, and parking signs. To make it easier to quickly determine what a particular parking sign means, we've brought together a cheat sheet below:
| | | |
| --- | --- | --- |
| Sign | What it tells you | What it looks like |
| Standing Zone Sign | You can stop temporarily to drop off a passenger or unload something, but the driver can't leave the car. | |
| Paid Parking Sign | You'll need to pay to access this parking spot; you'll also see directions for paying on the sign. | |
| Special Event Sign | No parking is allowed here for the time being because of a special event. | |
| No Parking Overnight Sign | No parking is allowed here overnight during special winter hours. | |
| Residential Parking Sign | Only city residents with an official permit are allowed to park here. | |
| Street Cleaning Sign | This sign informs you during what hours you won't be allowed to park in this spot, as street cleaning will be taking place. | |
Street Parking Bans Do's and Don'ts
Between April 1 and mid-November, the city sends street sweepers through areas of Chicago to clean the streets between 6 AM and 9 AM. More specific hours will be clearly marked on the street where you're parked. When street sweeping hours are underway, you'll be ticketed if your car is on the street.
Overnight parking is also not allowed on most main streets between December 1st and March 31st. This is so that snow plows can get through. Note that you can be ticketed even if there isn't snow on the ground and the plows aren't running, so play it safe, and park somewhere else.
Watch Out For Winter
Overnight parking is normally a great free parking option. But from December 1st to March 31st, the city bans overnight parking on most main streets to make it easier for snow plows to function.
These restrictions technically apply between 3 and 7 AM, and can result in hundreds of dollars in fines if violated. And don't forget, these rules are in effect even when there's no snow on the ground.
Got Towed? Who You Gonna Call?
If things go wrong and you end up getting towed, you'll need to call 311 or visit the city's Find Your Vehicle page to figure out where your car's been taken. Depending on where your car's been taken and how serious the parking violation is, you can expect to pay between $100 and $250 — which is just one more reason to make sure you're following the rules.
Parking Near Your Favorite Attraction
From Willis Tower to Chinatown to world-famous Wrigley Field, Chicago offers some of the best sightseeing in the country. No matter what site you're looking to check out, we've compiled some easy, and affordably, parking spots nearby.
Chinatown Neighborhood
Chicago's Chinatown neighborhood is famous for its authentic Chinese food, and it's certainly an area you won't want to miss. Street parking can be crazy, so if you can reserve a space ahead of time try to.
One popular garage is located at 20 East 21st Street, and charges only $7 for parking.
Navy Pier
Navy Pier is famous for its carnival atmosphere, featuring a massive ferris wheel and other attractions like mini-golf. Unsurprisingly, it's a popular destination, so do what you can to reserve parking ahead of time.
One popular garage is The Axis Garage, located at 441 East Erie Street, where prices start at $14.
Willis Tower
Formerly the Sears Tower, Willis Tower still retains its title as one of the tallest buildings in the world. Plus it boasts an incredible Skydeck, which offers the best view of the city — or of any city anywhere.
For a straightforward parking experience, check out the Willis Tower Garage, located at 241 South Franklin Street, where prices start at $18.
Millennium Park
One of the city's great art centers, Millennium Park also has plenty of public space, including an ice rink and gorgeous walking paths. Free concerts about in the summertime, as well as plenty of impromptu picnics.
For a solid parking deal, check out Millennium Park Garage, located at 5 South Columbus Drive, where prices start at $8.50.
Lincoln Park Neighborhood
If you're visiting Lincoln Park, you're probably about to get some delicious food or check out a cute boutique store — or maybe you're just checking out the world-famous (and absolutely free) zoo!
Reserve parking ahead of time if you get a chance. Otherwise, a popular parking site is the Lincoln Commons Garage, located at 2316 North Lincoln Avenue, where prices start at $7.
Park and Walk
Parking in downtown Chicago can get stressful fast. Why not think about reserving your parking in advance? With ParkMobile, you can reserve a parking spot ahead of time no matter where you need to be in downtown Chicago — and from there, it's just a short walk to your destination. Save time by reserving a parking spot today.