Target Field, located at 1 Twins Way in Minneapolis, Minnesota, is the home field of the MLB's Minnesota Twins. An open-air ballpark with a capacity of nearly 40,000, Target Field just might offer the number one baseball stadium experience in the country.
With easy parking options, a great downtown area, and incredible food options inside the stadium, it's no wonder fans flock to Target Field in impressive numbers, game after game. Below, we'll tell you how to get to Target Field, where to eat before the game, where to park, and plenty more.
Getting to Target Field
If you're driving to Target Field, the route will depend on which direction you're coming from. Here are a few options for getting to Target Field:
●   From the North. Travel south on I-35 and follow I-35W at the divide. Then, merge onto I-94 West and exit on Olson Memorial Highway (Highway 55). Take a right after exiting, then take another right onto North 7th Street (Highway 55). Target Field will be on your left.
For even more directions, visit the Minnesota Twins' official directions page.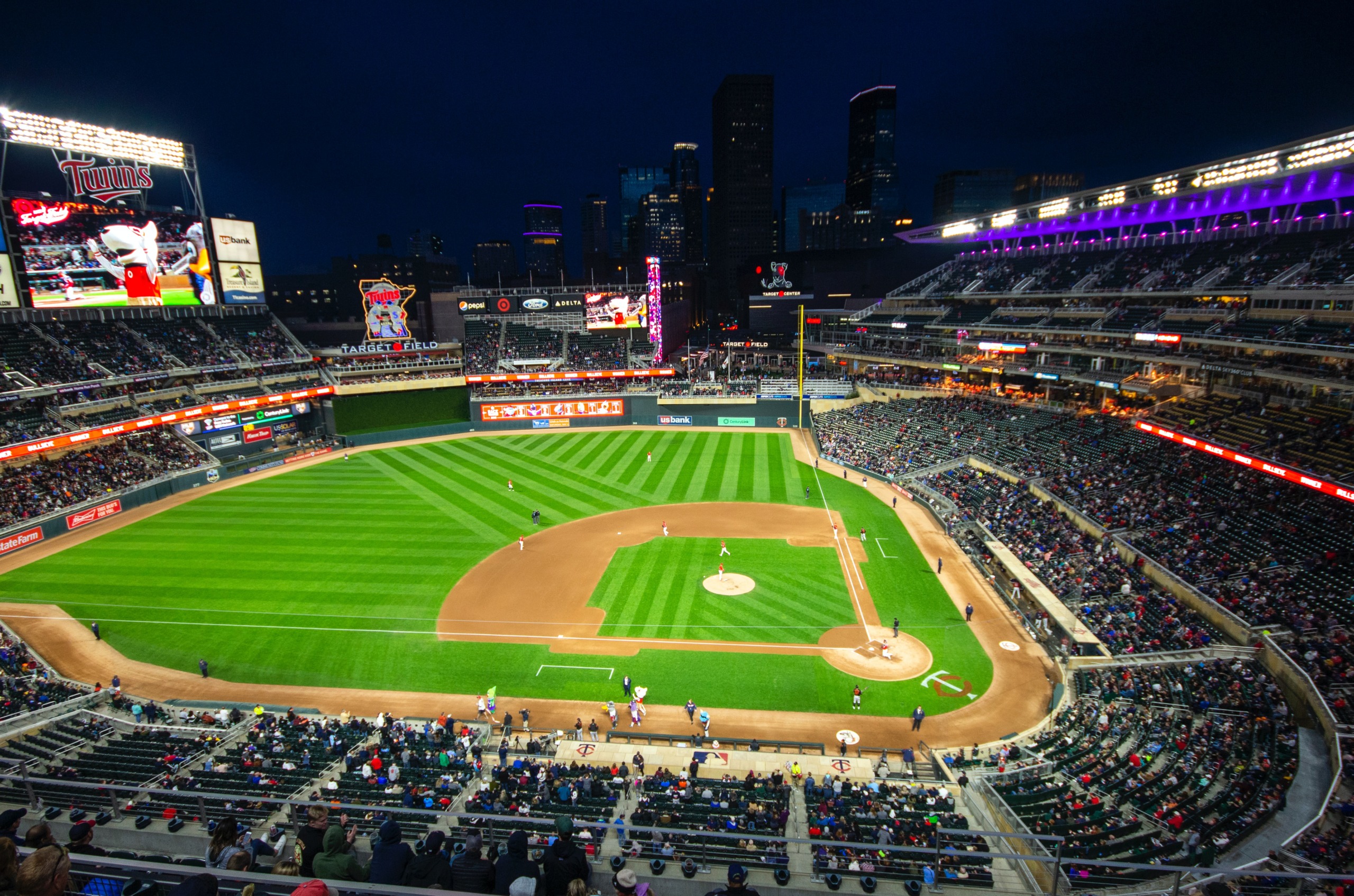 Where to Buy Twins Game Tickets
If you're looking to go straight to the source, you can buy Twins game tickets directly from the Minnesota Twins. Just visit the franchise's official ticketing page for more information about ticketing.
Looking to save some cash? There are a number of third-party sites where you can safely buy Twins game tickets as well. We recommend checking out the following sources of tickets:
Hotels Near Target Field
If you're trying to stay overnight in the area and want to be as close to the action as possible, you're in luck. There are a number of hotels near Target Field, and even some that are within walking distance. Here are a few places we recommend:
| | | | |
| --- | --- | --- | --- |
| Hotel | Location | Distance | Price |
| Hampton Inn & Suites/Downtown | 19 North 8th Street | 0.3 miles | $162 |
| Embassy Suites by Hilton Minneapolis Downtown | 401 Hennepin Avenue | 0.3 miles | $223 |
| AC Hotel by Marriott Minneapolis Downtown | 12 South 6th Street | 0.3 miles | $167 |
| Loews Minneapolis Hotel | 501 North 6th Avenue | 0.2 miles | $272 |
Target Field Parking and Transportation
Wondering where to park at Target Field? Or looking to leave your car home? Here's a breakdown of parking and public transit options near Target Field.
Bikes, Shuttles, and Trains
If you want to avoid the parking problem entirely, you can take advantage of Minneapolis' great public transit system. Here are some of your best options:
Official Target Field Parking
Ramps A, B, and C are located around Target Field and offer relatively cheap parking, with more than 7,000 spaces in total. Prices will vary depending on the event. Check out the chart below for more info.
| | | | |
| --- | --- | --- | --- |
| Lot | Daily Price | Monthly Pass | Special Events |
| Ramp A | $13 | $145 | $7 – $27 |
| Ramp B | $15 | $165 | $7 – $27 |
| Ramp C | $15 | $160 | $7 – $27 |
Accessible parking is available to guests with valid disability parking permits in both Ramp A and Ramp B. These ramps also offer direct connections to the stadium via a skyway.
Parking Nearby
If you don't want to use the official lots, whether because they're full or you're looking to save a few bucks, there are several unofficial lots and garages near the stadium. We recommend the options below:
| | | | | |
| --- | --- | --- | --- | --- |
| Garage/Lot | Location | Distance | Walking Time | Price |
| 800 Marquette Avenue | 800 Marquette Avenue | 0.5 Miles | 10 minutes | $5 |
| Hennepin 10th Lot | 935 Hennepin Avenue | 0.4 miles | 7 minutes | $8 |
| Hawthorne Lot | 31 North 9th Street | 0.1 miles | 2 minutes | $8 |
| 50 South Sixth Parking Garage | 50 South 6th Street | 0.4 miles | 8 minutes | $8 |
| City Center Garage | 10 7th Street South | 0.3 miles | 6 minutes | $25 |
Reserve Parking at Target Field with ParkMobile
Reserve a parking spot ahead of time with ParkMobile and take the hassle out of game  day.
Things to Do Nearby
Right outside of Target Field is the Warehouse District, an area that's full of bars, restaurants, clubs, and more, making it the perfect place to hang out before and after the game.
Best Restaurants and Bars in Downtown Minneapolis
If you're trying to grab a bite or a drink before the game, downtown Minneapolis has more than enough options to satisfy whatever craving you have. Here's a list of some of the best bars and restaurants near Target Field:
Popular Attractions Near Target Field
From the Mill City Museum, to the Sculpture Garden at the Walker Art Center, to walking or biking along the Mississippi riverfront and checking out the Stone Arch Bridge, there are plenty of popular attractions right by Target Field.
Fun for the Whole Family
At Target Field, every Sunday home game is Kids Day — that means any child 14 and under with a valid ticket can be part of a special pre-game autograph session, and they'll also be able to run the bases after the game.
Target Field offers a number of other amenities for its younger fans as well, from free photos with T.C., the Twins' mascot, to TC's Clubhouse, a play area for children 48 inches tall and under, located on the club level near section 229.
Attending an Event at Target Field
Whether you're checking out a baseball game or heading to Target Field for a concert, the city of Minneapolis makes it easy to attend events at Target Field.
Twins Games and Popular Events
Far and away the most popular events at Target Field are the Minnesota Twins baseball games. The stadium is pretty dedicated to baseball, though they will hold large concerts with popular artists from time to time.
Twins Tailgating
Unfortunately, there's no tailgating allowed at Target Field's official lots. However, some lots in the northeast portion of downtown offer special tailgating spaces where typical tailgating rules apply. You'll want to call or check in advance whether the lot you're considering allows tailgating.
What to Bring to a Twins Game
When it comes to containers, you'll be allowed to bring in soft-sided bags with a maximum size of 16 inches by 16 inches by 8 inches. The only beverages you're allowed to bring to Target Field are sealed water bottles of 32 ounces or less, and soft-sided single juice or milk containers for children.
Otherwise, you'll likely want to bring weather-appropriate clothing — that means if it's sunny, you'll want to bring a hat, sunglasses, and sunscreen as well.
Target Field Food You Don't Want to Miss
Even if you grabbed a bite to eat before the game, you're going to want to check out some of the phenomenal food options located inside Target Field. Here's what we recommend:
FAQs
Below, we've brought together answers to some frequently asked questions about visiting Target Field.
What can be brought into Target Field?
Visitors can bring in single-compartment bags, including purses, clutches, tote bags, drawstring bags, diaper bags, and soft-sided coolers, that do not exceed 16 inches by 16 inches by 8 inches.
Does Target Field allow water bottles?
Sealed water bottles no larger than 32 ounces, as well as soft-sided single juice or milk containers for children are the only outside beverages permitted in Target Field.
How early does Target Field open?
Target Field opens 1½ hours before the first pitch for Monday-Thursday games, and 2 hours before the first pitch for Friday-Sunday games, and for games that fall on holidays.
Can you Tailgate at Target Field?
Unfortunately, tailgating is not permitted at Target Field. Some off-site parking lots in the surrounding area will offer tailgating, and there are plenty of bars and restaurants near the field.