Parking transaction data from over 400 cities indicates that people are getting back on the roads
In May 2020 ParkMobile published data showing the impact of COVID-19 on parking and consumer mobility trends in cities across the U.S. Four months later, updated data shows a continued steady recovery across the country. But it is clear that we are still not back to pre-COVID levels.
In early to mid-March, cities and states shut down and people stayed home. This caused a significant drop in the number of daily parking transactions in cities. The ParkMobile app is available in over 400 cities in the U.S., so the company's data represents a clear view of the impact of the pandemic on consumer mobility.
Chart #1 below shows the severe drop in parking transactions as COVID-19 awareness increased in March and states started to shut down. Compared to the last "normal" month of February, parking transactions went down almost 95% across the country, as most non-essential workers followed the stay at home orders. Recovery began in mid-April and some states started reopening shortly after.
Parking volume also shows the impact of the protests and social unrest in late May. This was the only week that didn't increase over the one before it. With that exception, parking volume has increased every single week since the recovery began in mid-April. In April through June, parking increased by around 20% each week. Although the increases are less now (0-5% a week), the trend is still moving up. Volume is now about 35% below February levels.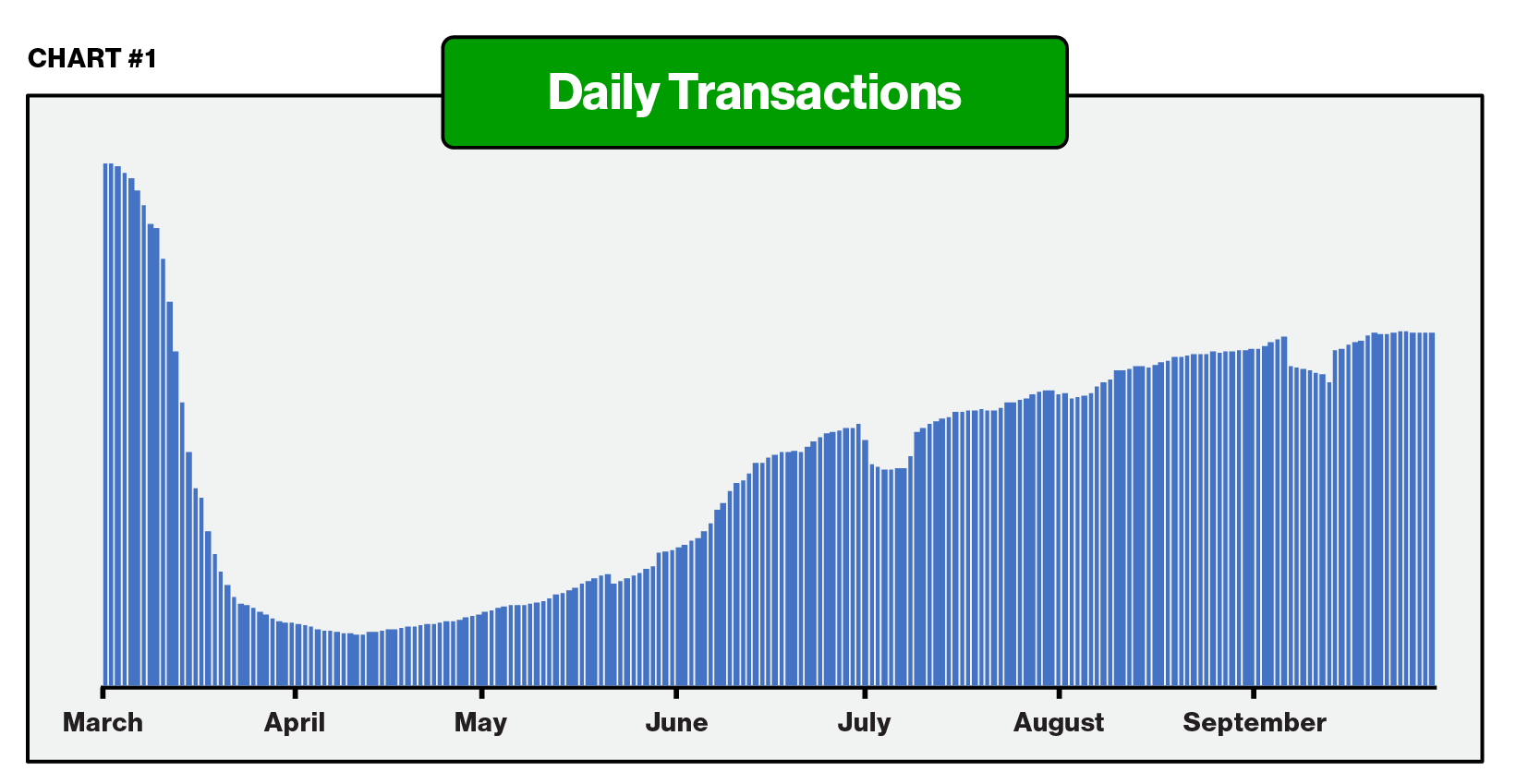 The top 10 U.S. cities fared relatively better than smaller cities. Chart #2 below shows that big cities never declined as much as smaller markets. They also recovered farther and faster than smaller cities. This speaks to the high demand for parking in large cities, with a denser urban core. These large cities are close to matching their 2019 numbers (two of them have already.)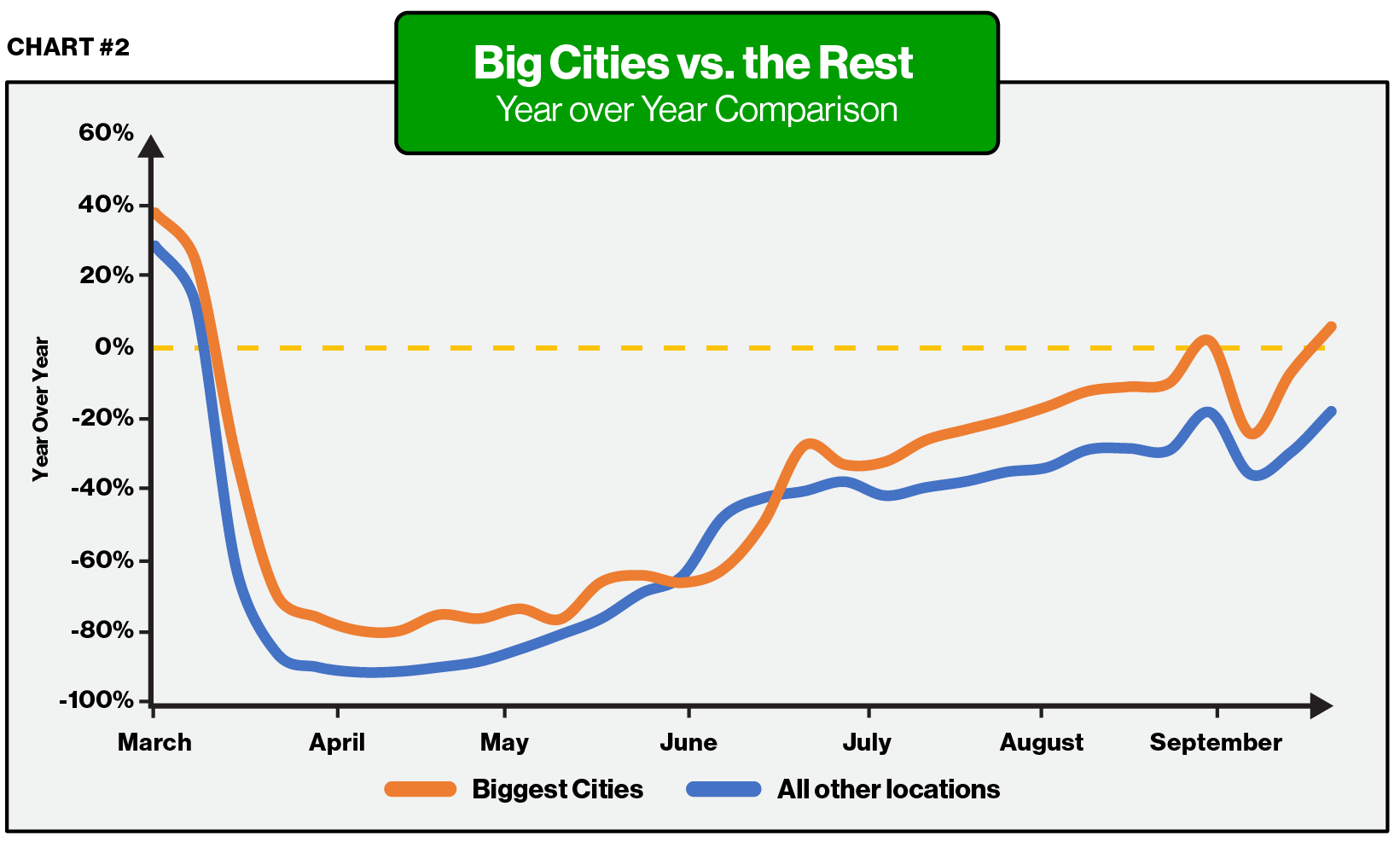 Parking volume overall is at 65% of pre-COVID levels, but the breakout of that volume is very different. ParkMobile is seeing new users of the app at levels almost identical to last year, in fact we have recently added our 20 millionth user. But Chart #3 below shows the decrease in "high"-transaction users (those who park six or more times during a month). Their lower share is a clear reflection of the changing work environment, with record unemployment and most white-collar work done remotely. There are far fewer commuters on the road today and that is reflected in the parking transaction volume. While there are roughly the same amount of people parking as 2019, they are doing so less often.
Parking in beach communities was a bright spot during COVID-19. With most summer camps closed, international travel restricted, concerts canceled and sports on hold, beaches were one of the few traditional summer activities available during the pandemic. Of course, beaches always do well in the summer, but in 2020 they truly stood out.
Chart #4 below shows that parking transactions in beach communities vastly outpaced the rest of the country. During most of the summer and into fall, beach parking was actually ahead of 2019, even during the pandemic. They have also been slower than past years to tail off as fall arrived.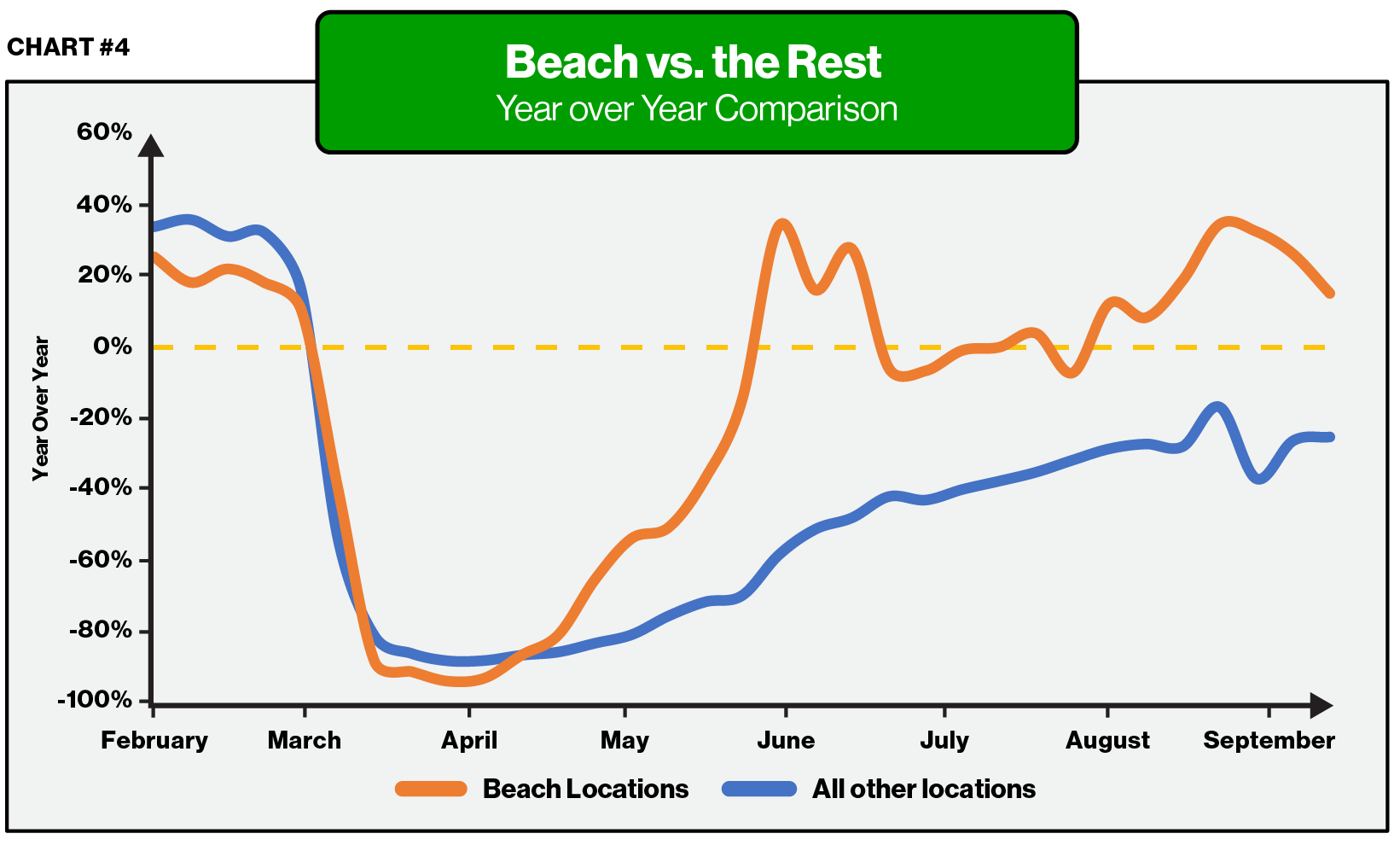 In the parking industry, 2020 will be known as the "year of contactless", as cities and operators rushed to add mobile pay options as a result of COVID-19.  In the past three months, ParkMobile has launched in 50% more cities as we did at this time last year (as shown in Chart #5 below).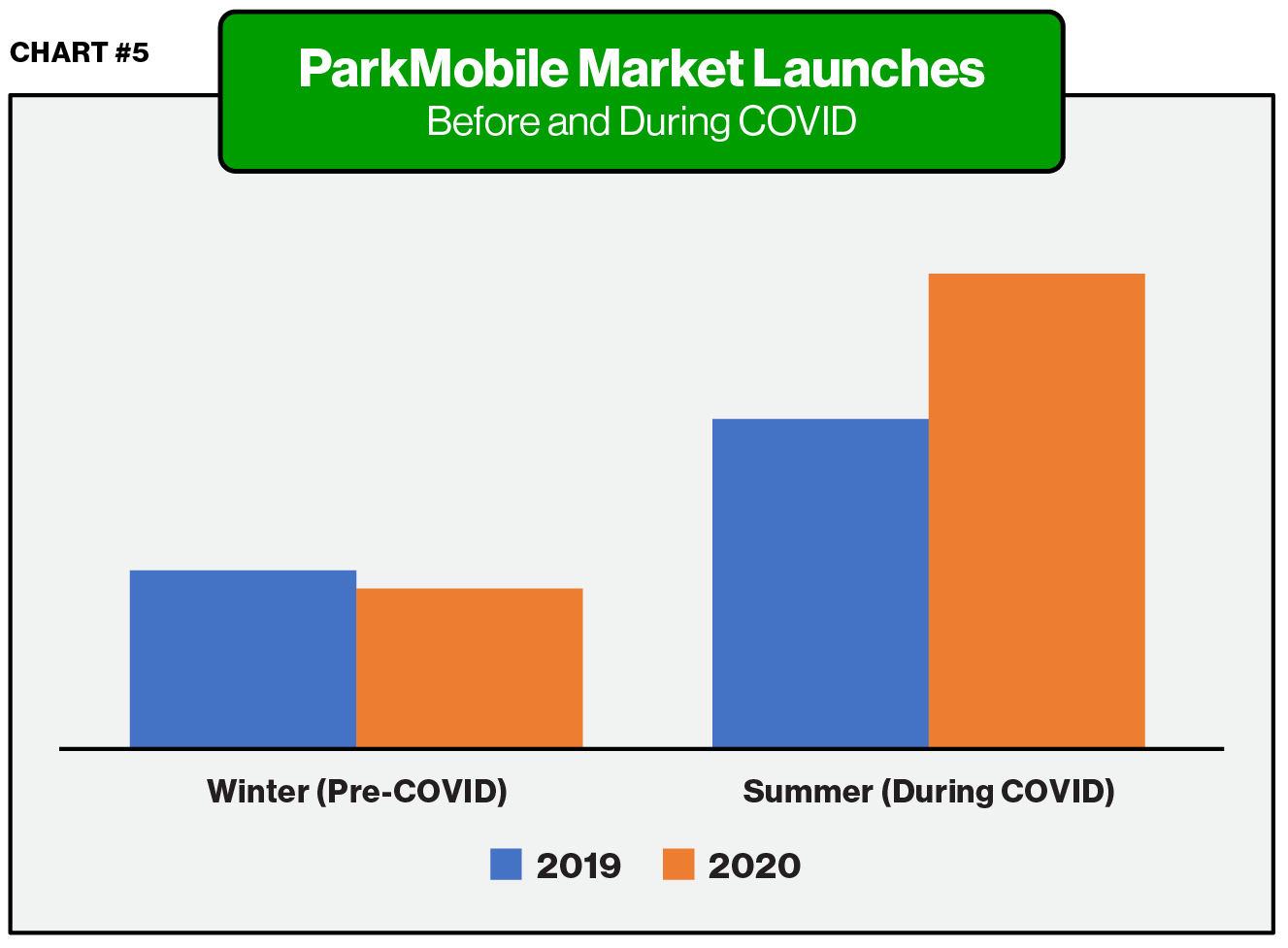 At the current growth rate, it is estimated that parking transactions will get back to pre-COVID levels in mid-2021. Of course, this depends on the state of the virus and any potential vaccines. However, the last few months have had enormous impacts on the parking industry that will be felt for years to come.