There have been a number of different groups and organizations publishing data on changes in consumer behavior during the Coronavirus pandemic and corresponding stay-at-home orders. The New York Times, for example, reports that the travel, shopping, and transportation industries are experiencing sharp declines in consumer spending. Recent articles in the Verge report decreases in public transportation and the scooter industry and increases in purchases of electric bikes. Data from multiple sources appear to converge on two points: the reasons and methods of mobility are changing. To get an idea of how ParkMobile users are altering their habits, and how they expect their behaviors to look in the future, we surveyed about 2000 of our users about a range of topics related to their commute, travel, and event attendance. We also took a look at trends in parking related to these same categories.
Overall, the study reveals that people plan to make significant changes post COVID. There will be less traveling, less commuting, and fewer events attended. People plan to use mass transit and ride-sharing less often and use their personal vehicles more often. And when it comes to making purchases, consumers plan to use more contactless payment options.
Below are more details on our survey findings.
Commutes will become more personal
First, we expect daily commuting to decrease. 31% of our users expect to spend less time in the office in the coming year, reporting an average of 17 hours a week less in the next year. Given that the average number of hours spent in the office in the last year was 34, this results in about a 50% decrease in the amount of time working out of an office and more time working from home.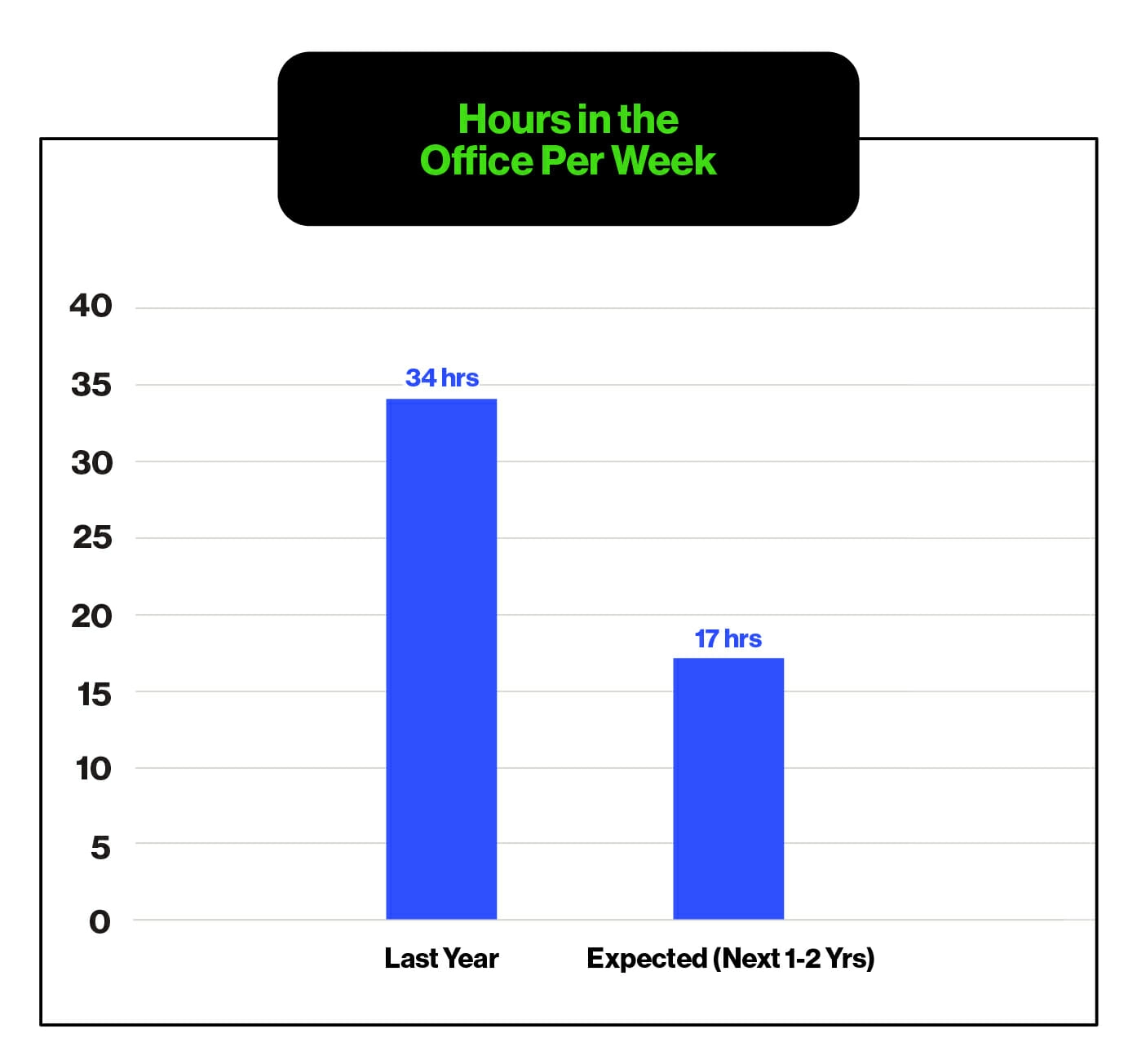 Our responses indicate that privately owned modes of transportation will see an increase of usage in the next year (cars, bicycles), while those that require close proximity to other people (public transportation, ride sharing) or touching a shared mobility vehicles (scooters) will see a decrease of usage in the next year. 30% of our users expect to use their personal vehicles more in the next year, while 46% and 36% expect to use public transportation and scooters less respectively.
Taken together, we expect the number of people doing daily commutes to reduce overall, and for the primary mode of transportation to become the personal vehicle.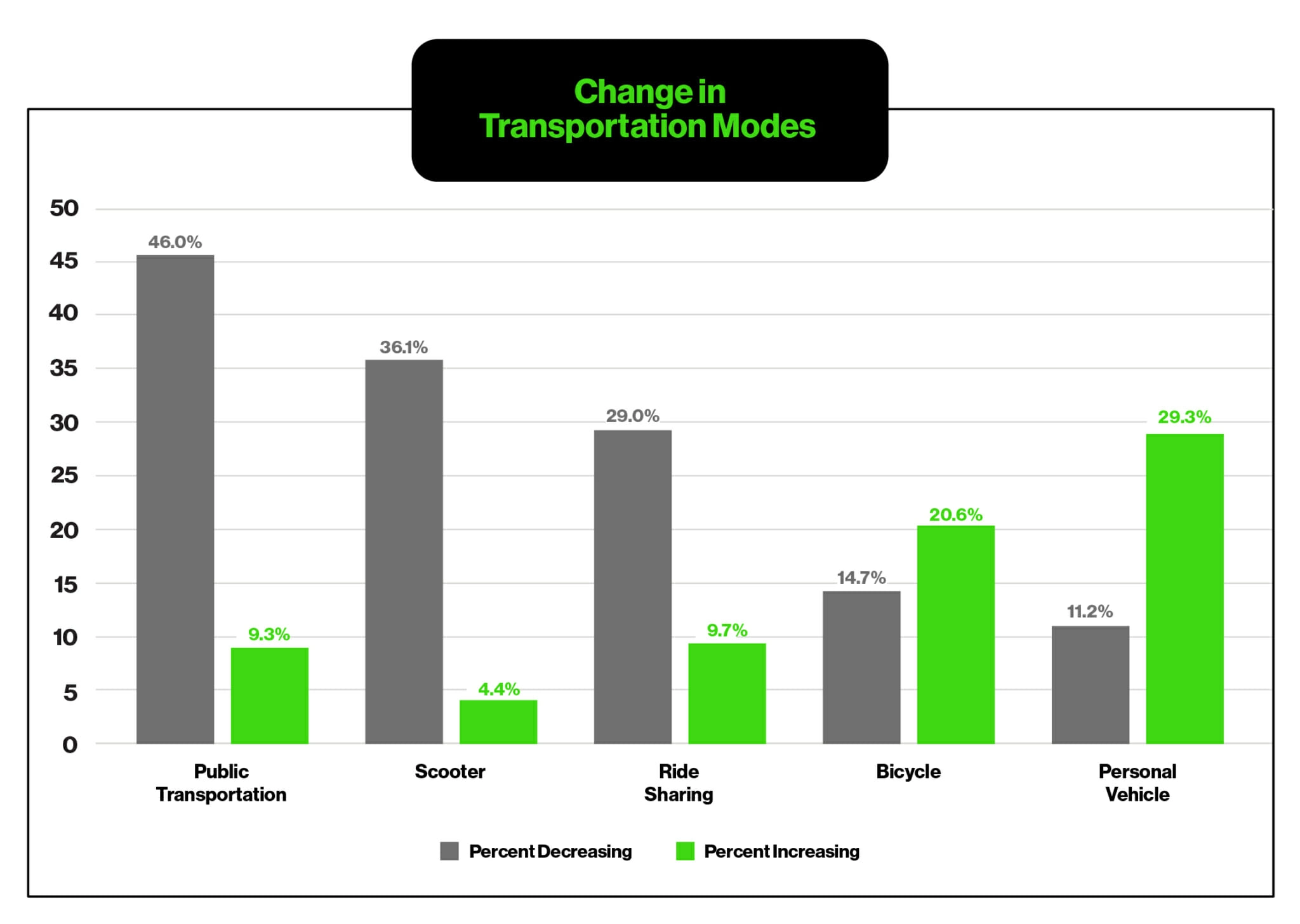 Event attendance will decrease, but at different rates
Based on our data, users expect their event or public gathering attendance to significantly decrease (between 35% – 45%). People are clearly not prepared to go back to events with large groups of people crowded together. One notable exception is the beach. Beaches are outside and allow for more social distancing than other public areas/events and therefore will not be as impacted – less than 20% expect to decrease their beach attendance but 11% expect to attend beaches more in the next year. Concerts and festivals, perhaps the most densely crowded of the event categories, will see a sharp decline in attendance when compared to the previous year. It's clear a big impact of COVID-19 is that the majority of people are not ready to go to events with large crowds anytime soon.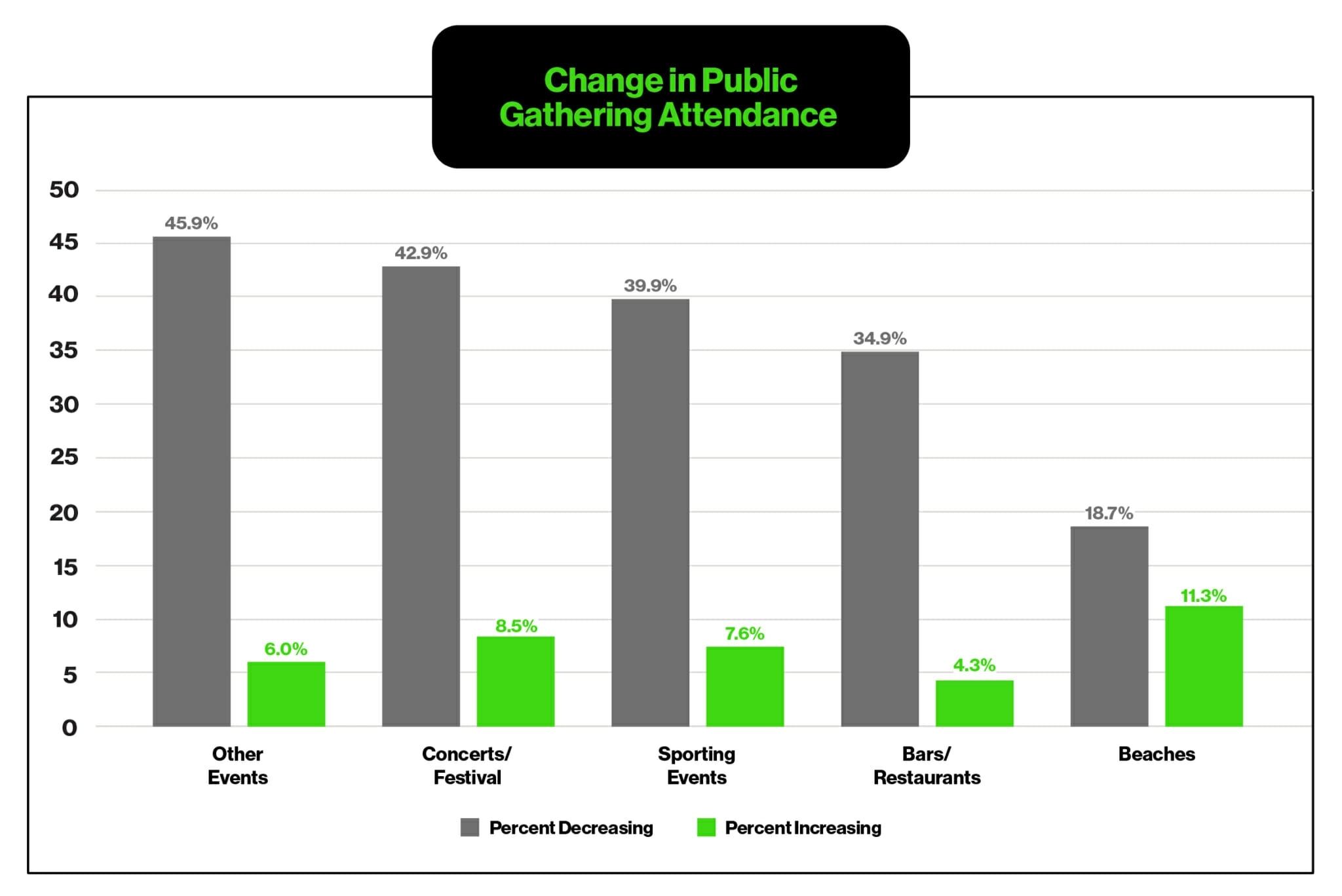 We will travel less overall
We've seen that people expect to decrease their daily commutes in the coming year, but what about longer distance travel? About 1/3 of our respondents expect less business and personal travel in the coming year. Perhaps decreases in business travel are to be expected, given that many companies have new work-from-home policies and are now using with video conferencing software. Also, many industry events, conferences and trade shows have been cancelled, eliminating the need for business travel. The decrease in personal travel may reflect concerns in the mode of travel required – cramped planes with recycled air or cruise ships do not seem to be particularly appealing at the moment. Interestingly, demand for RV's is "skyrocketing" as people look for new vacation options that don't require airtravel.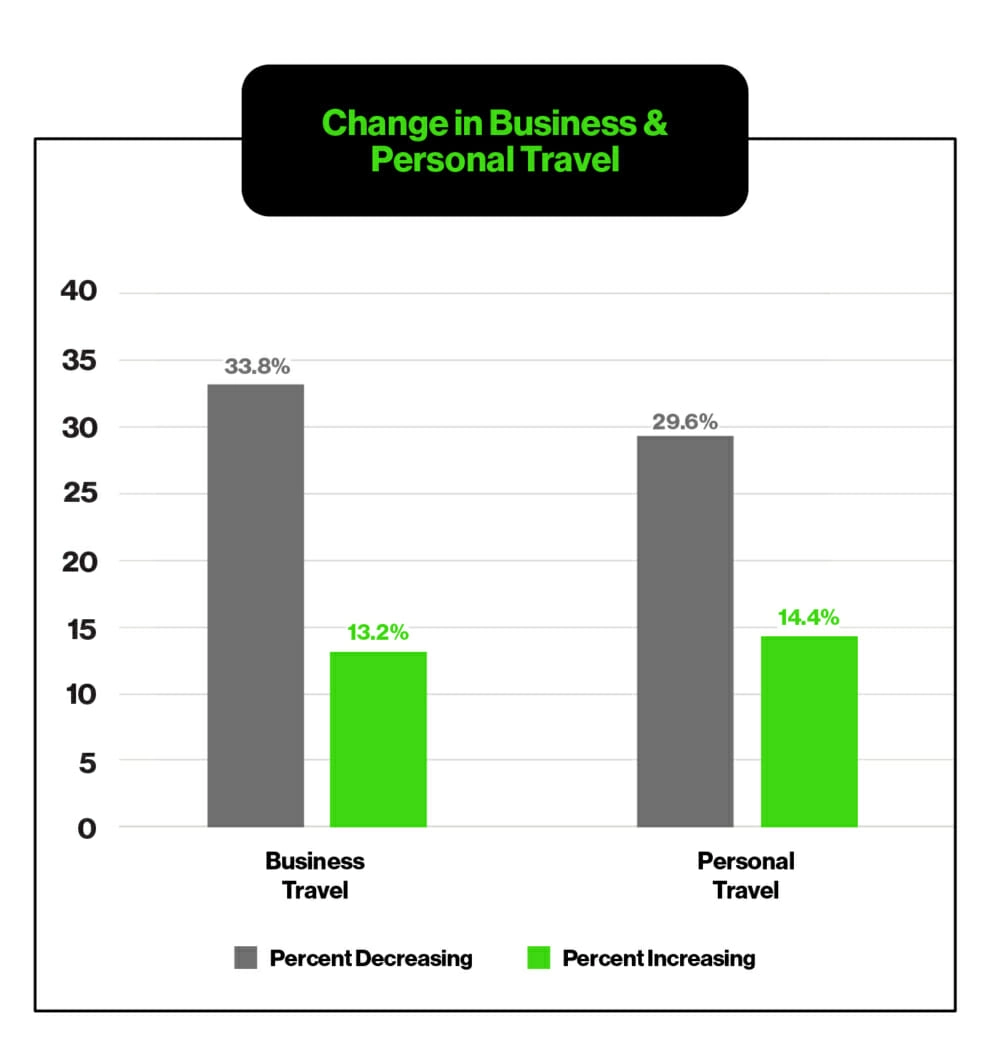 Increased Demand for Contactless Payments
Not only will consumer mobility change in the coming year, the way we pay for things may be changing as well. Cashless experiences allow users to pay for purchases without having to use paper bills and coins, but contactless payments takes this concept a step further and allows users to pay without needing to hand someone a card or touch physical payment hardware. Accordingly, 40% expect to increase their use of contactless pay in the coming year. We are seeing this right now in the parking industry as many cities in the U.S. are proactively promoting contactless parking payments, versus the physical meter, as a way to reduce the potential spread of COVID-19. One major city reported that utilization of the app versus the meter increased from 60% to 80% over the past few months.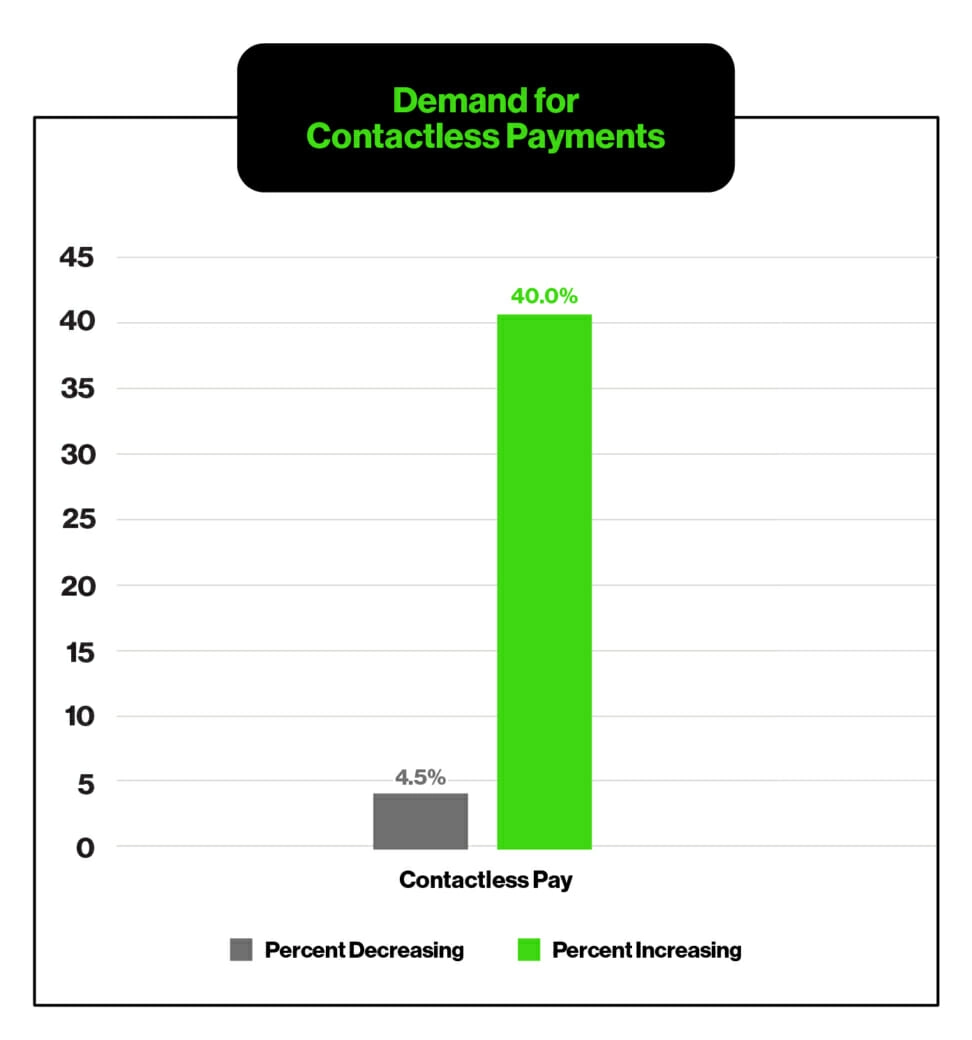 Conclusion
From this survey data, it is clear that COVID-19 will have a significant impact on consumer behavior for the foreseeable future. People will be commute less, travel less, and attend fewer events. When people do go out, they will use their personal vehicles more and opt for contactless payments when available. This could evolve over time as people adapt to this "new normal" and we will continue to monitor these trends in the future.