Introduction
The response to COVID-19, including intermittent closures and social distancing measures, has led to fundamental changes in how many work, learn, and unwind. In a recent survey, we learned that ParkMobile users expected their travel and event attendance to change this year when compared to previous years. Our users have adapted their habits to accommodate the changing landscape.
Leading up to and through the summer, several articles were published advising readers on how to safely approach vacation this year, with many pointing to road trips and outdoor destinations. With remote offices and classrooms, it also became possible to travel to a vacation destination while continuing to work and learn. Indeed, when the office is simply a laptop and a strong wi-fi signal, your office can be anywhere you like.
We noticed a trend at ParkMobile – some of our coworkers drove to nearby destinations and spent a few days working remotely from home, allowing them to enjoy time away from the office while not disconnecting completely, then transitioned seamlessly into time-off and vacation. We wanted to learn how common this new vacation idea was. To do this, we surveyed 1,000 ParkMobile users about their summer vacation habits in the past, and how their summer vacation changed for 2020.
Work has changed, and so too has vacation
Nearly half of our users told us that their jobs have instituted a work from home policy in response to COVID-19. For many, this meant a shift to laptops and remote meetings.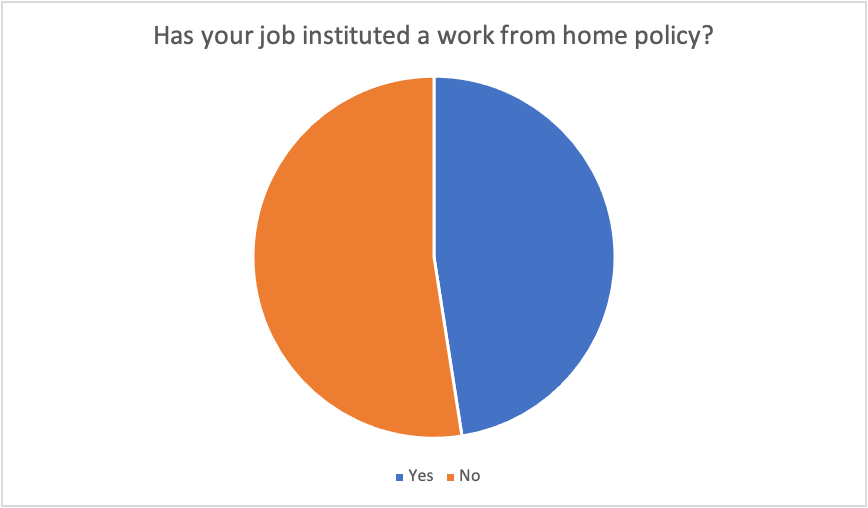 95% of respondents said their vacation plans changed this summer due to COVID-19. Still, 43% of all respondents reported on going on at least one vacation this summer. How do these vacations differ from the norm?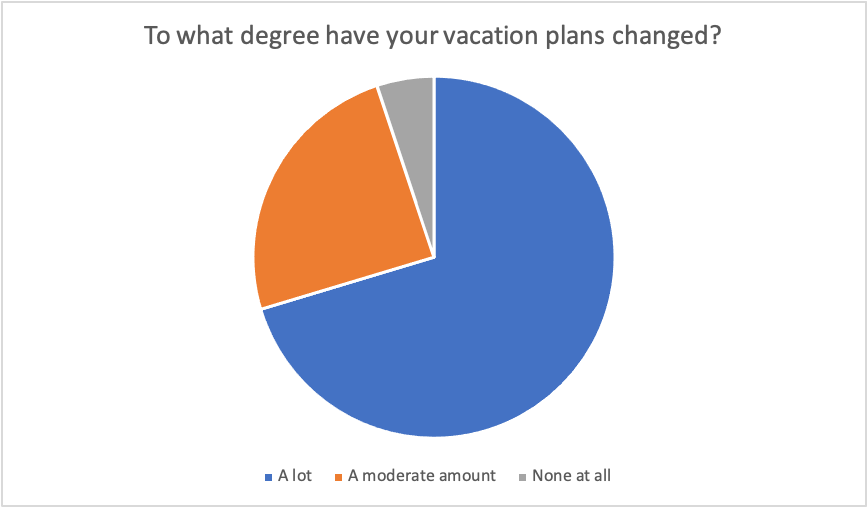 Vacations are fewer, closer, shorter, and more productive
The number of people traveling during time off decreased this year when compared to last year. This corresponds with the expectations reported in our previous survey. However, 80% of ParkMobile users still traveled during time off.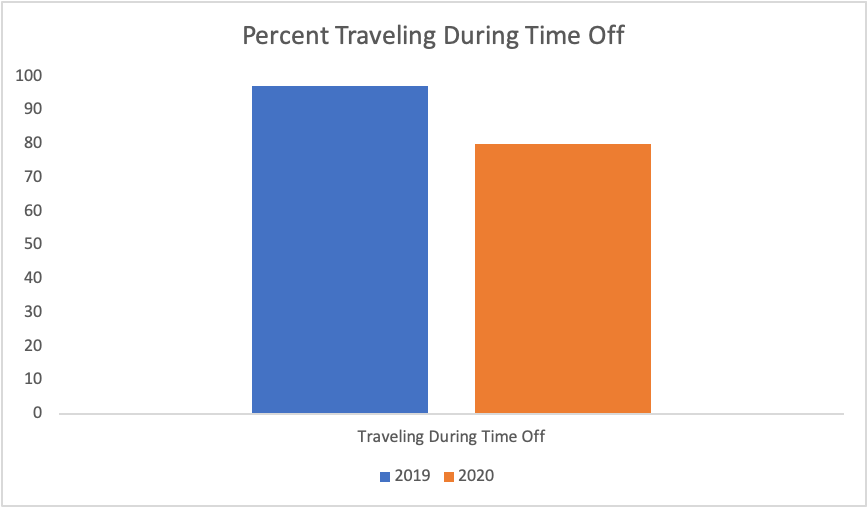 Along with less frequent travel, those surveyed reported shorter distances and durations. 74% of these vacationers reported traveling a shorter distance this year when compared to last year.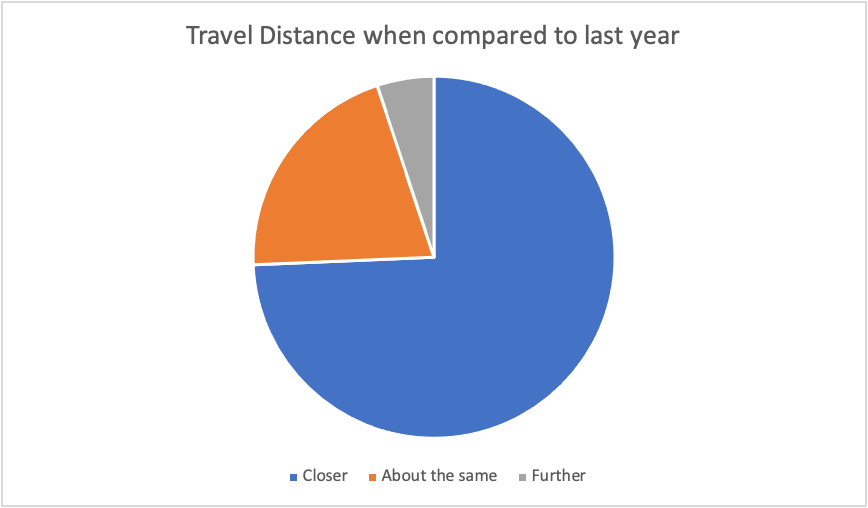 The average vacation length for these vacationers decreased by ~2.5 days, a decrease of about 28%.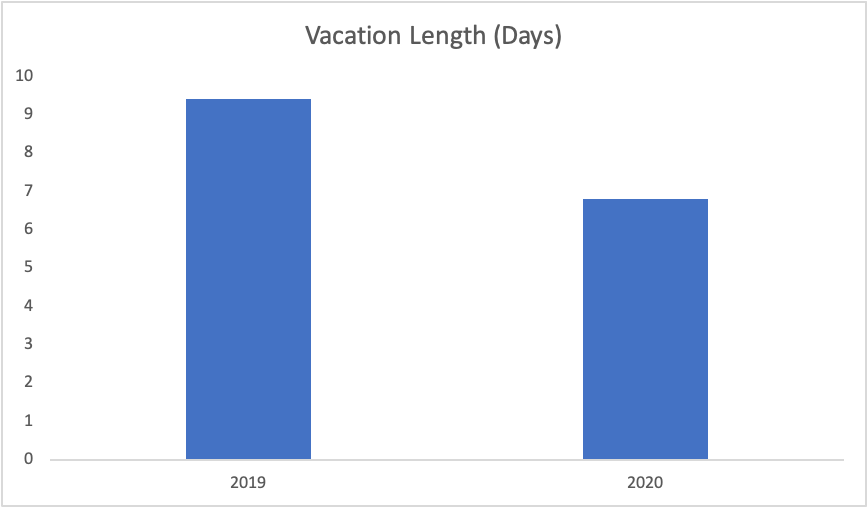 The number of people who reported "always" working during vacation tripled. Similarly, the number of people who reported "always" working during time-off increased by 66%. This makes sense, given that many now can work remotely and are accustomed to doing so.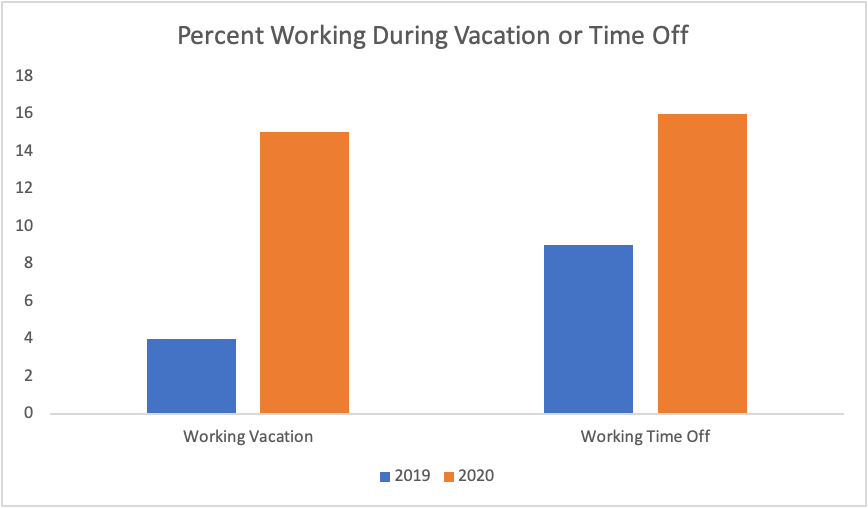 These results line up with what we saw around the virtual office – we traveled less overall. When we did travel, it was to nearby locations, laptop in tow.
Summer of the road trip
Of those who traveled in 2020, the amount who reported "always" traveling with a personal vehicle increased by 56%, from 42% in 2019 to 66% in 2020.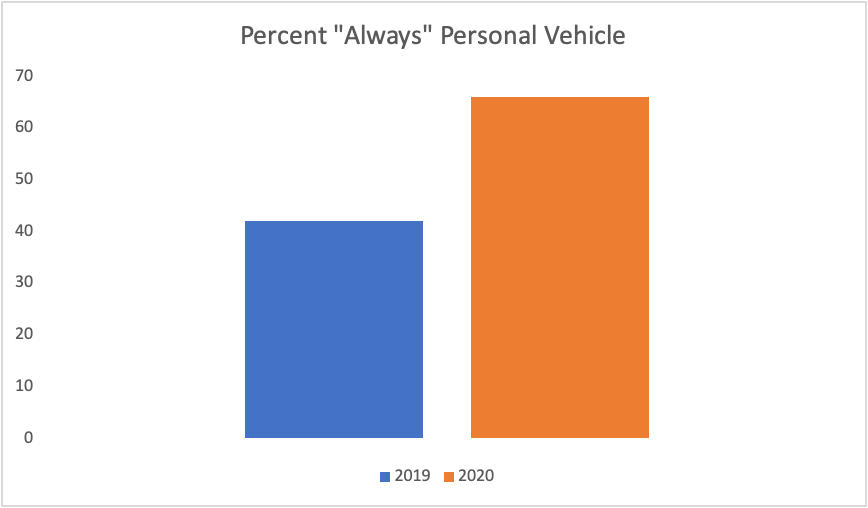 On the other side of the coin, the number of people who reported "never" using non-personally owned vehicles all increased. The number of people who never traveled by plane over the summer, for example, nearly doubled. The increased reliance on personal vehicles corresponds to closer vacation destinations, and again reflects the expectations reported in our previous survey.
Though all travel destinations saw an overall decrease in visits, outdoor destinations that allowed for a scenic office location remained relatively high. From our previous survey, we expected beach attendance to be the most resilient to decrease. Nearly 70% of our vacationers surveyed made time to visit a beach this summer.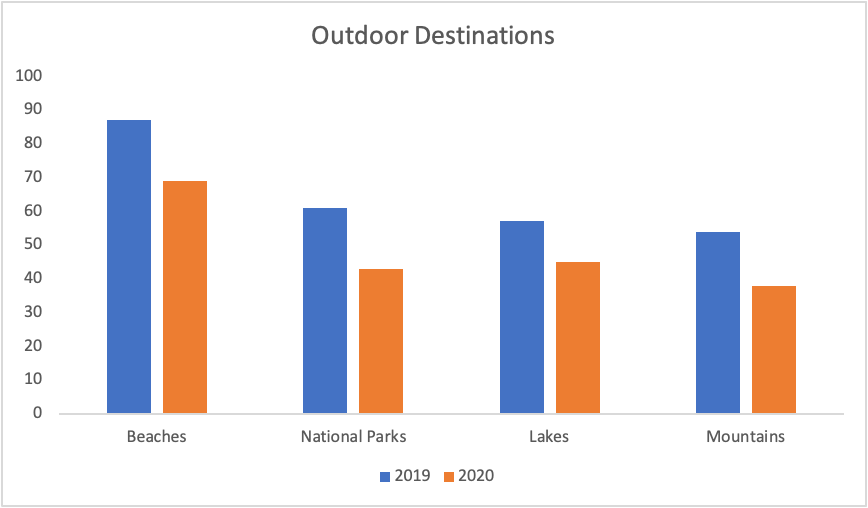 Other destinations, including amusement parks, cities, and international travel, all saw much larger decreases this year. These reductions correspond with travel restrictions and intermittent closures. Much of the draw to cities, for example, includes vising landmarks such as museums. Many of these locations were closed to the public this summer.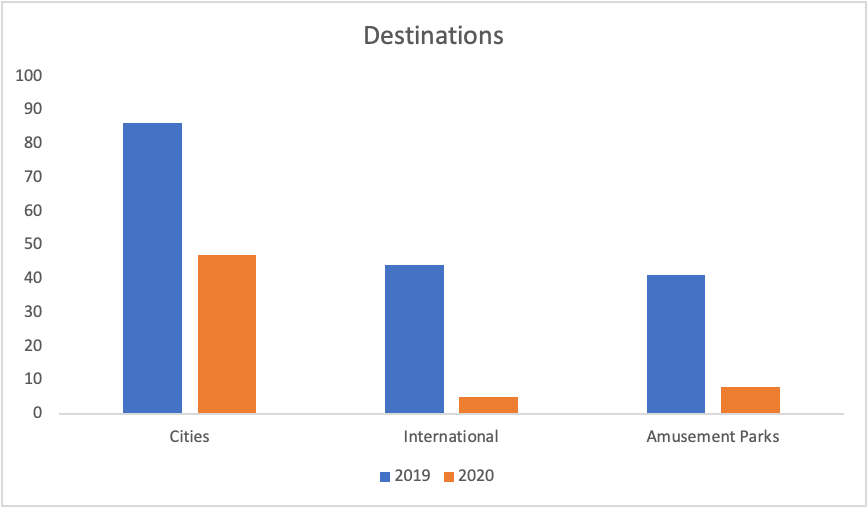 Though travel to visit family decreased from last year, nearly 80% of vacationers made time to see family. This was the highest of all the travel destinations this summer.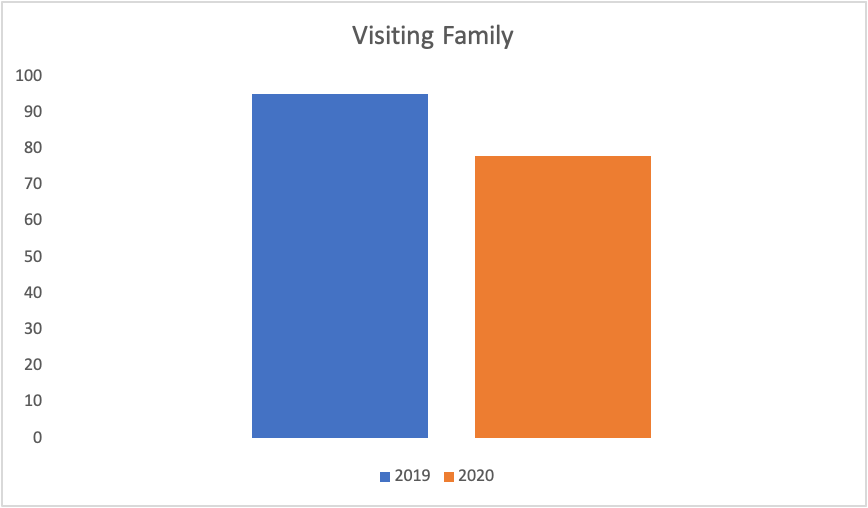 Our survey respondents also sent children off to summer camp at a much lower rate this year, down to 12% from last year's 48%.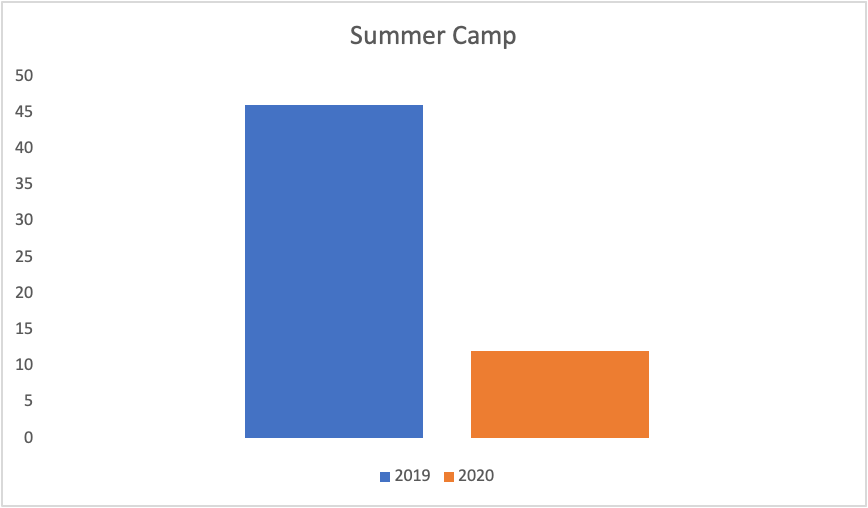 Enabling the drive
In keeping with the theme of driving, 81% of all vacationers used toll roads this summer. The most commonly used method of payment was EZ-Pass with about 10% relying on cash or change.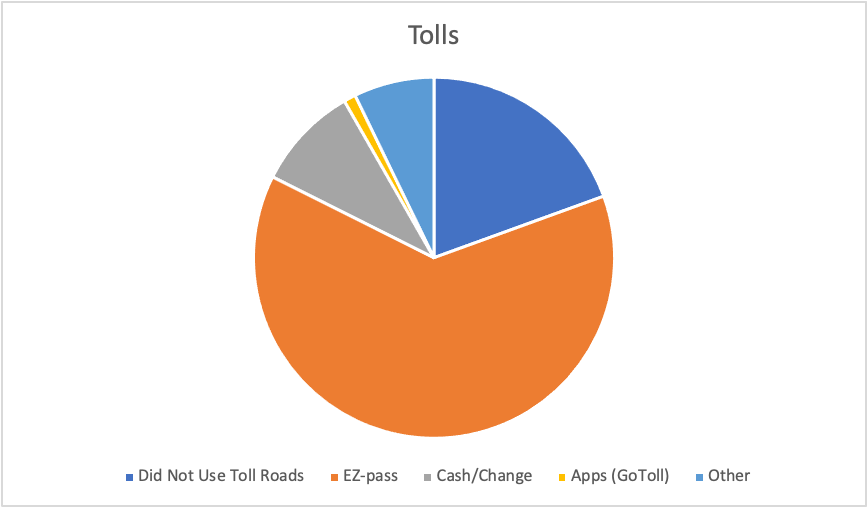 The apps that enabled the new vacation and summer road trips were ParkMobile, navigation apps, and restaurant review apps. Over 2/3s of vacationers used ParkMobile during their summer vacation.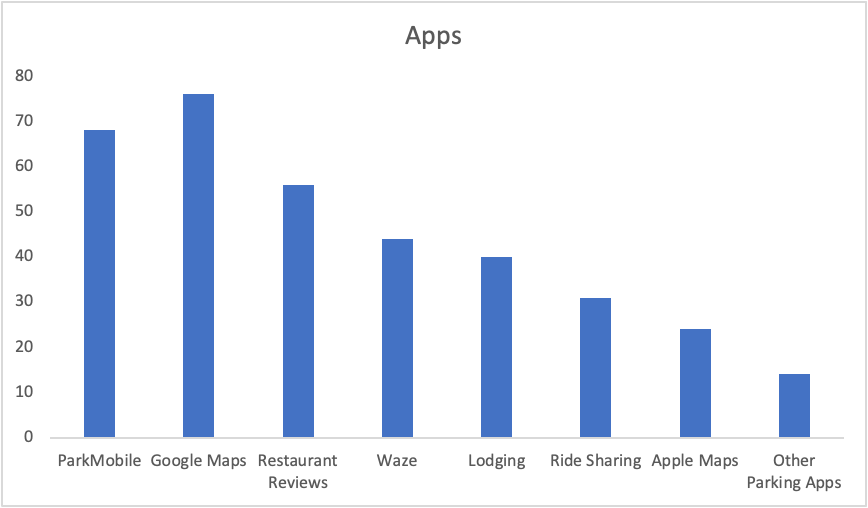 Conclusion
The possibility of working vacations or travel has grown along with the adoption of remote work. Results from our survey suggest that many have taken advantage of this possibility by packing their office into their suitcase. The new summer vacation was closer to home and involved travel using personal vehicles more than ever. The destinations were more focused on spending time with family or spending time outside.
List of articles on vacation advice:
https://www.nytimes.com/2020/07/16/travel/virus-vacation.html
https://www.wsj.com/articles/what-does-coronavirus-mean-for-your-summer-vacation-a-smart-travelers-guide-11590811254
https://www.sfchronicle.com/travel/article/How-to-salvage-your-summer-vacation-during-15464527.php
https://www.businessinsider.com/safe-vacations-during-covid