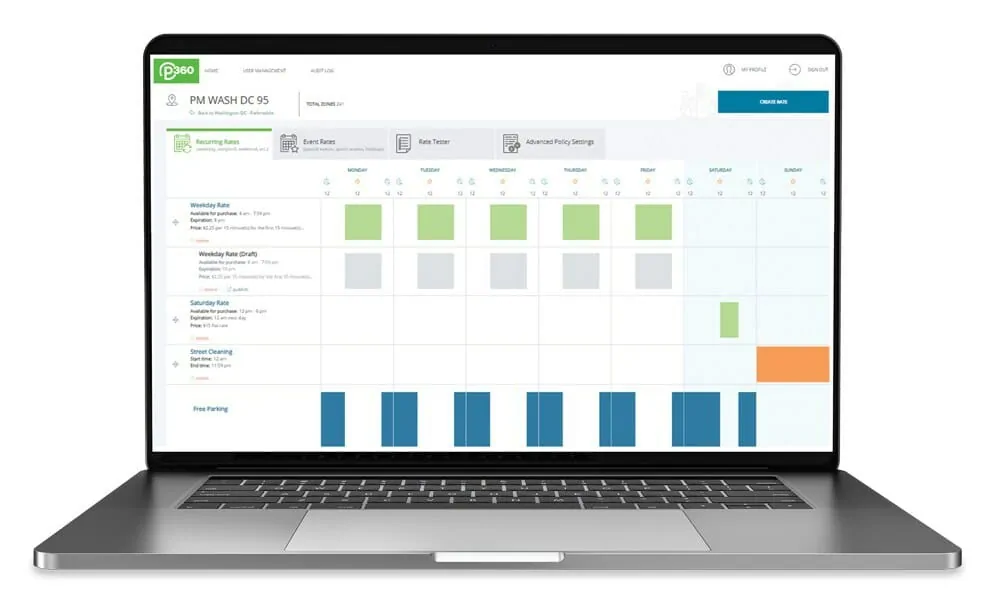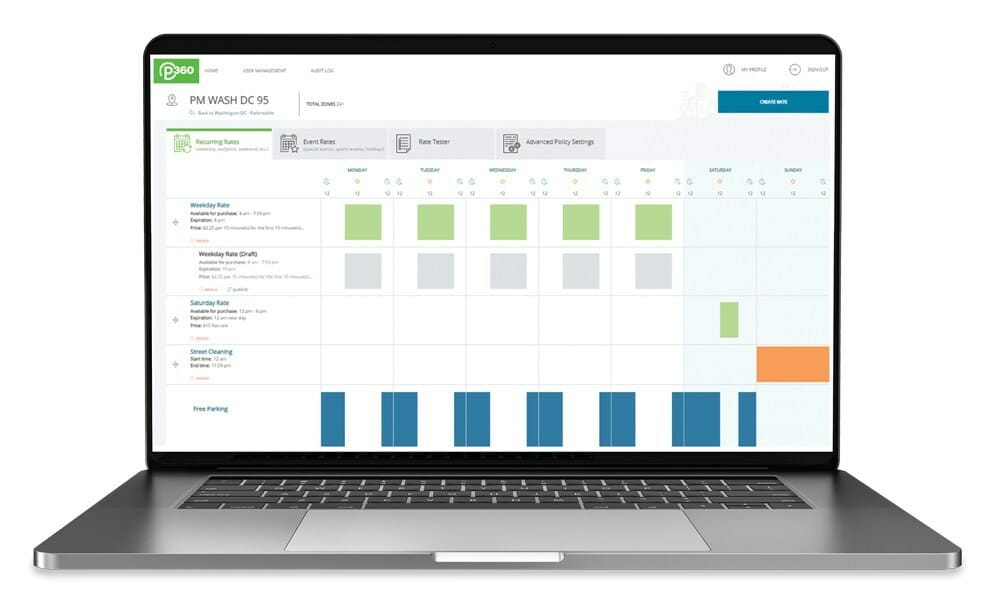 ParkMobile, the leading provider of smart parking and mobility solutions in the US, today announced the launch of ParkMobile 360, a next-generation management platform that enables clients to optimize parking inventory across multiple locations, manage rates in real-time and analyze results. ParkMobile will be showcasing ParkMobile 360 and other solutions this week as a Silver Sponsor of the NPA Convention in Las Vegas at booth #528 in the expo hall.
ParkMobile 360 includes the following features:
Intuitive Calendar-Based Interface: Access daily and weekly views of recurring rates and policies, making it easy to visually see all paid parking, no parking and free parking rate structures.
Rate Creator: Quickly add, change and update rates for all parking locations. The ParkMobile 360 rate engine supports all rate types, from simple flat rate structures to complex multi-tiered rates. Users have the ability to set when these rates are available, the time selection options customers will see, and the maximum duration for each session.
Event Override: Setup single or multi-day events that override the standard parking policies. This can be used for concerts, sporting events, parades, holidays, construction and more.
Policy Management Across Locations: Easily move policies from one location to another and group locations with the same rate structure.
Rate Tester: Before pushing out single or multiple rate changes, ParkMobile 360 allows a user to test the updated rate structures, ensuring they are working properly and avoiding potential customer service issues.
Audit Log: Comprehensive audit trail of who made changes to parking rates/policies and when they were made.
Role based access and approvals: Manage access and permissions for all active users. ParkMobile 360 allows for full administrative access as well as read-only access for users who will not be making changes to rates and policies.
Bulk Event Upload: Ability to quickly upload a spreadsheet with a full calendar year of events and rates.
Already in use by several private operators and municipalities, the initial response to ParkMobile 360 has been extremely positive. "We have been very impressed with ParkMobile 360," said Jillian Cooper, Sr. Manager of Transition Services Preferred Parking Service, LLC. "It's easy-to-use and makes it possible for us to efficiently manage our inventory and get a full view of our business."
"We are excited to officially unveil ParkMobile 360 at NPA this year," said Jon Ziglar, CEO of ParkMobile. "We have spent the past two years working closely with our clients to deliver the most comprehensive self-service platform in the industry. Our goal is to provide parking operators and municipalities with the right tools to proactively manage their assets, make smarter decisions and improve business results.  This current release of ParkMobile 360 is just the beginning. We are actively building out additional functionality that will expand into charging and other mobility services. Our aim is to make ParkMobile 360 the standard for the industry."
Representatives from ParkMobile will be doing demos of ParkMobile 360 and answering questions at booth #528 in the expo hall. ParkMobile 360 will also be featured at NPA's New Product Solutions Showcase in the "T2 Think Tank" area on Tuesday, October 23rd at 3:45pm PST.
In addition to the launch of ParkMobile 360, Jon Ziglar will be speaking on a panel on Wednesday, October 24th at 9:45am in Caesars Palace Forum 3 entitled "Technology Trends in Parking, Mobility and Consumer Behavior". Also, Bob Shepard, ParkMobile's SVP of Product Management will be honored as one of NPA's 2018 "40 Under 40" at the Annual Innovation Awards Luncheon.